A Rank Tracking Tool for Agencies
Powerful enough for your largest client, affordable enough for your smallest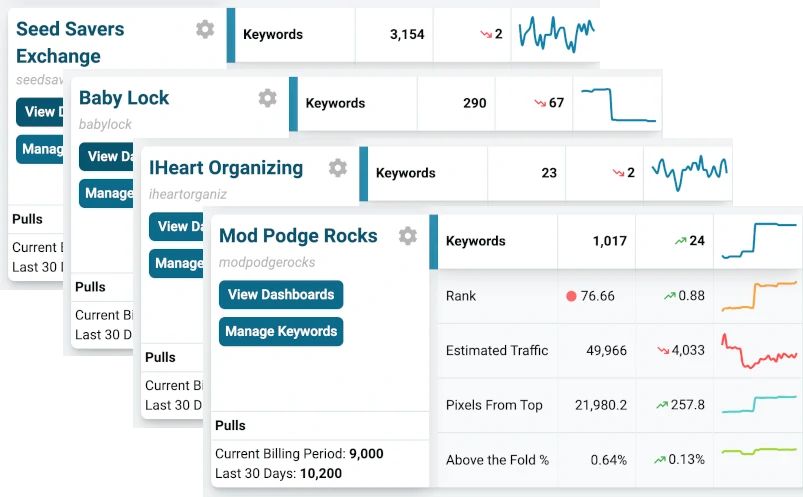 We excel at helping your agency with:
1
Keyword Rank Tracking
We track your keyword rankings and everything else on the SERP, so you can come to client meetings prepared to discuss rankings in the context of a fast-evolving SERP.
2
Custom Scheduling
Instead of dictating when rankings update, we give you control over data frequency so you can design your clients' projects around budget and client needs.
3
Competitive Analysis
The same SERP insights we deliver for your clients' brands and branded properties are available for all of your clients' competitors and their brands/properties.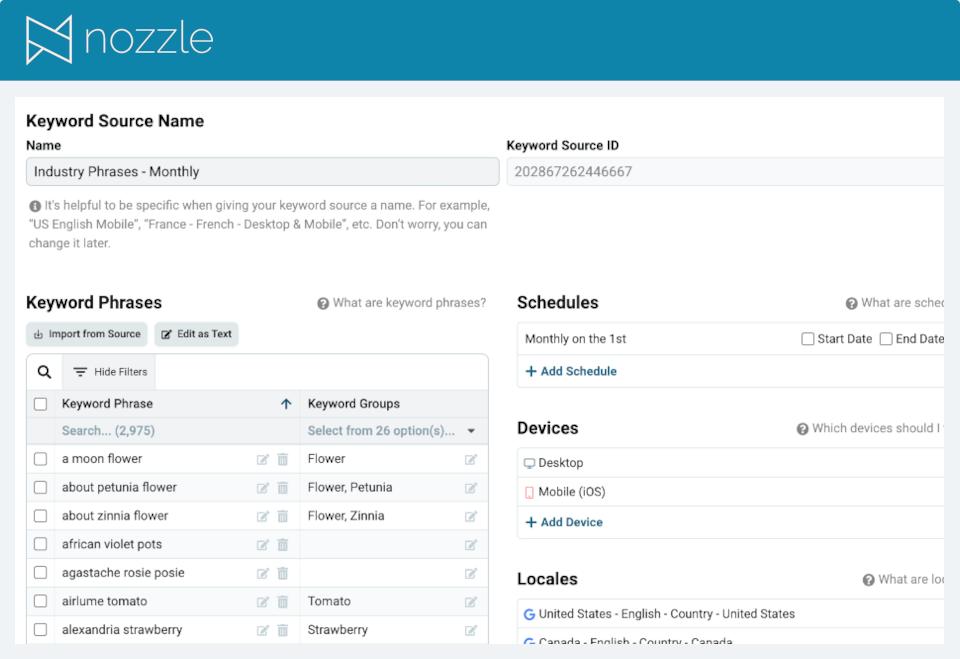 Keyword management at scale
Your SEO agency works with clients of any size and across industries, so your rank checker has to be flexible. You track keywords for service-area, hybrid, multi-location, and global businesses, each of which requires unique combinations of tracking schedule, location, language, search engine, and device.
Nozzle's agency rank tracker provides a unique way to stay organized with Keyword Projects, Sources, Groups, and Segments, which makes it easy to scale to your clients' needs. And you won't run into a limit on the number you can create.
Stay on budget by defining your own keyword pull schedules
Some agency rank trackers dictate how often you can pull rankings. We don't like that, so we give you complete control over the pull schedule.
When you have a lot of keywords to track but a smaller budget, set your pull schedule to weekly, bi-weekly, or monthly instead of daily. If spend isn't a concern and your clients expect fresh data, schedule for daily or hourly pulls.
We determine your cost based on a combination of your tracked keywords, pull schedule(s), tracked location(s), and device(s) so that you're not forced to choose an uneconomical plan.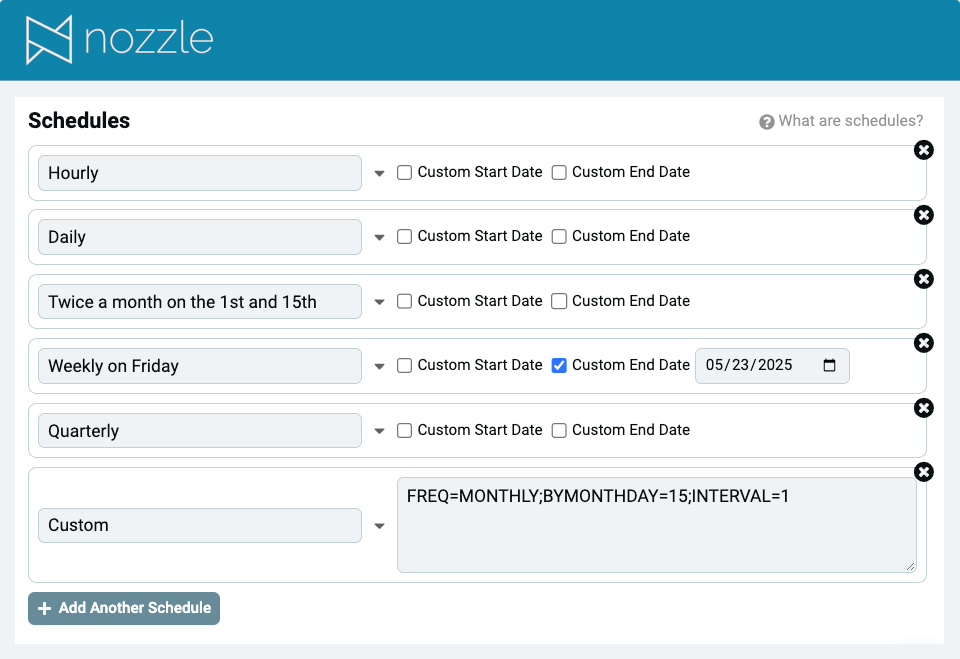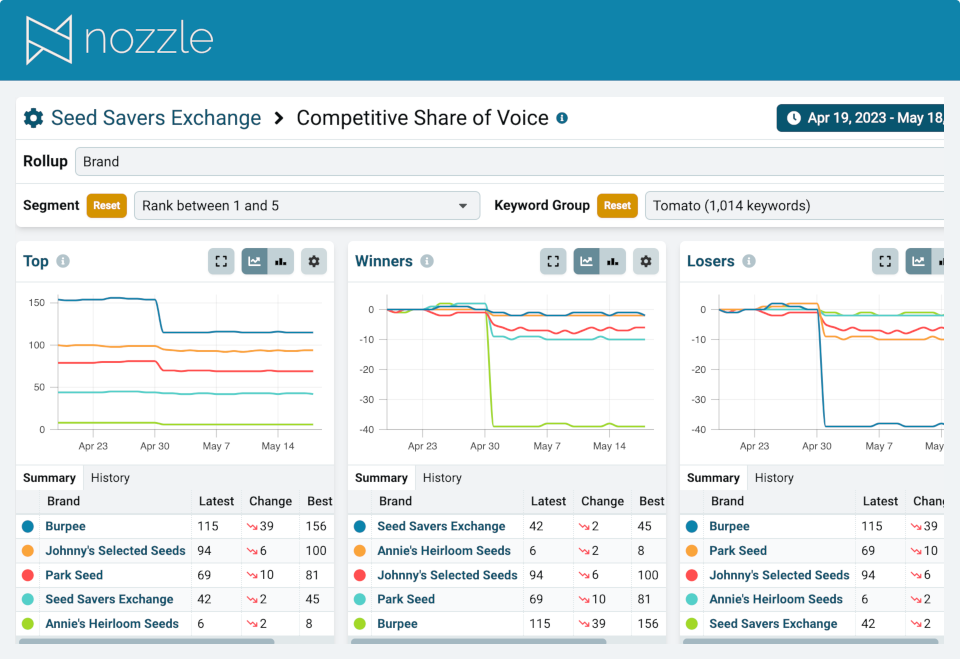 Beating the competition starts with Share of Voice
We're not just tracking your rank, we're tracking the whole SERP. That means that after you've shown your client where they're positioned in relation to everything else on the SERP, you can show them which of their competitors:
Own the most top 3, top 5, or top 10 rankings for their keywords
Own the most Featured Snippets
Show product prices in their SERP listings
Show ratings and reviews in their SERP listings
Have listings that show sitelinks and/or FAQ schema
So much more
See how all of your brand properties perform, not just your website
But don't stop at setting up a brand to track your clients' YouTube channels, Twitter and Instagram profiles, and other brand properties. Set up a brand for each of your client's competitors and track them too. There's no limit to the number of brands you can create.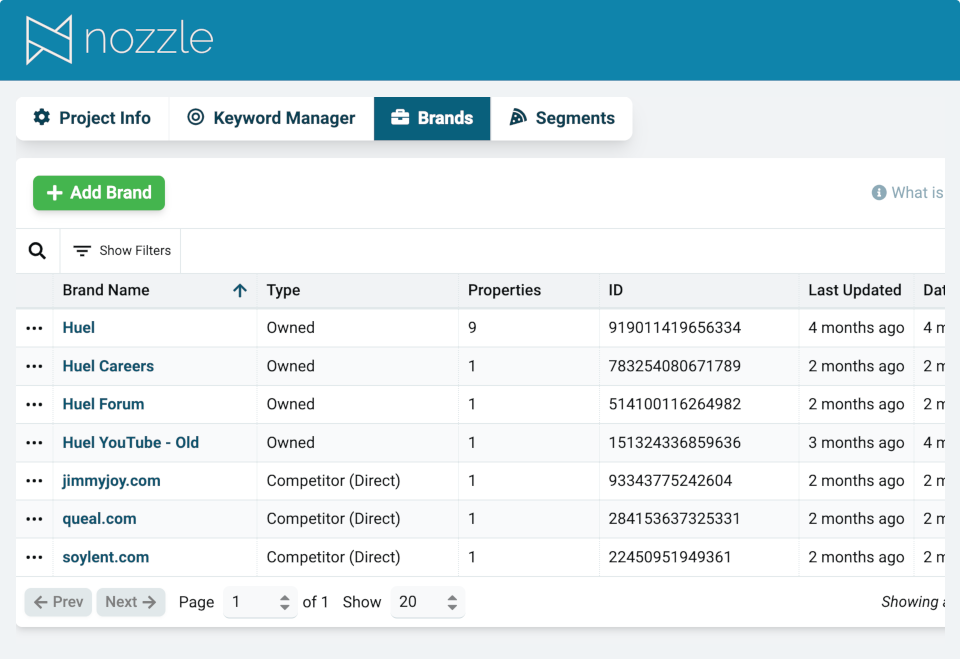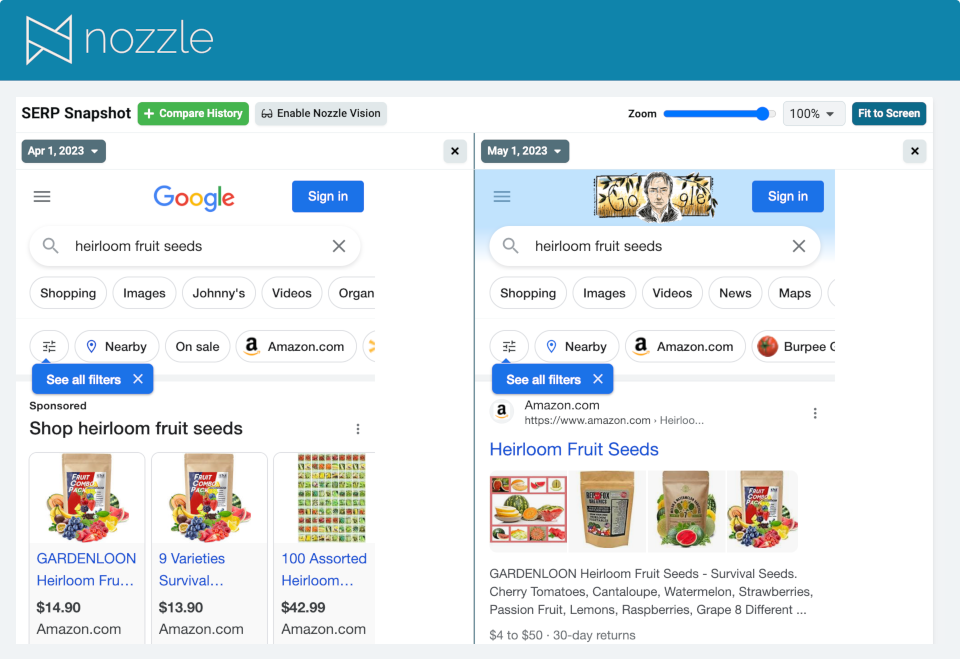 Show clients how the SERP changes with SERP Snapshot
We show you what the SERP looks like today, and let you compare it to past SERPs to see how things have changed. Use SERP Snapshot together with the Nozzle Vision overlay to analyze results in a visual way, and show (rather than only tell) your clients what is happening on the SERP.
Data integration with the BI tools you already use
Nozzle's data resides in BigQuery, so whether you use Data Studio, Tableau, Power BI, or any other BI tool on the market, our data will seamlessly integrate with any of your visualization tools and client reports.
Our rank tracker tool was built for agencies in mind making reporting SERP data to clients easier and more robust.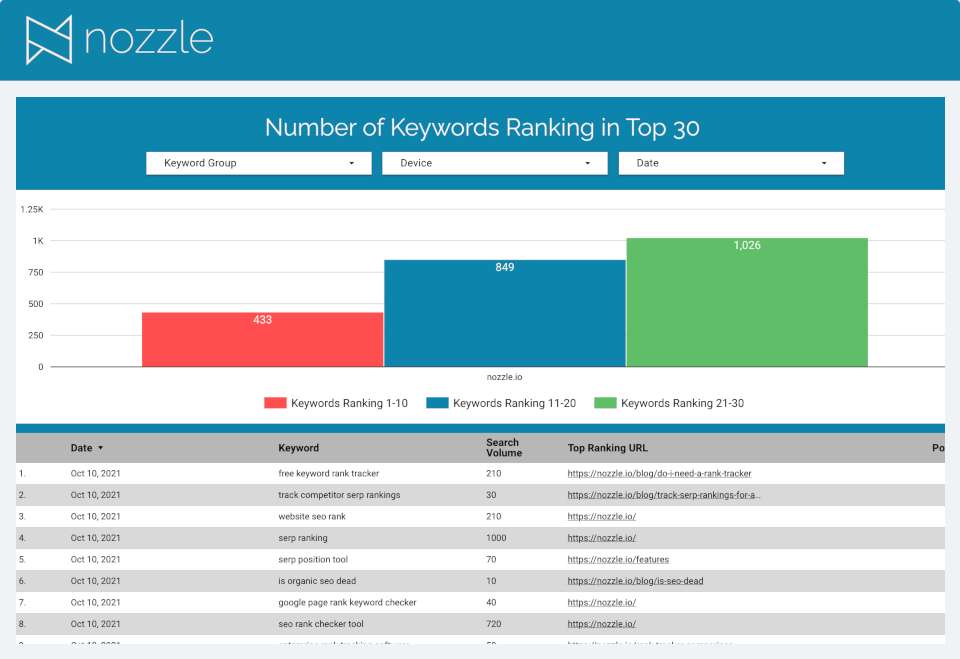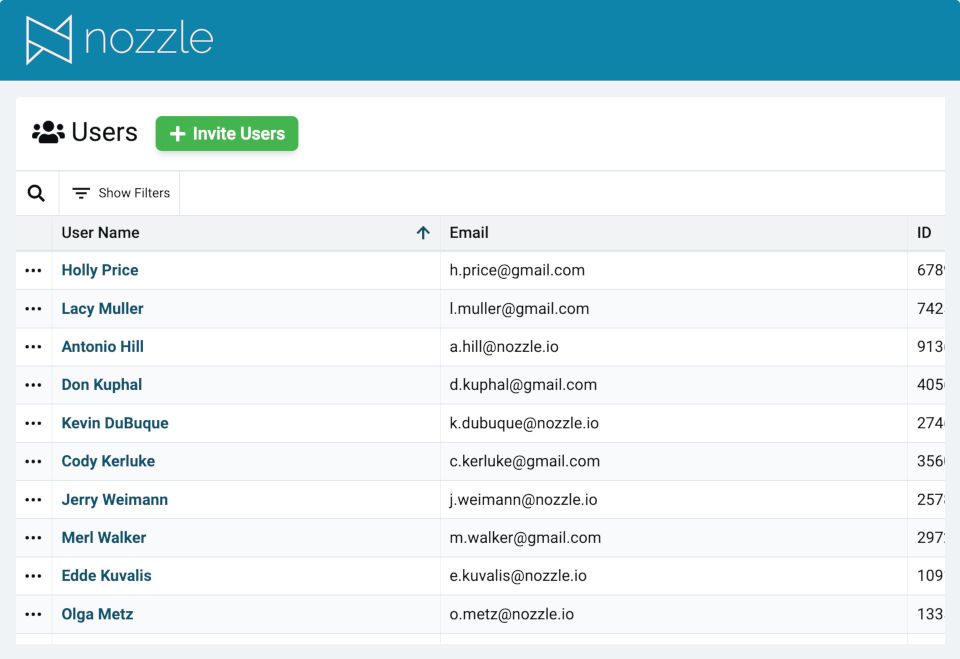 Always unlimited access to keep up with your growing agency and client portfolio
As your agency and client list grow, you shouldn't have to worry about the impact on your rank tracker. We impose no limit to the number of clients and staff to whom you can give access.