Competitive Rank Tracking with Nozzle
Monitor Your Competition's Every Move
Discovering and getting ahead of your competitors is easier with Nozzle's competitor keyword rank tracking. Tracking competitors' brands lets you monitor and analyze their every move, which is important if you want to take over the top SERP positions.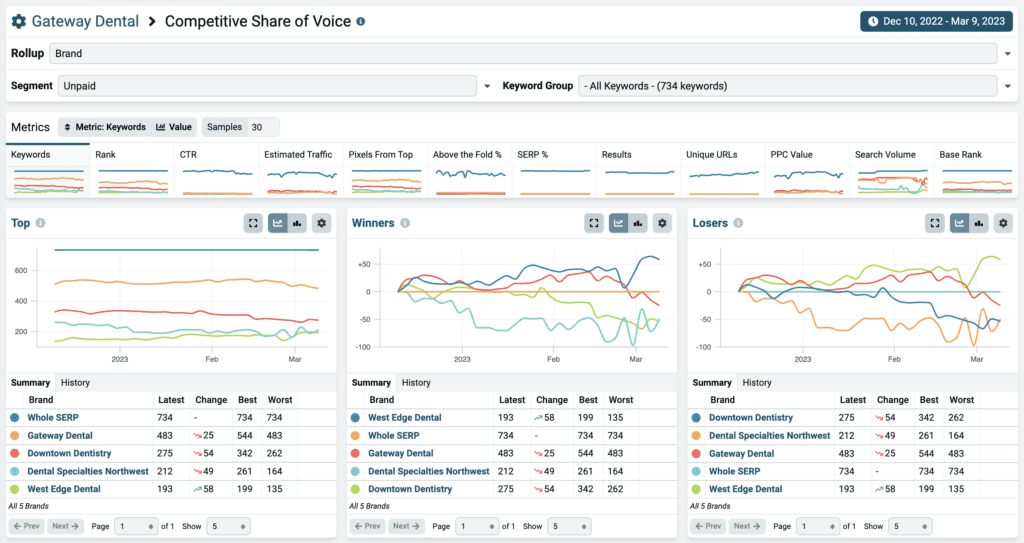 Create a Nozzle workspace, load in your keywords, and:
Find out who your competitors are if you don't already know.
Keep track of an unlimited number of your competitors' brands, URLs, and properties.
Create powerful custom segments that filter the data how you want, so you can see who has the most top rankings.
Add competing brands as named competitors and we will rewrite all of your historical data to include your newfound competition.
Share of Voice
To track competitor rankings, go to Nozzle's Competitive Share of Voice dashboard.
By clicking on the Rollup dropdown you can view your competition based on Brand, Brand Type (direct competitor, indirect competitor, neutral, etc.), the Brand Properties (a competitor's YouTube channel, Twitter, etc.), a domain/subdomain, or a specific URL.
Selecting URL will give you a list of all URLs ranking for your keyword set, how many of your keywords they rank for, average rank, and a lot more. You can take this information and dig into the top-performing pages to see what they've done to earn top ranking positions.
Refine with Segments
Going further, from any Rollup you can use the Segment dropdown to narrow down to competitors who rank between positions 1 and 10, in the top 5, top 3, etc. This lets you focus on the most successful competition so you can craft a more competitive SEO and content strategy.
Create Custom Segments
Nozzle has 84 built-in segments, but a really powerful feature unique to Nozzle is the ability to create custom segments that filter the data according to your needs. From anywhere in your dashboard, just click on the gear icon and select "Segments". Click "Add Segment" to create the custom segment by which you want to track your competition's rankings.
Track Your Competitors' Featured Snippets
When tracking your competitors' rankings, seeing who consistently owns the top positions enables you to analyze and learn from their content so you can create content to outrank it. Since Featured Snippets appear in position one nearly 100% of the time, you should know who owns the Featured Snippets for your keyword set.
To see this, go to your Share of Voice dashboard and select URL or Brand in the Rollup dropdown menu. In the Segment dropdown, type in "featured snippets" and you'll see a few options for viewing featured snippets.
The "Featured Snippets (unpaid)," segment will show you which page is ranking in all the featured snippets for your keywords. The other segments will show you those pages ranking for featured snippets containing tables, bulleted lists, numbered lists, and images. You can sort by number of ranking keywords and click on the keyword number to view the keyword list.
Add Your Competitors in Nozzle
Using Nozzle as your competition rank tracker, you now know who you are competing against in the SERPs. Return to your project settings, click on Brands, and add who you've found as named competitors. We will rewrite all of your historical data to include your newfound competition!
Many people who want to track competitor's rank have told us how invaluable the Share of Voice dashboard is to them, and we hope it will be for you also.