In addition to being a keyword rank checker, Nozzle is one of the best SEO competitor analysis tools. It lets you keep tabs on who is doing the best in the SERPs for your industry by showing you:
Not only can Nozzle help you figure out which domains are doing the best, but it can also show you the highest-ranking URLs. Knowing this can give you a good idea of which URLs you should analyze in terms of your competitors' on-site optimization and backlinks, using tools like Ahrefs, SEMrush, Moz, or Majestic. This way, you can focus on who is actually doing the best, based on real data, instead of just who you have a hunch about.
Ultimately, you'll want to monitor a big keyword list on a monthly or quarterly basis to help you keep tabs on all of the SERP competition for your whole industry. This is different from your regular keyword list, which you use to keep track of your daily rankings. Using this huge list, you can see your SEO progress over time and look at how you compare against the landscape of all your competitors. As you report on it every month or quarter, you'll be able to prove to your clients or your boss that your efforts are paying off.
Most SEOs use multiple tools for different aspects of SEO, like competitive analysis. There are many tools you can pair with Nozzle to accurately analyze your competition to guide your SEO strategy. We asked over 80 SEO practitioners which SERP competition tools they use for competitive analysis and what their favorite features are. Here's what they said:
Don't have time to read them all? We get it. Here's a quick summary: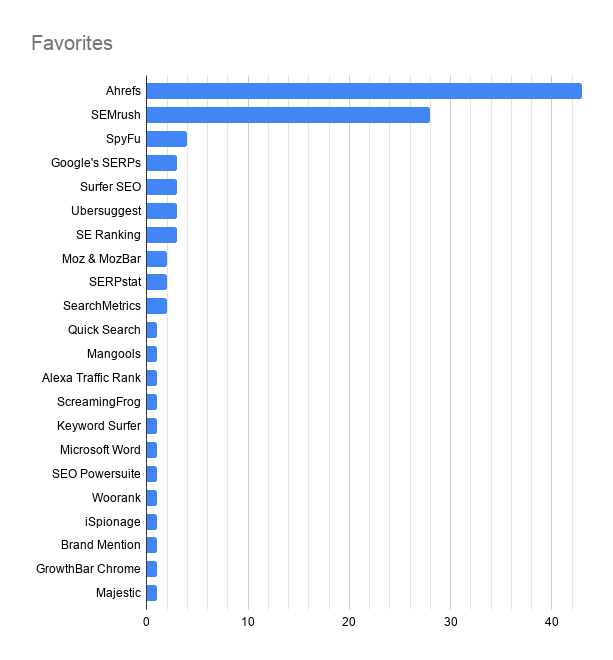 Other tools that were mentioned include:
SimilarWeb
AlsoAsked
KWFinder
Siteliner
Semify
CanIRank
Keywords Everywhere
Webpagetest.org
Testmysite.thinkwithgoogle.com
Google Keyword Planner
Whitespark
SEOClarity
Brightlocal
Builtwith.com
Google Advanced Operators
There are 3 tools that I use every single time I'm putting together a strategy for a new prospect and/or developing a new strategy for a new client.

1. The SERPs. Some might call this a cop out, but in my opinion, it is the quickest way to determine what kind of landscape we'll be up against. I can also pull a list of top 3 – 5 results for our seed keywords to determine how competitive each head term is. My favorite feature is to undo the 10 results per page feature from Google search, and then use a chrome extension to pull all of the links on the page for the query.

2. SEMrush. Tried and true. It's a quick and dirty way to pull metrics about the client's perceived competition, and their true competition from an organic visibility overlap perspective. The organic traffic insights and link analytics are what are most used in this phase. My favorite feature is to bulk compare link profile similarities and gaps.

3. Woorank. This handy chrome extension is a one stop shop for a super lite and fast audit. I can see what technologies, frequently used terms, and even the strength of their security certificate. It's what I use on the fly the most.

My favorite feature is the "technologies" section breakdown of what the prospect is using. This helps me ask the right kind of questions in the discovery phase.

Ken Marshall | CEO of Doorbell Digital Marketing
Personally, I use Ahrefs (for high level analysis), Screaming Frog (for on-page technical issues), and Keyword Surfer (for content length and keyword density at a glance).

I also use one other tool that almost everyone already has (but no one is using):
Using Microsoft Word's readability feature has been a huge tool in the competitive analysis toolkit. According to sources such as Center for Plain Language, the average American has an 8th grade reading level. By leveraging Word's easy to use readability feature, we're able to check for opportunities to communicate with customers in a more effective way. We ask, 'are our competitor's using language that is too difficult to understand? Can we communicate the message more clearly?'

User experience is so closely tied to SEO that we have to go beyond just checking for keywords in Title Tags. We have to attack every angle possible. A clear message delivered in the appropriate way can do more for your user experience than almost anything else.

Here's how you enable the readability feature in Microsoft Word. File > Options > Proofing > Show Readability Statistics. After that, whenever you click Editor(F7) you'll see a pop up once all suggestions have been accepted or ignored.

Nick Valle | Restoration Rocket
My SEO competitive analysis tools vary depending on client industry, client prospect geographies, and the question the competitive analysis is answering.

For ad hoc research, I start with the Google Ads preview tool for a quick manual check of a handful of key terms in question. I also look for new SERP occupants I might not yet be tracking as competitors, as well as new Google products on SERP. Once I've identified which companies are on the SERPs, I run full backlink reports on majestic.com, looking for new backlinks to competitor sites, and for high authority links lost by my site.

To analyze page performance competition, I run testmysite.thinkwithGoogle.com, and queue up comparison advanced tests on webpagetest.org.

For a more strategic competitive analysis, to find lexical or semantic openings, or to plan resources for the upcoming year, I start with manual visual analysis of SERPs on high-volume terms.

Competitor xml sitemaps can be helpful in telegraphing competitor content emphasis and site structure.

Spyfu is decent for Google Ads budgets comparisons. It's only somewhat accurate, but dependable for order of magnitude and directionality if you use a long enough timeframe.

Other tools I like:

– Builtwith.com is awesome for a "cutaway" look at competitor websites, and can give insights for ad strategies.

– The Google Advanced Operators also are a go-to. They're nice for getting a sense of a competitors' owned, earned, and paid properties online.

Susan Iscoe | SEO Strategist at Alex Wright Web Design + SEO
We've recently begun using Ahrefs much more at our agency. We've found that its crawlers seem to identify far more links than similar tools that we previously used at Moz. I think some of its most useful opportunities come from analyzing their new organic keywords 2..0 opportunities. This tool gives us prescient knowledge of the keywords that our competition appears to be targeting. Utilizing Ahrefs' organic keywords 2.0 tool means that my agency, Online Optimism, can help our clients to target valuable keywords weeks, or even months before we'd previously been aware that we should be aiming for these searches.

Flynn Zaiger | CEO of Online Optimism
Tools I Use: Ahrefs, Google, Keywords Everywhere and Mangools SEO chrome extensions
Favourite: Ahrefs
Favourite feature: Ahrefs Content Gap Tool.

This tool finds the keywords that are generating traffic for your competitors and compares them with your website to find keywords that your site doesn't rank for. It is a great way to discover new relevant keywords for your business.

Oh, and from an agency point of view, clients LOVE the idea of stealing traffic from their competitors!

James Hughes | Digital Marketing 4 Leads
Depending on your budget, the best options are SEMrush, SimilarWeb, and SpyFu. SEMrush is our overall favorite.

SEMrush combines data from several sources – including real internet browsers, scraping Google's search result pages, Google's API, proprietary web crawlers and third-party data sources – to provide a holistic view of your competitors' website and marketing tactics. SEMrush's best feature for competitive analysis is the ability to understand competitors' website traffic, traffic by channel, device & geography, top traffic sources, and most important keywords. This provides much deeper insight into competitors' online marketing strategies. Other SEO solutions like Ahrefs and SpyFu do not offer this much detail on website traffic.

Bruce Hogan | CEO of SoftwarePundit
As an owner of a company, Ahrefs is surely my most preferred SEO competitive analysis tool when it comes to various facets of SEO such as keyword research, rank tracking, competitor research, SEO audit, viral content research, and much more. My favorite would be the Domain Comparison tool. We add our site and those of 4 of our competitors to it. This serves to find sites that have backlinked to our contenders but not us. This benefits us to find great link opportunities. But this wouldn't have been so great if Ahrefs didn't have the largest database of backlinks. Ahrefs has been very effective in getting our site ranked for several major keywords, and getting us to 350,000 visitors per month.

Dusan Stanar | Founder & CEO of VSS Monitoring
My favorite tool for competitive analysis is Ahrefs because it provides you the facility to research your competitors by accessing how much organic traffic they receive, their backlinks, which are their top pages for links, or most engaging content. You can also check their UR, DR, and Ahrefs ratings. The tool lets you find content gaps between you and your competitors. You can also receive data about their paid keywords, PPC campaigns, and landing pages.

Robin Antill | Founder & CEO of Leisure Buildings
My favorite analysis tool is Ahrefs. Not only can I do content gap analysis, but I can check their backlinks, traffic long term, where their articles rank on a google search for their keyword, and more.

Sarah Colley | Creative Director & Copywriter at The Write Destination
Being a founder of a Digital Marketing Agency, I have used numerous competitor analysis tools out there but after narrowing it down to my absolute favorite, I can say SEMRush is the best available competitor analysis tool today in my opinion and can help you explore your competitor insights, along with your boosting your SEO efforts.

SEMrush is an all-in-one SEO software but when it comes to competitor analysis SEMrush is great for Keyword Gap Analysis.

Keyword Gap Analysis is the greatest SEMrush feature that I have not come across anywhere else. This feature allows you to set your page in direct competition with up to 4 competitors, to analyze and examine how you can rank above them in Google Search.

This will provide a breakdown of keywords related to your competitors' websites, and explains where each of these websites ranks for each of them, followed by how usually they are searched, keyword difficulty, and more.

The Keyword Gap Analysis feature of SEMrush is extremely useful for finding keywords that your competitors are ranking for that you are not, or vice versa.

Daniel Foley | CEO of Daniel Foley Marketing Agency
The competitive analysis tool for SEO that I use and will highly recommend is SEMrush.The best thing I like about SEMrush is that with SEMrush you can quickly and easily see what keywords your competitors are favorably using. You can also find out your competitors' advertising strategies, website traffic, audience, and more. SEMrush just has such a huge number of features (many of which normally people don't even know about) and they hold a treasure of information that's very useful for competitive analysis.

Reda Elmardi | CEO of muscleandbrawn.com
I've been using Amazon's Alexa Traffic Rank to conduct competitive SEO analysis and I'm very satisfied with the results it yields. The Alexa Traffic Rank tool is simply integrated into your Google Chrome Browser giving you powerful data at the click of a button. The Alexa Traffic Rank tool is a hybrid between Google Analytics, a detailed keyword analyzer, amongst other features that are open for a monthly subscription.

Julien Raby | Founder & Owner of Coffee-Works
Hands down, it is Ahrefs. Using the tool you can see the top 10 SERPs (or the top 100 depending on the keyword).

It also breaks down: rank, domain authority, backlinks, number of keywords, estimated monthly search volume, and estimated traffic. All of these metrics offer a treasure trove of data to do competitor analysis.

Antonio Wells | NAMYNOT Inc.
I struggled with your question about which SEO tool is the best for competitive analysis. While there are dozens of tools that provide competitive insights, two that I feel carry equal weight as best-in-class are SEMrush and SpyFu.

Both platforms provide insights into top organic and paid search competitors, including top keywords, sample ad copy and estimated site traffic. What I find most valuable, however, is the estimated monthly traffic originating from paid and organic search for any given domain. The primary reason to put them at a tie, is that their results vary significantly domain to domain, so being able to run a single website through both platforms helps triangulate the best data and competitive insights.

Kent Lewis | President & Founder of Anvil
I use Moz, SEMrush, SpyFu, and Ahrefs for competitive analysis. My favorite is Ahrefs' backlink tool for identifying quality link opportunities.

Allison Chaney | Chief Digital Training Officer at Boot Camp Digital
For competitive analysis, I find myself using Ahrefs, Moz, and SEMrush most often. Of the three, my favorite tool for competitive analysis is SEMrush. While its backlink data isn't as vast as Ahrefs or Moz, I feel it does a really good job.

As far as features go, it would be a tie between the Organic Research tool and the Backlink Gap Analysis tool. The Organic Research tool is helpful for seeing what pages and terms are accounting for the most traffic on a competitor's site. The Backlink Gap Analysis tool allows you to see links that your competitors (up to 4 vs. your site) have, and which you are missing. These tools create great opportunities for you to pursue and effectively get ahead of the SEO competition.

Brian DeBelle | SEO Manager at ilawyermarketing.com
My two favorite SEO tools for competitive analysis are SpyFu and Ahrefs. I use both daily for analyzing client competitor data. My favorite tool in Ahrefs is performing content gap analysis in order to source and find on-site content deficiencies. That data is absolutely invaluable for ideating content for our own and our client sites.

SpyFu is great for providing great visual client reports and overlaying competitor data for things like traffic and keywords. We use the visually appealing graphics to convince and convert clients on SEO strategies.

Nate Nead | CEO of SEO.co
I use mainly two tools for competitive analysis when it comes to SEO. SEMrush and Ahrefs are my go to in this scenario.. SEMrush provides a great deal of data when it comes to keyword research and it outlines also what your competition is doing and how you compare to them. I also like the feature that allows me to see the paid ads data so I can discover opportunities for keywords that we can rank organically. Ahrefs complements this very well as its backlink analysis is easier to consume and combining the two gives us a very good picture of where we stand versus our competitors.

Jesse Heredia | CEO of Ravecode Solutions
My favorite tool for competitive analysis is Ahrefs. It provides keyword research, traffic estimation and an overall timeline of backlink growth. A huge benefit of Ahrefs is its massive backlink index. In my opinion, it is the most comprehensive solution for backlinks, and also the best for checking competitors' search traffic and identifying which pieces of content creates the most income.

Gerald Lombardo | Co-Founder of thewordcounter.com
SEMrush is a great tool to use for competitive analysis and is best for their "Traffic Value" metric and their position tracking. I use this to go and choose my top 25 keywords per brand and monitor their fluctuation day over day, week over week, and month over month. This is fantastic to keep track of where we are for our most valuable keywords to the business while comparing to our competitors.

Kevin Miller | CEO & Co-Founder of GR0
My favorite tool by far for competitive analysis for SEO is Ahrefs. I've used a ton of tools over the years, including SEMrush, Moz and Majestic, but nothing compares to Ahrefs. They offer everything for SEO, from backlink tracking and analysis, to content exploration tools for scraping URLs for outreach, to keyword analysis. Ahrefs isn't cheap, but they're a one-stop shop for SEO and offer the strongest data in my opinion.

My favorite feature of Ahrefs for analyzing competitors is definitely their "site explorer" function. Just plug in your competitor's domain and you can get any and every bit of information there is on links related to their site. You can see incoming links to their site broken down by page level, outbound links, their most linked-to pages, and more. It's truly incredible how much data you can pull. If you want to try a mass link building campaign, you can scrape prospects for outreach directly from the links to your competitor's similar post. I am a huge fan of Ahrefs, and particularly their "site explorer" tool. They are awesome for competitor analysis.

John Ross | CEO & Co-Founder of Test Prep Insight
We use Ahrefs, SEMrush, and ScreamingFrog for our competitive SEO analysis. However, we primarily use Ahrefs as (between Ahrefs, SEMrush, Majestic, and Moz) it has the best backlink indexing capabilities. Ahrefs provides the largest index of backlinks, so our favorite feature when researching a competitor is Ahrefs' backlink checker. Over time, we have found that a site's backlink profile can tell a lot about the style of SEO they are using and where to target our efforts. Getting backlinks from similar sites (or better yet the same page on a site) can really help negate some of the positive effects your competition is getting from the backlinks.

Andy Kolodgie | Owner of The House Guys
I personally use many SEO tools like SEMrush, Ahrefs, ubersuggest, Moz but my favourite SEO tool is Ahrefs.

Ahrefs is just full of goodness. It has so many amazing unique features.

For competitive analysis, I love it's site explorer tool because it just opens up everything about my competitor: how much traffic they're getting, from where they're getting, their top pages, keywords they rank, links they have, possibly everything you can think of.

Their content explorer tool is also great, which lets you search from their billion pages of content index, on whatever topic you're looking for.

Karan Bhatt | Founder of bestwebhosting.ws
Ahrefs.com is the best competitive SEO analysis tool on the planet. You can view your competitor's top pages and keywords. Then compare these competitors' ranking keywords to your own. This is not only fascinating, it provides a strategic advantage to know what keywords to target. My favorite feature is the individual Keywords Explorer. By knowing the number of backlinks to the top ranking pages, I know pretty precisely how many backlinks it's going to take to rank my page.

Brian Robben | CEO of Robben Media
Google should be the first tool to use when analyzing competitors. It gives you most of the answers right then and there. Transactional, conversational, educational? You'll be able to tell that just by looking on the first page.

SEMrush is my go-to tool for most of the SEO stuff, including adding the competitors (I prefer a minimum of 3) URLs and analyzing the keywords they rank for and I don't, and their backing profile. I often discover great opportunities that can be easily implemented and see an overall boost in a short period of time (varies on the industry).

Emanuel Petrescu | Digital Marketing Specialist
My favourite SEO competitive analysis tools are:

1. SE Ranking: It is a suite of SEO Software containing a great competitive analysis tool.

2. Ahrefs: Probably the best known SEO tool in the market. Their site explorer is just superb with tons of data.

3. SEMrush: A direct competitor to Ahrefs with over 40 tools. Their competitive analysis tool is nice, although navigation is a bit tough.

4. SpyFu: SpyFu has evolved from a PPC tool to an SEO Analysis tool. Their competitive analysis has many great features like overlapping keywords, organic reach, etc….

5. Ubersuggest: Developed by Neil Patel, it is a great tool for all round SEO analysis.

Naman Bansal | SEO Expert & Owner of xplorersoffun.com
MozBar is a free Chrome extension that you can download from here. MozBar shows the Page Authority (PA) and Domain Authority (DA) of a website right on the SERP page. It gives you an estimate of how strong your competition is.

Sai Kalki | Digigrow
The competitive Analysis tools for SEO that we are using are 1) Ahrefs, 2) UberSuggest, and 3) SEMrush. Ahrefs SEO tool is one of the amazing SEO competitive analysis tools and easy to use due to its friendly design dashboard with amazing features. This tool also helps you to perform competitor analysis, in which simple you need to add your competitor domain as a project and you will find a whole SEO analysis of your competitor and how you can compete with your competitor. In Ahrefs SEO tool you will also get competitor keywords rank tracking, social tracking, and link building tracking that will help you to create a new SEO strategy better than your competitor and allow you to build more backlinks for your website.

Ahrefs SEO tool comes with amazing features & tools that will help you to Analyze and create a new SEO strategy for your website.

1) Keyword Explorer: In the Ahrefs tool you can easily perform keyword Analysis according to your NICHE and the major benefit of Analytify Keyword explorer is you can easily get the content idea against every keyword including searches, competition, clicks, and how easily you can rank.

2) Site Explorer: Site Explorer will help you to Analyze the whole website SEO performance that includes Backlinks (New, Lost, Broken), Referring Domains (New, Lost), Organic Search (Organic Keywords, New, Movements, Top Pages), Organic Traffic, Total Organic Keywords, Traffic Value, Outgoing links, Paid Search (PPC Keywords, Ads, Top landing Pages), and you can also export whole SEO Analysis in PDF or CSV report.

3) Site Audit: Site Audit will help you to analyze the health score of your project or website in terms of On-Page and Off-Page SEO. On-Page SEO issues include Title Tags, Meta Description, Title Tag missing or empty, Headings are missing or multiple, Low Word Count, Social Tags like Open Graph missing, Twitter Card missing, and performance (Page Speed Optimization issue solve or pending like Image optimization, JS and CSS/HTML optimization).

4) Rank Tracker: Ahrefs rank tracker tool will help you to track the keywords ranking of your website with traffic, clicks, and search engine result position, etc.

5) Content Explorer: Content Explorer will help you to topic ideas against any topic or keywords including websites or competitors who published related content. You can also search for those websites that have no backlinks but appear in top results by using this content explorer tool and get an idea about how they write their content.

6) Domain Comparison: Domain Comparison will help you to compare your website with other websites that include competitors, plus you can also compare competitors' websites with each other. In Domain Comparison analysis, you will get results related to referring domains, backlinks types, and graphs of changes in each domain.

7) Batch Analysis: In this Ahrefs tool you can enter multiple domains or websites for backlinks analysis. When you enter the website and click on the Analyze button you will get results of backlinks for each domain.

8) Link Intersect: This tool will help you to analyze which website is giving backlinks or not to your competitor's website.

Tayyab Akram | Digital Marketing Expert at WPBrigade
I mainly use SEMrush and Mangools which are my two favorite tools. I love the keyword gap functionality of SEMrush to discover new keyword opportunities using your competitor's data but I also love Mangools' SERPChecker because you get localized SERP simulation and link popularity metrics and you can introduce your URL to compare your metrics vs the top-ranking pages for that keyword.

Carlos Castro | SEO Consultant
Our SEO team uses a range of tools for competitive analysis including Ahrefs and Surfer SEO. They give us a wealth of data and insights into all aspects of our competitors' SEO performance so we can not only keep up with but surpass the competition to generate growth and revenue for our clients.

Surfer SEO has become a favorite amongst our team since adopting it in the fall. Their Content Editor feature helps us go beyond keyword density to take our content briefs to the next level. Their AI checks what competitors are doing and uses that data to provide recommendations on what words to use, how long content should be and what headings, topics and people also ask questions to target. It offers valuable competitive insights and guidance without the time spent analyzing each top result for our targeted keyword.

Michael Steele | CEO of Flywheel
Being a chief founder of a company, I would highly suggest Ahrefs for competitive analysis. Ahrefs is an all-in-one SEO tool suite that helps you to boost your search traffic, study your competitors and dominate your industry.

Its competitor research tool is very intuitive and I use this tool to analyze where my competitors are getting their backlinks from, which pages are getting the most backlinks, referring domains, top content, even what their anchor text is for their links.

The feature that I like the most in Ahrefs is the Backlink analysis that helps me unearth broken backlinks that point to my competitors, and then perform a reach out exercise to the webmasters to get the content linked to my content.

Stewart Dunlop | Chief Founder at Airsoftpal
Some of the major tools that I use for competitive analysis for SEO include SEMrush, Ahrefs, and Cognitive SEO. However, amongst the aforementioned tools, the one I personally prefer over the others would have to be Ahrefs SEO tool. Here are a few reasons why:

– Ahref generates Top Organic Keywords that help me gain a better understanding of the keywords that are targeted and the traffic they derive.

– It has a backlink feature that helps design a much more effective Off Page Strategy.

– While the above-mentioned features give effective results, one of the prime features which make Ahrefs standout for me is their content gap feature which helps us determine where we're lacking and our competitors aren't in terms of keyword rankings.

M. Kashif Yaqoob | Assistant Digital Marketing Manager at JagahOnline
Having a tool that can make your SEO competitive is the best thing that you can avail to compete with the competitive platform of SEO. As a business owner myself, dominating the SEO platform is very crucial for me because I ensure my ranks in every SERPs and also my success as a business.

As for me, the best SEO competitive analysis tool is Ubersuggest because it has all the things that I need to be able to make my SEO more competitive. This helps me to become aware of my competitor's information and analyze it. My favorite thing about Ubersuggest is that I can dig up my competitor's top keywords and even the numbers of backlinks which I can use to adjust my strategy and eventually outrank them.

Michelle Devani | Founder of lovedevani
As a content ambassador, it is my responsibility to perform competitive analysis for SEO to ensure that we are on the right path when it comes to our SEO strategies. To help me do this task, I use Quick Search. It is my favorite because it makes my work easier. It helps me monitor conversations and topics about my brand and identify ongoing trends in our industry. Also, it allows me to compare different brands in one go with a high accuracy rate which saves my time and effort that makes my productivity higher.

Samantha Moss | Editor & Content Ambassador at Romantific
The best SEO tool that I have ever used is SEMrush. It's hands down the best in the market right now. Here's why:
a) It has the biggest database of Keyword & Backlinks
b) It tracks your competitor's top keywords, promotion methods, etc.
c) Several SEO Toolkits
Basically, it's the only competitive analysis tool that you will ever need.

Abhishek Tiwari | CEO of SEOCharge
I have used two tools to do competitive analysis on SEO metrics and efforts. Namely, these tools are SEMRush and Ahrefs. But my favorite tool is Ahrefs, below are some features that I love about Ahrefs.

Ahrefs has an amazing backlink analysis tool. This tool allows one to see what backlinks are linking to a competitor. In terms of link-acquisition activity of SEO, this tool is simply amazing.

Organic keyword tracker of Ahrefs is intuitive and easy to understand. I often use this tool to identify high volume, low difficulty keywords which I can capitalize on as far as new content ideas and content development is concerned.

The Content-gap tool in Ahrefs helps one identify top competitors which are competing for organic traffic on some of the key pages.
There are many other features in Ahrefs which according to me are simply awesome but the above three features that I have mentioned, stand out to me the most.

Rohan Kadam | Vitalfeedz.com
Ahrefs is pretty much the best SEO tool for competitive analysis. It gives you a comprehensive overview of what your competitors are doing to get organic traffic and what's working for them. I specifically like to look at a couple of things.

First, the keywords section that gives you the keywords that they are ranking for. If you are short of ideas on how to find keywords to target in your SEO campaigns, looking at 2 or 3 competitors' keywords and doing a Content gap analysis will give you a lot of ideas.

Second, there's the back link section that shows all backlinks they have built in the recent past. This is again a great place to start if you are looking for some quick link building opportunities. Talking of the links, their "best pages by links" section is another great feature to help you find inspirations for content marketing campaigns.

John Hewitt | Senior SEO Analyst at Netbooks Review
I've used pretty much every SEO tool out there. But what I do is, I start by using a tool like AlsoAsked.com, a question search engine (much like AnswerThePublic.com), which is one of my favorite new tools. I look up the questions I know my audience is asking.

Then, I take those questions either directly to Google or to any SEO tool to see what top results come up. Those are my competitors. Often, using Google directly is best because it's up to date and you can see all the other results (like "related searches" or "people also searched for" on the right side, below the knowledge panel), and other search features.

Then, I use a variety of tools: I want to see what makes them rank high, what keywords they rank for, what gaps exist, and backlinks they have that I don't. For this, my favourite tool is Ahrefs.

Michel Fortin | Michel Fortin SEO Consulting
Here are my two recommendations to your questions.

For a free tool, I feel UberSuggest does a great job to let the foundation straight. You enter the domain name of the competitor and track the website performance, backlink profile and current traffic per month.

For an industry recognized tool, I feel Ahrefs is best in the business. Primarily because of the break up they offer in terms of content exploration, website quality issues and suggestions for acquiring links under specific domains.

When I recently checked my stats on Ahrefs, It had no .edu or .gov backlinks. So, now, my SEO consultant is focusing on getting links from such domains to boost authority.

Rahul Gulati | Founder of GyanDevign Tech Services LLP
SE Ranking assists you to monitor competitors' search rankings on any engine and objective regions, up to five projects per website. SE Ranking is an all-included SEO software that allows all SEO tools required to strongly complete online marketing projects. SE Ranking is excellent for small business owners, SEO pros, and agencies. The keyword analysis and auditing tools are a fabulous addition to rank tracking. They give precious insights to our on-going campaigns and competitors in an easy to use dashboard and reporting structure.

Shiv Gupta | CEO of Incrementors
Before I started building my website, I did extensive market research using Ahrefs.com.

I guess it is no surprise because it is one of the best online marketing tools out there – it has the largest database of KWs, relatively accurate data, and its users can find almost anything they need to do the proper competitor analysis.

My favorite feature is the SERP overview – it shows backlinks, estimated traffic, main KW, etc. Simply everything you need to decide whether it's worth it or not to go for a specific KW.

The biggest downside for me is the price. So, here is a little hack – Ahrefs offers 7 days of trial for $7. If you need to do the market research, you can do it during the trial period. Eventually, Ahrefs offers some of their tools for free but separately (you can find them in the footer on their website).

Petr Minarik | Founder & Chief Editor at CyclistsHub.com
At Meetanshi, we use Ahrefs and SERPstat for competitive analysis. Today, I'll be talking about SERPstat's tool that offers domain comparison feature. This feature can be helpful to get the list of keywords with each domain's performance, related keywords, search suggestions, and keyword top pages.

Aastha Shah | Senior Content Writer at Meetanshi
SearchMetrics – Founded by Marcus Tober in 2005 specially for competitor analysis. Currently, it mostly covers all the digital marketing campaigns, including content, search, social and PPC and allows enterprises to analyze, measure, predict and report on them.

SEMrush – Oleg Shchegolev is the founder of SEMrush on 3 Aug 2008. It has 45+ marketing tools, 20B+ keywords, 800M+ domains. It is a overall tool which helps in improving the visibility and marketing insight of our websites. It provides SEO, PPC, SMM, Keyword Research, Competitive Research, PR, Content Marketing, Marketing Insights, Campaign Management services.

Ahrefs – Founded in 2011 by Dmitry Gerasimenko. It is mostly famous for backlinks and SEO analysis simultaneously one can do the competitor analysis using this tool. Where site Audit tool will analyse your website for common SEO issues & monitor your SEO health over time.

Krunal Prajapati | Digital Marketing Expert at Metizsoft
We've found Moz to be an invaluable tool for SEO and optimizing our blog posts. The Mozbar is great for prospecting backlinks and getting a quick idea of the authority of other websites. Similarly, the link explorer was helpful in assessing the health of our backlink profile. Perhaps our favorite tool, the On-page Grader provides a granular analysis of on-page SEO factors to help you tweak your content to optimize page rank. FYI, it is only included with Moz's Pro (paid) edition.

Sunny Ashley | CEO of Revy Solutions
My favorite SEO tool for competitive analysis is Ahrefs. When I need to look at several competitors' sites, then I use the Batch Analysis feature in Ahrefs. It's my favorite feature because it gives a quick snapshot of all the domains that I want to compare so that I can see any outliers.

The Domain Comparison feature in Ahrefs is another great way to do a competition analysis and see where you're lagging behind so that you can catch up.

And though I use it less often, the Link Intersect feature in Ahrefs is also valuable if you're focusing on backlinks in your analysis.

Alex Williams | SEO Lead at The Website Flip
Although I feel Ahrefs is more comprehensive for link building, I favour SEMRush for the easy access in identifying the organic traffic generation of the competition. I also find it useful as a quick reference for checking to see whether a site generates enough traffic to be a valid link prospect. Within a few clicks, it's easy to see whether a website is ranking for keywords as well as the country from which it's driving the most traffic.

Christian Carere | SEO Consultant at Digital Ducatas Inc.
We use Ahrefs. We have been doing so for the last 7 years and it changed the game for us. The depth of data they provide on our competitors is unparalleled. Our favourite feature is their Content Gap Analysis which allows us to find out which terms our competitors are ranking in the first 10 results which we are not.

Marc Bromhall | Founder of Beginner Surf Gear
I have tried and tested quite a few SEO tools, most notable of which include Ahrefs and SEMRush. Still, Ahrefs does the best job for me in terms of overall functionality. My favorite keyword research feature there is the so-called Content Gap. It allows you to look up your website's keywords against a few competitors, whether they are pre-chosen by the tool or any other competitors you enter. Then, you can determine which keywords would be likely to rank well based on their volume/difficulty ratio. Since I'm trying to build high-quality websites with content that would attract real buffs and enthusiasts, keyword research is not a decisive factor in my content strategy. But it definitely helps in filtering the topics that could perform well besides making sense for my readers.

Mark Coster | Owner & Chief Editor of STEM Toy Expert
I looked at several tools before deciding upon SEO Powersuite. I like that it is software that can be installed on your laptop and has spreadsheet views similar to excel. I find the tool easy to use and keep track of clients. My favorite tool is SEO Spyglass where you can spy on your competition to find out where they are ranking. It helps figure out what additional backlinks my clients need to try and get and more keywords we need to add to try and continue to rank.

Jessica Rhoades | Owner & Designer at Create IT Web Designs
I have recently used Ubersuggest, SEMrush, and Siteliner. Each comes with its set of pros and cons and has a unique selling point that helps it differentiate from others. Personally, my favorite out of all is SEMrush; it is an excellent SEO competitive analysis tool and works like no other. The user interface is amicable, and it helps you rank your website/page not only on Google but on ten more search engines. From calculating analytics to filtering out the right keywords, it does it all. My favorite feature of SEMrush is that it helps in local position tracking and identifies the set of opportunities for you based on your competitors. Some additional features include expert customer service 24/7, detailed customer performance and comparison insights, and a broad range of tools tailored for your search. It's undoubtedly a complete package!

Alex Berman | Founder of email10k
The tools I use to conduct competition analysis are MOZ (backlink analysis), Surfer SEO (content analysis), and Google (overall analysis).

Out of those tools, my favorite one is Surfer SEO, and more specifically its SEO Audit feature.

This feature enables me to generate a step-by-step action plan for optimizing the content of specific pages I've already published based on structural data and on-page factors drawn from their organic competitors, such as content length, keyword density, number of headings, page speed, related keywords, etc.

Conducting such an in-depth competition analysis would normally take hours but with Surfer SEO's SEO Audit feature you can get it done in mere minutes.

Harry Niotis | Founder & Editor at Dear Boss I Quit
As far as options – I am torn between similar tools….

1. Ahrefs – Has the best backlink analysis tool, with the widest accurate pull of links
2. SEMrush – best analysis options
3. SE Ranking – simple and easy to use

Paul Easton | Senior Account Manager at Vine Digital
Ahrefs would be my favourite tool, without a doubt. When you want to do a competitor analysis, you'll find everything you need under one roof.

One of the best features is "Content Gap" tool,where you can see all the keywords your competitors are ranking for, that you don't. This is a really good way to get content ideas.

Johannes Larsson | SEO Expert and CEO of Financer.com
As for me, being new on outreach and when it comes to competitor analysis, I prefer to use SEMrush because of its advanced report feature that helps you decide what you have to take action on first, which may involve gaps in your keywords and backlinks versus your competitor. You may see this feature on your SEMrush dashboard under competitive research.

Monique Gesmundo | Growth Rocket
At GRIN, we outsource a lot of our SEO tracking. That said, there are two things that we do that regularly contribute to our high rankings (when we achieve them):

1) We Google topics that we want to rank for you and see who pops up. We note changes, as well as how far back we are from the competition (if we don't already rank at the top).

2) We talk to prospects and clients ALL THE TIME. I have my team to thank for that. Everyone is customer-centric, and not only does that impact our product development team, but it helps us produce content that addresses real concerns and topics on the front of our customers' minds (and in their own words, no less). I attribute this open communication to the main reason we perform well in search rankings. We are deeply connected to our audience, and no SEO software can replicate that.

Ken Fortney | GRIN.co
According to me, Ahrefs is one of the most dependable competitor analysis tools, and it provides much more depth analysis.

We have been using only Ahrefs for four years and never felt like our digital marketing strategies are not working correctly. Ahrefs plan starts from $99 p.m; to $999 p.m, and even you can try any plan as a trial base only at just $7.

Today, Ahrefs has a ton of features that make it a direct competitor to SEMrush, including:

– Keyword research features
– Keyword competitor analysis
– Technical SEO tools (like a site audit feature)
– Rank tracking

Ahrefs site explorer feature will provide you all the required information such as backlinks, domain rating, keywords, traffic, traffic value. Even at the same time, you can check 200URLs at one time by using the Ahrefs batch analysis option.

You can use Ahrefs for multiple purposes, and its backlink option will provide you A to Z information about backlinks such as broken backlinks, new or lost backlinks, most link domains, number of dofollow, nofollow, education, org, number of referring domains, and much more information about backlinks.

To create content, its content explorer option is just incredible. You need to add the keyword. It will show you top-performing content topics; based on it, you can create your killer content outline. Certain content will definitely not only rank well in SERP, but it will stay for a long time in top results.

You can do many things with Ahrefs such as competitor analysis, site audit, keyword research, content gap analysis, domain comparison, top competing domains, top-performing pages, broken links, PPC keywords, landing pages, Ads. You can use this tool for link-building purposes too. Use of Ahrefs is entirely limitless.

I would suggest investing in Ahrefs means increasing your ROI for sure.

Ashish Goswami | Sr. Digital Marketer at 21Twelve Interactive
As part of my role as a growth marketer, I've used Ahrefs and SEMRush for competitor analysis. I prefer SEMRush as it offers a lot of great PPC analysis along with SEO. The Position Tracking tool gives a great breakdown on competitor visibility for target keywords and the amount of traffic particular sites receive for specific keywords.

This tells me how visible we are vs competitors in the search results, but also which keywords actually bring in the lion's share of traffic that we need to pursue more aggressively.

My favourite feature in SEMRush is the On-Page SEO suggestions for making improvements. In particular, suggesting relevant LSI keywords and related phrases that appear on other sites ranking well for the phrases we are targeting. Because intent is so critical in search these days, having as many relevant phrases to the topic is important for ranking well in the SERPs.

Brad Mathews | Growth Marketer AdChina.io
There are various tools available in the online space and some of the best competitive analysis tools for SEO are listed below.

The first one would be Searchmetrics help you find gaps, uncover customer insights, and build winning strategies to attract your audience. Whether it's research, SEO performance tracking, or content development, you can increase your organic search performance and drive success when backed by the Searchmetrics Suite's insightful data.

iSpionage uncovers competitors' best SEM and SEO strategies to optimize digital marketing campaign performance at a local level. It has expanded its product offering to serve SEO professionals by adding SEO Watch, a powerful, easy-to-use SEO rank tracker that delivers actionable insights to help businesses increase their visibility on the search engine result pages.

Lastly, SEMrush analyses the data for you and gives you instant recommendations on SEO, content marketing, and advertising that can help you improve your online visibility in days. Reveal top players in any industry, analyze a new market or niche, and get in-market audience insights.

Jennifer Willy | Editor at Etia.com
My favorite tool to analyze competitors has got to be Ahrefs. It has all the tools an SEO specialist can need.

My favorite feature is the backlink profile that you can pull with the filters in place. It allows you to get an idea of the competitor's link building strategy and what links they have.

From that same backlink profile, you can find websites that are willing to link to you if you have better content (which you should).

Luat Duong | SEO Intern at Scandinavian Biolabs
At WebQuest we work with a variety of tools and when it comes to SEO competitor research we use SEMrush, Ahrefs, Moz, in addition to a manual check and crawl of the website(s). In terms of our favorite features, we like the keyword gap analysis and backlink gap analysis that both SEMrush and Ahrefs provide – it allows us to see what our clients are missing out on that is common amongst the competitors.

Mazen Aloul | Founder & CEO of WebQuest
In everyday work, I reach out to numerous SEO tools to check on my client's competitors. To go deep into the details of competitors' activity online it's good to compare results between different tools as each has its own measures. From my experience, the most efficient ones are Ahrefs and SEMrush. My personal favorite for competitive analysis is Ahrefs. Within this one tool, you have a variety of metrics that will tell you a lot about your rivals' online strategy. The amount of data is really overwhelming – you can check things like best organic keywords seeing what generates the best organic traffic to their site, explore the estimated traffic and quality of their link-building efforts. My absolute favorite feature within Ahrefs is the backlinks count and checker – you can easily find out where your competitors place their links and follow that benchmark in your further SEO work. With Ahrefs the competitive analysis goes really smooth as the interface is really easy to work with. Highly recommend! 🙂

Matt Calik | Head of SEO/SEM at Delante Agency
Though I have used many SEO tools for competitive analysis, Brand Mention gave me an extra edge when analyzing our competitor strategies. It is easy to spy on a competitor from different angles and know precisely where the competition stands.

With this tool, you can see your competitor's evolution throughout time and learn what their strong points are, where exactly they get mentioned, and what topics they are focusing on.

There's a feature in the dashboard, "unlinked". It shows all the places where your brand name, maybe a blog post, video, social media post, was mentioned but did not link back to the website.

It makes us easy to reach out to the person or website owner who has mentioned your brand or content and ask for a friendly favor to link to your website. For SEO, links do a massive job, and this is one of the easiest ways to earn quality backlinks to boost the brand's rankings.

Susan Thompson | Digital Marketing Manager at Topp Casino Bonus
We use Ahrefs for competitive analysis for our SEO campaigns. It is our favorite because it can easily get a comprehensive look at the search engine traffic as well as the backlink profile of your competitors. Our favorite feature is their backlink checker as it boasts one of the fastest backlink crawlers as well as it features trillion of links, a perfect tool if you are doing backlink research.

Patrick Garde | Co-Founder & Technical Director at ExaWeb Corporation
We use Ahrefs.com for its robustness and ease of use. For SEO specifically, it offers us very granular apples-to-apples data on both ourselves and competitors that allows us to make very specific changes and take very targeted steps toward improving our position versus competitors for very high-value ppc terms.

Billy Ross | CEO of RFTA Properties
SERPstat is the best SEO tool to track keywords and backlinks of your competitors, and having better data quality is comparable to SEMrush and SpyFu. It will save time and help you avoid the endless process of exporting organic ranking data and creating pivot tables in Excel. It provides access to competitor backlink analysis and keyword research. It provides database results based on different geolocations, which is great if I need to target a particular location.

Compared to other tools on the market, SERPstat offers everyone's pricing plans, whether you are an individual blog owner or an agency. The interface is simple and not bloated like other tools I've used. We use this frequently to generate monthly reports for our client, and SERPstat does not force their watermarks on the reports.

Simon Keller | Founder and CEO of SDK Marketing
We have been using SEMrush for quite a while and it is one of the best tools for SEO analysis of the competitors for small and medium-sized businesses.. SEMrush has an extensive and detailed database and works very well in analyzing the competitors' SEO performance and their organic traffic.

SpyFu also provides us with a comprehensive list of competitors for any domain we analyze. It has been really helpful for us to identify our top competitors. It is better than many competitor analysis tools for the analysis of the domain and its distribution on the first page of search results on any search engine.

If I'm asked about my favorite of the two SEO analysis tools mentioned above, I would choose SEMrush as my favorite for its amazing features

My favorite feature of the SEMrush is that it's dashboard is very comprehensive and displays detailed traffic such as branded and non-branded, the number of search queries, and the amount of traffic attracted through a branded search. This feature helps us in analyzing the competitor SEO and the performance of their domain in detail with every aspect under consideration.

Bradley Stevens | CEO at LLC Formations
One of the tools I use for competitive analysis is Ahrefs. This tool has a site explorer that helps you understand what links are working for your competitors. The Ahrefs site explorer shows you your competitor's most linked content to see how you can work on something similar for yourself. The tool also helps with understanding competitor's PPC keywords and learning from their PPC ads.

I also use KWFinder. KWFinder has a competitor based keyword searcher that helps you with some essential knowledge about your competitors' keywords. This information includes top keywords your competitors rank for, the highest organic position reached for each keyword, the Estimated Traffic per Month based on the search volume and the organic position, etc. This tool provides you with information that can be pivotal in your decision for SEO strategies.

Ahrefs is my favorite tool because of how complete it is. It does not just restrict to keywords but also gives you insight into PPC ads. It lets you know about every detail of your competitor's work, including broken pages, best-performing keywords, organic keywords, their superfans, and most importantly, it helps you identify your competitors as the very first step.

My favorite feature has to be the Ahrefs site explorer. The prime reason being how easy it is to use and the vital information that it shows. Ahrefs has helped with some in-depth knowledge about my competitor's PPC ads to help me implement strategies accordingly.

Cale Loken | CEO at 301 Consulting
At Semify, we created a proprietary competitive analysis tool that is geared towards small business owners. Our goal was to give small business owners a free competitive analysis tool that helps them understand where they stand in relation to their top competitors and what it will take to close the gap. Because this is a tool is meant to be used by non-enterprise companies, we dedicated our tool had to meet the following requirements:

– Is 100% free forever
– Can be conducted in 15-20 minutes
– Provides free premium data from SEMRush and Ahrefs
– Includes powerful keyword research
– Includes simple to understand and use interface

Jeff Shipman | Director of Marketing Innovation at Semify
I primarily use Ahrefs since I can use it for a complete analysis of both my competitors' backlinks and content. My favorite feature, and the one I use the most, is the "Top Pages" report, where I can easily gain an overview of my competitor's best pages and their backlinks.

Victor Enselmann | Digital Communications Manager in charge of SEO at Bankly
The goal of any SEO competitive analysis is to gather insight into which factors drive top rankings for any keyword. That way you can devise a customized SEO strategy to get to No. 1 as fast as possible. CanIRank is an SEO competitive analysis tool that pulls data on over 200 different ranking factors from seven of the best SEO tools — including Moz, SEMRush and Ahrefs. Then our AI system compiles this info into a dynamic report with actionable steps easy enough for anyone to understand.

Matt Bentley | Founder & CEO of CanIRank
We personally use Ahrefs. Searching for your competitor's backlinks is something that Ahrefs does really well. It allows you to see a website's basic features through its Site Explorer Tool.

Doing that will take you to a page where there are so many metrics that you will not have time to look at everything. From Referring pages, traffic and backlinks, Ahrefs got you covered. Most notable out of these is the Backlinks section. You can go to this page when you click on it on the left sidebar.

What I love about this part is that it does more than just list the backlinks. All backlinks are clickable and it includes the Anchor Text and page that it is linking to. All of these are helpful if you are just planning to have your own SEO campaign.

First, it can show you all of the backlinks of your main competitors. This will show you the type of websites that you are up against through the number of backlinks that they have and the quality of the websites linking to them.

Second, you can get a glimpse of the keywords that they are aiming for. You can see that some of their anchor text will be targeting a particular keyword. You can then research this keyword to find out why they are targeting this.

Third, you can also see the pages that other websites are linking to. Let's face it. Not all pages in a website is a winner. But Ahrefs let you dissect a website so that you can find out the pages that other websites are linking to.

All these can help you decide on the keywords that you will target and how you are going to promote your website in order to dominate those keywords.

Tariehk Geter | Owner & Co-Founder of OSI Affiliate Software
I think you need to know your competition if you want to beat your competition and my favorite tool for doing that is GrowthBar. It's a Chrome extension that lets you perform keyword research, competitive analysis, and track SEO rankings. GrowthBar can access data points about any website from the search engine results pages so you can see which growth channels, keywords, backlinks, and ads are working for your competition. I like the top keywords and backlinks feature because it lets me see which paid and organic keywords are driving the most traffic to a website and a list of the most authoritative backlinks pointing to the site.

Francesca Nicasio | Content Marketer at Payment Depot
The tools that I use for competitive SEO analysis are Google Analytics, SEMrush, Moz, and Google Search Console, to name a few. Each one offers different data and ease of use; for example, with Moz bar, I can see the domain authority of competitor's pages at a single glance, whereas I would have to go digging for this information in other programs.

My personal favorite out of these tools is SEMrush for the depth and complexity of the program and its reports. It is useful not only for monitoring data for my own site's performance, but for competitive analysis as well. The entire "Competitive Research" dashboard is useful for this, but the "Competitive Research – SEO" field complies a ton of useful information, such as keyword and ranking traffic in SERPs, as well as diving into competitor backlinks for new external links that my team can target.

Jennifer Neylon | SEO Strategist at My Supplement Store
For competitive analysis for SEO, I use tools like SEMrush and Surfer SEO. Both the tools have their own pros, but Surfer SEO is my favorite. I find it to be the most comprehensive SERP analysis tool on the market.

It has a lot of features that give you complete expert-level insights from SERP. With the help of these insights, I am able to find out the optimal keyword density, know my biggest competitors, compare my pages to other sites, find common backlinks from top pages from SERP and many more.

What I love the most about it is that it also helps me optimize the content against the more than 500+ factors, including the number of headings, reference URLs and domains, keyword density, page speed, and others.

Caroline Lee | Marketing Director at CocoSign
Hands down Ahrefs. It's an easy tool to use and very intuitive in it's functionality. My favorite feature is the content gap analysis where you can side your website up against competitors' and see where there are keyword and content opportunities you may not have thought of or capitalized on yet. It's also easy to get insights into a competitor's backlink profile for further ideas, as well as what keywords they are ranking for to help you determine what's working for them and possible opportunities to compete more aggressively from your end.

Emily Amor | SEO Manager at Digital Darts
My go to tool is SEMrush for competitive analysis. The Competitive Research Toolkit is super helpful, and I have personally discovered some very cool keyword ideas by using this tool.

Adam Stewart | Founder of Digital Bond Marketing
If you are a beginner, you might want to use SEMrush as it has a free version for newbies! SEMrush is all-in-one SEO software, and if you wish to go for one tool, then this is the one I'd recommend, simply due to the massive range of features it has.

My favorite feature is the Keyword and Ranking Analysis. SEMrush gives you the ability to see the keywords that your competitors are ranking for, in both organic and paid search results, along with the ads that are ranking, top anchors, backlink type, and MORE. This is a goldmine of information, and from it, you can get ideas for ad copy, keywords to target, and so much more.

Ron Evan | Digital Marketing Specialist at Thrive Agency
Well, some of the best tools to utilize for SEO competitive analysis are SpyFu, Ubersuggest, SEMrush and many more. We often use SEMrush for performing our competitive research. It is quite an efficient tool and helps you analyse diverse categories like keyword research, site audit, backlink analysis and suggestions on link-building and a lot more. The best part about it is that it not only helps you with SEO but also PPC, social media, branding and more. Moreover, it is cost-effective as there exists a free plan too. It can help small businesses read their competitors without bearing much cost.

Avinash Chandra | Founder & CEO of BrandLoom
SEMrush is the best SEO tool for competitive analysis. From the competitor analysis tab, we can easily check the list of competitors and their traffics. Moreover, their ranking keywords, that allows us to assess the missing keywords by us.

Noman Asghar | Digital Marketing Executive at Fan Jackets
I use SEMrush, Google, and Moz Link Explorer.

SEMrush offers many relevant tools for analyzing the competition. It's easy to use and offers critical insights. For these reasons, it's my favorite tool.

The feature I appreciate most is the Keyword Gap tool. The importance of keywords has been proven repeatedly, and this tool helps us improve our keyword strategy by identifying what keywords our competition is missing.

Melanie Musson | QuoteInspector.com/
At Summit Digital Marketing, we primarily use Ahrefs and SpyFu for competitive analysis. Ahrefs is our go-to due to the range of features it provides. We love their Site Explorer tool because we can research a competitor's top organic keywords, analyze their backlinks, review their top performing content, and uncover existing content gaps, all in one place.

Amy Lewis | SEO Specialist at Summit Digital Marketing
My favorite tool for competitive analysis for SEO is SpyFu. It allows you to find out the keywords your competitors are using and any related keywords you can use to achieve similar results.

Reuben Yonatan | Founder & CEO of GetVoIP