With Nozzle, it's easy to discover which of your competitors own featured snippets and how many each competitor owns.
This is important if you are trying to optimize your content for featured snippet status. Analyzing the featured snippets of different competitors can give you an idea of what a webpage or article needs in order to be made a featured snippet by Google. By taking a close look at the content of the competitors that are dominating featured snippets, you can learn about and imitate the dominating competitors' strategies.
Why would you want to rank in a featured snippet? Click here to learn more about featured snippets and why they are important. Click here to try Nozzle and analyze your industry's featured snippets for free.
Find Out Who Owns Featured Snippets
To view who owns the featured snippets for your keywords, go to the Competitive Share of Voice dashboard and select Domains or Brands in the Rollup dropdown menu. In the Segment dropdown, type in "featured snippet" and you'll see five options for viewing featured snippets.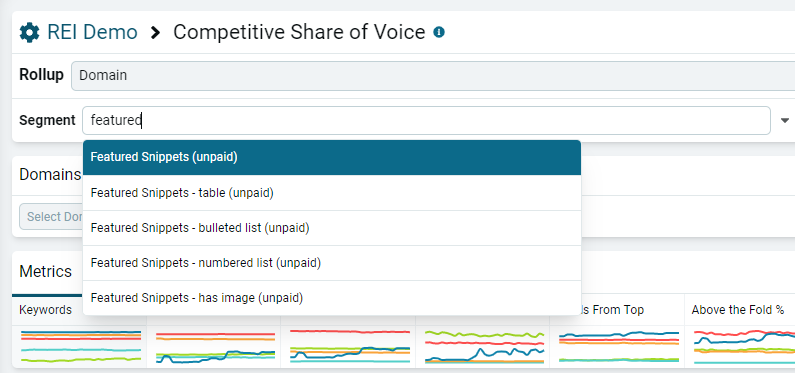 The first one, "Featured Snippets (unpaid)," will show you who is ranking in all the featured snippets for your keywords. The others will show you those ranking for featured snippets containing tables, bulleted lists, numbered lists, and images.
For now, select the first one, then sort by Keywords. Filter by keyword group as desired.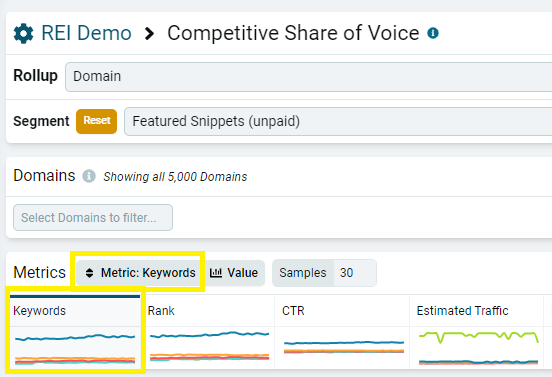 Once you apply the filters, you'll see charts and a table below showing the domains or brands that have featured snippets. Under the Keywords column, you'll find the number of keywords for which these domains have a featured snippet. Ferrellgas.com owns 78 featured snippets, rei.com owns 69, and so on.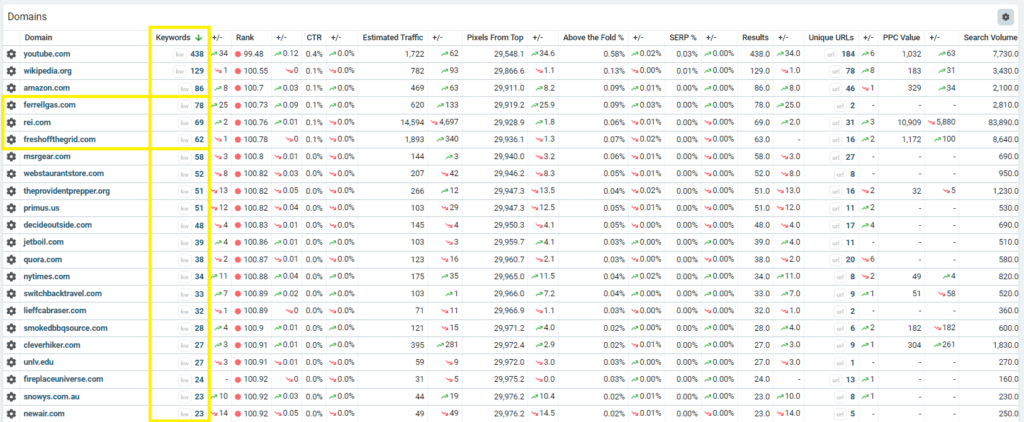 Diving Deeper
This bird's eye view of the featured snippet landscape is helpful, but to get even more information about specific domains and their featured snippets, click on one of the domains or brands in the table. I prefer to right click and open it in a new tab in case I need to refer back to this table.
Doing so will take you to a performance overview page for that domain or brand. Make sure your previous segment is applied, then scroll down to the Keywords table at the bottom to see the exact keywords for which this specific competing domain has featured snippets.
I clicked on freshoffthegrid.com. You can see the 62 phrases for which freshoffthegrid.com holds featured snippets, along with their corresponding URLs, and other helpful metrics like Search Volume, Pixels from Top, and Click Through Rate.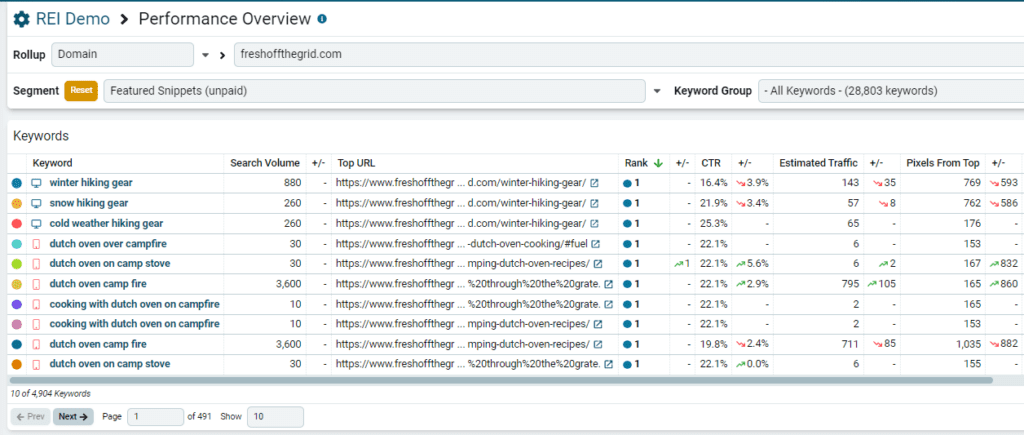 Since featured snippets appear at the top of the SERP, you can see that they are all ranked #1. Every once in a while, featured snippets are pushed down to position 2 or 3 by other featured snippets and suggestions.
Clicking on one of these URLs will open it in a new tab, so you can analyze a competitor's webpage and strategize accordingly. If you click on one of the keywords, you will be taken to that single keyword's performance page.
On a keyword's performance page, scroll down to view the SERP Results displayed in a functional table format. Below that you'll find the SERP HTML–exactly how the SERPs look in Google. Play around with the Nozzle Vision, SERP history comparison, search, and zoom tools to make the most out of the SERP Results and HTML.
Let's look at the SERP Results and HTML for the phrase "snow hiking gear" above.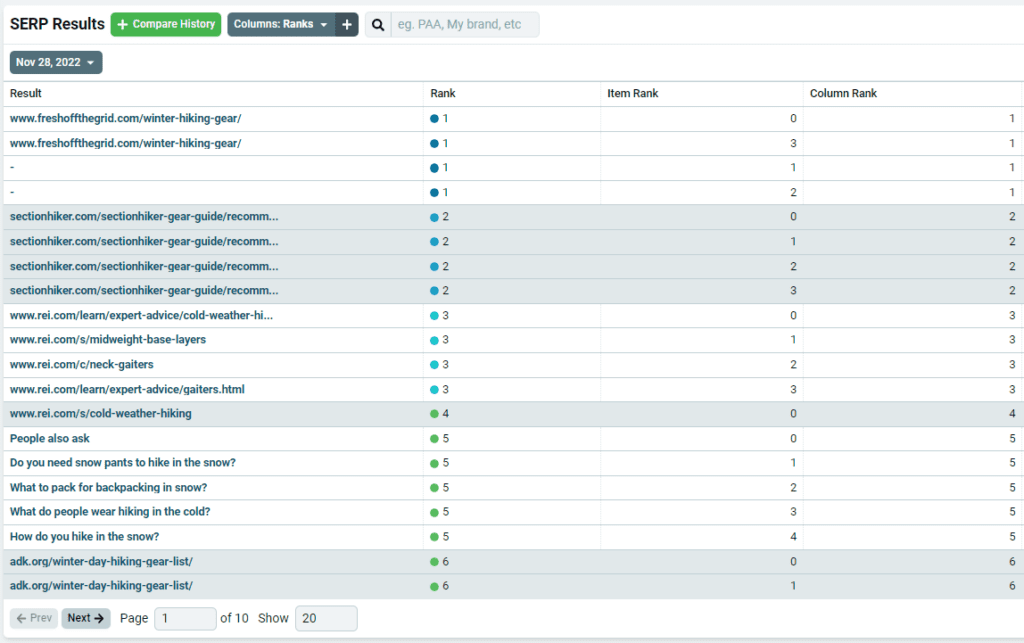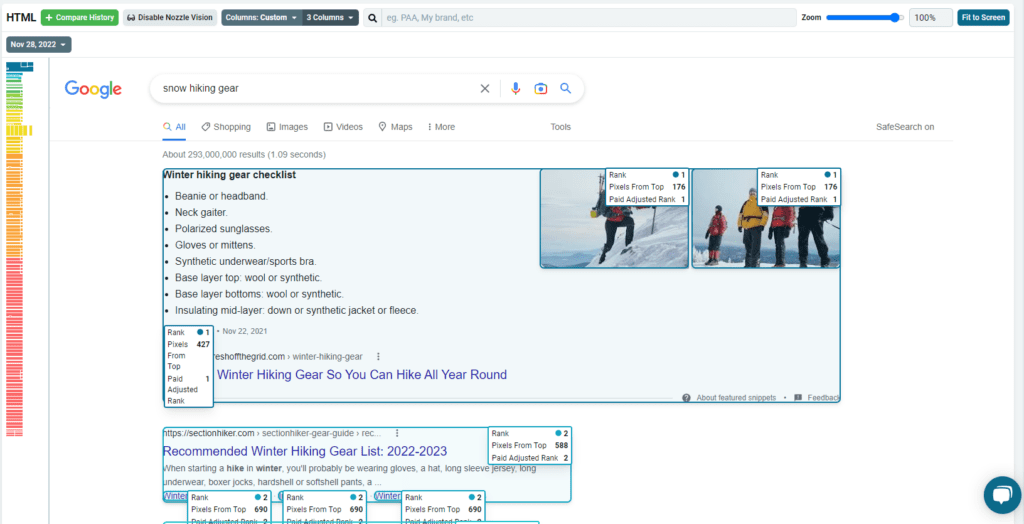 Analyzing Featured Snippet URLs Directly
Earlier, we looked at the domains that owned the featured snippets, then we dove deeper and found the keywords for which they held featured snippets, along with their corresponding URLs.
Alternatively, you can directly examine what URLs are ranking as featured snippets by changing from Domain to URL in the dropdown menu.
This will pull up a new table with data about the URLs that are ranking as featured snippets. Under "Keywords" you'll see how many featured snippets each URL is ranking as.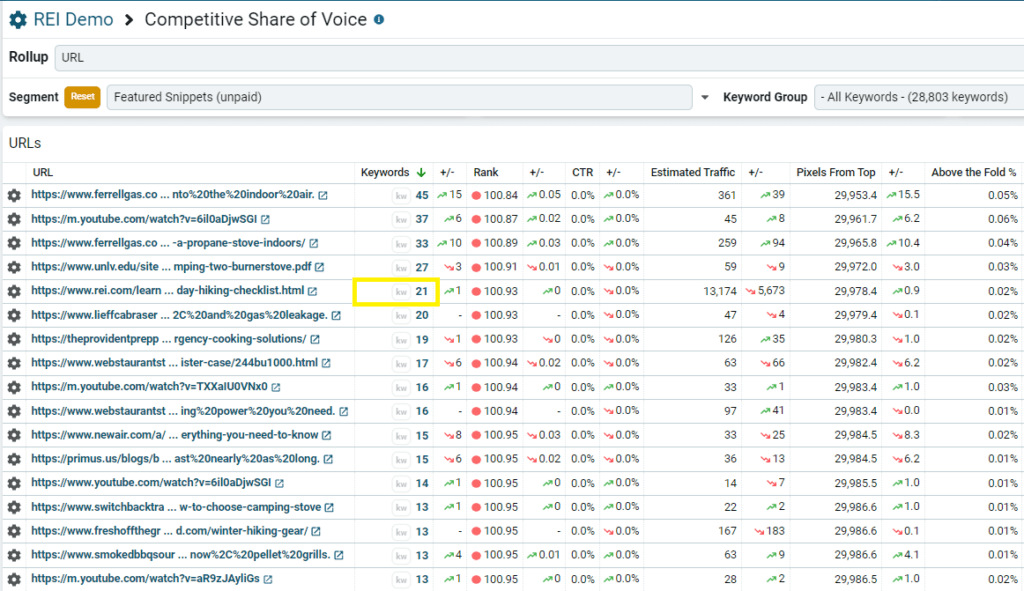 Click on the number in the keywords column to see the keywords for which it has featured snippet status. I clicked on the fifth URL, the one for REI, to see its keywords, which matches the data we saw for it above.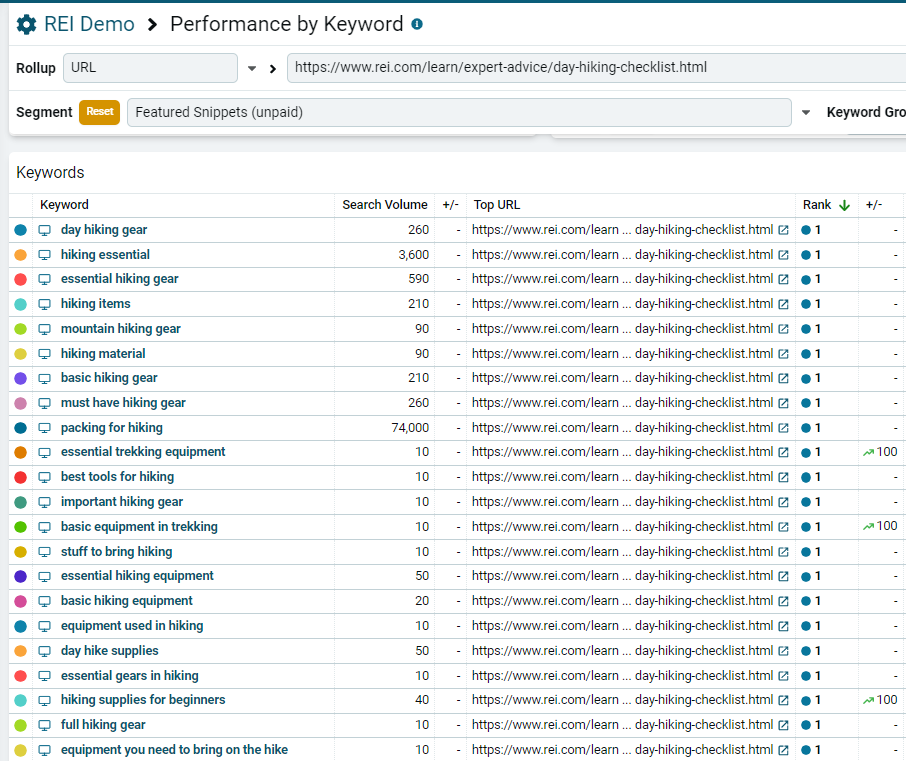 Checking out the URLs directly is an easier way to see if your competitors have one URL that is dominating several featured snippets or if there are multiple. This helps you know real quick which specific URLs you need to analyze and beat out of the featured snippet spot.
Analyzing Featured Snippet Keywords Directly
Like directly filtering for featured snippet URLs, it can be very useful to pull up a list of the keywords that serve up a featured snippet–because not all keywords do. Such a list will point you to where you have the opportunity to take a competitor's featured snippet spot.
To see a featured snippet keyword list, you'll use the Explore by Keyword dashboard, which will be available in a future update, so stay tuned.
And there you have it! Featured snippet competitor analysis with Nozzle. As you can see, Nozzle is a very useful tool for analyzing featured snippets in terms of your competitors.
New to Nozzle? Try out our tool today!