Nozzle is a powerful keyword rank checker, but it has other features you might not know about. Pixels From Top is a new metric that can tell you your visual position on a search engine results page measured in–you guessed it–pixels from the top of the page.
We measure the pixels in the SERPs from the top and left to every listing on the page. Furthermore we measure the width and height of each listing so that we can calculate it's SERP % which, is the pixel coverage each result occupies per SERP. Click to give Nozzle a trial run.

Why is Pixels From Top Important?
Gone are the days where the SERPs contained only ten blue links. With SERP features like Featured Snippets, People Also Ask boxes, Local Listings, Video packs, etc. occupying SERP real estate, ranking #3 is very likely to be below the fold these days. Pixels From Top is going to help you identify which #3 rankings are more valuable to your business.
Also, Pixels From Top is a valuable metric to help you understand why you may be dropping in traffic even if your rankings haven't dropped.
This siutation can occur for a number of reasons including: an increase in the number of ads displayed, the addition of a new featured snippet for queries that previously displayed none, a change in the layout to a featured snippet that makes it taller, or the addition of site links to a listing that ranks above yours.
Most SEOs include in reports to clients or bosses, some sort of historical rankings graph, maybe even sorted by different keyword groups, to show general improvements over time. You will want to include Pixels From Top in the same report as another way to show movements up the SERPs.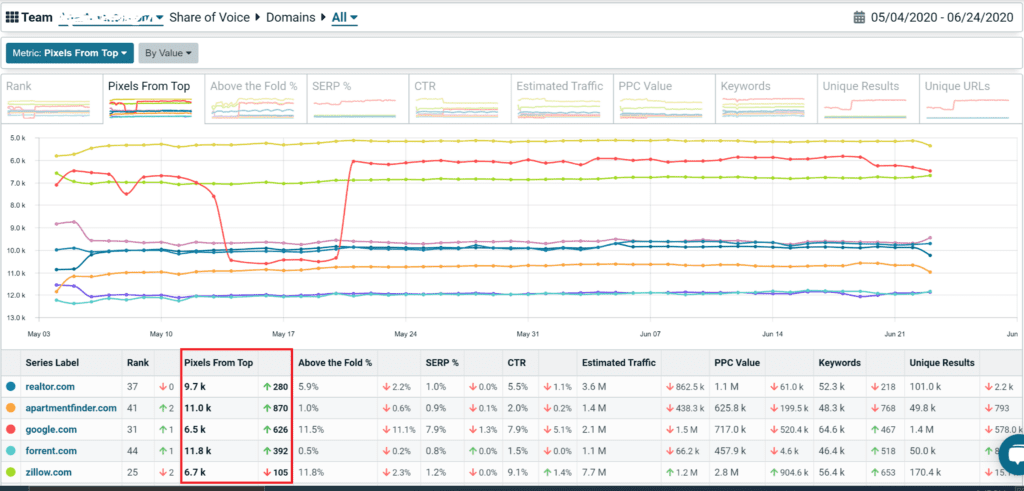 In the image above, the Pixels From Top is showing the average pixel distance from the top of the SERP to the highest ranking result for each domain across their whole keyword list.
Below, you can see where realtor.com ranks in terms of Pixels From Top for specific search queries. For example, as of the date that that data was pulled, they ranked in the first position for 'condos' which was located 155 pixels from the top. This means there were no ads showing up at that moment in time because the first result (whether ad or organic listing) usually sits between 155 and 172 pixels from the top.

Sign up for a free trial today to see your visual location in the SERPs for your keywords.