What are the benefits of tracking your competitors rankings alongside your own with a SERP tracking tool?
To identify, in real time, any big fluctuations in the SERPs for your keywords so you can analyze those URLs to see what has changed
To know which competitors show up the most in the top ten across the board for all your keywords
To easily see which domains own spots in featured snippets, video packs, image packs, local packs, etc.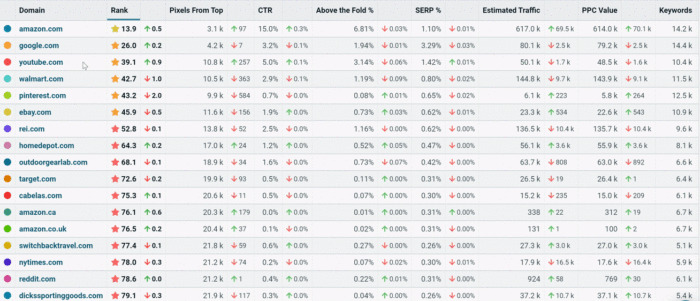 Why does Nozzle allow you to track an unlimited amount of competitors?
When a new competitor pops up in the top ten that you haven't noticed before, you can add them to your list of competitors and we'll rewrite history for you so you can see the history of their movements as if you'd been tracking them from the start.
With reputation management, it's sometimes tricky to know which of the sites in the top 30 have the ability to move up to page 1 to push down the negative results. This is why you'll want to keep an eye on 30-40 "SERP competitors"–to be able to have the data on which of these you should continue to put more resources into higher rankings.
You are not just competing against known brand name competitors but any URL that shows up in the same SERP that you are working to climb. And when you multiply this across thousands of keywords, you're going to want to use a keyword rank tracker tool to monitor more than just a few competitors.
So start tracking unlimited competitors today with Nozzle and don't listen to anyone who claims SEO is dead, otherwise, your competitors will win.