People Also Ask boxes are becoming increasingly important in the world of SEO. In fact, PAA boxes now appear in the results for nearly half of all Google searches, according to studies by SEMrush and Ahrefs. This is interesting information, but how much does it really help you? The studies were conducted with a broad range of keywords, many of which are completely unrelated to your line of work.
When it comes to setting SEO strategy for your specific industry, you need to take a more personalized approach and look at how often PAA boxes appear in your keyword sets to determine where to focus your efforts. If they appear in 80% of the SERPs for your keywords, for example, you'll want to spend a lot more time optimizing for PAA boxes than if they show up in, say, 30%.
That's what we're here to help you with. Let's take a look at PAA frequency in several industries.
We analyzed 15 keyword sets from multiple different industries. Using Google's Keyword Planner, we found hundreds of keywords for each of the following topics:
Accounting software
Auto repair
Basketball training
Couch
Dog toys
Drones
Earbuds
Health insurance
How to Cook
Mortgage
Office leasing
Potted plants
Saving tips
Sewing
Ski equipment
And here's the drill down: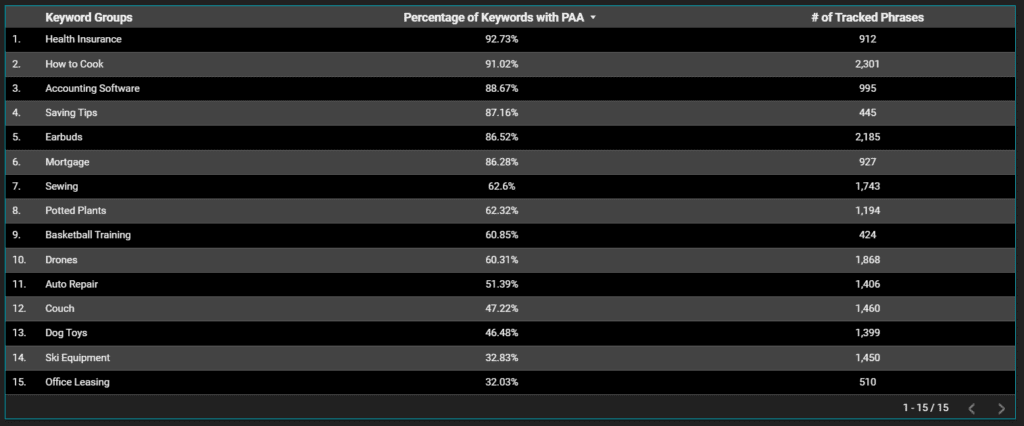 As you can see, the number of PAA appearances ranged from about 32% to nearly 93%. That's a whopping difference!
The percentages also varied by device, as shown in the graph below:

When you do the deep dive analysis for your specific industry it becomes clear if you should spend more or less time optimizing for PAA questions. In this case, if you sell health insurance, make cooking tutorials, or offer accounting software, make optimizing for Google's People Also Ask boxes a high priority. With office leasing, on the other hand, you should probably focus your efforts elsewhere.
What's more, Nozzle can analyze industry-specific PAA data over months to give you a magnified view of how important People Also Ask boxes are for your industry over time.
We tried this with keywords related to camping equipment over about 6 months. Check out the results: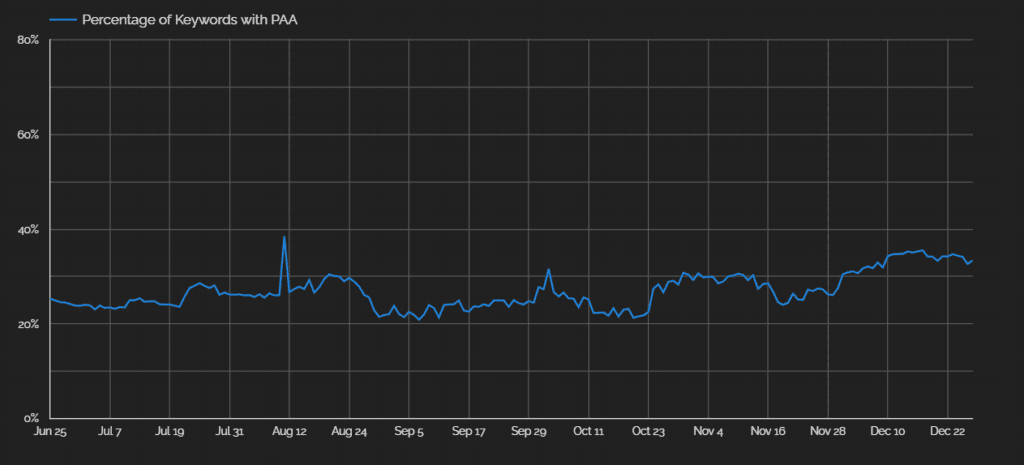 The PAA frequency varied by over 15%! But what exactly does this mean for the industry? If there's an increase in PAA box appearances, companies in that industry should use Nozzle to extract the PAAs again and get the new questions to send to their content team. If there's a drop, your SEO strategy might shift away from PAA optimization. Furthermore, you can look for seasonal trends and strategize accordingly.
Find more information about our keywords and data on our interactive report.
If you're interested in other industries for a future blog post, let us know in the comments.
Like what you saw above? Nozzle can generate PAA data for your own keyword set, including an extracted list of all the questions that Google serves up! It's a highly targeted list of content ideas that your content team will appreciate.