According to a study conducted by Crayon, 94% of businesses invest in competitive intelligence. Competitor analysis is the first step towards understanding the market and the gap your organization can capitalize on. This includes keeping track of your competitors' websites and learning the strategies they use to improve their digital presence.
The insight gained from this analysis can help improve on existing strategies and create new ones. This article will talk about the tools needed to monitor and track the performance of competitor websites.
5 Tools To Help You Track Your Competitors
Many tools can analyze the state of your competitors' websites and give you meaningful insight on aspects such as keyword mentions, backlinks, website changes, and even social media. The following are some examples of tools used to analyze your competitors and how they work towards helping you with insights for improving existing strategies.
Fluxguard
Fluxguard is a tool that allows you to crawl a competitor's website, find certain web pages and monitor these pages for activity. The software can constantly crawl your competitors' websites and return meaningful insights. The data obtained from monitoring website changes can include cookies, headers, network activity, and the frequency of visits to the competitor's website.
This data can help you understand the types of keywords the competitor is using, the types of tracking software they have, and how they are being used to target customers. This insight can help you make specific changes to your website that will drive more traffic and result in better performance.
Owletter
Owletter offers data about your competitor's email marketing strategies. It allows organizations to automatically capture emails sent to their mailing list from a website. The software then takes screenshots of this data, stores it, and analyzes it.
The tool also alerts you about the email based on preset parameters. This process will help you learn about your competitors' email behavior and offer insight that can be used to improve your existing email marketing strategy.
Owletter can help you figure out the types of emails to be sent, the frequency of emails, and content ideas for future newsletters. All this data is constantly tracked to empower your email marketing campaign.
Social Blade
Social blade is free to use and mainly tracks your competition's content. If they have a YouTube channel, this tool will fetch data about subscribers, views, earnings, and growth.
Moreover, it also allows you to search analytics on your competitor's Instagram, Twitch, and DailyMotion accounts. This data can serve as meaningful insight and set a benchmark to surpass your competition.
Nozzle
Nozzle is a competitive analysis tool that lets you track the top websites in the industry, see any featured snippets your competitors may have, find who owns local listings, and even find video content that is performing well.
This is an effective tool to monitor competitor keyword lists on a monthly and quarterly basis, keeping track of organizations within your industry and the global SERP landscape. It can also show you the highest-ranking URLs in your niche, so you can analyze them using SEO tools for on-site optimization and backlinks. This should allow you to focus on specific keywords and work accordingly to improve your ranking.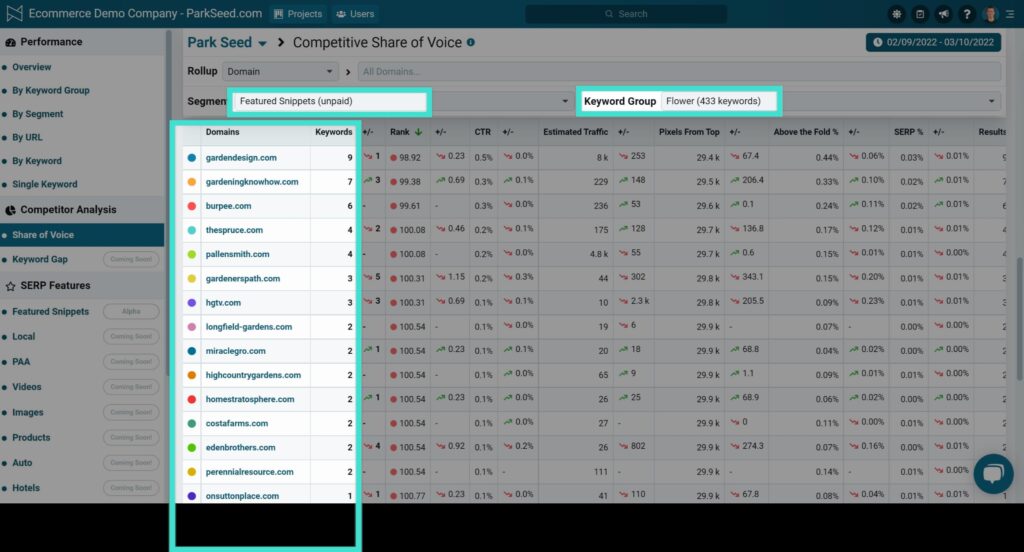 Semrush
Semrush helps conduct a competitor analysis based on search engine marketing strategies. It allows you to track keywords used by your competitors and see how these keywords are ranked on global SERPs.
Each keyword is accompanied by data such as domain authority, ranking difficulty, and the countries where it ranks the highest. If you are confused with your keyword research and want to look at some strategies that have produced results, Semrush is your go-to tool.
Importance Of Tracking Your Competitors' Websites
A competitor's website can give you a clear picture of how they are performing and the strategies and keywords they are using to improve their ranking on SERPs. Getting a strong ranking on search engine result pages is primary if you want to improve your traffic and customer base. Doing this can require several strategies that need to work in unison for the results to be successful and give you a favorable outcome. Creating a strategy from scratch might not always work, and even if you do put in extensive research, it is always good to analyze any data you can extract.
A competitor doing well in the market is a clear indication that whatever they are doing is working for them. Tracking the movement and changes of successful competitors can help you gain enough data to devise your own strategy or improve on your existing one.
Competitors can give you a clear picture of how the industry is functioning, and analyzing their data can offer the following benefits:
Get competitive insights that can be incorporated into your strategies
Find pricing and inventory gaps to capitalize on and capture the market
Understand what types of strategies work in your niche
Stay aware of industry trends
Identify and plan for new competitive threats
Wrapping up
Businesses worldwide are looking for ways to improve their marketing practices and get the word out to more people. According to a study, 90% of Fortune 500 companies conduct competitor analysis to find out what others are doing to achieve these goals. The resulting data is then used to devise branding and marketing strategies that deliver results faster than shooting in the dark.
Experts believe that the best way to see if a strategy works is by seeing if someone else is doing it and how it is performing. Learning from the performance of your competitors can help you tweak your own strategies and eventually produce similar – if not better – results. Several tools in the market can track the competitor's website and precisely track each aspect of the competitor and how they are going about their daily operations.
When done right, competitor analysis can be a shortcut to explosive growth and lightning-fast sales for new businesses