Build a better content strategy with topic clustering
Improve your SEO with relevant content that ranks for more keywords.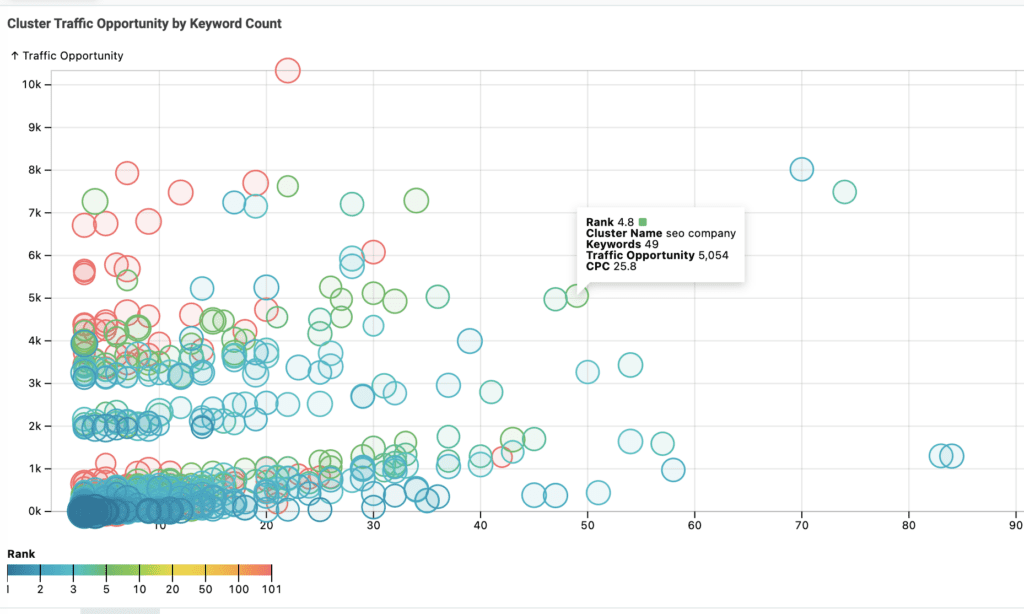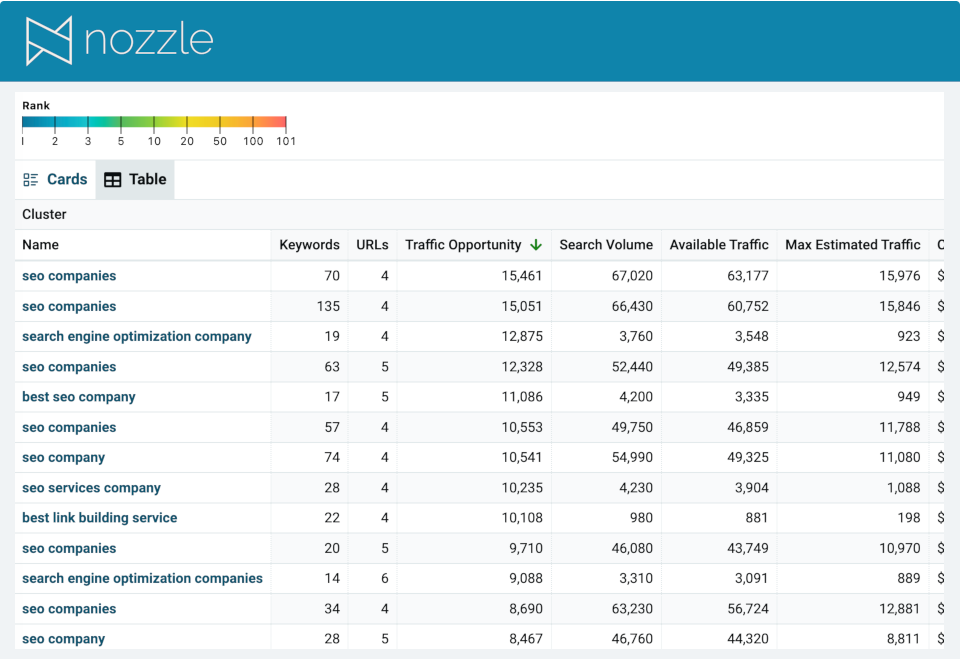 Create smarter content, not just more content.
An effective pillar/cluster content strategy starts with a list of topic clusters. A topic cluster is a group of related keywords that you can use to create better, more relevant pages.
Comparing a topic cluster map to your current content architecture is useful in determining where your content succeeds, needs improvement, or doesn't exist.
Topic clustering is tedious. Our tool does the work for you.
Upload a CSV of your keywords, or import from Google Search Console and we'll generate your clusters in minutes. Bring us all the keywords you have, there's no limit.
If you're a Nozzle rank tracking customer, your keyword clusters are already in your dashboard.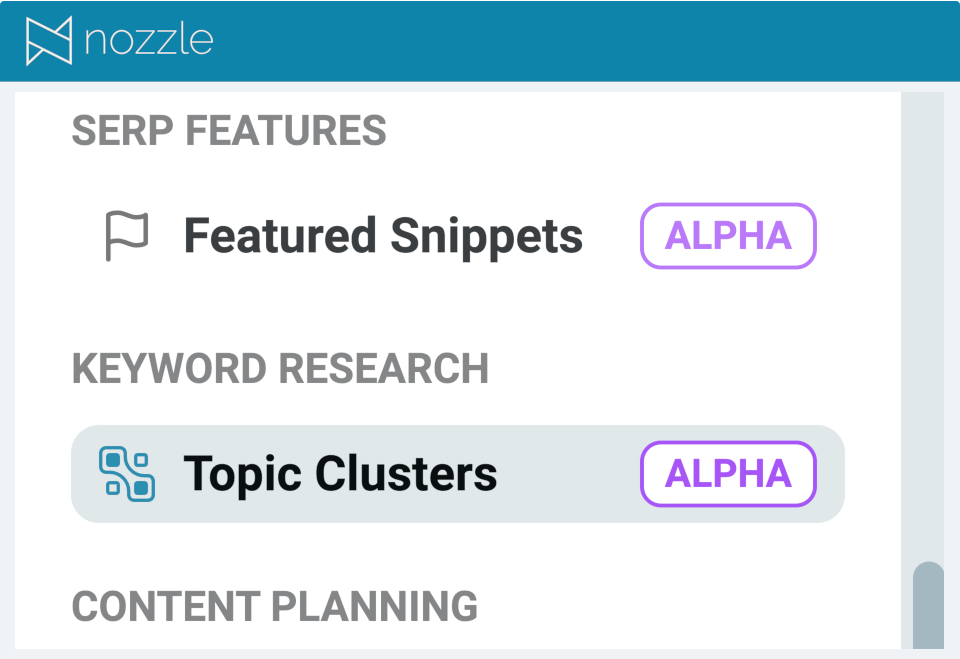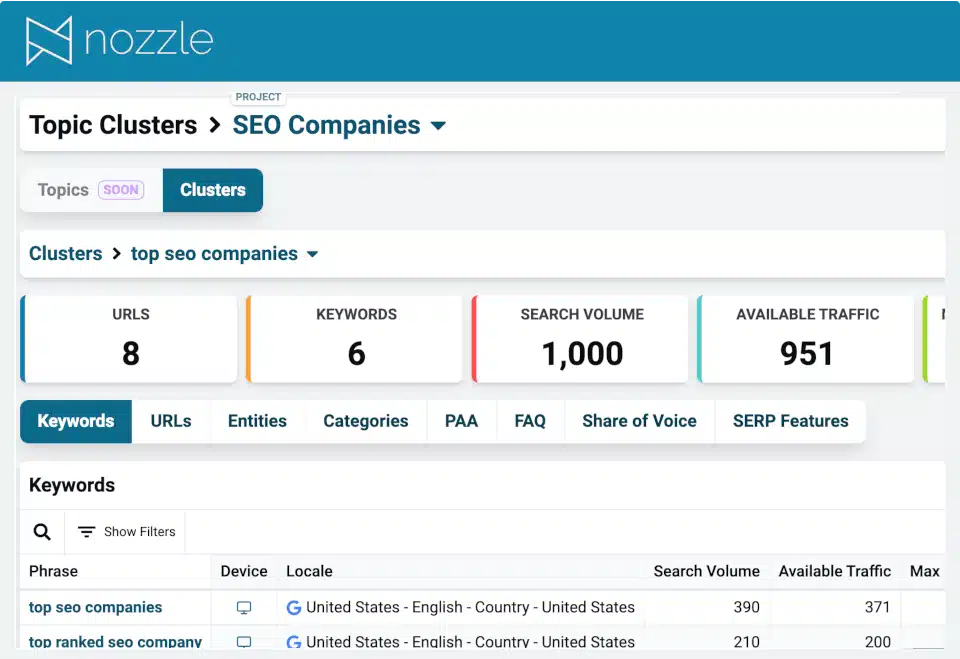 We use Google SERPs to cluster for better accuracy.
We look at the top ten search results for each of your keywords to see if any URLs overlap between SERPs. If they do, we'll put those keywords in a cluster and show you how many URLs overlap and what those URLs are.
The more overlapping URLs among keywords, the stronger the signal that Google sees keyword similarity.
See the SERPs for every keyword in each cluster.
SERP tracking is what we do best. When you want to drill down to any keyword in a cluster, we'll show you all the metrics you need, plus a visual snapshot of the SERP with the option to enable Nozzle Vision.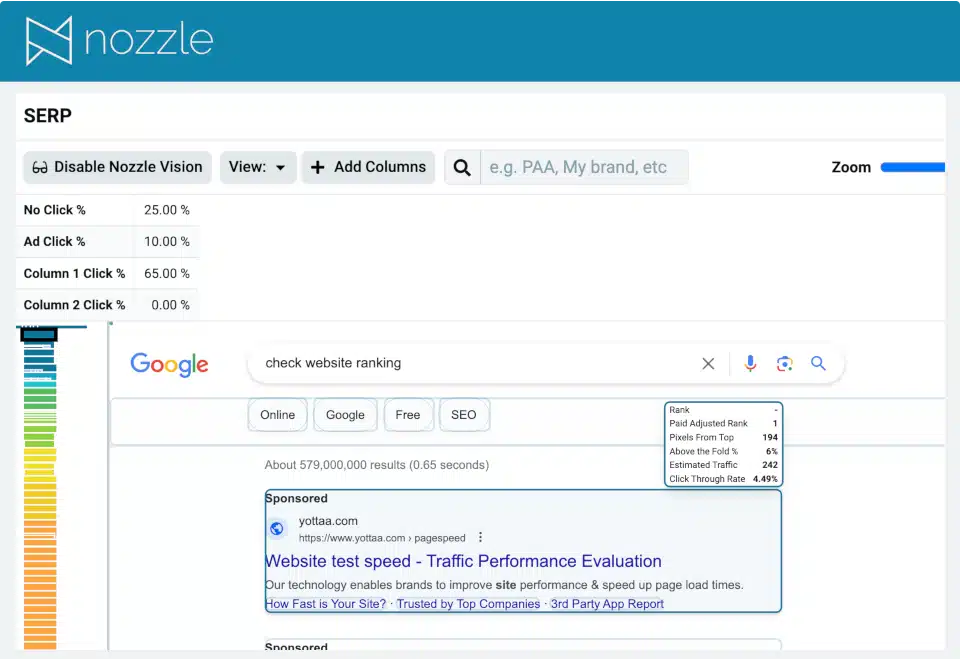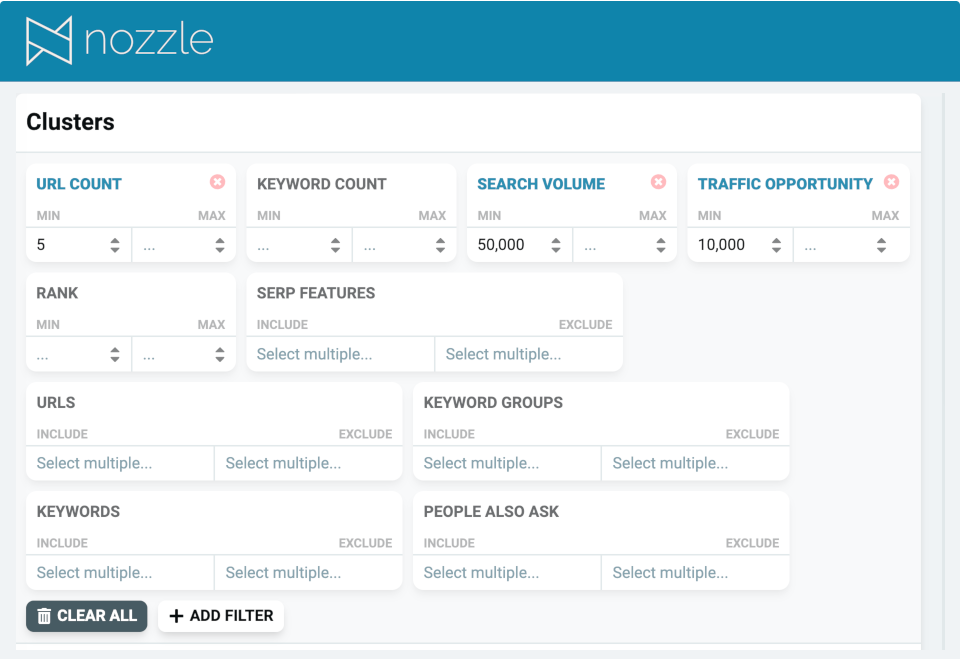 Choose the best cluster with the help of metrics like Traffic Opportunity.
To help you determine which clusters could be most worth your effort, we provide metrics like Traffic Opportunity. Taken together with the number of keywords in the cluster and the URL overlap, you can decide where to focus your content creation.
Clustering Tool Comparison
Competitor

Uses SERPs to cluster

Price / 10k keywords

$59

$68

$75

$120

$59

$90

$90 with search volume, or $40 without search volume.

10x

With Semrush Pro plan ($119.95/mo), you can cluster a list in Keyword Manager 10 times.

Price / 100k keywords

$461

$599

$620

$699

$497

$900

$900 with search volume, or $400 without search volume.

30x

With Semrush Guru plan ($229.95/mo), you can cluster a list in Keyword Manager 30 times.

Price / 1m keywords

$4,000

Contact

$6,020

$7,000

$4,970

$9,000

$9,000 with search volume, or $4,000 without search volume.

50x

With Semrush Business plan ($449.95/mo), you can cluster a list in Keyword Manager 50 times.

Cluster output

Dashboard

Dashboard

Pivot Table

CSV

Dashboard

CSV

CSV

CSV

CSV

Dashboard

CSV

Ranking data

Can see overlapping URLs

Keyword limit

None

4m

?

25k

None

None

2k

Competitive intelligence

People Also Ask

–

People Also Ask is available per keyword in content briefs at an additional cost, not at the cluster level.

SERP Features

More info