Nozzle lets you track more than just webpage links, featured snippets, and People Also Ask questions in the SERPs–you can also monitor which videos are doing the best among the other organic listings.
After discovering the highest ranking videos, you can analyze them and use similar tactics in your videos to overtake your competitors in Google's video results. And the importance of video in digital marketing just keeps on growing, so it's important to get ahead now.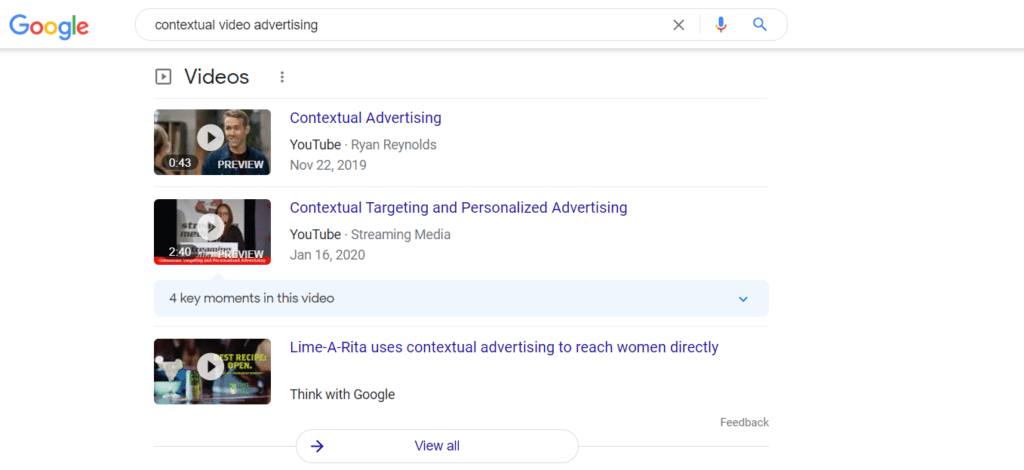 Finding Domains with Ranking Videos
To examine video result owners, all you need to do is visit the Competitive Share of Voice dashboard in Nozzle, select Domains in the Rollup dropdown, and apply the "Is Video" segment using the Segment dropdown. Select the Keywords tab and sort by Keywords. You can also filter by keyword group as desired. This will pull up a list of all the domains that have video results for your keywords.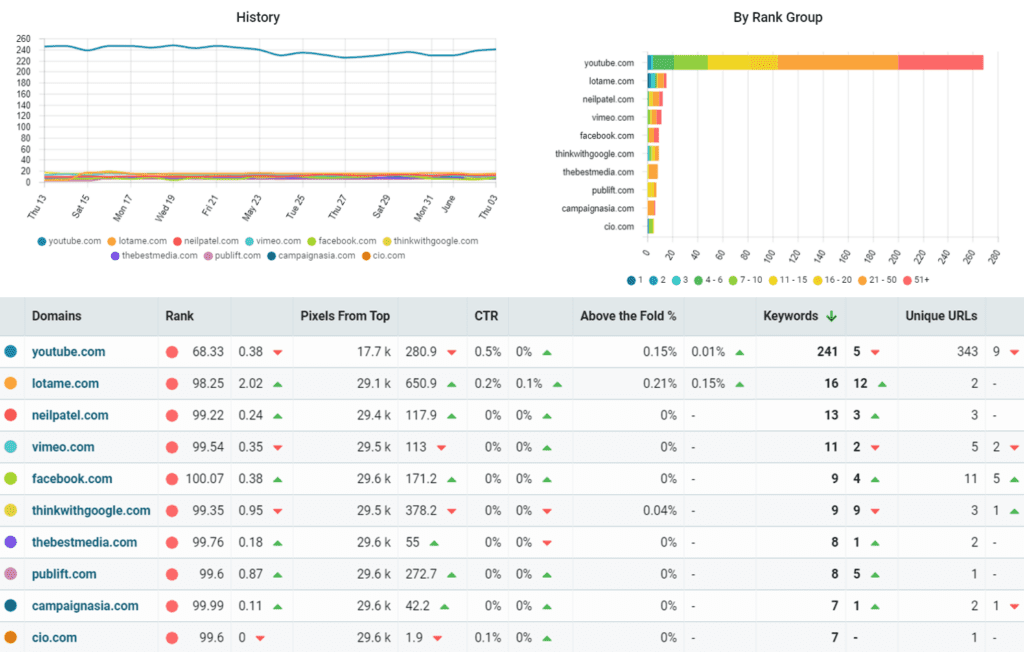 As you can see in the table above under Keywords, YouTube has ranking videos for 241 of my keywords. Since it's an outlier, it can be helpful to filter out results from YouTube, and sometimes Facebook or other sites, in order to make the charts more readable.
To do this, create a custom segment. Follow the basic instructions here if you're unfamiliar with creating custom segments.
Name and describe your segment depending on which sites you plan to filter out. Then, add the conditions "Result > Video > Is Video | is | True" AND "Result > Url > Domain | != | youtube.com," as well as any other conditions you need. Finally, create your segment.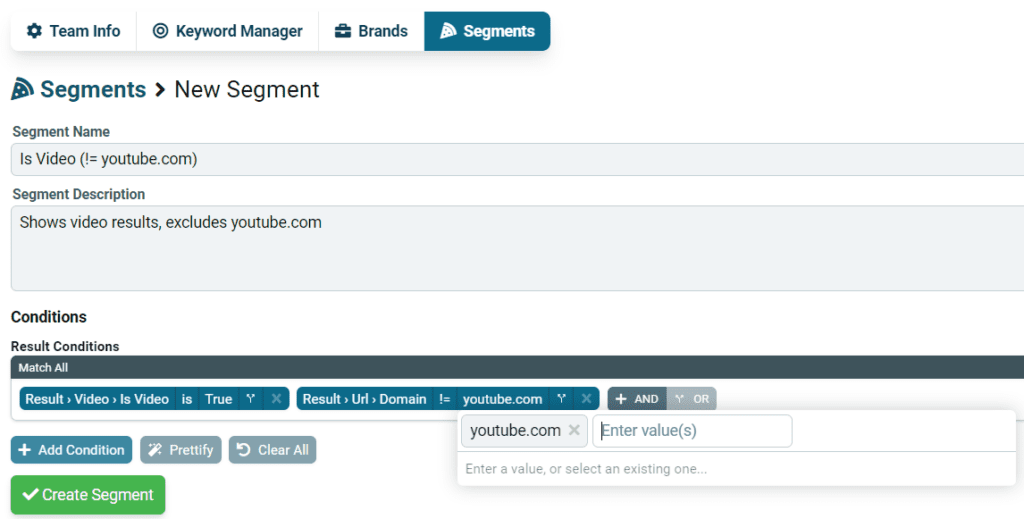 It may take a few hours before the system will allow you to apply your new segment in the Competitive Share of Voice dashboard. When it's ready, just select your new segment in the Segment dropdown and click the Keywords tab. You'll now be able to see much more detail in the charts below.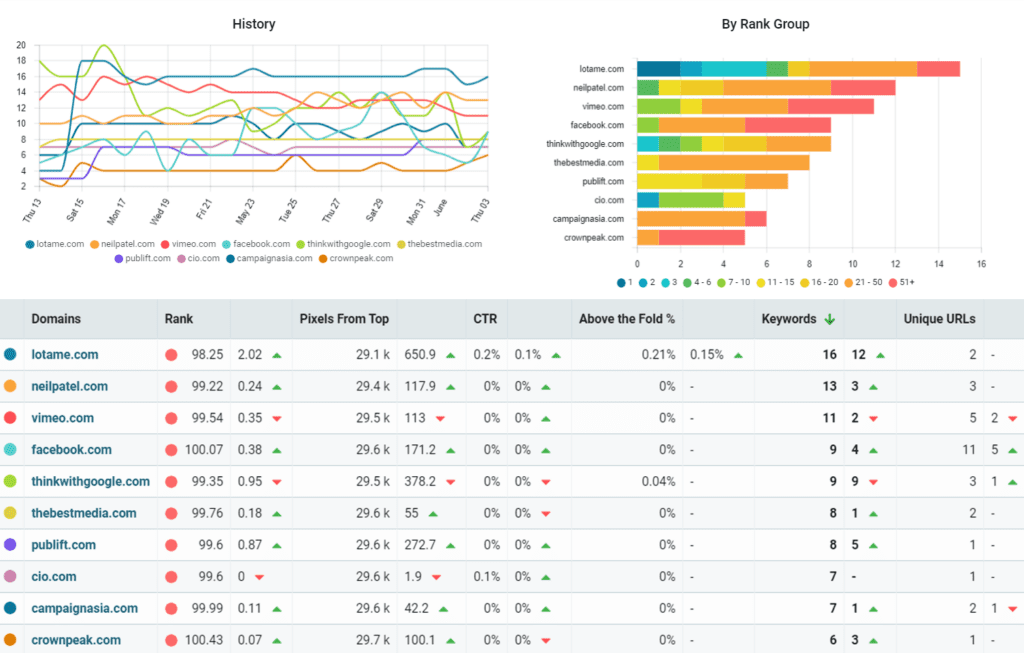 The By Rank Group chart gives a nice visual overview of your competitors with video results. You can choose to show more than 10 domains using the dropdown underneath the table.
Notice how cio.com has 5 video results for my keywords: 1 ranking #2, 3 in the 7-10 rank range, and 1 in the 11-15 range. As you can see from the dark blue, lotame.com is the only one with a video ranking #1 (besides youtube.com, of course, which we filtered out). Lotame.com also has the most videos that rank for my keywords.
Discovering Video Rank and More
If you click on one of the domains in the table (I prefer to right click and open in a new tab), you will be taken to a performance overview for that domain. Double-check that your original segments and filters are applied, then scroll down to the table to see what keywords that domain has video results for, along with each video's URL.
I clicked on lotame.com, and you can see the keywords for which they have ranking videos (I've limited it to 10, but it's easy to view them all). Plus, you can see the exact rank of their videos, along with other useful data.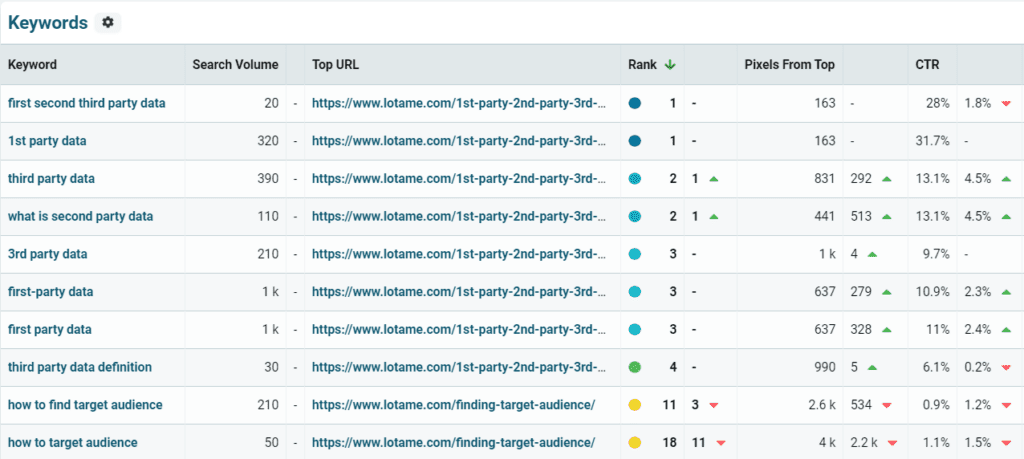 Clicking on a top URL will open that URL in a new tab, where you can analyze the competing video and webpage to inform your SEO strategy.
Clicking on a keyword will take you to its performance overview page, where you can view its full SERP results and HTML with the help of tools like Nozzle Vision. I clicked on "3rd party data."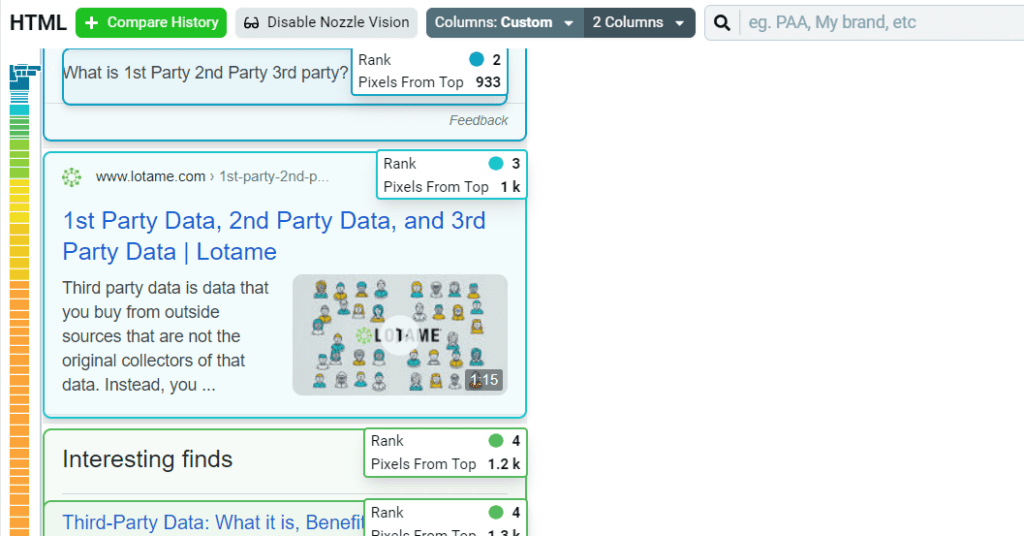 Using the Rollup dropdown on the original Competitive Share of Voice dashboard, you can also choose to directly view in the same way the URLs or brands, rather than the domains, that have video results for your keywords.
Generating a Keyword List
It can be very useful to pull up a list of the keywords that serve up video results among the organic listings. Such a list will point you to where you have the opportunity to take a competitor's video spot or rank within an existing video pack.
To see a video result keyword list, you'll use the Explore by Keyword dashboard, which will be available in a future update.
Want to start tracking your videos in the SERPs? Try Nozzle out for free!