We asked 78 agencies what the top 2-3 items in their regular reports clients find most valuable, and here are the statistics of what they said.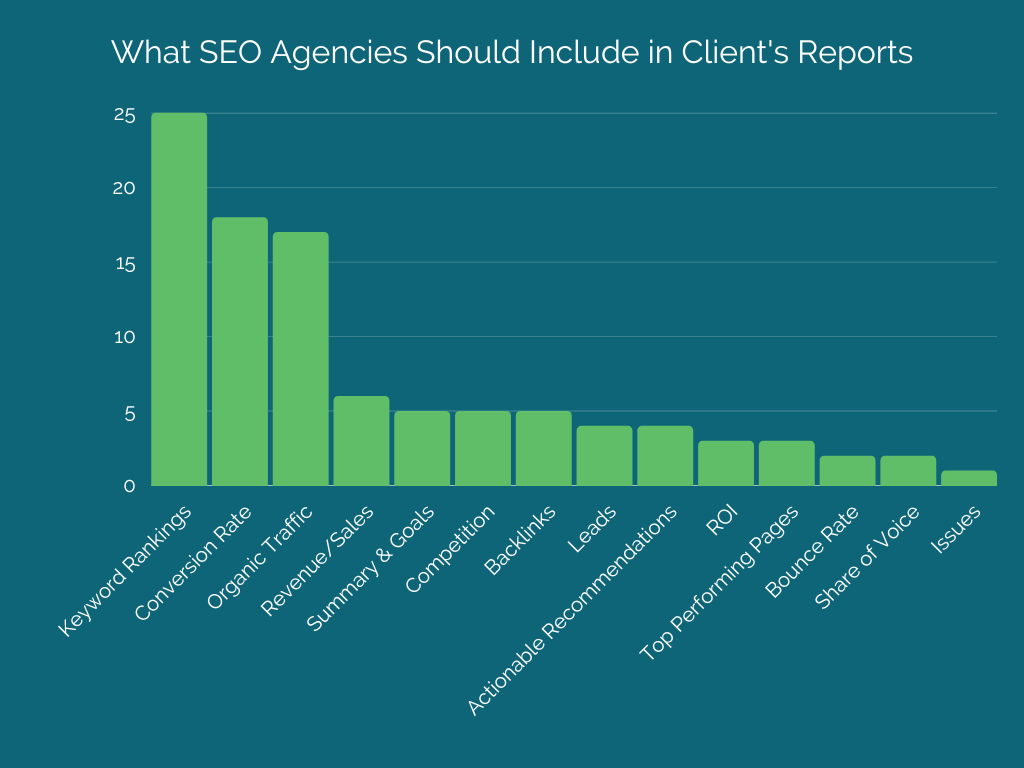 Here are some comments from agencies about the top five responses.
1. Organic Traffic
To really show the value of your SEO efforts, provide a detailed analysis of the website's traffic and performance data. This could include things like pageviews, unique visitors, time on site, bounce rate, and conversion rate. Explain what this data means in relation to their business goals and give recommendations for how to improve it.

Brandon Schroth of Nomad SEO
Organic traffic should be compared either with the previous month (for non-seasonal businesses) or relevant last year's period (for seasonal businesses). Numbers, along with actions taken, should be explained comprehensively to the client, especially if the change in organic traffic was positively impacted by the successful implementation of our SEO strategy.

Aivaras Ramoška from Fortis Media
The traffic numbers are also really important for my clients—they want to know how many people are visiting their site and whether or not we're getting more traffic than before. That's a good indicator of how much more exposure our clients are getting from working with us, which makes them feel good about our work together!

Gert Kulla of BatLinks
Organic traffic is one of the most important metrics to include in SEO reports. This is important because it shows how much traffic comes from search engines and helps quantify SEO results.

Ewan Duthie of Web Integrations
I include multiple KPIs in SEO reports.Generally, the SEO reports prepared by the digital marketing team of our organization include details about the website traffic and their resources, leads and sales, results generated through email marketing activities, social media page performance, backlinks achieved, technical issues with the website, etc.

Radhika Gupta, founder of One Digital Land
Organic search traffic is what most clients want for their websites because it's targeted. This includes the CTR which represents the percentage of users who clicked on their websites from the SERP.

Marcus Clarke, Founder of Searchant.co
This is one of the most essential data points to include in your SEO reports. After all, the whole purpose of SEO is to drive organic traffic to a website! Be sure to include information on where this traffic is coming from and how it has changed over time. SEO reports should always include data on organic search traffic. This is the bread and butter of SEO, and it is important to show clients how their website performs in this area. Include information on where the traffic is coming from and how it has changed over time. This will give clients a good idea of the progress that has been made and where there is still room for improvement.

Zack "ROI" Williams of ROI Marketing Firm
2. Keyword Rankings
Another critical data point to include in SEO reports is rankings for target keywords. This information will show clients how their website is performing in search engines for the keywords that are most important to them. Be sure to track both global and local rankings, as well as changes over time. Include rankings for target keywords in your SEO reports. This data will show clients how their website performs in search engines for the keywords that most matter to them. Track both global and local rankings, as well as changes over time. This information will help clients see the progress made and where there is still room for improvement.

Zack "ROI" Williams of ROI Marketing Firm
Keyword data is like a high-level summary of the progress in your core business areas and is often the easiest to communicate to stakeholders. Most clients understand that SEO is more than individual keyword ranking, but if clients are looking at just one metric this is often the one. Keywords are often the first thing our clients want to know. At the end of the day, our clients want to know if they are ranking for what their ideal customers are searching for. When it comes to keywords, the focus should always be quality over quantity and that's what they're looking for here.

Adam at the SEO Brothers
Clients love to see keyword-level ranking data for the top terms they care about. Since a lot of SEO metrics are difficult to perceive, clients always like seeing rank data because they can visualize what it means. It also gives them bragging rights and something to talk about with colleagues and friends.

Shane Griffiths at Clarity Online
Share data on where their website ranks now and how that compares to when you started working together. If there are any changes in ranking, be sure to explain what could have caused those changes.

Brandon Schroth from Nomad SEO
All of my customers value getting a detailed list of new and lost keywords as well as rankings for those and keywords we're tracking that are invaluable to their business. I set up keyword lists for the top 10-20 keywords for each of my customers and ones that are highly correlated with their main business and we track where they're ranking for those keywords. This helps them know whether they're falling to competition, staying steady, or climbing the ranking ladder. Also, we can add/remove keywords as they come into play or fall out of relevance.

Landen Melton from Melton Solutions
The most valuable information that our clients like to see in these reports include top organic keywords their site is ranking (in the past month), keyword position changes on search engines (in the past month), and current keyword rankings (which includes any answer boxes and other snippets they may have on Google). Combined, these items give customers an easy to understand idea of how their website is doing on search engines (most commonly Google) and how we can improve their rankings through keyword research and new content ideas.

Lauren Pineiro from Tandem Interactive
Smaller business clients tend to want to see their keyword rankings compared to their competitors and where they are winning vs losing. Customers like to see which keywords are leading their traffic to conversion. This helps them identify what keywords they want my copywriting team to focus on for articles, blogs, and page optimizations.

Jonathan Alonso with Yellow Jack Media
Hands down, the most important information our clients want to see within SEO reports is keyword ranking increases. Our number one goal is to help the client's top keywords rank on page one of Google, so by showing keyword ranking progress each month, we are validating that the backend work we are conducting is working.

Kristin Chambers with Meerkat Media Group
The keyword rankings are so valuable because they tell them exactly how well their content is performing, and it lets them know where to focus their efforts going forward. They also base a lot of their decisions on those numbers—for example, if they see that they're ranking well for a particular set of keywords, but not on others, then that tells us something about what we need to do with our content strategy.

Gert Kulla from BatLinks
A list of keywords (and their rankings) that are driving traffic to their site and pages. This lets them see which keywords are doing well and which ones aren't, so they can adjust their strategy accordingly.

Marcus Clarke, Founder of Searchant.co
The most useful information we send to clients, that we hear of, is how rankings have changed over time and the possible drivers behind this. For example, competitors changing their content or maybe even the client's own website content being changed could cause ranking changes. It tells clients what they need to write to rank and provides actionable information for things they can do to change this. Our reports can also highlight Google algorithm updates, and guide clients on what action to take to counter this and mitigate risk.

Marco Genaro of PRLab Amsterdam
Regarding rankings, you should mention where the site stands for the terms you've identified to be the most beneficial to the customer. Just remember that rankings are no longer the only thing that matters in SEO because we now know that a wide range of criteria, including history, user location, and personalization, can all have an impact on ranks.

Hamza Usmani, Head of content at SEO-Audits.io
SEO clients want to see that their website is making progress over time. This could be in the form of increased traffic, improved keyword rankings, or higher conversion rates. Include data that shows how their website has progressed since you started working together.

Brandon Schroth from Nomad SEO
Data can have so much in it that reports can be lengthy at times. However, there are a couple of things I focus on. One is the ranking movement. The ranking is so important because it is how your business is seen. The higher the ranking, the more visible you are and you must be on the first page to see any real results. Telling my clients how their website is moving up becomes one of the most important things I can do because it lets them know our strategies are working. The second element I focus on is Google Ads CPA. The number of conversions is important but the more important number is how much it costs in Google Ads to get those conversions. That lets the client know whether the strategy is worth it.

Baruch Labunski with Rank Secure
Technical SEO Report: This enables them to drive traffic by getting their website indexed and crawled by search engines. KPIs include page speed, website structure issues, and page ranking.

Chetna from Grazitti Interactive
3. Conversion Rate
Having a lot of people visit your site is nice, but it won't do you much good if you don't know what they want or how they want to interact with your material. To rephrase, it doesn't matter how many people visit your site if you can't turn them into paying clients. Because conversion rate is so crucial to the success of your business, it should be placed prominently in your report. Discovering the conversion rate will put you in a better position to describe the report's subsequent sections and the reasoning behind the data and insights they reveal. Choose the outcomes you wish to monitor as "conversions" in order to present the conversion rate to a client.

Tim Parker of Syntax
As an SEO you're asked all the time, how is the money we're spending on SEO growing our bottom line. So I find that the best thing to showcase to the client, other than keyword rankings and traffic rankings, is to show them how many customers or leads they are gaining. So I do this by setting up a simple goal tracking event on the client's website using Google analytics. The tags keep track of the number phone calls, email signups, and leads that come to the customers' business. Honestly, I start with this metric first when reporting because again, this is what keeps you employed as an SEO.

Raj Clark from Bounce Rank
Tracking SEO efforts down to actual conversions is the most critical part of monthly reports. This means Ecommerce revenue, form submissions, phone calls, signups, etc.. Clients ultimately care about how many conversions they get from SEO vs other channels, how that is trending over time, and how it compares to their competition.

Shane Griffiths of Clarity Online
My customers want to know the conversions of their organic. Setting up conversion tracking is pretty easy and allows me to hone in on the exact few things that move the bottom line for my customers. Whether that consists of sales, email sign ups, form fills, or something else, we first set up tracking for that key metric. Then we hone in on what percentage of those conversions are from organic traffic as opposed to something else like PPC ads. This tells them the precise value of their organic SEO efforts and if they're paying off.

Landen Melton from Melton Solutions
Clients want to know how well their website is faring, and there's no better way to do this than by highlighting conversions. Tracking organic traffic is important. But what's the point of all that traffic if there are no conversions? So, I make sure to include conversion rates. It shows the clients their customer engagement and brand success.

Brandon Walsh from Interly
Clients tend to find overall organic traffic and conversion rates valuable regularly. Progress is the main objective you would want to include in the report. The client should not only know if their page visit has grown. They must be able to determine the source of the increased traffic specifically. On the other hand, the conversion rate can be at the top of the list as clients do not only look for traffic but also the rate of visits to customers. For this reason, one of the essential key performance indicators (KPIs) could be the conversion rate.

Chris M. Walker with Superstar SEO
Clients are always keen to identify opportunities for conversion rate optimization. Even if their overall website performance is good, they know that there's always room for improvement when it comes to converting visitors into customers or leads.

Milosz Krasinski from Chilli Fruit Web Consulting
4. Competition
Marketing is all about competition, and it's no different for clients. I have a monthly report showing their total visibility (for a set of tracked keywords) vs their competition, plotted over time. This is perfect for showing how SEO efforts build over a period of months and years. Clients love watching their line surpass competitors on the chart, and keeping an eye on whether competitors are engaging in SEO services.

Shane Griffiths of Clarity Online
Clients are most impressed by consistent DR growth for their websites, and how it stacks them up against the competition.

Kevin Miller of KevinMiller.com
A list of any competitors who rank higher than them on certain keywords or pages on Google—so they know what they're up against in terms of competition and what areas need improvement (or elimination altogether) from an SEO perspective.

Marcus Clarke, Founder of Searchant.co
Of course, we check the ranking of the keywords of the client. But more often than not, the client also wants to see how it is doing compared to its competitors. Say, for example, they are ranking in the 2nd position of Google, they want to know who is ranking in the top 1 and how their SEO differs from ours.

Giulia Yumul at Exaweb Corporation
5. Backlinks
Backlinks remain one of the most influential ranking factors. A general rule of thumb is that the more quality backlinks you build, the more visible your website will be in the search results. By including a snapshot of new backlinks in the report, we are able to demonstrate our SEO efforts and show the client that we are moving in the right direction.

Ewan Duthie, Web Integrations
Clients also appreciate seeing organic backlinks generated by content we've created or improved. It's one thing to write great content, but when it starts getting quoted by big players in their space, they see a whole new level of value to SEO. When they see those mentions, they start to understand how SEO can position them as thought leaders in their space.

James De Roche from Lead Comet
The backlink report gives them a sense that there are actionable items gaining ground when they see new high quality backlinks have been added.

Aunia Kahn from Rise Visible
In our monthly and yearly reports, clients almost always care most about how many backlinks they are receiving to certain pages on their website. Furthermore, not only does it have to be just a backlink, but it must be a dofollow link from a site with a high domain rating (typically 50 or more) in order for the link to fully count.

Mercedes Martinez, Green Flag Digital Media
Websites that are having difficulty climbing the search engine results may benefit greatly from constructing a strong backlink profile. There are numerous link tracking tools available, and using them can help you discover new SEO openings. This portion of the presentation is where you'll demonstrate the value of any backlinks you've helped your client get as part of your search engine optimization strategy. Include the site's current ranking for the keywords you and the client have selected to be most important. Take into account that search engine rankings are not everything they once were. We already know that rankings can be affected by a plethora of variables, including but not limited to past actions, user location, and individual preferences.

Steve Pogson from Firstpier
Backlinks are potent tools that can help websites that are having trouble moving up the SEO results. There are several tools available for tracking links, which is useful because they can reveal possible SEO chances. This portion of the report is where you will demonstrate the influence of backlinks, if you assist your client in obtaining them, as part of your SEO strategy.

Hamza Usmani, SEO-Audits.io
We also highlight the backlinks achieved from famous websites. High-quality backlinks from prestigious websites give more exposure to a brand and help it get referral business opportunities. The results generated through social media optimization and email marketing create additional business opportunities for companies.

Radhika Gupta at One Digital Land
Our clients are happiest to see high-quality backlinks from top authority media publications.

Kevin Miller
A few more quotes about showing KPI's
Simply put, a customer report is a document you send to your customers on a regular basis, showing them key metrics about their organization or environment. In a nutshell, we include KPIs (Key Performance Indicators), goals and areas for improvement. > KPI tracking is an essential part of running a business. The practice of goal-setting benefits everyone—both on an individual and professional level, in the short and long term, and so on. When it comes to client reporting, it pays to always be completely transparent when it comes to improvement opportunities.

Léa Soller with Digiberries Paris
Benchmarks, KPIs, metrics are like a north star that helps guide the company along the right path to success. Customers have every right to know and comprehend these concepts so they can realize the effort put into these reports.

Rodney Warner with Connective Web Design
Different data points matter for different businesses. For small businesses, location data is very important. They want to know how many local visitors they attracted over the span of a week or month. 'Top-performing pages' is a metric that's important for almost all the business owners and organizations out there since it tells them what's working and what isn't. Lastly, channel-wise breakdown (Organic, Social, Direct, Referral, etc.) also helps organizations discover where they need to amp up efforts. For instance, if Organic traffic grew by 20% but Social stayed more or less the same, social media strategy requires a relook.

Varun Sharma at Upreports Infotech
Some metrics can be indicators of performance or work carried out, such as an increase in the number of keywords sending traffic, impressions, users or the number of backlinks archived. However, these can seem intangible for many clients and quite rightly so, as they don't show how this is affecting their bottom line. The metrics that clients are much happier to see are ones that show an ROI. So, depending on the type of website and business this could be metrics such as leads generated, phone calls received, sales made, commissions earned or revenue created. Ideally, you need to be able to set goals in your traffic platform of choice to show these types of metrics, or think of a way how you can tie such increases back to the effects of your work.

Max Peters, owner at Technical SEO Consulting
Core metrics that link back to their business objectives – if the client's main objective is to increase transactions, then showing core metrics relating back to their increase in transactions & revenue is paramount. However, if their main objective is brand visibility, then reporting on an increase in organic traffic & unbranded search term by % of traffic is key. What's clear is to ensure the core metrics reflect a client's business objectives.

Sophie Brannon- Absolute Digital Media
When we send an SEO report to our clients, we add multiple statistical comparisons based on the previous month and the previous year. For example, we mention organic traffic comparison, referral traffic comparison, new users comparison, revenue comparison, transaction comparison, top selling products, bounce rate comparison, avg session comparison, and from what cities most visits came.

Ashish Goswami at Krish
Each business is unique in their needs, but hopefully this list will give you an idea of what other SEO Agencies find valuable in offering to their clients when compiling a report.