Do you remember that feeling you had once you learned how to find the Warp Zone in Super Mario Brothers?
That knowledge gave you the option to skip ahead several Worlds to beat the game faster if desired. You didn't always use the info but, inside, you felt better knowing you had the option.
Well, I recently discovered some "Warp Zone" features on YouTube and other video platforms that have improved my viewing experiences immensely and I want to share them with you.
Youtube Keyboard Shortcuts
Of the 37 YouTube shortcuts/hotkeys, I only knew of about 12 up until last week and I only used 2 of them regularly, the space bar and the esc key.
First One To Memorize
? (SHIFT + /) -- Opens the keyboard shortcuts menu to help you remember all of them
Also, you can hover over a button and you can see the shortcut in parentheses.
I discovered 29 shortcuts on my own by testing every key on the keyboard before I discovered the menu of shortcuts. Haha!
Most Useful Shortcuts
'Space Bar' or 'k' -- Toggle play/pause
How to change youtube playback speed:
'<' (SHIFT + ,) -- Decrease playback rate by 0.25 seconds
'>' (SHIFT + .) -- Increase playback rate by 0.25 seconds
The above two keyboard shortcuts are the most exciting features. No more clicking on the gear, then 'Playback speed', then the desired speed. Just use the keyboard shortcut and you're good.
(Scroll down to More Interesting Hacks section for more custom speed awesomeness.)
How to fast forward and rewind in youtube using hotkeys:
'j' -- Rewind 10 seconds
'l' -- Fast forward 10 seconds
'left arrow' -- Rewind 5 seconds
'right arrow' -- Fast forward 5 seconds
One great use for the above four shortcuts is when a youtube creator records an ad in the middle of their actual video and you can just hit the right arrow several times to get past it and if you go a little too far, you simply hit the left arrow once or twice.
Note: The number of seconds that the previous four options will fast forward or rewind will be multiplied by the playback speed that you are on. So if you are on double speed, the 'j' key will rewind in 20 second intervals and if you are in 0.5 speed, the 'right arrow' key will fast forward in 2.5 second intervals.
'm' -- mute/unmute
'up arrow' -- Increase volume in 5% increments
'down arrow' -- Decrease volume in 5% increments
'c' -- Toggle captions ON/OFF
'=' -- Increase caption font size (YouTube's shortcut menu says the code for this is the '+' key but since you don't need to hold down shift, it's technically the '=' key. ;)
'-' -- Decrease caption font size
You can see the font size increasing and decreasing in the following GIF: (I accidentally recorded it in double time speed. Oops!)

't' -- Toggle theater mode
'i' -- Toggle miniplayer mode (allows you to wander YouTube while video is playing
'esc' -- Exits full screen, closes shortcuts window, closes miniplayer and does not take you back to video but leaves you on the page you were browsing in YouTube
Most Interesting and Most Fun Shortcuts
Now lets have some fun!
While a video is paused, you can use the following two shortcuts:
' , ' -- Moves to previous frame
' . ' -- Moves to next frame
There are 24 frames in a second so you'd have to press one of these keys 24 times in a row to watch one second of video time pass by in slow motion.
You can use this functionality for a few things:
#1) Sometimes video creators throw in a quick flash of an image or word in just a few frames and so it shows up as just a blip when watching at normal speed. But now, you can easily pause right after it disappears and then hit the ',' key to go back to the exact frame when it shows up so you can read it.
#2) You can slow things way down to really take in the amazingness of something. For example, the following dunk.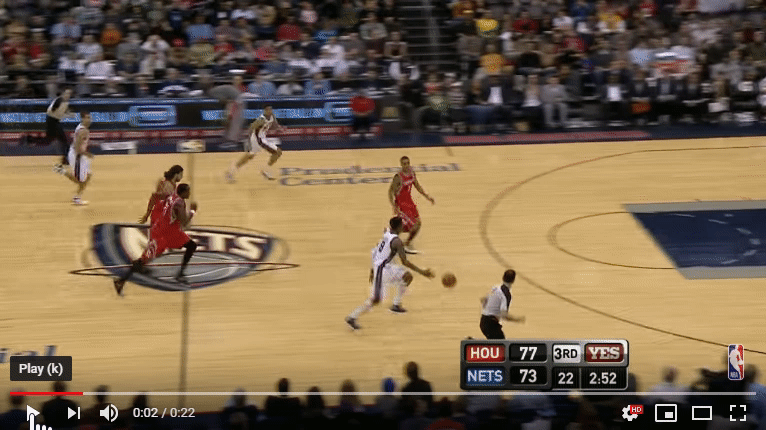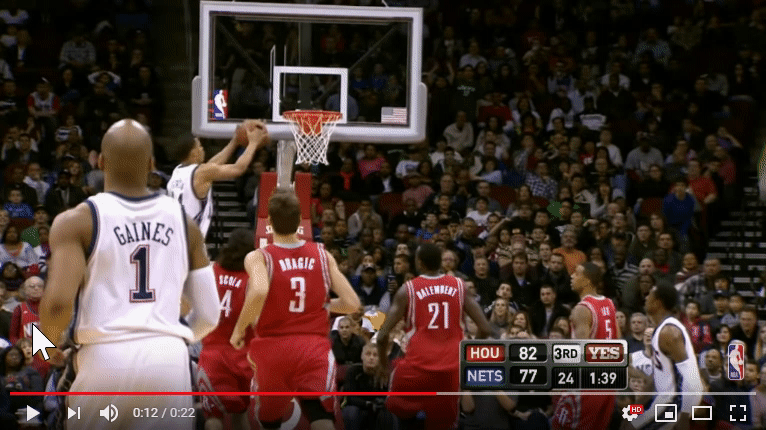 #3) You can see all the images crammed into some hectic transition. Here is one example from the Imagine Dragons music video, "Believer".
This video shows the clip at normal speed which covers just over a second of time:
This video shows the same one second of video but broken out frame by frame so you can see all the images:

While in a Playlist
'N' (SHIFT + n) -- Play next video in playlist (this will also play next video even when not in a playlist)
'P' (SHIFT + p) -- Play previous video in playlist
So in the example in the image below, 'N' would take you to video #5 and 'P' would take you to video #3.
More Interesting Watching Features:
You can scroll down with the mouse scroll wheel while in full screen mode to see the description and comments without exiting full screen mode.
Play back speed can be customized to any speed at any .05 interval from .25 speed to 2 speed by clicking the settings gear, then 'Playback speed', then 'Custom'.
Once you choose a custom speed, it will show up as an option in the 'Playback speed' menu above the 0.25 speed.
While a video is playing from a playlist, you can click the back button in the browser, and the current video will go to miniplayer mode and continue playing (if the previous page is still in YouTube, course.)
Wistia Player Keyboard Shortcuts
(Moz's Whiteboard Friday videos for example)
'm' - mute
'f' - full screen on and off
'left arrow' - skip back two seconds
'right arrow' - skip forward two seconds
When paused:
'left arrow' - skip back one frame
'right arrow' - skip forward one frame