Rank tracking with custom scheduling
Custom scheduling, aka flexible scheduling, is the ability to get data for your keywords exactly as often as you need it. Because you can tailor your keyword tracking schedule to your needs, flexible scheduling minimizes waste and maximizes data yield in your rank tracking.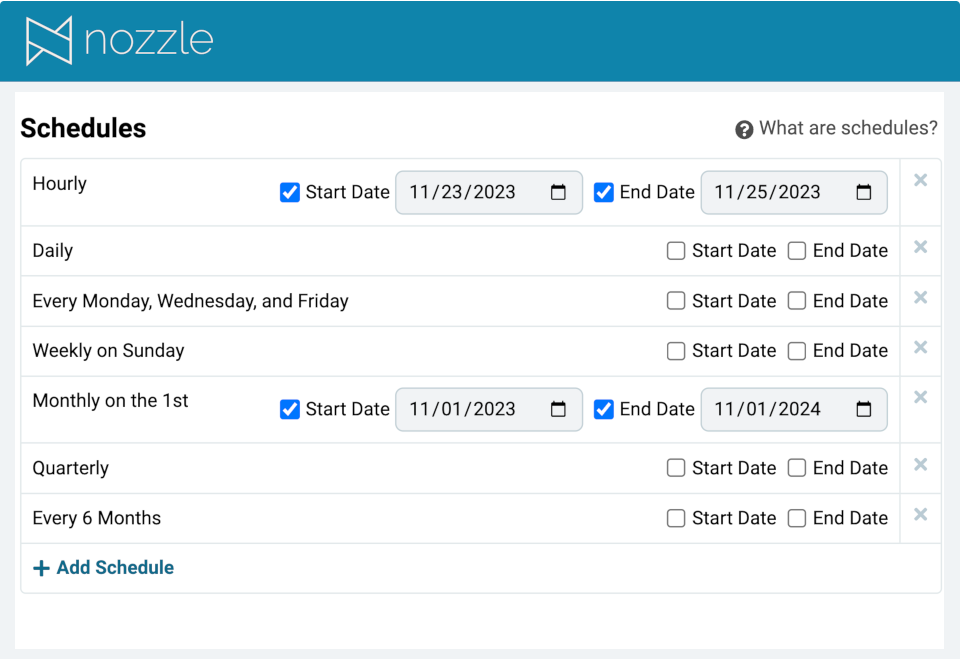 What are the benefits of custom scheduling?
The benefits of a rank checker with custom scheduling are the low price-to-data ratio and the high control you have over your rank tracking strategy. Here's a breakdown:
Custom scheduling removes the noise and lets you hone in on what's important.
Not all keywords are created equal. Some are more pressing, some less. But there is a place for all of them. Your low-priority and long-tail keywords shouldn't be soaking up the same amount of resources as your top-priority keywords but shouldn't be cut out entirely. Flexible scheduling with Nozzle lets you separate your keywords into buckets with varying levels of granularity depending on their priority.
For example, if you're delivering weekly reports to the C-suite, they may want to see how your high search volume, money-making keywords are moving on a daily basis. You as the SEO professional also want to see how some longer tail keywords from a recent blog post are performing, but you don't need to see daily movement.
Give each keyword the attention level it needs: no more, no less.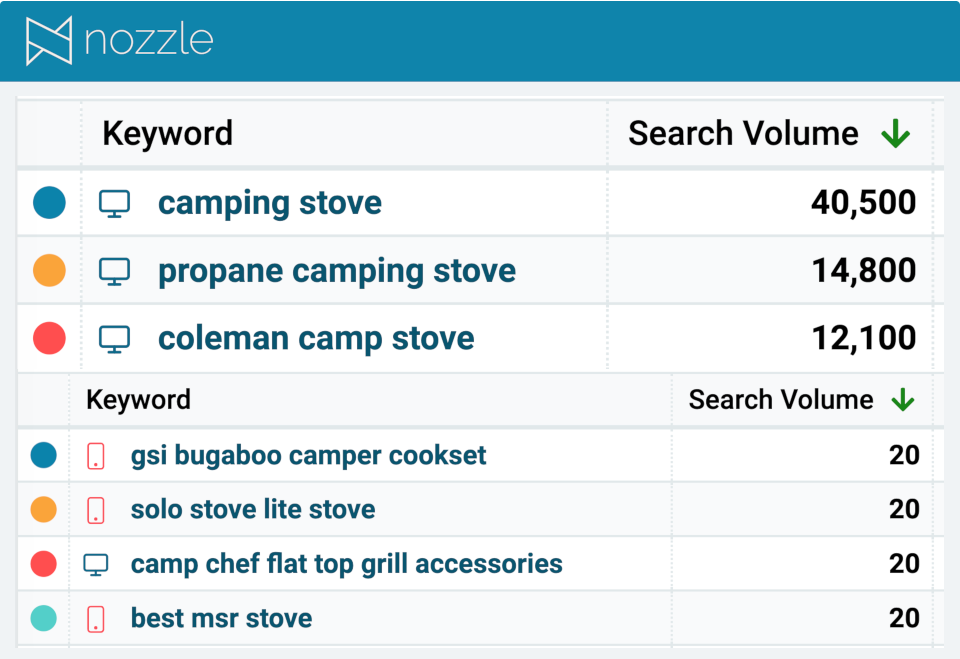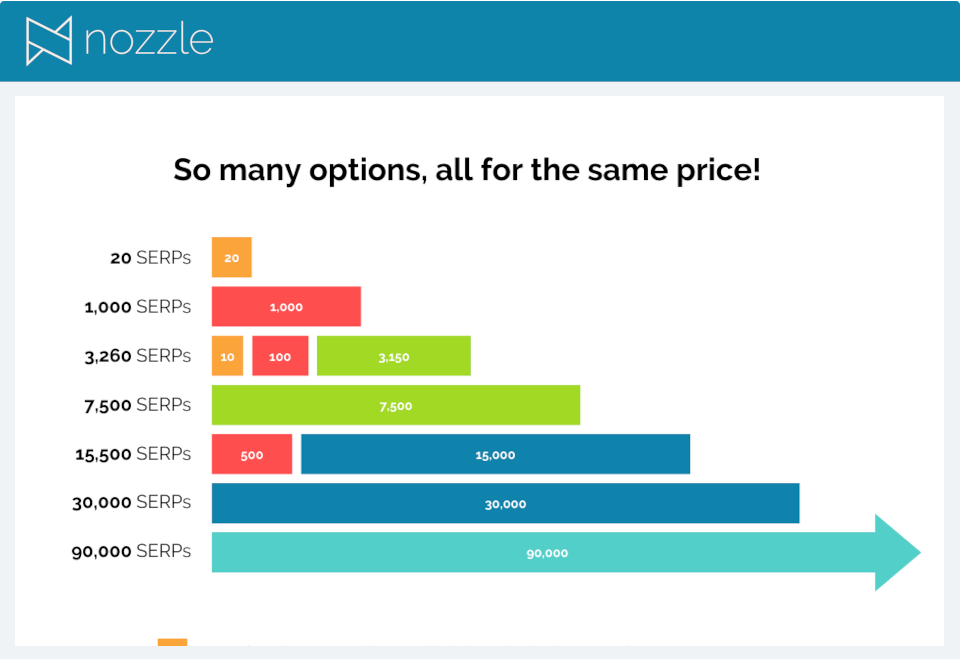 Custom scheduling saves you money.
Nozzle charges on a per SERP basis. Weekly, monthly, and quarterly tracking schedules use a fraction of the SERPs that a daily schedule uses and therefore cost much less.
Although less regular schedules provide lower data granularity, they are optimal for medium to low priority keywords that you want to keep an eye on without wasting resources. A less frequent schedule can also work well for a set of keywords that consistently rank #1 or #2, like your branded keywords or product name. You'll want to know if any of these slip to position 3 or 4, but since you're pretty confident that won't happen very often, you can get away with tracking, say, bi-weekly.
While schedules like hourly retrieve data more frequently and have a higher cost, the overall price remains low when you isolate it to a few high-priority or highly volatile keywords and track less important keywords less often.
Pay less for data you'll look at less.
Custom scheduling puts you in a more informed position.
Custom or flexible scheduling gives you the option of more data by effectively letting you zoom in or zoom out on your data. You can zoom in and watch target keywords more closely during key sale periods (e.g., Black Friday) by setting an hourly SERP schedule for select keywords. This gives you extra data density in terms of time.
Or you can zoom out and get a bird's eye view of your industry's SERP landscape by setting a monthly or quarterly schedule for an enormous keyword list. This gives you extra data density in terms of keywords and SERPs. Having an idea of your industry's SERP landscape means knowing all your SERP competitors, the frequency and location of SERP features, who is dominating featured snippets, and so much more. This kind of knowledge will help you make much more informed decisions when it comes to setting strategy.
If you only track your regular list of keywords on a normal schedule, you'll never be able to see the essential context or the crucial detail that the SERPs have to offer.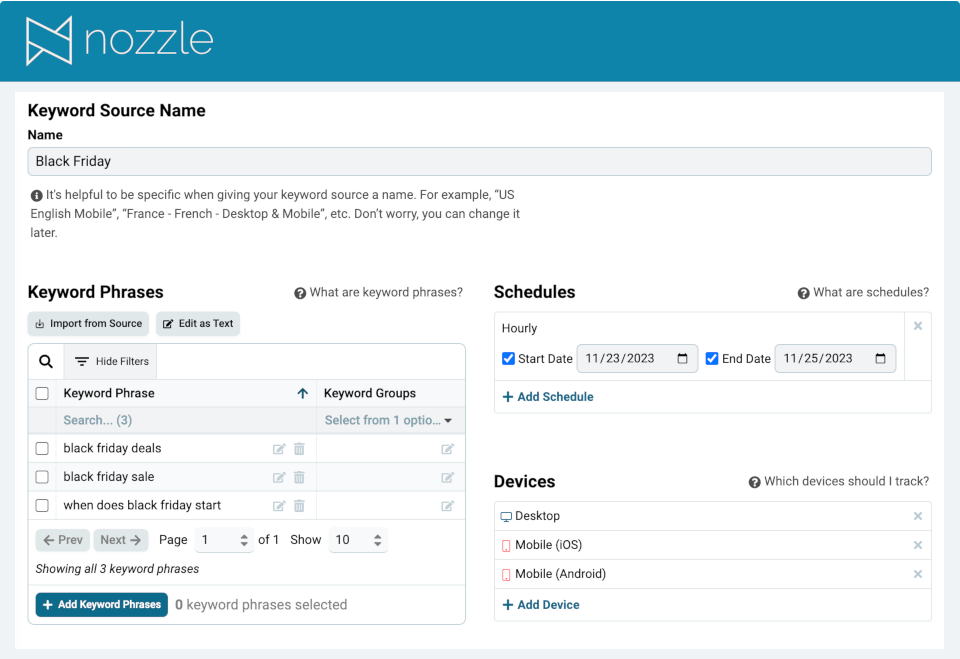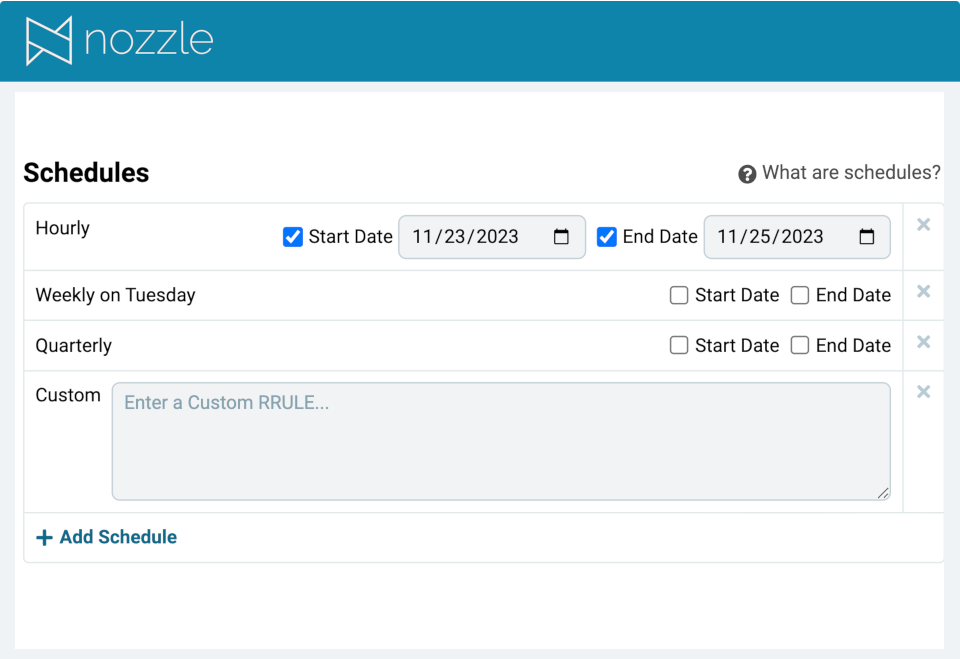 Custom scheduling doesn't box you in.
When you rank track with custom scheduling options, you set the schedule exactly the way you want it.
If you have meetings with a specific client every Wednesday, you could set your tracking schedule for weekly on Tuesday, instead of the standard Sunday, so you have the most up-to-date data for your meeting.
If you want a large volume of SERP data for research, you could track on a quarterly schedule for several years for relatively cheap. Or, you could use a one-time data extraction of thousands of SERPs to generate a data-rich People Also Ask Expansion Deliverable.
With flexible scheduling, you can split your keywords into any number or combination of scheduling buckets for whatever your strategy is.
The thing is, we can't ever know exactly what you need—so that's why we give you all the options.
Custom scheduling is easy.
Custom scheduling takes hardly any extra effort to set up compared to a one-size-fits-all approach. And it works so much better. For help setting up your schedule, click here.
What are the cons of custom scheduling?
🦗🦗🦗 We can't think of any. If you find any, let us know.