A New Player Enters the Game: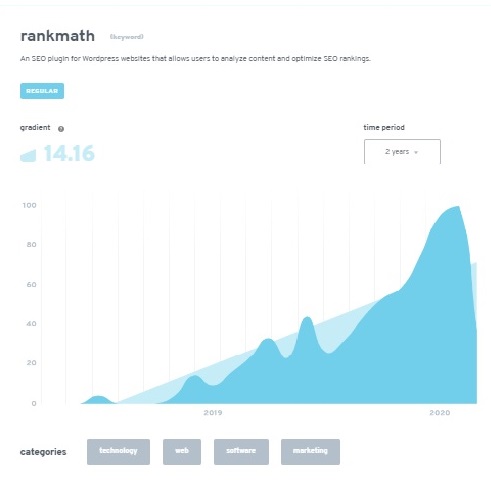 9 Features to Love About the Rank Math SEO Plugin
Released in November 2018, the Rank Math WordPress SEO plugin is fast becoming the favorite among SEOs. It was created by Suraj Vibhute and Bhanu Ahluwalia, who developed the plugin for their personal websites because they weren't getting everything they needed from any of the SEO plugins for WordPress that were already available.
The best part about this new plugin is that it does everything that Yoast Pro, Yoast Local, and WooCommerce do but for free. There is no pro version of the plugin and though one may be available in the future, the developers have promised that the current free version will continue to include all of the features it does now. Vibhute and Ahluwalia have offered this powerful free SEO tool as a way to compete with the heavyweight titleholder, Yoast SEO, which boasts more than five million active installations — and it's working. As of January 2020, Rank Math SEO has 100,000+ installs and counting.
SEOs like Matthew Woodward and Cyrus Shepard are singing its praises for being faster, easier, and more intuitive than Yoast. It's also 66% lighter than Yoast, which means it's more efficient with fewer PHP requests. When you're ready to convert, Rank Math SEO will walk you through an easy-to-follow setup wizard and will import existing data from your site's current SEO plugin before deactivating it.

Key features that set it apart from other plugins:
Better Rich Snippets & Schema Markup Support
Rank Math SEO plugin allows users to easily add the right metadata for Schema markup so that search engine bots can get an accurate read of the content. It allows you to choose the Rich Snippet Type, such as article, recipe, product, service, etc., and then add relevant information such as title, description, and post robots meta. Users can also select a default category and taxonomies. The layout is very straightforward and examples are provided to help with clarity.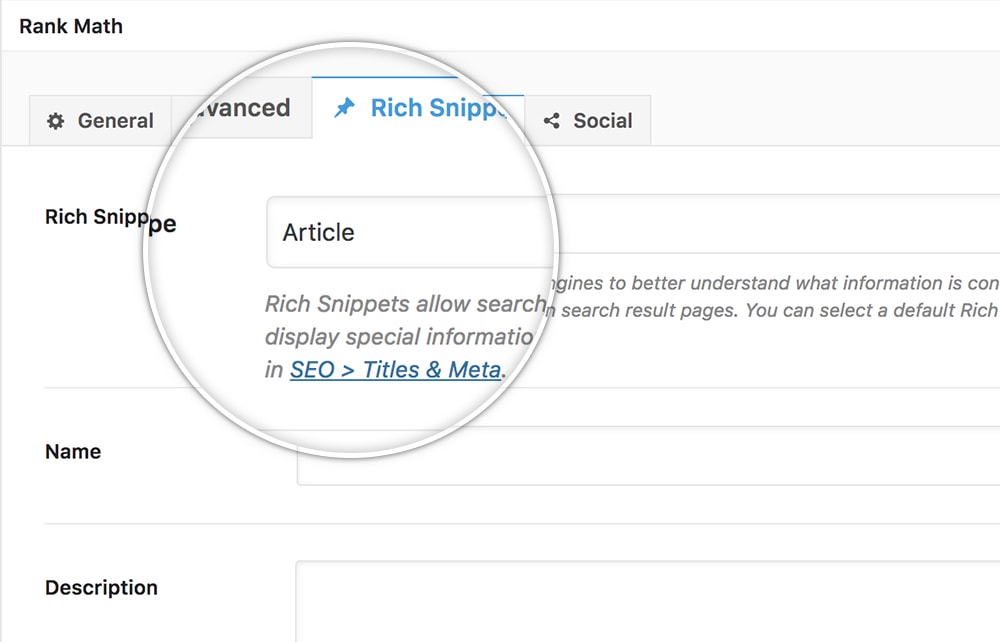 404 Error Monitor & Broken Link Checker
Rank Math SEO has a 404 checker with two modes, simple and advanced. The simple mode captures WordPress 404 errors while the advanced mode tracks the error page, the referring page, the time of the error, and the user agent. Yoast doesn't offer 404 support with the current free version of their plugin. Rank Math allows you to sort and redirect or fix errors.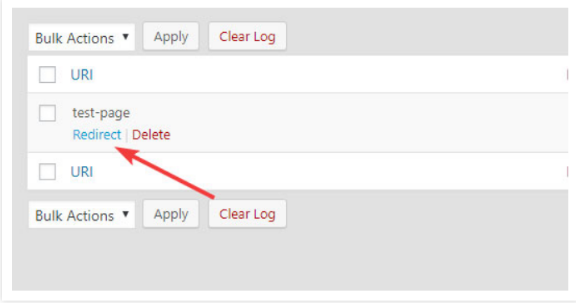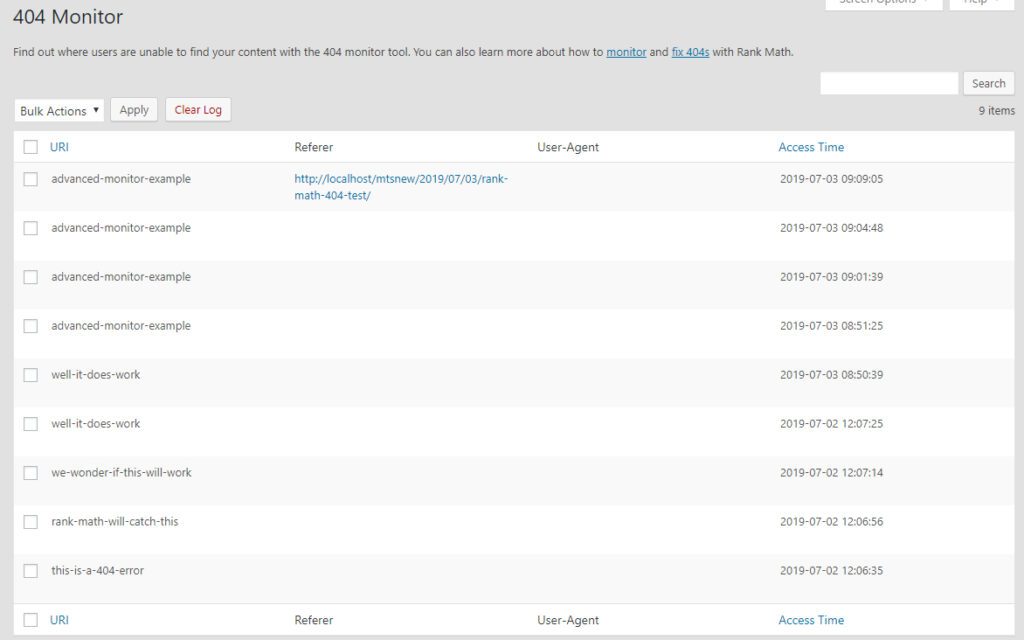 Redirections
Users can set up custom 302, 301, 307, 410, or 451 redirections and create automatic behaviors like a default 404 redirect to the Homepage. The plugin also allows for a choice of redirection type, like a 301 redirect (permanent) or 302 redirect (temporary).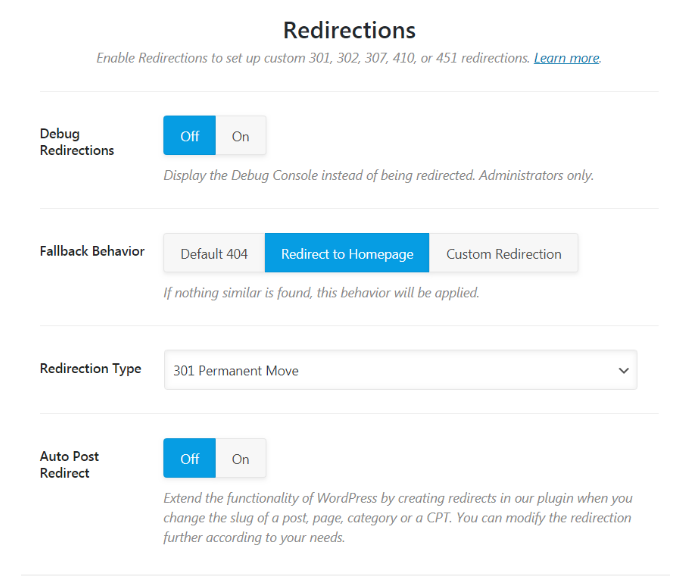 1-Click SEO Audit
Accessed from the SEO Analysis menu, it provides fast and comprehensive analysis and tells you how to fix the issues.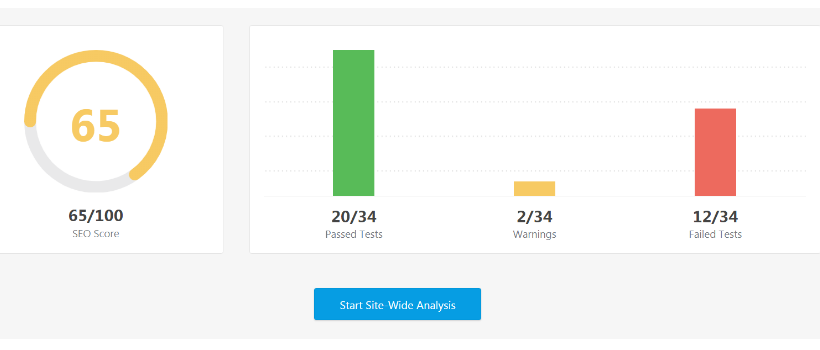 Robots.txt Editing
Rank Math SEO allows you to edit the virtual WordPress robots.txt file. It's automatically added to help a site index better.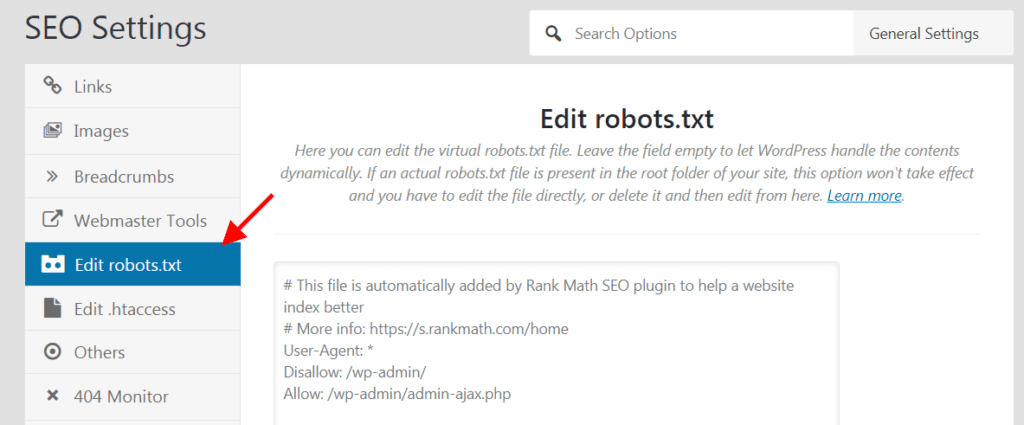 Automatic SEO image optimizer
Rank Math SEO allows users to choose whether to automatically add missing image alt text and missing TITLE attributes. If a screen reader is used, the site visitors may experience accessibility issues, but it's ideal when a post has only one image. Though WordPress does add an image name by default, this feature gives people the option to add title attributes for all images without a title.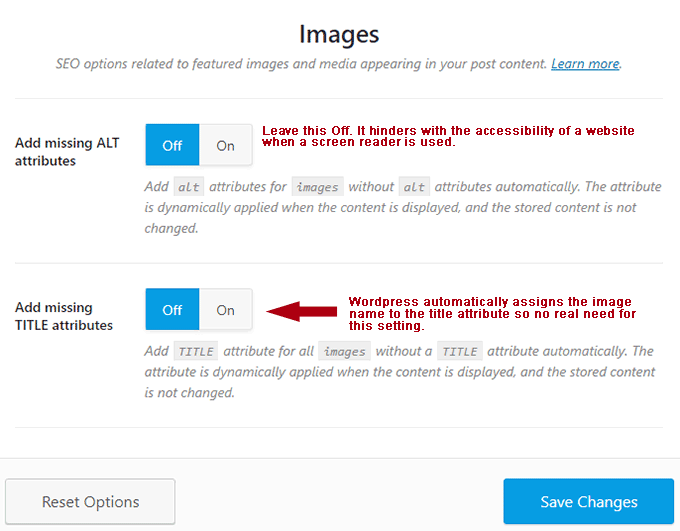 Google Keyword Suggestions, Keyword Integration, and Click-Through Rank Tracking
With Rank Math, you can choose up to five focus keywords for each post and rank multiple keywords. It tracks how they are ranking in SERPs. The plugin also integrates Google keyword suggestions and provides rank tracking info within the Google Search Console in the WordPress admin dashboard.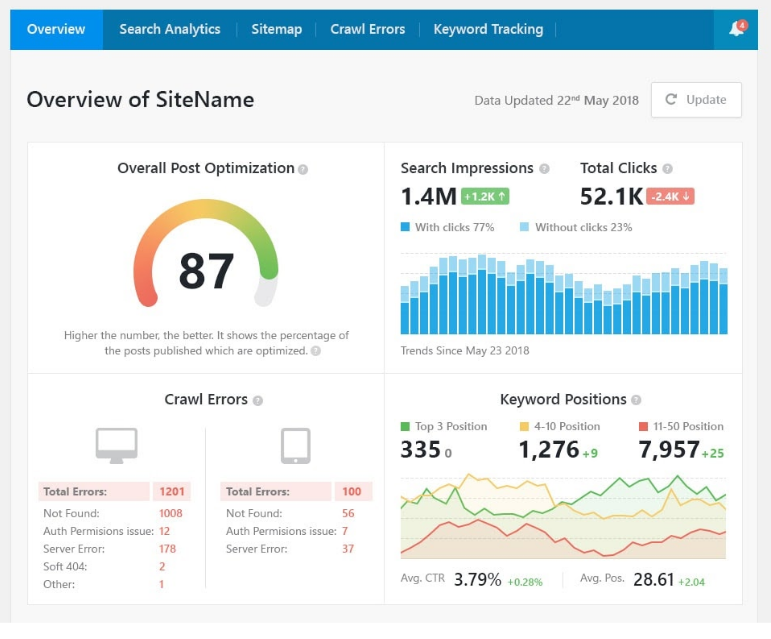 Though the keyword tracker is still in beta, when it's launched, it will integrate with the Google Trends Tool to help users check keyword search trends. Currently, Rank Math provides an overview and detailed information about keyword search analytics including clicks, impressions, and click-through rates for your site's top-performing keywords. The Search Analytics tab in the Search Console provides an overview of data sets, search analytics for keywords, sitemaps, crawl errors, and the keyword tracker.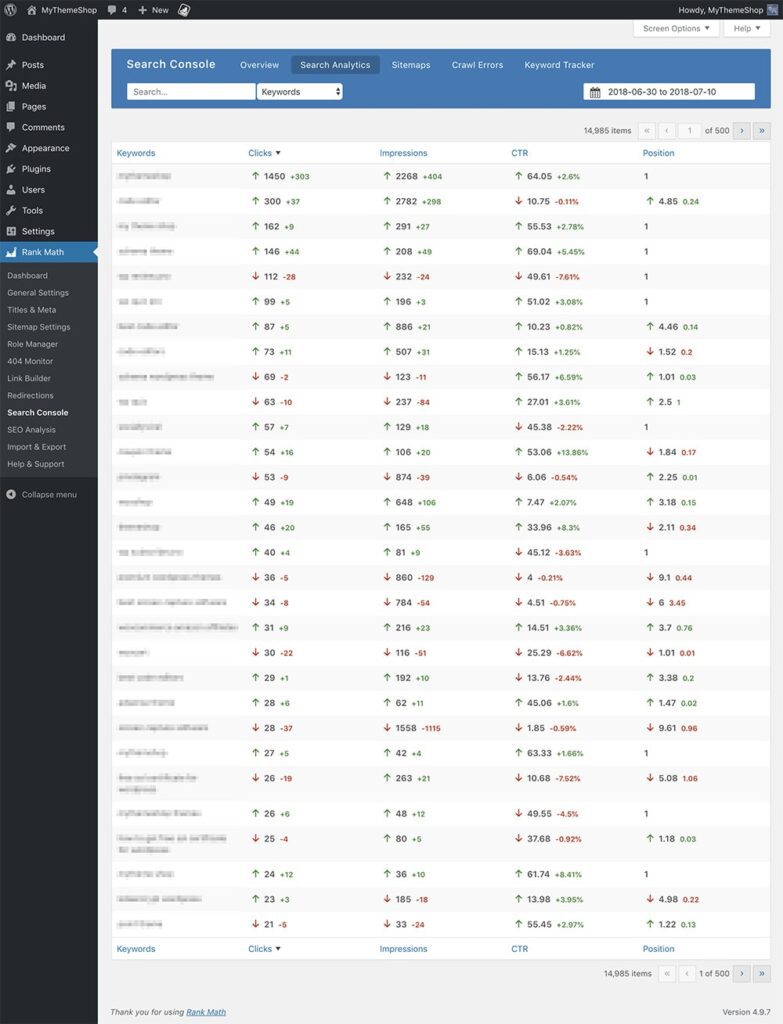 Shameless plug: While Rank Math SEO lets you track hundreds of keywords, if you want to track tens of thousands of phrases, you should start a free trial with Nozzle.
WordPress Breadcrumbs
If your WordPress theme doesn't already include Breadcrumbs, this tool is very helpful not only for making your site easily navigable but also for helping search engine bots read your content classifications. Once you've enabled the Breadcrumbs function, you can dial in the settings, like separator characters and homepage links.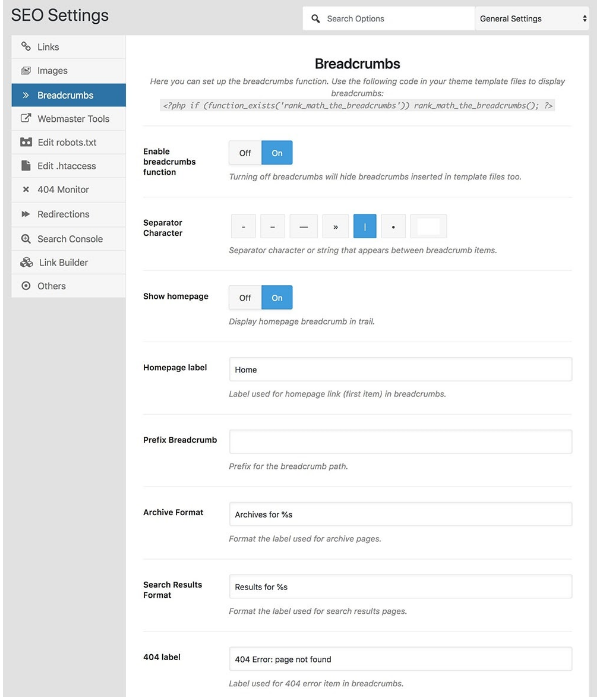 So far, Rank Math is a free SEO plugin for WordPress that not only passes muster but crushes Yoast SEO plugin in offerings and performance and it does so at the very good price of free. Rank Math SEO provides features that even the Yoast SEO premium plan does not. This WordPress SEO plugin also makes website data easily digestible and more accessible to amateurs and pros alike.