Backlinks, love them, or hate them, are a critical component to doing search engine optimization.
While there are a variety of methods that have changed over the years as Google rolls out more algorithm updates based on feathered and furry animals or Sesame Street characters, one thing is for certain—backlinks still remain an integral part of how a website ranks.
Creating High-Quality Backlinks
One of the most common questions for most people in digital marketing is "how to create quality backlinks."
Unfortunately, for a lot of marketers, this is where things start to get confusing.
After all, how do you create "quality links?"
Here are a few things I'll be discussing in this article:
Backlink Pitfalls
Typically, there are a couple of common pitfalls when people build backlinks.
Pitfall 1: Content Only Strategy
It's true, content is king. However, content without links is a lot like having a car without any fuel. Sure, it looks nice and may get the attention of a few people—but how far can that really get you?
Even with the most experienced wordsmith at the helm, content without links may be overtaken by sites that are seen as more authoritative and trusted.
So how the heck does a site become more trusted? In spite of all the advancements Google has made in its algorithm, links still provide one of the clearest signals that a website can be trusted. The more links from quality sources can equate into traffic increases and additional authority within a particular market.
Pitfall 2: Link Only Strategy
If you're relying on links alone to rank your site it's probably not going to happen.
That's not to say you can't brute force a website up in search results, there are plenty of case studies showing how this can be done. However, using this method, will most likely not stick without a lot of additional effort. Additionally, you're probably going to be penalized depending on how aggressively you're seeking those links. This approach is commonly classified as a black hat tactic.
The problem is that many people in this camp tend to have horrible content (looking at you lazy spinner). It's blasé and uninspired. In order to get a link from someone, you must have content worth linking to.
The sad reality is that, without quality content, links alone won't get you very far. You must have something worth linking to if you want a link from a quality site.
To be truly effective, you need both content and links.
Build Your Brand
Before building links, I cannot underscore the importance of getting your on-page SEO dialed in.
Making sure your on-page SEO is correctly implemented will help ease the process of backlink building. In fact, you'll need far fewer backlinks to rank well. This means you'll need to spend some time on your titles, descriptions and headings, adjusting site architecture, improving internal linking, and structured data.
As Google moves from the web of strings (search queries) to the web of things (relationships) working on your entity becomes increasingly more important. Similarly, an understanding of natural language processing (NLP) and semantic search can provide a competitive edge.
Brand building, or building links around a brand is a fundamental part of marketing. If done properly, it can weather the storm in spite of algorithm updates. Wouldn't that be nice—"worryless SEO?"
Building Your Brand Using Entity-Based SEO
In case you're not familiar with what entities are and how they relate to SEO, I'd recommend checking out this article on Search Engine Journal. Entities are defined as, "A thing or concept that is singular, unique, well-defined and distinguishable."
To illustrate this in something less abstract, entities often trigger knowledge panel results or additional SERP features. Unfortunately, Google doesn't always get this correct. In most cases, this is due to multiple results that may be unclear.
As a simple example, the word "cars" could mean a lot of things. By itself (without any kind of clarification) you could be talking about any of the following:
An automobile
The Disney-Pixar movie
The 1970's new wave band (You're just what I needed…🎶)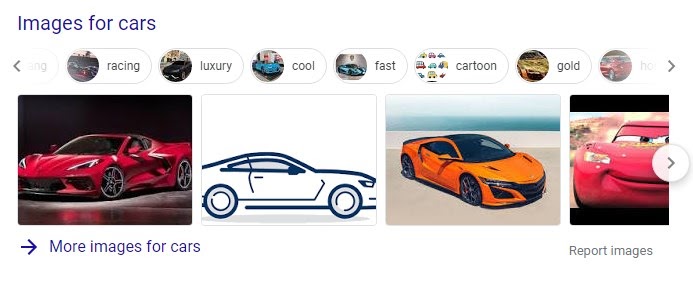 However, when we provide additional context and add keywords to the page like, "1964 Shelby Cobra," "muffler," or "transmission system" it becomes quite clear that the keyword "cars" is clearly talking about an automobile.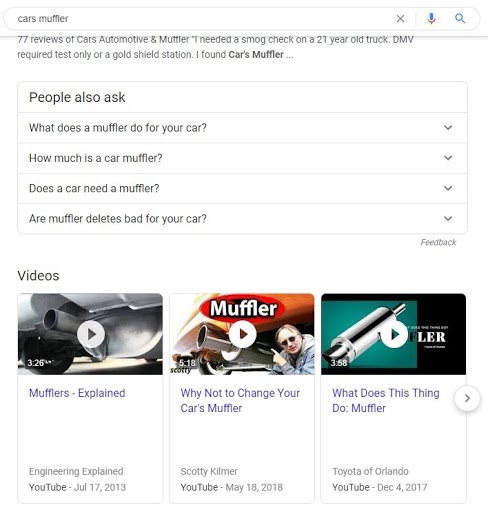 Disambiguation can be a powerful thing when paired with the implementation of structured data markup.
Brand-Based Link Building
Using entity-based SEO can have a significant impact on brand visibility. When you get your entity right, it only takes a few links to provide a decent amount of "push."
So how is this done? Connecting relationships between your brand and other keywords that are so strong, you're seen as the definitive result.
Think about brands like Kleenex or Google. You'd never say, "I'm going to get a facial tissue"—you'd say please get me a Kleenex. This is because Kleenex has become synonymous with the brand. Some could even argue that they are THE brand and others are the generic version.
The same could be said about Google. We rarely say "I'm going to run a search query" on a particular topic. We say, "I'm going to Google that."
While this is an overly simplified way to look at brand building, the concept should be quite clear. You want to be the definitive brand that represents the entity.
To start brand building, obviously consider all of the profiles that any business should have. These can provide additional signals that validate your entity:
Google My Business (if a local business)
Facebook
Instagram
Twitter
LinkedIn
YouTube
Yelp
Pinterest
Vimeo
Foursquare
Crunchbase
Branded properties help provide signals that can serve as a foundation for your link building efforts. Like our example of Kleenex and Google, we want to be ubiquitous. You don't need to be active on each of the platforms, but claiming these profiles increases your brand's footprint as well as prevents your competitors from hijacking your brand.
Next consider places in which you can start building brand signals. These could be places in which you share photos, whitepapers, resources, or news. You could also consider building citations as long as the site isn't too spammy.
To get you started, consider the following:
Press release news rooms
WhatsApp
Tumblr
Flickr
Blogger
SlideShare
Issuu
Medium
Alignable
UpCity
Paper.li
When building these additional profiles, remember that you're creating signals about your business. At this point, I'm not too concerned with follow vs nofollow links—it's simply getting your name out there.
Actionable Link Building
Before embarking on a link building campaign, take a moment to develop your plan. Having a blueprint in place can help you identify potential pitfalls.
A blueprint can also serve as an anchor point that you can refer back to. I've found this to be invaluable, especially when you're in the middle of a campaign and things get crazy.
Sometimes, you need that reference to keep the campaign focused and on-track.
The key questions to ask when creating your plan are:
What do you hope to accomplish with the campaign? This should follow SMART goal setting (specific, measurable, actionable, realistic, and time-based)
Who do you want a link from? Before starting a link building campaign, ask yourself who/where you want a link from‒this could be another website, social shares, public relations or brand recognition.
Is this time-sensitive or evergreen? I almost always opt for links to evergreen content, since they're easier to obtain when content juicing.
Content Juicing
One of my favorite link building techniques is a repurposing technique I refer to as "content juicing."
This method leverages off-page branded assets that can pass link equity back to your primary property.
When you have a piece of content, think of the various ways that you could repurpose and leverage it on as many mediums as possible.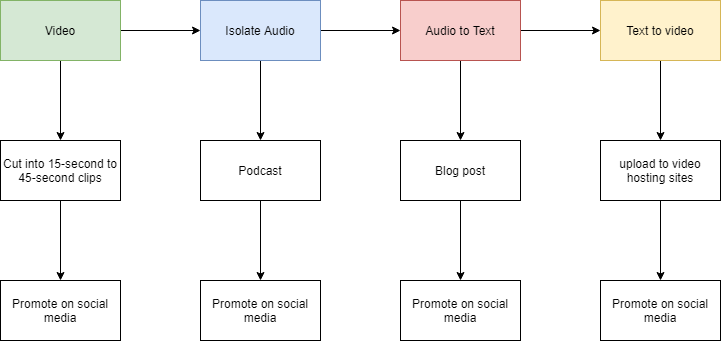 As an example, you might consider the following:
Create a vlog or video interview
Cut the vlog into short clips for snippets or social posts
Separate the audio from the video and create a podcast
Convert the audio to text using a service like Rev
Add additional content to the text as necessary and use as a blog
Create an infographic, incorporate visuals, and create a video thumbnail
Create additional resources for your blog (Google slides can work very well for this purpose)
Before publishing the blog, use the previous assets you've created to allow users to read, listen, or watch your blog—whichever happens to be their preferred medium
The key component of content juicing is to provide multiple platforms in which a user can engage with your content. Additionally, a call to action should assist in driving traffic back to your website. Ideally, this would be in the form of a link or call to action.
When considering this method, it's important to run your properties through a link tracer, such as wheregoes.com or Link Redirect Trace Extension, to make sure that you're getting value from the links you're building.

Leveraging Automation
This is more of a content syndication method, not necessarily a link-building strategy. Still, it can enhance your brand signals, which can have an effect on people linking to you.
It goes without saying, but consider the platform you're publishing content to. Facebook users consume content in a different way than Instagram users.
Also, it's important to note there's no substitute for personalized engagement. Using automation to schedule or promote your content can buy you a ton of time!
Whether you do this manually or through automated processes is irrelevant. The point is that you want to promote your content on several channels and create signals that point back to your primary entity.
Another benefit of automation is that you can schedule many top-of-funnel activities, such as posting your content and focus on engagement. Imagine, spending 2-3 hours on developing the content for the entire month, then interacting with users—this allows you to spend more time cultivating meaningful relationships.
Walking A Mile In Your Customer's Shoes
Be honest, when was the last time you did a top-to-bottom screenshot of your website or social media page and analyzed it.
For that matter, when was the last time you'd evaluated the engagement of a page?
It doesn't have to be a laborious process. I'm talking super-simple, knee-jerk analysis:
Is there cohesiveness in the links and messaging?
Does your content elicit a reaction from people? If so, what does that look like?
Is your content and backlink strategy in-line with what other big players in your industry are doing?
Doing something this simple can uncover some opportunities.
Consider interlinking content together using traditional silos throughout your branded properties. This is one way to funnel authority to your primary pieces of content. It's also a powerful link building method that you can control.
Also, just because you've promoted a piece of content once or twice, doesn't mean you have to stop. Keep building links to your evergreen content on a monthly basis. This will help increase the relevancy and authority of not only the link, but also your entity.
Conclusion
Link building doesn't have to be difficult. By focusing on your entity, creating quality brand signals, repurposing content into multiple mediums, you can create quality links.
Quit thinking of yourself as an SEO or link builder. Instead, think of yourself as a marketer and focus on places you can promote the brand. This can help uncover opportunities you may have previously overlooked.
Remember: create for humans, optimize for bots.