Creating a new website is a major step for businesses to grow their presence. It involves showcasing a brand online, in the hopes of growing an audience. All businesses want to be sure that their websites create the best first impression possible, particularly since data shows that a massive 75% of businesses' online credibility comes from the quality of their web design.
To make a mark in the online world in 2022, businesses need to use the right resources for website development. One of the essential parts of this process is hiring the right team. Two types of developers that are required for effective website design include user experience (UX) and user interface (UI) developers.
UX developers are responsible for creating evidence-based, interactive designs between human users and websites. They make websites usable, enjoyable, and accessible. UI developers are responsible for creating the overall look of websites. They're tasked with designing user interfaces from the users' point of view.
UX/UI developers require a large range of specialized skills to complete their tasks and responsibilities. Some of their tasks and skills include: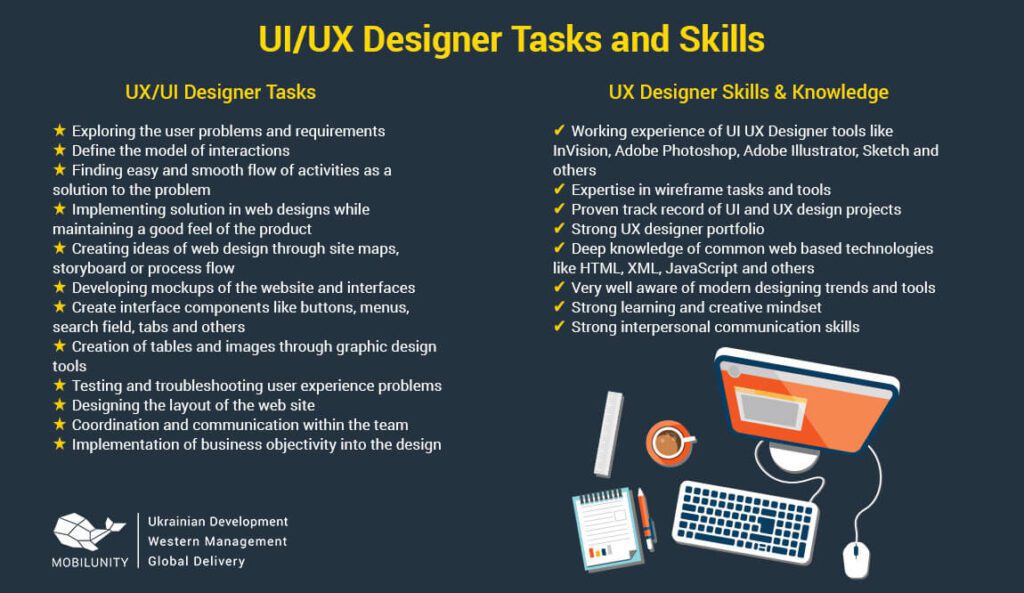 These developers are also required to stay abreast of the latest trends in website development. Staying updated about trends allows these developers to build websites that are fully interactive, mobile responsive, fluid and design-focused to stand out among competitors.
UX and UI Trends in Website Development in 2022
The world of website development brings changes every single year. To stay competitive, businesses need to hire UI and UX developers that are constantly researching and staying updated about the newest trends. Let's now look at some of the biggest trends in website development in 2022:
– AI chatbots A major trend in UX development is the rise of AI chatbots. These bots are becoming even more sophisticated in meeting the requirements of and matching the behavior of users by using natural language processing, machine learning and information retrieval techniques.
– Motion UI Visual design is increasingly becoming an effective marketing strategy. Motion UI is the craft of using movement and animation within an interface to guide the user experience and communicate a sequence, transition, next step or action for a digital product.
– Progressive Web Apps (PWA) PWAs are a type of application software built using common web technologies such as HTML and JavaScript. PWAs work on any device with normal browsers. The technology has gained a lot of popularity for its potential to provide a high-quality user experience. PWAs deliver swift experiences even when users are offline or using an unreliable network. Along with excellent user experiences, PWAs also have other features like offline access to cached content and push notifications.
– Augmented reality (AR) and virtual reality (VR) AR and VR, as well as mixed reality (MR) have gained a lot more interest in the web development world. The goal of these technologies is to eliminate keyboards and make the user experience much more mobile and digital.
– Accelerated mobile pages Accelerated mobile page (AMP) was designed to offer mobile users extra-fast digital experiences. In addition to providing smooth user experiences and reducing bounce rates, AMPs can help improve core business metrics, for example, the number of conversions on website pages.
– Serverless architecture Serverless architecture involves development teams using open-source, cloud-based environments to code without having to consider the infrastructure for servers, as well as their administration and security. Not having to manage servers makes it easier for businesses to deploy websites.
– Voice search optimization Increasingly more consumers search for and buy products online with the use of voice assistants. Voice search optimization is highly beneficial for localization, especially if businesses are targeting global markets. It's essential to tailor search results to the requirements of consumers from different places. As a result, local voice search can boost the global engagement of brands.
With all the benefits of following the right trends in website development, businesses can no longer afford not to invest in hiring the right developers. Let's explore some of the best ways companies can hire the right candidates:
Where to Find UX and UI Developers for Hire
Hiring UX and UI designers are an integral part of seeing a website come to life. Here are some of the best ways to find a UX/UI specialist:
– Freelance developers Many developers offer their skills on freelancing platforms. Hiring freelance UX/UI senior developers is an ideal option for businesses looking for skilled specialists without limitations to a specific region. The top benefits of hiring freelancers are low hourly cost, flexibility and easy-to-access remote skills. The downside to this option is that skills and experience are often difficult to prove.
– Hiring platforms Many businesses that decide to hire in-house development teams turn to hiring platforms such as LinkedIn. The benefits of hiring through this method include a thorough vetting process. However, the process can be lengthy and expensive.
– Outsourcing company Making use of outsource recruiting to hire the UX developer candidates has several benefits, including reduced spending, flexibility, faster development, risk minimization and expert guidance. Outsourcing developers also allows businesses to focus more on core tasks instead of the hiring process.
The Bottom Line
Website development is constantly evolving to meet the needs and expectations of online consumers. Many of the trends are centered around optimizing the user experience. For businesses to stand out among competitors and to remain competitive in their business niche, they have to look into hiring the right team, including skilled and experienced UX and UI designers. The developers have the know-how to prioritize users and business goals over technology limitations and restrictions.