Getting your site to rank is tricky business. Just when you think you've multiplied your chances of ranking by using the right keyword in your content, you realize you haven't been paying attention to off-page SEO.
Wasn't on-site SEO enough? You sprinkled in keywords throughout your headings and content, added them to the Yoast SEO plugin, and wrote a tight meta description too. Now you're hearing you've got to pay attention to off-page SEO too. What?
It's simple, really. Off-page SEO means attempting to get backlinks from other, already-established sites so those links can signal Google your site is authoritative and get better ranking.
Now how do you get the links?
Let's answer this in this post. We'll talk about 5 off-page SEO techniques, which can help you get backlinks to your site. Before diving into these, however, let's touch base with what off-page SEO is and some basics of link building.
Let's start, shall we?
What is off-page SEO?
Off-page SEO involves actions you take to improve your rankings in the search engine. The only thing is, you take these steps outside your website's realm, much like dining out. On-page SEO is the exact opposite – steps you take on your website to improve your rankings. It's the eat-at-home version.
Notice both off-page SEO, also known as off-site SEO, and on-page SEO share their goal – to get you to rank better on the search engine. A lower ranking reduces your odds of getting better traffic as your page is not very discoverable.
Webpages showing up in the first five organic results of Google search take home 67.60% of the clicks. Besides, people rarely scroll past the first search results page. So who wants to rank better?
The basics of link building
It's settled then – off-site SEO is your bat signal that tells Google you're trustworthy, therefore, deserve a better positioning in the search results. But are all links created equal?
Certain links are trustworthy while others are spam (created through spammy off-page SEO practices). Since we'll be covering only authentic off-site SEO tactics, you don't need to worry about those.
For now, keep the following in mind:
The links you're attempting to get should come from a relevant site.
If you're a career coach, it doesn't make sense to get a link from a food blogger. The link becomes irrelevant.
The linking domain and page should have good authority.
Google's page authority metric is called PageRank. Unfortunately there is no way to see that metric anymore, but some SEO tools have their own authority metrics, which can give us a good idea. For instance, keep tabs on Moz's DA (domain authority) and PA (page authority) metrics. Alternatively, Ahrefs' metrics of DR (Domain Rating) and UR (URL Rating) are also good indicators. A site with low DA or DR doesn't have the I've-stood-the-test-of-time authority to tell Google you deserve better ranking. In short, it doesn't bring much value to the table.
In a nutshell, you need links from high authority, trustworthy sites that are relevant to your niche.
What's next? Getting your hands dirty with off-page SEO. Here we go:
1. Build links by guest blogging
Guest blogging involves you writing content for another site in your niche as a "guest" on their page. You either add a link to your page in the content or get one in the author bio that credits you for writing the piece.
Some say guest blogging has lost its charm. Others, like Aaron Orendorff, promise it works, having guest posted for over 40 leading publications and gotten a job as the editor in chief at Shopify Plus. The correct answer?
Done correctly, guest blogging can be a good source of solid backlinks and referral traffic to your site. Just as in the case of any other off-site SEO strategy, there are two ways to build links with guest posting:
❌ The wrong way: Writing meh content on every site that can link back to you, never caring if the site is relevant to yours or if its readers are interested in what you have to say.
✔ The right way: Contributing valuable content to a guest site in your niche on a topic that genuinely interests readers.
So how do you go about doing things the right way?
❌ The wrong way: Writing meh content on every site that can link back to you, never caring if the site is relevant to yours or if its readers are interested in what you have to say.
✔ The right way: Contributing valuable content to a guest site in your niche on a topic that genuinely interests readers.
So how do you go about doing things the right way?
How to guest post the right way?
The best (and most effective) way to guest post starts with building relationships in your industry. Discover potential target sites by googling:
[Your niche] + [write for us] or [guest post] or [contribute to] or [guest writer]
For instance: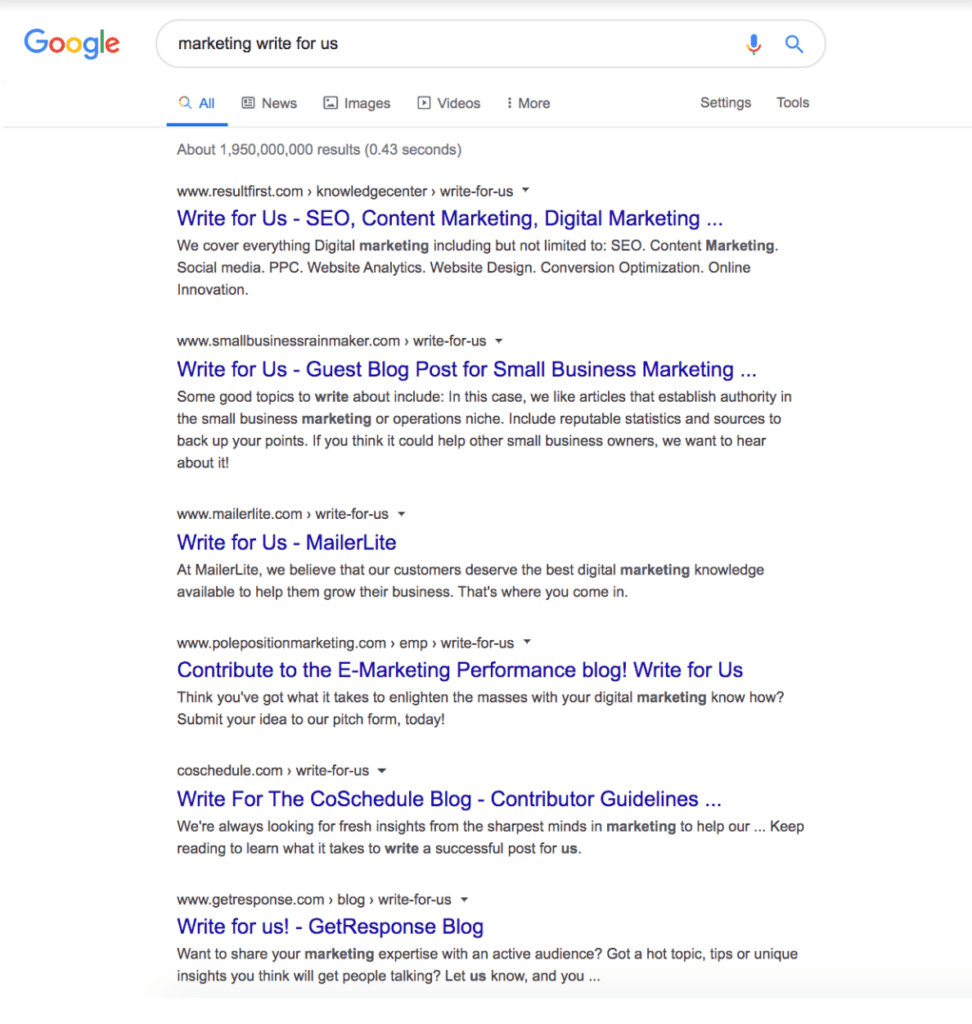 (On a side note, find several dozen more search operators to use here.)
Next, start networking with editors of publications that are on your to-guest-post list. Eventually, pitch your topics.
I like to think you need to interact with someone at least 6-7 times before you pitch, it's something I've picked from the marketing rule of 7.
Pitching this way increases your chances of getting a reply from busy editors. But what confirms your chances of getting your pitch approved? Studying the target site to pitch topics that their audience will enjoy. Jenna Scaglione, the Managing Editor for Foundr magazine shares, "The goal is to show the editor that you did your homework and you understand the blog's style and audience. You don't have to even tell editors that you did this research. They will know right away from your pitch email."
Alternatively, cold pitch editors of your target site. Use a tool like Respona to schedule an outreach campaign. However, warm your pitches by personalizing your emails to editors. How? Read about the person who you'll be emailing to develop a personal connection or share what you liked in one of the pieces you read on the target site.
Where should you guest post?
Go for sites with:
High DA and PA
Active presence on social
Engaged audience (hint: look at the comments or, at least, the social shares)
Best practices:
Never pitch a site before first studying it.
Pitch 3-5 topics to give the editor a choice.
Don't just pitch a topic. Pitch a short outline to show the angle the piece will take.
Establish your credibility in your pitch, for instance, by sharing links to what you've written.
2. Tap into off-page SEO with HARO
HARO or Help A Reporter Out is a platform where journalists get sources (aka quotes) from experts for their content. You can benefit by signing up as a source that offers valuable insights to pitches shared. For instance, Nozzle acquired a link from a DA 53 (DR 75) site via HARO. Two ways to go about using HARO:
❌ The wrong way: Replying to every pitch with poor quality answers that lack depth and clarity.
✔ The right way: Replying to selected but highly relevant pitches where your expertise matters. Moreover, giving an in-depth answer that is clear, focused, and meets all requirements listed in a pitch.
How to build backlinks with HARO?
Every pitch that accepts you as a source links back to your site. That's a backlink. Bingo! So you need to kick things off by signing up for HARO and keeping an eye on the pitches pouring into your inbox. Once you spot a relevant pitch, hit reply.
Where and how should you respond on HARO?
Respond to relevant pitches where you understand you can add value. For instance, I can best offer my opinion on writing, blogging, and content marketing. I can never offer advice on pet matters.
Best practices:
Take your time to craft your response. Journalists reject thin responses right away.
Provide unique insights, an answer that you think others wouldn't have covered.
Read through the pitch to see if you meet the journalist's requirements and answer everything they ask for.
Wait. Don't expect backlinks to roll in with your first reply to a HARO request itself.
3. Use Quora to build links
Quora is a Q&A platform where people connect to ask and answer questions in areas where they're experts in. But here's the catch – Quora doesn't offer do-follow links. Instead, it offers no-follow links which don't pass on link juice..
So why should you chase Quora in the first place?
Because you need no-follow links too. A link portfolio that includes no follow links looks more natural. Moreover, your answers on Quora increase your content's exposure to niche-specific audiences, who can link back to you. That's mission accomplished, except, indirectly. So, what's wrong, what's right here?
❌ The wrong way: Responding to whatever questions you see in your stream with half-baked answers immediately linking to your content.
✔ The right way: Engaging with community members by adding to others' answers and pairing this with answering relevant questions that link to your page.
How to build backlinks with Quora?
You need to start with engaging on the platform just like you do on social media. Read responses and add your take to them. Eventually, start answering questions yourself. But the trick is in making your answer valuable enough for the viewer to click your link.
You have two options for this:
One, write a solid introduction that hooks the reader and gets him to click on your link. Two, share pointers answering the question, but tell readers to get more details on your page.
Which questions should you answer on Quora?
Answer questions with good followers. This shows several people are interested in the answer. You'll also need to pick a question with as few answers as possible, so your response has a better chance of getting the exposure it deserves. Lastly, answer recently asked questions. Check the last asked date to learn how fresh or stale a question is.
Best practices:
Use a friendly, professional tone.
Add visuals that supplement your answer. Not many people include visuals so it's a good way to standout in the crowd.
Don't just write an answer, humanize it – share your experience, what you've learned, and so on.
4. Build backlinks on social media
Sure social media is a good place to promote your content, but it's an equally good place for building backlinks. You only need to be good at making useful connections and become part of active communities.
Check out the wrong and right ways in this case:
❌ The wrong way: Spamming social media, for instance, joining Facebook groups and sharing your links there without context.
✔ The right way: Engaging with people, offering value, making meaningful connections, and building links when the opportunity arises.
How to build backlinks on social?
Ready to get backlinks from social media? Let's dig into networks individually. But remember, it all starts with engagement.https://twitter.com/boydnorwood/status/1222956358535761920?s=20
Facebook
Join niche-relevant groups. Certain groups offer PR opportunities. Others, put up collaboration threads where you can connect with people to guest post or exchange links. Still others, ask for contributions like in the example below:
Twitter
Connect with journalists and writers who are always on the lookout for contributors. Looking for a shortcut? Track the #journorequest #PRrequest #bloggerrequest hashtags. These are dedicated to connecting experts and writers.https://twitter.com/inkandcopy/status/1207406658344882176
Pinterest
42% of marketers confirm infographics and original graphics are the most engaging. Naturally, putting them on a visual platform like Pinterest opens doors for backlinks for these infographics and images. What's more, you can also get links if your visual content ends up in a "best from Pinterest" article such as "8 pinterest accounts every content marketer should follow".
Best practices:
Offer free value to establish yourself as a subject matter authority.
Solve people's problems by answering questions they have on social.
Use hashtag tracking tools to keep tabs on important hashtags.
5. Get links by blog commenting
Although blog commenting became notorious some time back, Google's former head of search spam, Matt Cutts, disclosed that even he built links with blog commenting in a video explaining the right way to do it:https://www.youtube.com/watch?v=hNDRlVSWTRY&feature=youtu.be
Here's a summary of the wrong and right way of blog commenting:
❌ The wrong way: Leaving a large number of meaningless comments with your link.
✔ The right way: Making comments that add value on relevant sites with high engagement.
How to build backlinks by blog commenting?
The first rule is to always comment on niche-relevant sites. And the second is to read the post before commenting. Take a point and expand on it by adding your experience to it.
Make sure your comment is offering value and isn't a mere "great post" or "excellent article." See that you comment on an engaged, high-DA site where comments are common. For instance, this site: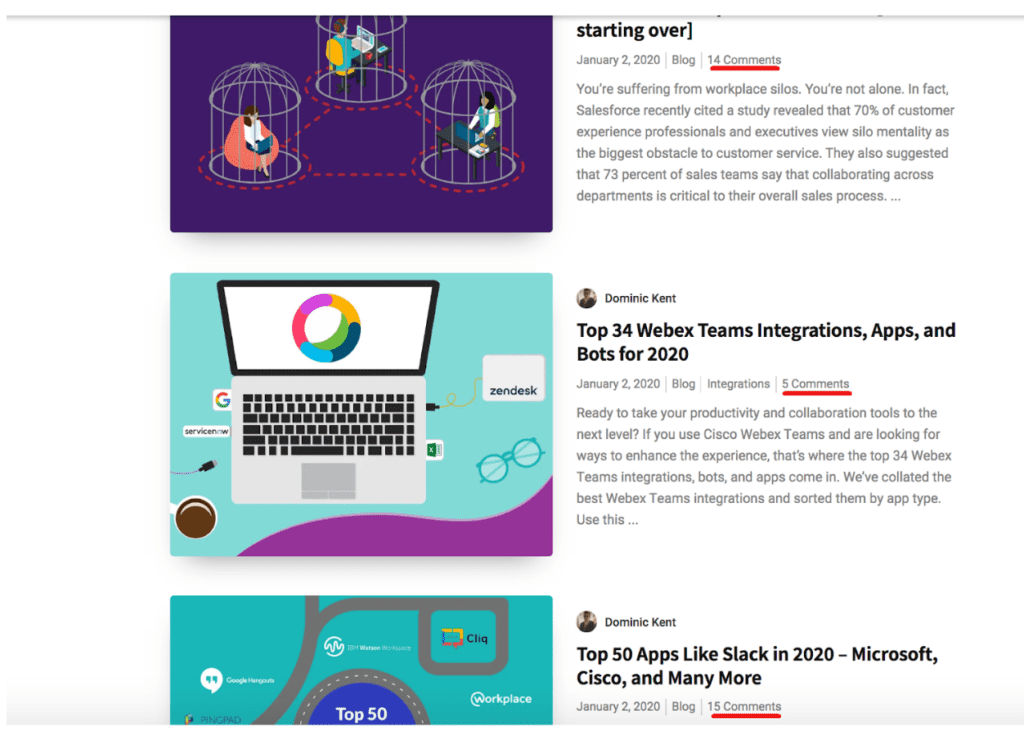 Don't overdo comments though. If all the links to your site come from comments without any natural links, Google will sniff that as a link scheme.
Anna Crowe, Content Strategy Lead at Leadfeeder shares a solution to this end, "If you take the time to comment on two blog posts per day, with a backlink back to your website (even if the links are nofollowed), the end result will be roughly 60 backlinks per month, or 720 per year."
Best practices:
Make highly relevant comments on posts that are relevant to your niche.
Comment with your profile and image rather than a keyword or anchor text.
Avoid sending spam signals to Google by limiting the number of blog comments.
Ready to make some backlinks?
Off-page SEO takes time, but reaps sweet fruit. Get to building links with these five proven strategies. But remember – in all instances, building relationships and basing those relationships on offering free value takes home the trophy. Now, go crush those off-site SEO goals. 🙌