SEO tactics and strategies are constantly evolving due to ongoing advancements in Google's algorithm and machine learning drastically changing how search results appear. eCommerce enterprise sites especially, have an even bigger challenge understanding which terms are seeing the biggest fluctuations and more importantly, why they are seeing fluctuations.
For example, when we looked at the term "one piece swimsuit" over a 7 month period, the websites that ranked on page one of Google fluctuated week to week. We know seasonality, location, personalization and numerous other factors play into what will show up for each person, however, we wanted to see how a search engine results page (SERP) for a specific search query changed over time.
Here is what that result looks like when comparing September 2019 (average results that showed up on page one compared to March 2020). The image below shows what that looked like over time.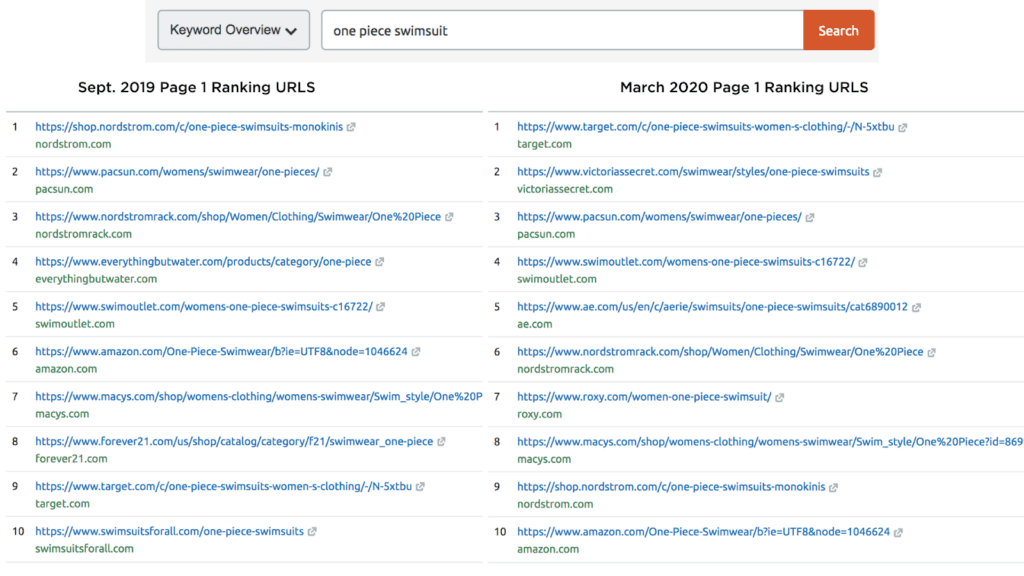 Nearly all of the results saw a drastic shift in ranking over a seven month period. The websites that remained relatively untouched were pacsun.com, macys.com, swimoutlet and nordstromrack.com. Three sites (victoriasecret.com, roxy.com and ae.com) are now ranking on page one of Google.
Tracking a single term doesn't take much, but when you multiply that by thousands of search terms on page one it becomes overwhelming. Take the massive eCommerce site macys.com. Macys as of June 2020, has 416K+ keywords the entire site ranks for just in position 1-3. They have another 964K+ terms ranking in position 4-10.

With all this change comes a need to have a robust enterprise SEO strategy that helps you to not only maintain but grow search visibility
We will walk you through our top enterprise SEO strategies designed to improve your ecommerce Google rankings. Keep reading to learn how to succeed in 2020.
Increase Your Focus on Second Page Keywords
Keywords that rank on the second page of Google (rankings 11-20) are often coined as keywords in "striking distance." These keywords are low-hanging fruit and have the potential to give your site a needed boost with a little SEO optimization.
How do you find the keywords that are in striking distance? The process is quite simple.

Enter your domain in the Organic Research Bar of a tool like SEMRush.
Select the Positions Tab.
Filter by selecting 11-20 in the Organic Keywords Trend graph.
It is likely the data set is too large so you will need to filter down more and look at a specific bucket of keywords. Sticking with macys.com as an example, they have 5,002 terms on page two that contain the word "swim" in them.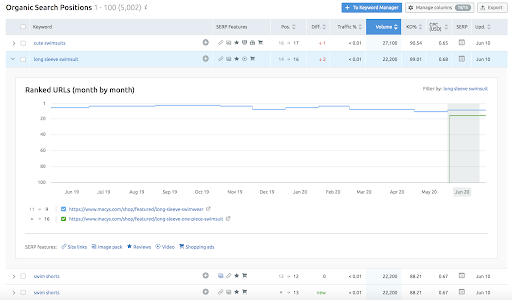 Or you can look at your focused keyword set in Nozzle and get more granular to know how many phrases are in the 7-10, 11-15, and 16-20 buckets.

Go to the Single Domain dashboard
Add a filter to show rankings between 7 and 20
Add a filter to display results for only one specific keyword group

Main Goal:
Keywords sitting on page two of search results have the best opportunity to make the jump to the first page with the least amount of effort. Second page results have proven they are relevant to the selected search query, reviewing how the keyword relates to the ranking page and optimizing the landing page for the selected keywords along with synonyms can provide that needed boost to make it on the first page.
Focus on reviewing how the keyword is being used on the ranking page. Make sure the keyword is in the title tag, H1 tag, used throughout the copy and has internal links with the keyword as anchor text pointing back to the ranking page. These small adjustments can greatly improve your ranking.
Key Benefit:
Increased Traffic
Potential Boost in Revenue
Increased Brand Visibility
Improve Content on Ranking Pages
After you have identified striking distance keywords that you would like to focus on improving, you will want to look at what content you can create and expand to not only meet your end-users expectations but exceed them.
This tactic will be extremely beneficial to sites that have thin copy or no content on their pages. Why? Google search bots are not able to see visuals while they crawl sites for ranking purposes. Instead they look for words that describe what each page is about and rank sites based on how well they answer an end-users question. Using the example above, macys ranks on page 2 for the term "swim shorts". Both the mens and womens pages rank but neither are on page one. In this example, the search results seem to be more geared toward womens swim shorts rather than mens as shown by the sponsored product listings, even though mens do show up in the organic listings.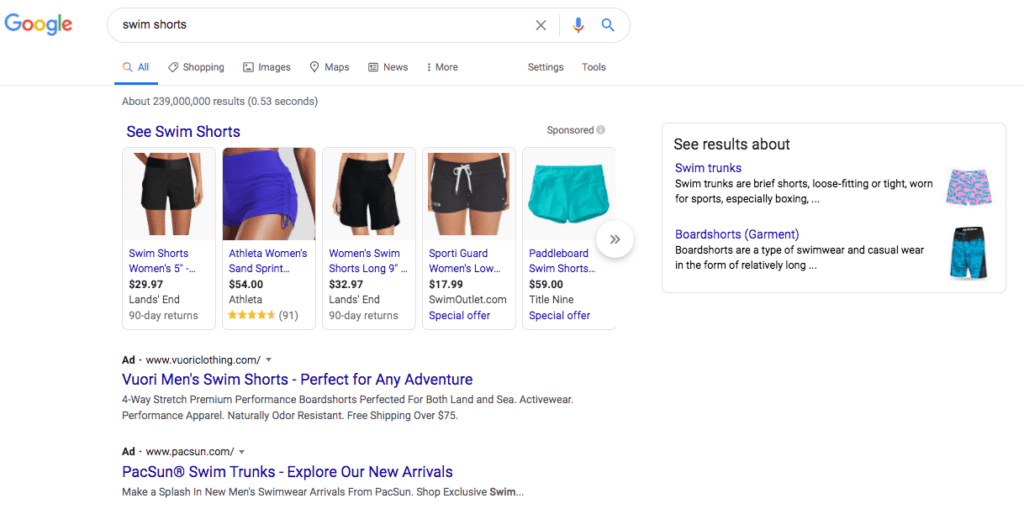 The page that ranks is the following: https://www.macys.com/shop/b/womens-swim-shorts?id=72487 but they link to a similar page (https://www.macys.com/shop/b/swim-shorts-for-women?id=73380) using internal links with the text "swim shorts". No bueno.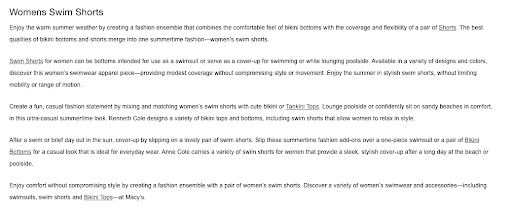 There are a number of issues with the content above, but we recommend they could make some small tweaks to include things like:
Activities the swimwear is good for such as jogging, paddle boarding, etc.
Include similar terms in the content such as board shorts, swim bottoms, etc.
How do you find pages with thin content?
Review your domain with an SEO tool such as DeepCrawl, ScreamingFrog, or Botify.
If using DeepCrawl you can use the following process:

Once the crawl is complete, navigate to the Content section and select Body Content > Thin Pages.

Export the list of URLs into an Excel file or Google sheets (if the amount of pages is less than 500.) Large data sets are not good for using Google sheets. They will crash when trying to run filters and formulas when the data set is large.
Run an SEMRush pages report in the Organic Research section to see how many keywords each URL ranks for. Export those URLs and match them up with your DeepCrawl data set to see how many keywords your thin pages rank for.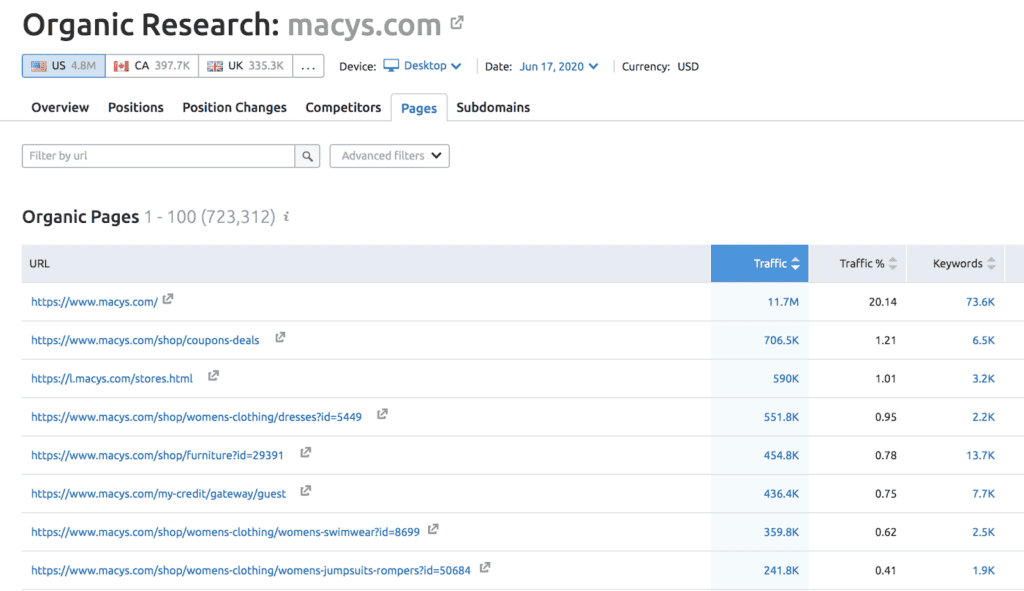 In Nozzle below, you can then analyze each thin page separately to see which keywords are in striking distance and should be considered when improving upon, and adding to, the content of that page.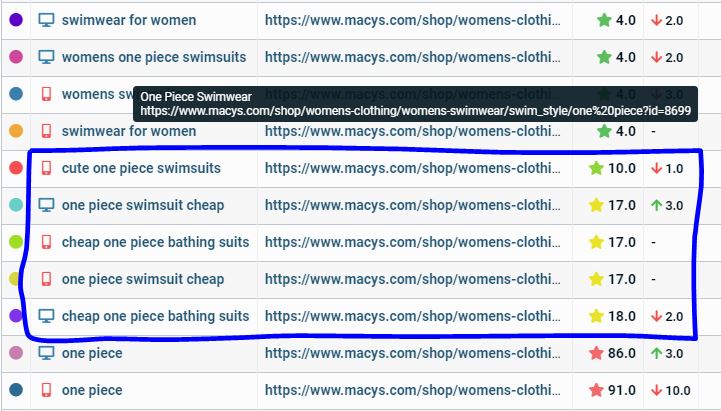 Note keywords that are relevant and in striking distance to rank for page one search results.
Main Goal Google's algorithm rewards websites that provide end-users with expertise, authority and trustworthy content. Recent Google algorithm updates have been targeting websites with thin content and reduced their rank.Quality content provides users with a satisfying experience. Brands that work to provide a one-stop shop to answer all questions a user might have pertaining to the subject will be most rewarded. Content that provides little insight neither ranks well or provides your end user with a satisfying experience.
This concept boils down to one simple thought: Focus on support and let the sale follow.
Key Benefits:
Increased traffic to websites.
Increased session durations.
Stronger domain authority.
Positive end-user experience.
Increase Content to Support Current Pages
SEO strategists will be first to tell you content plays a significant role in rankings and brand awareness. Many prospects begin their customer journey by researching a solution to their problem. This means it's crucial your website not only focuses on building transactional content but educational content as well.
Brands that want to rank on the first page or have content pulled as the featured snippet on Google must continue to create and expand their content library to include pieces that speak to a customer at each stage of the buyer's journey.
Enterprise SEO looks to create all types of content. Content goes well beyond a blog post, it also can be images, videos, polls, infographics and webinars. All pieces of content you create should be built with the purpose to answer a user's questions.
Let's take a look at a specific example: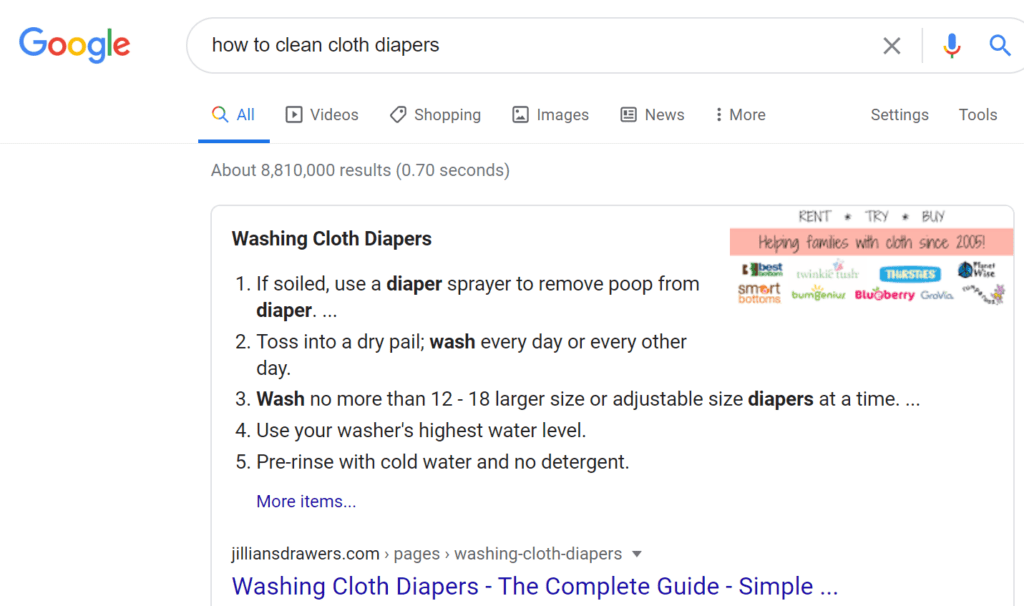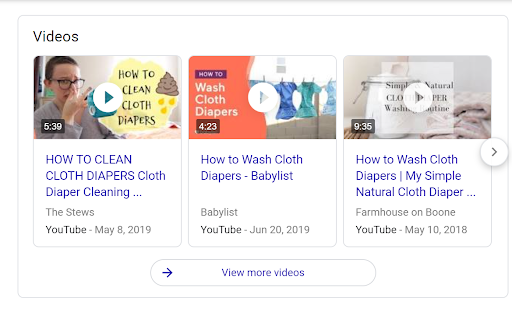 Immediately upon searching how to clean cloth diapers, you are flooded with resources to walk you through your question. You are immediately struck by a featured snippet that contains a detailed step-by-step process. As you scroll down you will see additional questions that commonly appear with the query and videos to walk you through the washing process.
Long-form content consisting of approximately 1,500 words consistently rank higher than short-form content. Long-form content has the ability to get to the bottom of multiple questions and provide deeper insight into the topic at hand.
However, short-form content has the ability to provide resourceful information. Testing long-form and short-form content on your website will provide you deeper insight into what your audience better responds to.
A simple take away is to focus on user-experience.
Key Benefits:
Improved user experience.
Increase in session duration.
Increase ranking opportunities.
Increased brand awareness.
Attract top-of-funnel prospects in the research phase.
Featured Snippet Optimization
Enterprise SEO strategies must include featured snippet strategies if they want to be most effective. Featured snippets are the text boxes that are not only attached to voice search queries but they also appear at the top of organic search page results. Pulling up as the featured article gives your brand maximum exposure and traffic.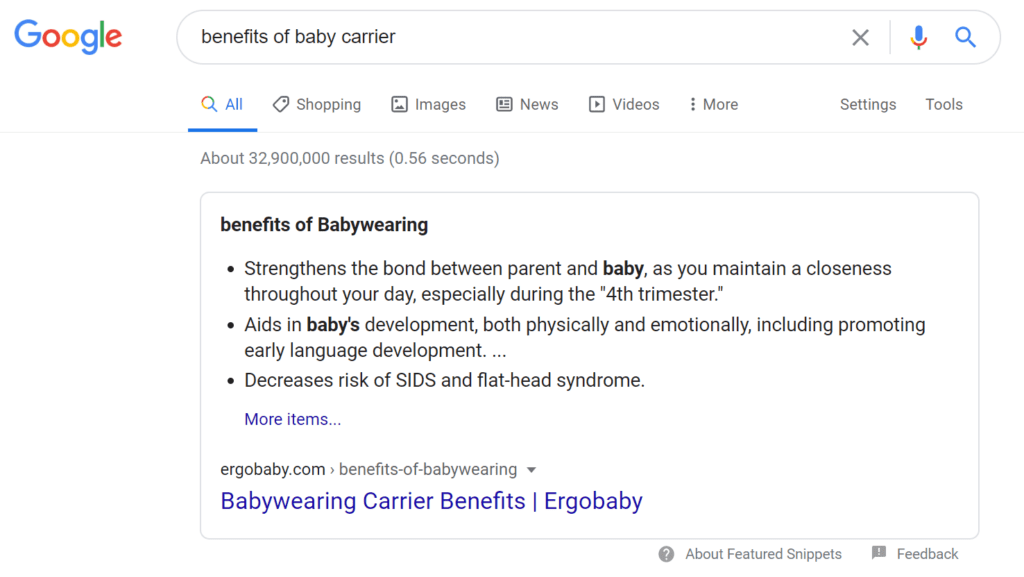 Featured Snippet Recommendations:
There are two things you can do to best optimize your content to be considered for a featured snippet: Immediately answer the end-users question in the first H1 tag and mold your content to your end-users preferred format.
Ask yourself if your content is specifically answering your prospects question. Are your headers clearly guiding your users throughout the article? Is the solution front and center?
Using SEMrush you can review queries that have featured snippets. You will be able to see what article is being rewarded the top spot, and you will be able to see if lists, tables or paragraphs are specifically ranking.
This knowledge can lead you to audit your content to see if your message is formatted in the way end-users prefer. If the featured snippet contains a bullet-point list that is concise and to the point, you may want to adjust your content to mimic the rewarded format.
Key Benefits:
Maximum exposure to brand content.
Rank for voice assisted search queries.
Increased brand exposure.
Optimize website for voice-search
As of 2019, there are approximately 3.25 billion voice assisted devices in homes around the world. This innovation has introduced a new way for users to search and get connected with your brand.
Organizations should add voice-search optimization to their enterprise SEO strategy. Voice search goes beyond implementing keywords; it focuses on adding content around conversational questions.
If you have a smart device in your home, you have likely asked Alexa a long-winded question instead of two concise keywords pieced together.
An example may include:
When we search on our mobile phone or desktop, we might type, "make homemade facemask."
When we use a voice assistant we might ask, "Hey Google, what do I need to make a homemade facemask?"
These queries are focused on obtaining the same information, yet their structure is different in nature. Incorporating more conversational keywords into your website copy will greatly benefit your business as voice search is constantly increasing.
Key Benefits:
Increased brand visibility through voice assisted search.
Rank for voice assisted search queries.
Increased brand exposure.
Internal Link Building
SEO strategists should continue to focus on yielding the power of internal linking.
As you continue to build and improve content, linking pages that relate to one another will improve the SEO health of each page by passing link equity to multiple pages on your site.
Websites that take advantage of internal linking make it significantly easier for Google search bots to crawl, understand and properly rank your site for relevant search queries. Links can direct bots to crawl through multiple pages on your website giving you a better chance to rank for additional keywords.
Companies should also take advantage of internal link building because they have the ability to dictate where the link is directed to and what anchor text they will use for the link.
Key Benefits:
Improves user-experience through descriptive anchor-texts.
Distributes link authority.
Internal linking can increase the number of pages a user visits.
Internal linking helps with search bot crawling and indexing.
Internal linking can help increase page rank.
Conclusion
Search engine algorithms are constantly evolving and keeping SEO strategists on their toes. This means ranking on page one requires an in-depth and well thought out enterprise SEO strategy that will help them remain competitive in the changing landscape.
While there are several elements that go into an effective SEO strategy, these are recommended strategies that will help boost enterprise brands.Stryde is an Enterprise SEO Agency helping businesses perfect their eCommerce SEO and content marketing strategy. See how you stack up with a free analysis of your business.