Ranking higher in the search results is the goal of every content marketer and blogger. That's because over 62% of the available clicks on Page #1 go to the top three positions in the search results.
But how do you rank higher in the search results?
That's what you'll discover in this article: seven tips for ranking higher in the SERPs.
#1 – Optimize your meta tags
Every time you publish a new blog post or article, you should optimize the meta tags. Meta tags tell the search engines what your article is about. There are only two meta tags you need to focus on: the title tag and the meta description.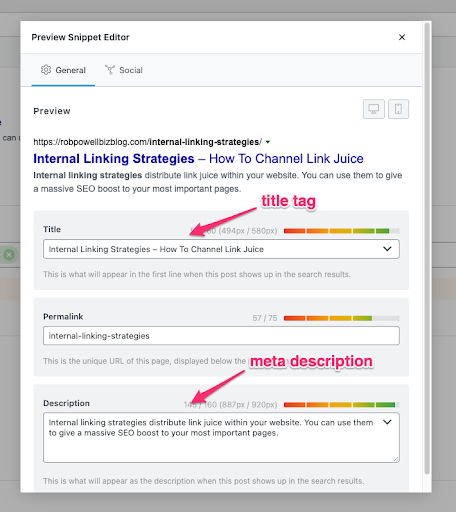 Title tag
Often called the SEO title, the title tag is the title of your article as it appears in the search results. It's the first thing a searcher looks at when they see your SERP snippet in the search results.
Your title tag should contain your keyword and a benefit. What will the reader get from reading your article?
If you can, try to also include in your title tag:
A number
A power word
A positive or negative sentiment
Numbers are easier to relate to than words. They tell the reader this is a listicle that can be skimmed and easily digested.
Power words are words that trigger an emotional response. Examples are:
Discover
Extraordinary
Latest
Unforgettable
Irresistible
Awe-Inspiring
Shocking
Step-by-Step
Surprising
Here is a list of over 400 power words.
Try to avoid title tags that are neutral in sentiment. People are either trying to get something or avoid something, so titles that have a positive or negative sentiment get more clicks.
Here are some examples:
5 Things You Should Never Do When Selling a House (negative sentiment)
7 Tips For Getting More Followers on Twitter (positive sentiment)
Meta description
The other tag you need to optimize is the meta description. This is the 3 to 4 lines of text that appear in your SERP snippet, beneath the title tag. Your meta description should include:
Your keyword
A benefit from reading the article
A Call To Action (CTA) (e.g. "Discover how to…")
#2 – Understand the search intent of the keyword phrase
To rank on Page #1 of the search results, you need to understand the search intent behind the keyword. Search intent, also known as user intent and keyword intent, is a person's purpose when they type a search query into a search engine. What is it they were looking for when they typed in that query?
I once did some keyword research and found a keyword with good monthly search volume and low competition. The keyword was 'best free serp checker'. I decided I would write a blog post about 'best free serp checkers'.
But then I typed that keyword into Google and what I found made me change my mind. Every single result on Page #1 of Google for that search query was an application or a piece of software for checking SERP results.
That was the search intent behind that keyword. People who typed that keyword into Google were not looking for an article comparing SERP checkers. They were looking for the software itself.
There are three main kinds of search intent:
Informational search
These are queries where the searcher is looking for information. An example would be 'How many grams in an ounce' or 'what is a dslr camera' or 'lcd tv vs led tv'.
Commercial search
These are queries where the searcher is looking to buy a product or a service. Examples of commercial searches would be 'best dslr cameras', or 'best lcd tvs', or 'flights to Rome'.
Transactional search
Transactional queries are ones where the searcher has gathered all the information they need and is ready to buy. Examples of transactional queries would be 'dslr cameras under $1000' or 'lcd tvs under $2000' or 'cheapest flights to Rome'.
When you look at the search results for your chosen keyword, take note of what kind of results are showing up in the SERPs. Are they informational, commercial, or transactional? Your web page will need to match the type of search result that Google is showing for that keyword.
#3 – Study the top 5 search results
A lot of people don't realize that the secret to ranking on Page #1 of Google is staring you in the face. The top 5 results on Google for any given keyword contain all the clues you need.
That's why you should closely examine the top-ranking pages for your chosen keyword.
Look at the type of articles that are ranking in the top results. Are they listicles, definitive guides, 'how-to' articles, or definitional articles? If the top five articles for your keyword are listicles, then your article should be a listicle as well. Because that's the kind of content that Google wants to show for that keyword.
Also, look at the word count of the top five articles. If they all have 2000 to 3000 words, then your article will have to be in that range as well. But if they are all 500 to 1000 words, then that's the range you should aim for. I've sometimes gone up two or three positions in the search results simply by deleting 1000 words.
But the most important thing to do when you study the top five search results is to take note of the topics and subtopics that those articles cover. Your article will need to cover the same topics and subtopics. Ideally, your article should cover more topics and subtopics associated with that keyword than any other article on Page #1 of the search results.
To get an overall picture of the topics covered, copy and paste the headings and subheadings from the top 5 search results into a Google docs file. Sort them into categories and eliminate duplicates. Then make sure that your article covers all of those topics and subtopics.
You can add topics and subtopics to your article by looking at the 'People Also Ask' section and the 'Related Searches' section.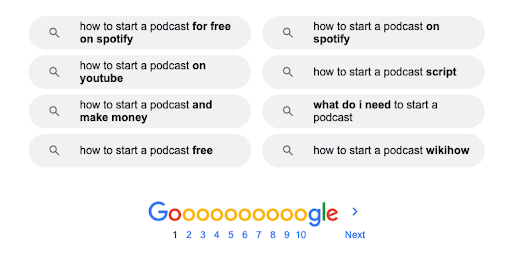 #4 – Write powerful introductions
The Google algorithm records how long people stay on your page. The longer they stay, the more likely it is that your page answered their query. But if they click away within a few seconds, that tells Google that your page wasn't a good match for the search query.
And that's why a strong introduction is one of the keys to ranking well on Google. One of the most effective formulas for writing introductions is PAS:
Show the reader you understand their problem. Then paint a vivid picture of why it's a problem. And finally, tell the reader there's a solution and that's what your article is about.
Here's an example from an article by Brian Dean: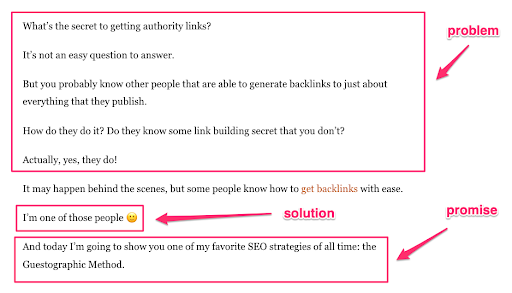 #5 – Use transitional phrases
Transitional phrases are the lubricant that keeps your readers moving down the page. Transitions are a way of moving from one topic to the next. They are like signposts guiding the reader through your article.
But transitional phrases do much more than that.
They can also make your article conversational. They can give the reader a sense that you are having a one-to-one chat with them. And that's the secret to reader engagement.
Here are some examples:
I think you'll agree with me when I say…
Here's why that's important…
You won't believe what we discovered…
But there's a catch…
Fortunately, there's a simple solution…
These phrases build a relationship with the reader. They make the reader feel that you understand them.
When the reader feels that you understand them, they'll stay with you right to the end of the article. And that's going to increase your 'time on page' (aka 'dwell time') which will improve your rankings.
You can read more about how to use transitional phrases in my SmartBlogger article:How to Use Transitional Words & Phrases to Make Your Writing Flow (with Examples)
#6 – Get your website to score high for core web vitals (CWV)
In 2020 Google announced three new page experience signals which affect how well a page will rank in the search results:
LCP (Largest Contentful Paint)
FID (First Input Delay)
CLS (Cumulative Layout Shift)
These core web vitals are mainly about speed but they also deal with other aspects of user experience. For example, cumulative layout shift is the unexpected shifting of webpage elements while the page is still loading. This happens when content changes dimensions while the page is loading. A common cause of CLS is unspecified image dimensions. When the dimensions of an image have not been set, the space allocated to an image will change as the text in the page loads.
You can check your website's core web vitals in Google Search Console: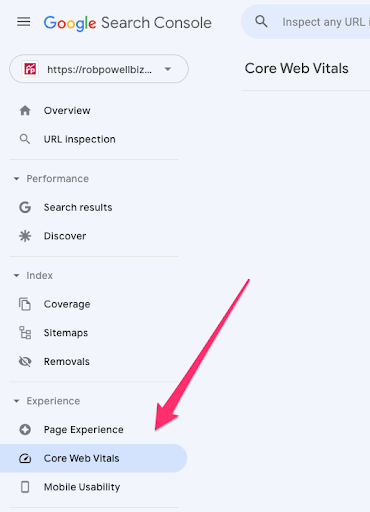 You can also get a CWV report on individual pages using Google's Page Speed Insights tool: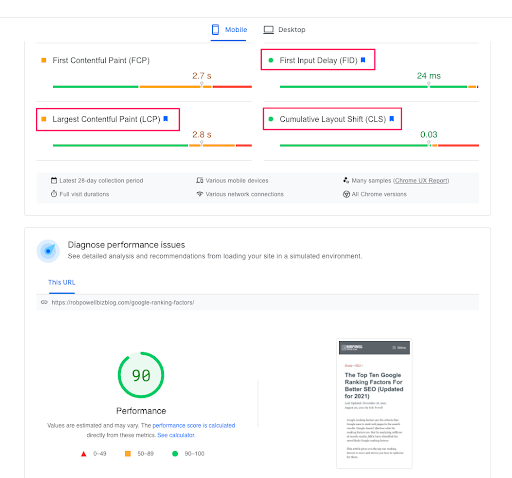 Core Web Vitals are mostly about speed – how fast your web page loads. The best ways to improve your core web vitals are:
Change to a web host that has a faster server response time
Install a caching and speed optimization plugin such as WP Rocket or W3 Total Cache
Optimize your images by making sure that they are not larger than they need to be (e.g. displaying an image 3000 pixels wide in a space that is only 850 pixels wide)
Use an image optimizer such as Short Pixel or Smush to compress the images on your website.
Use a content delivery network (CDN) to deliver static web page resources such as image videos, images, Javascript, and CSS.
#7 – Build Backlinks
Backlinks from relevant sites in your niche are arguably the most most important ranking factor.
Here are three ways to build backlinks safely.
Contribute to HARO
HARO or Help A Reporter Out is a service that links journalists with sources. Journalists are frequently racing to meet deadlines and they often need quotes to use in their articles at very short notice.
When you register at HARO as a source, you can respond to journalists' queries and get linked to from their major websites with high DA or domain authority.
What sets HARO apart from other link-building strategies is that the queries come to you. Instead of cold pitching people who are probably not interested in hearing from you, these link-building opportunities come knocking on your door. Three times a day you'll receive an email from HARO with queries that you can answer.
For more information on this, see my article How To Use HARO for Link Building.
Publish Roundup Posts
People love seeing their name in a list of experts and they love sharing it with other people. And that's why expert roundups are a good way of building backlinks.
Reach out to 25 – 50 experts in your niche and ask them for a tip on a particular topic. When your article is live, send them a link and you'll find that 20% to 30% will either share it on social media or link to it from their 'About' page.
Publish Top List Posts
Top list posts are articles that list the top experts or websites in a particular field. Here are some examples:
30 Top Marketers on Twitter
25 Top WordPress Blogs
35 Top Copywriters on Instagram
Once your article is live, send each featured expert or website a link to your article. You'll find that a good proportion will link to it on their website as 'social proof'.
Conclusion
The search engine results or SERPs are hotly contested territory: the competition is intense. But these seven techniques will give you an edge over your competitors and help push your pages higher up the search results. Even if you only implement two or three of these techniques, you will eventually see your rankings improve.