Sometimes a simple ad on a search engine is enough to give your brand much-needed exposure in order to stay ahead of the competition. Fortunately, you can get this exposure by creating a successful search engine marketing (SEM) campaign.
Just like search engine optimization (SEO), SEM is also a critical part of digital marketing that can be utilized for business advantage. By using this method of marketing, you can attract your potential customers and gain exposure instantly. However, many responsibilities are involved in creating a good SEM campaign which can be challenging to implement. But the good news is that after spending a while to get the hang of it, creating a successful SEM campaign becomes much easier.
Moreover, the first step towards creating a successful SEM campaign is understanding how different it is from SEO.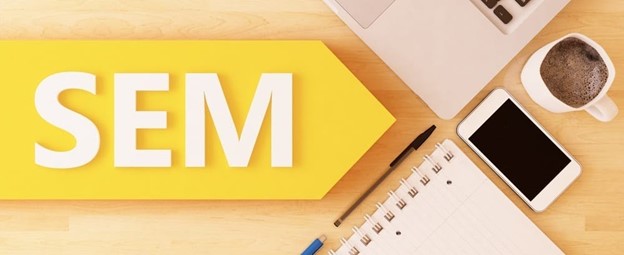 Understanding SEM
The aim of both SEO and SEM is to bring traffic to the website, but the methods used in these two are completely different. If you want organic traffic on your website, you should go with SEO. On the other hand, SEM can help increase the visibility of your website on the search engine result pages (SERPs) using paid ads.
There are some tactics in SEM that are similar to that of SEO marketing, but even after this, the end results of both SEO and SEM are completely different. SEM produces quality leads and raises brand awareness in a much quicker fashion.
In SEM, businesses can post their advertisements on some of the major search engines like Google, Bing, and Yahoo. These ads are then visible when a query is searched that is relevant to the product and services offered by those businesses. By bidding on the right spots to advertise your business, you can quickly bring the traffic and land various business opportunities.
Receive Instant SEM Traffic
Three of the most common ways to get SEM traffic instantly is by using:
Pay-Per-Click (PPC)
Cost-Per-Thousand-Impression (CPM)
Cost Per Acquisition (CPA)
Here, we'll discuss each of these methods in detail. Let's get into it.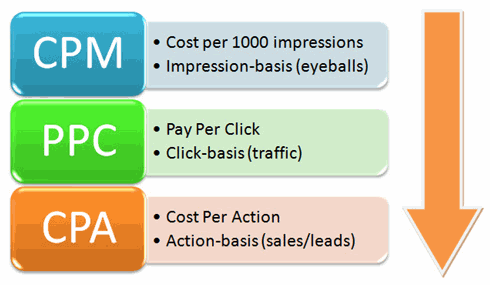 Pay Per Click (PPC)
Pay per click is the most popular and very common method used by businesses for online advertising. Here, the advertisers are supposed to pay a fee every time their link or ad is clicked. Cost per click is also a popular term used interchangeably with PPC, and that is because the concept of both these terms is the same. CPC is basically the metric used to determine the specific cost of one single click of a particular ad.
How PPC Works: PPC works like an auction where businesses bid for the spots on the SERPs. On the SERP, the first position for the ad is the prime spot, and it costs significantly more when compared with position ten for example on the same result page. To receive the top spot, you have to outbid every competitor, and then you have to pay the amount every time your ad is clicked.
Residing on the prime spot will bring more opportunities for sales conversions. But sometimes, PPC can get challenging and expensive based on the industry and keyword you are bidding for
Residing on the prime spot will bring more opportunities for sales conversions. But sometimes, PPC can get challenging and expensive based on the industry and keyword you are bidding for.
Cost Per Thousand Impression (CPM)
The word Impression in Cost-per-thousand-impression stands for the number of times the viewers saw your ad. Measuring paid impressions per every one thousand is the industry standard. The 'M' in CPM is used to represent one thousand impressions.
How CPM Works: Unlike paying for every click in PPC, here in CPM, you have to pay a predetermined price for every thousand views on your advertisement here in CPM. However, in this advertising model, the action taken by the viewer to visit your website does not affect the pricing. But on the flip side, your ad can reap the potential benefits of becoming visible to a vast range of audiences.
Cost Per Acquisition (CPA)
In the cost per click method, you have to pay a fee every time a visitor clicks the specified call-to-action. If a visitor views the ad but does not perform the action, you won't have to pay anything.
How CPA Works:In the CPA method, you have the power to decide what action a visitor must perform in order for a cost to be accrued. These actions can be of a wide variety ranging from making a purchase, to signing up for a newsletter, to anything that you have defined.
The biggest advantage that you get by using this method in an SEM campaign is the ability to control your ad expenditure in a much better way. You only have to pay for the results you get in the campaign. So, if your CPA is for visitors to sign up for a program, you will pay each time someone signs up.
3 Tips for Launching A Successful SEM Campaign
Here are three tips that you can incorporate in your next SEM campaign to improve your results.
Create A Stunning Landing Page
When ad groups are created for SEM, it is crucial to have landing pages. It is the space where your visitors land after clicking on the advertisement link. You can also use your pre-existing landing page for general ad campaigns, but having different and stunning landing pages for different campaigns is advisable.
A landing page should be well optimized for search engines so that it can independently appear on the SERPs. You can find various SEO software online to optimize the user experience, loading time, and the overall landing page.
To avoid any sort of compromise in the quality, you can have these landing pages checked by friends, family members, and colleagues. Their feedback can help you make the necessary changes.
Know Your Target Audience
It is crucial to know about your target audience when you are trying to market or advertise your business. Launching a successful set of ads gets challenging if you are not completely aware of your target audience. To stay away from this challenging situation, your team needs to set aside time to research your ideal client.
While doing the research, you should try to find their pain point and the questions they frequently ask about the product or service relevant to your business. You can make these ads more personalized by getting to know the demographics and shopping habits of your potential customers.
As a company, it is very difficult to know everything about your target audience. However, by researching your intended audience you can understand what they want from your company. Moreover, having additional information also allows you to use advanced targeting options.
Follow Best Practices For Ad Structure
The companies that are launching their first search engine marketing campaign often break away from using best practices for ad structure. You should always focus on creating ad campaigns with different yet somehow related ad groups. By using this approach, you can make the management of your ad campaign easier.
Let's say that an e-commerce company wants to create an ad for sneakers and socks. They should have ad groups for different colors of sneakers in the sneaker campaign. On the other hand, the socks campaign should have different groups for knee-high, ankle, and crew socks.
Mimicking this technique can generate great results for your company.
Final Words
Incorporating SEM in your marketing strategy is a great way to gain leads and increase the rate of conversion in a short period of time. This article was aimed to give you some basic knowledge about SEM that can help you create successful campaigns. By implementing the above-mentioned tips, you can reduce the chances of failures and witness great results in your upcoming campaigns.