The online coaching space is mutating faster than the coronavirus.
If your small online coaching business wants to make money in 2022 you need to market yourself differently.
Differently means standing out among the other 71,000 coaches out there. To do so, you can't take any shortcuts.
The preferred shortcuts of so many other coaches involve paid ads and DMing on Instagram and LinkedIn.
But these marketing channels just don't work for small businesses. How do I know?
Because I've tried them and I've gotten burned.
You don't need to invest heavily and fail to realize that paid ads and cold calling don't work.
Just think back to the last time that you responded to an email from a stranger or clicked on an ad on your Facebook feed. If you're struggling to recall a time in which you gave into disruptive advertising, then I've made my point.
Back in 2012 I started emlovz.com (a dating coaching site) and applied every shortcut I could.
We tried:
Google AdWords
YouTube Ads
FB Ads
Cold outreach
Nothing worked.
We were about to call it quits before I decided to try one last maneuver: inbound marketing.
Inbound marketing is all about attracting attention through high-value content.
Think articles that answer a searcher's burning questions, YouTube videos that potential clients can binge for hours, and a podcast that they're dying to listen to every morning on the way to work.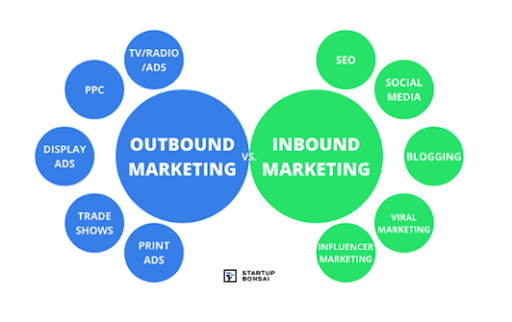 We decided to invest heavily in creating unique content that addressed our ideal client's pain points.
Five years later and emlovz has experienced a sea change we could only dream of.
Nowadays emlovz.com is one of the largest coaching sites in the dating space.
In fact, emlovz.com sees enough traffic for me to claim we're a 1% website with regards to traffic.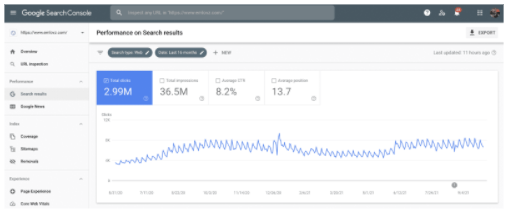 As you can see from the screenshot above, we've racked up just under 3 million clicks from May to September of 2021.
But has this translated into earnings?
Yep.
emlovz is also in the top 5% percentile as far as online coaching revenues go.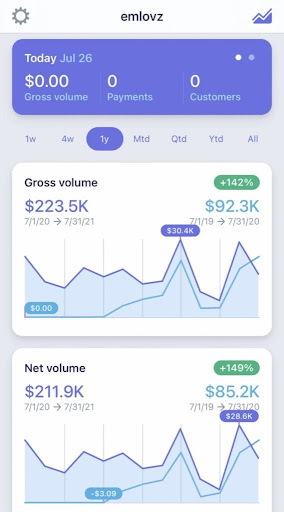 So how did we go from 0 traffic and 0 revenue to a top 5% coaching company?
It was because I decided to stop skipping the line and we decided to start adding value to peoples' lives with evergreen lead funnels like high-quality articles and YouTube videos.
In this article, we'll break down everything you need to do to launch an effective content marketing strategy even if you're a coach or small business.
Content Marketing For Small Businesses
"In this day and age, a big part of content marketing is connecting with the customer on a personal level. When done correctly, content marketing can go a long way in building brand trust and adding value to your business."
It doesn't matter if you're the personal finance messiah, if you don't have a quality marketing strategy to connect with people and spread the green word, no one will know you exist.
In the first portion of this article let's take a look at the vehicles you'll use to attract potential customers.
Blogging Up The Traffic
Blogging isn't an activity reserved for teenagers and soccer moms.
Creating high-quality written content is the best way B2B, B2C, and coaches like yourself can attract users to your website.
Google Search is where people go when they want to learn something and/or want to spend money.
With a market share of over 90%, it's no surprise that Alphabet makes 80% of its earnings through ads.
With all eyes on Google, ranking on the first page (but specifically within the first three results) can bring serious traffic to your business.

Getting to the top of Google means your website and brand is an authority. Being an authority is exactly how to make money through content marketing in 2022.
By landing at the top of a SERP and providing a future client with helpful information, you're building trust, respect, interest, and ideally a following.
This is something that paid ads just can't do.
I should also mention that creating targeted content is also more pocket-friendly than throwing money at paid ads.
To generate the same traffic with paid ads (which we don't use at all) that we do through our blogs we'd have to spend $36,800 every month.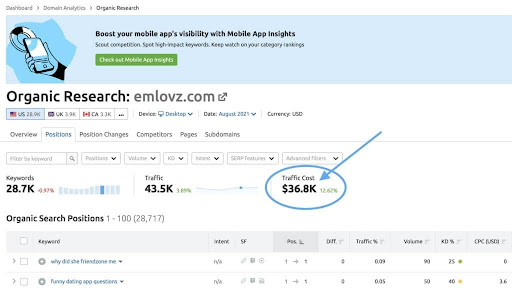 Instead, we spend just a fraction of creating viral pieces of content that thousands of people read every day.
YouTube Videos That Are Binge-Worthy
Blogs aren't the only content strategy for small businesses.
YouTube is the #2 best evergreen lead source you can find on the internet today.
However, many experts think that video is the future of content marketing.
They say this because:
Videos have higher engagement than written content
The average consumer spends 100 minutes a day watching video
Views increase as more people work from home
When you're blogging – you're catching an evergreen traffic funnel of "readers."
When you're pumping out youtube videos – you're catching an evergreen funnel of "viewers."
Generally speaking, there are lots of people who consume content either/or.
For example, about 25% of Americans haven't touched a book in the last year.
You can bet the first $10k you make from online coaching that those same people prefer watching your content to reading it.
By only creating written content you're refusing to speak to a large portion of potential clients.
But hey, even if your ideal clients love reading, who doesn't like watching a video every once in a while.
Speaking of which…
At emlovz, before we meet with a new inbound client. we automatically email them a form to complete – and we ask them where they found us.
Many say YouTube.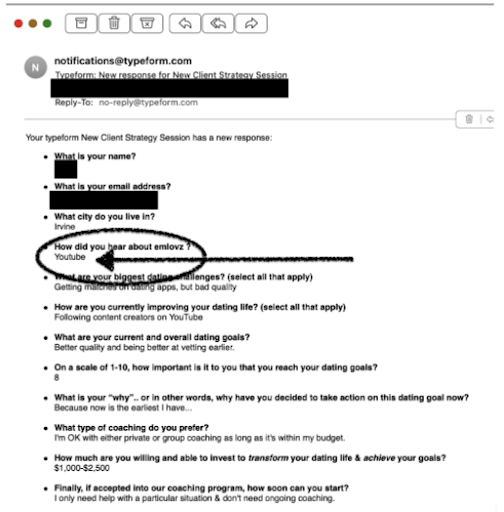 Only choosing a certain type of content means only speaking to certain customers.
Create evergreen written and video content to cast a wide net and speak to as many potential clients as possible.
YouTube/TikTok Educational Shorts
Nobody has time or patience to watch a 20-minute YouTube video anymore.
As we've seen with the rise of TikTok, YouTube Shorts, IG reels, and yes even Quibi, consumers are beginning to favor short-form video.
Refining your content marketing strategy means creating targeted short-form videos.
After you write a 2k-word blog post and then repurpose it for a long-form YouTube video, you now want to make bite-sized videos clips.
Here's an example of what a YouTube short looks like.
So how did this YouTube Short perform?
Take a look at the analytics provided by YouTube below.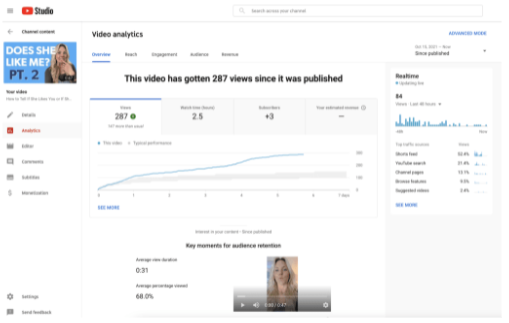 3 YouTube subscribers in just 287 views.
Think about that for a second – you take 1 minute to create a short, upload it to youtube, and 3 new subscribers in a matter of a day or two.
Remember, one subscriber today could turn into a $5k client of yours in the coming months (after they follow you for a bit).
Guest Posting Boosts Perceived Value Of Your Website
Guest blogging, also called "guest posting" is the act of writing content for another company's website.
Generally, guest bloggers write for similar websites within their industry in order to attract traffic back to their website.
Guest posting needs to be a marketing tool you use — not only will you be introduced to another company's audience, but any do-follow links that you embed in the guest post will BOOST your domain authority — just make sure you're guest posting on sites with a higher domain authority or Alexa ranking.
You can use tools like SEMRUSH and AHREFS to confirm a website's domain authority.
Think LONG TERM From The Start
Creating a quality content marketing strategy involves understanding who your target audience is and which areas of content creation are worth investing in.
All your content creation efforts won't be worth a thing if you don't first establish your ideal audience.
Select A Niche!
There are over 20,000 coaches in the USA.
Most are defined as "life coaches."
A life coach is pretty explanatory, it's a coach that helps someone get their life together.
The issue with this is that our lives are layered, nuanced, and all our problems can't be fixed by some life guru that magically has all the answers.
To stand out you must define your niche.
What kind of coach or small business are you?
You could label yourself as a generic "life coach" but what sets you apart from all the other coaches out there?
Either way, you'll need to define your niche.
Emyli for example isn't a life coach, she's a dating coach. More specifically she's a dating coach for men that targets men in urban areas that are upper-middle class and between the ages of 30-50.
You may think that by creating a super-defined niche you're turning your back on a large swath of people.
That's true, but it's only one way to think about refining who you are and your target audience.
I like to think that by creating a specific niche you're able to create more meaningful services and content for the audience that your coaching skills can best serve.
Side Hustle Until You're In The Green
Be sensible when starting off.
I understand your desire to ditch your corporate job and dive headfirst into the water – but not everyone knows how to swim and even fewer of us know how to swim using the correct technique.
Don't be afraid to build your small business and make money through online coaching as a side hustle to start.
Hell, Emyli didn't leave her corporate job until our revenue was close to $70k. Take your time to learn the ropes and build a sustainable business before burning the ships.
Delegate And Build A Small Army Of Creators
Being an entrepreneur is a lot like running a country – albeit an incredibly small one.
As the president of your newfound country, you can't possibly imagine doing everything yourself.
How are you supposed to run each branch of your country, build the infrastructure, and make diplomatic visits to other countries all by yourself?
The best entrepreneurs know how to delegate.
Your first appointments as an entrepreneur should be to hire a:
Ghostwriter
Social media intern
This is certainly the case if you're building your business as a side hustle and don't have 5-10 hours a week to create new content and execute an SM strategy.
Research and Build Your Small Business Program BEFORE You Launch
Whether you're a coach or small business owner you first need to understand your target audience before launching.
Jumping into the fire that is being a small business owner will only work if you first know what you're getting yourself into.
Don't get burned by refusing to do your due diligence in learning both about your competitors and target audience.
Use SEO tools like SEM Rush and Ahrefs to figure out what type of content your ideal client is interested in learning about and use rank tracking tools to quantify how well you're doing.
During the nascent stage of your company, it's important to identify your ideal client and understand their pain points. You can do this by interviewing those you think would be interested in your business.
Understanding their psyche and pairing that with keywords they're looking for is a recipe for creating amazing content.
If you have more questions about content marketing for small businesses and coaches feel free to check out my website and contact me for a brief strategy call.