In today's fast-paced, interconnected markets, a well-crafted digital marketing strategy is an inevitable aspect of business scalability and growth. Building strong relationships with customers and fostering satisfaction is vital for any successful enterprise and it's crucial to cater to the needs of users who are increasingly tech-savvy and have limited attention spans.
To ensure the longevity of digital marketing strategies, it's critical to focus on user experience (UX) and user interface (UI), and by designing a user-friendly interface and providing a positive user experience, businesses can enhance their online presence and attract and retain customers. The significance of UX and UI cannot be overstated, as they play a vital role in shaping users' perceptions of a business's brand and its products or services.
Investing in a well-thought digital marketing strategy that prioritizes user needs, UX, and UI can provide a significant competitive advantage in the marketplace. By providing a seamless and enjoyable online experience, businesses can build brand loyalty and expand their customer base, ultimately leading to sustained growth and success.
According to a 2021 report by Top Design Firms, 50% of consumers believed that website design is crucial for the credibility and perception of a brand. Not surprisingly, poor web functionality is among the top reasons why users leave a website. These findings show that UI/UX design has a profound impact on digital marketing strategy and they are critical components of user engagement and conversion rates.
In this article, we explore how UX and UI impact digital marketing strategy and their importance in digital marketing efforts.
What are UX and UI designs?
Before we dive into the advantage of UI/UX design in digital marketing strategy, let's define what UX and UI design is.
UX design refers to designing digital products or services with end users in mind. The goal of UX design is to give users an outstanding experience by creating a product that is easy to use, engaging, and easily navigable. On the other hand, UI design focuses on the aesthetic appearance of the digital product. It is all about creating websites or apps with attractive visuals and interactive elements that effectively communicate with the user.
UX and UI designs are focused on providing users with an enhanced experience that makes it easier for them to complete a target action with minimum distraction and maximum efficiency & ease.
Importance of UX and UI in digital marketing strategy
Let us have a look at the UI/UX strategy of Threadless, one of the first Internet-based custom clothing companies. The Threadless app underwent several changes since its inception, which enabled it to stand out in the market. We shall see how one of their innovative design changes created a buzz over the internet.
Threadless was just like another e-commerce app that facilitated users to purchase customized t-shirts. What made it stand out in the stiff competitive marketplace of e-commerce apps was the co-creation strategy that enabled users to customize their t-shirts with talented artists.
The shopping experience was like that of many e-commerce apps. But Threadless made it more responsive and delightful with the addition of the " Add to Cart" button on a product page. By clicking on this button, a pop-up appears acknowledging the users that an item was added. Along with this alert, the user is provided the total price of all the items in the shopping as shown in the image.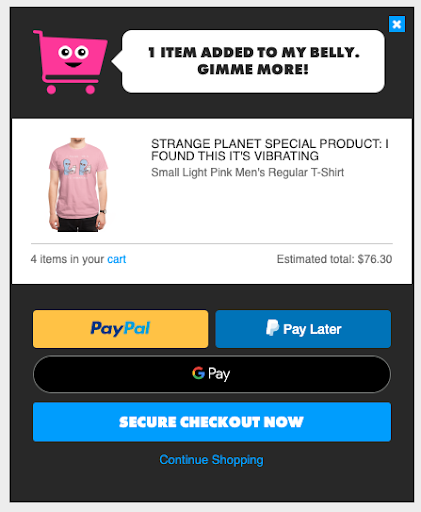 The cartoon character in the topmost right corner of the screen is whimsy adding fun to the user experience. This level of communication enticed users to purchase t-shirts that were customized and designed by skilled artists. Today, Threadless has over 3 million registered users, credited to their efficient communication and thoughtful UI/UX design.
The ease of purchasing products was projected in the digital marketing efforts of Threadless and the huge number of registered users shows that their design changes were a success. It proves how poorly designed products frustrate users and discourage them from using a product even with several features.
The importance of UX and UI design in digital marketing can be summed up in four points:
A well-designed product stands out in the crowd, giving it a competitive advantage.
The number of users accessing websites and apps has increased exponentially. So, it is essential to grab the user's attention quickly and give a clutter-free user experience.
A product with good UI/UX gives a lasting impression with a high customer return rate.
A product with a memorable user experience will have a broad customer base leading to enhanced brand reputation and credibility.
Impact of UI/UX on digital marketing strategy
Digital marketing and an intuitively designed product are two sides of the same coin, each a powerful means to forge a lasting connection with the user. We can say that UI/UX is the qualitative foundation for digital marketing strategies. We shall now check out how UI/UX design impacts digital marketing strategies.
Better engagement
Digital marketing campaigns are an excellent way to engage with the target audience and increase brand awareness. But, even a well-planned digital marketing strategy can fail to create an impact if the product is confusing. That's where a good UI/UX plays its part. It ensures user-friendliness and easy navigation for products and, it optimizes content for mobile users and streamlines call-to-action with clickable buttons. This makes the user journey effortless and enjoyable.
The UI/UX Amazon e-commerce app is worth mentioning due to its user-friendly features such as improving engagement by showcasing relevant products for users.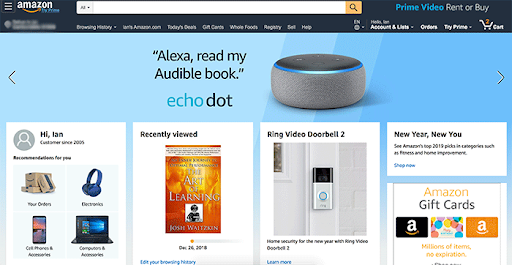 Here, the home screen shows an array of relevant products based on the user's previous searches or purchase history. It engages users, gives them a personalized experience, and improves the chances of purchase. With more than 25 million downloads, the Amazon app stands tall among other e-commerce apps as the most downloaded app in the U.S. Apple app store.
Enhances conversion rate
UI/UX designs should entice users to register, sign up, or make a purchase. A website with excellent UI/UX can effortlessly guide potential buyers to take a specific buy action. If there is no conversion friction, users will have a clutter-free journey that makes them stay on the website until they have completed their desired task.
SERPWATCH statistics show that businesses can see a 200% increase in conversion rate when they improve the UI design of websites. User experience and customer experience play a pivotal role in enhancing the conversion rate as both aspects are marker differentiators. The statistics also show that a top-quality UX design is instrumental to boost conversions by up to 400%.
Tells the brand story
Websites with exceptional UI/UX design serve as the storytellers of a brand. They effectively communicate the essence of the brand through visually striking elements, captivating images, and color schemes. These design aspects can provide a comprehensive understanding of the brand's offerings to its customers. Have a glance through the enterprise page of Slack which is an instant messaging platform.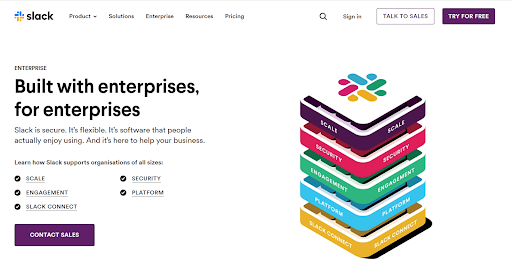 Here, the brand message of Slack is conveyed to its users at first glance. Such a UI/UX design is an add-on for digital marketing efforts.
Gathers user feedback
To master the art of UI/UX design, one must have a deep understanding of the intent and goals of their users and it's developed by gaining insights into the needs and preferences of the target audience. Such insights can be leveraged to tailor digital marketing strategies that resonate with the users.
To create user-centric products, an in-depth analysis of the target audience is carried out and their behavior and goals are studied. The user data is compiled as a research document. Then, a user persona is created that mentions user objectives and pain points.
Such user data is considered valuable information to precisely direct the marketing efforts to the intended users.
Increases SEO potential
Websites are the first point of contact between a brand and its potential customers. So, a good design can set the tone for the user's overall experience with a brand. This in turn influences the reliability and trustworthiness of the websites having a significant impact on their search engine ranking. Google is becoming more user-centric these days as it uses metrics such as page speed, mobile-friendliness, and dwell time as ranking factors.
Statistics show that 94% of the website's first impressions are related to UI/UX design. Website visitors won't take too much time to decide the quality of a website. Typically users take only 0.05 seconds to form an opinion about a website after which they decide whether to leave or stay. So, a well-crafted website reduces bounce rate, signaling to search engines that it has high-quality content and a positive user experience. This helps them rank higher.
Delivers excellent customer experience
Customer experience is a critical factor for any successful digital marketing campaign and website design plays a significant role in delivering a positive user experience. Be it an intuitive design or excellent functionality, UI/UX designs create a sense of delight and satisfaction among users. As UI/UX designers design websites or apps based on user behavior, intent, and goals, it creates a pleasurable experience for users which helps businesses foster stronger connections with their audience.
Boost your digital marketing strategies with excellent UI/UX
In today's digital age, UI/UX design has emerged as a crucial ingredient in any successful digital marketing strategy. A website that is visually stunning with exceptional features drives engagement and increases conversion rates.
By prioritizing UI/UX design businesses can create a seamless user journey that fosters trust, loyalty, and brand advocacy. So, if you are investing in UI/UX design, think that you are putting your users first and you are up for delivering exceptional user experience.