PR opportunities abound. You just need to know where to look. Every business should take a few moments to set up the four following processes to be alerted to new PR opportunities which will help in building your brand.
These four PR tactics are simple and free. They just require that you set aside a little time and effort.
HARO
HARO stands for Help A Reporter Out and is a free service you can sign up for at helpareporter.com. You will receive 3 emails a day that include requests from journalists looking for quotes or answers to specific questions around topics the following broad topics:
Biotech and Healthcare
Business and Finance
Entertainment and Media
General
High Tech
Lifestyle and Fitness
Public Policy and Government
Sports
Travel
You just need to find the inquiries that apply to your brand and email your response before the deadline. Deadlines are typically 1-4 days from the receipt of the email so you need to set aside some time every other day or so to answer relevant inquiries.
If your submission is used in the journalist's article, typically they will mention your name, brand, and link to your website in the response.
One caveat for HARO is you need to have a similarweb.com ranking of 1 million or less based on global rank to post a query.
#JournoRequest and #PRrequest
These are hashtags used on Twitter by journalists looking for info on a specific topic.
There are 3 ways you can find these types of tweets related to your industry.
Manually do a search on Twitter for one of those hashtags followed by a keyword in your industry. For example, I found the following tweet when searching on Twitter for "#journorequest seo".
Use IFTTT to set up an auto-response to email you every time someone tweets using #journorequest or #prrequest and one of your keywords. This way you don't have to schedule time each day or week to remember to search Twitter for PR opportunities. You just need to take action when you receive an email.
Below is a quick tutorial from Mark Rofe with Rise at Seven on how to set up IFTTT properly for this purpose.
Use a nifty Google Sheets Add-on called Tweet Archiver. This tool will monitor your Twitter search query once every hour and pull in any new tweets to your spreadsheet. You can then open any tweets that you want to respond to and engage with the journalist.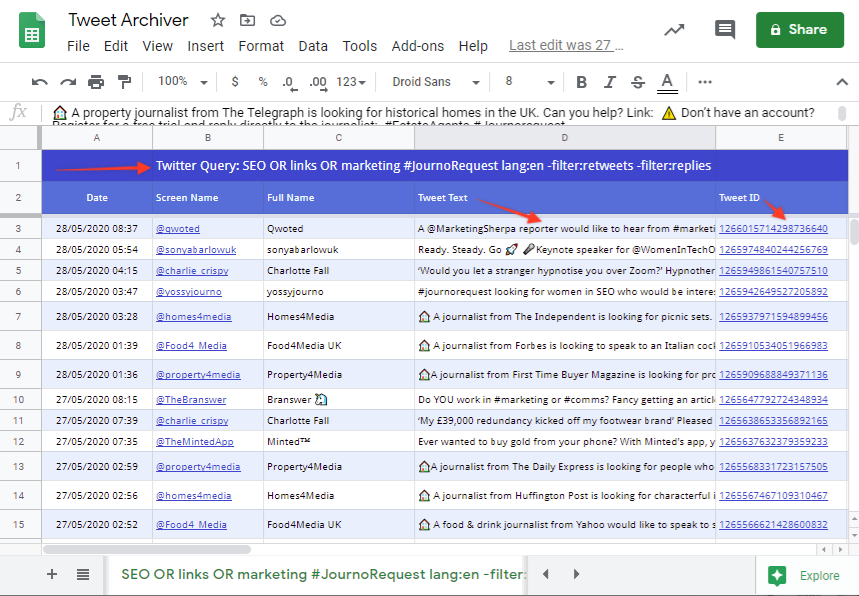 Below is a video that shows how to install Tweet Archiver on a Google Sheet. Start watching at 2:08 for installation instructions.
Take away: Spend 10 minutes right now to set up the alerts for these two PR strategies and set aside 30 minutes each week to follow up on any new PR opportunities that come your way.
Help a B2B Writer
Help a B2B Writer (B2B) is another platform that connects B2B writers with top-quality sources. Anyone can register as a source as long as they have expertise in at least one area of B2B. Once you sign up you will choose your area of expertise from these categories:
Advertising
AI, data, + tech
Analytics
Content marketing
CRO
Design + UX
DTC
Ecommerce
Email marketing
Engineering + manufacturing
HR + legal
Finance
Marketing
SaaS
Sales
SEO
Social media
Photography + videography
Once you sign up you will get emails with queries by writers looking for expertise in the fields you signed up for. You then email the writer directly with your answer.
Again, if your quote is accepted by the writer you will usually get credit and a link.
Terkel
Terkel.io is different than HARO and B2B in that you have to visit their site to find the queries being asked by writers. You can then answer any question in your sphere of authority from their site. You get three credits (answers submitted) available each month for free. Beyond that you can pay to answer more.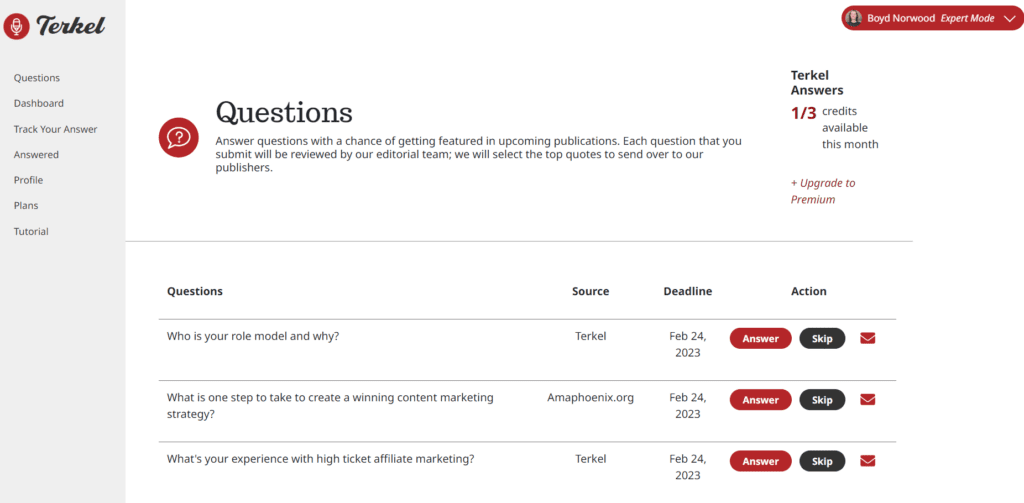 The categories you can sign up for are:
Business
Marketing
HR/Recruiting
Technology
Finance
General
Real Estate
Legal
Lifestyle
We've found that HARO is so saturated with people that it is hard to find quotes to use, or to have quotes accepted. We've found B2B and Terkel to be the most beneficial at this time.
Happy brand building!