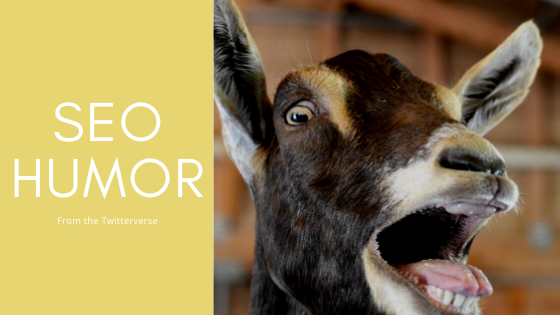 SEO can be stressful at times but it can be fun too. We all could use a laugh every once in a while so I present to you below SEO funnies from the twitterverse below. They range anywhere from chuckle-worthy to hilarious on the SEO humor meter. Also, check out Nozzle's new SEO jokes.
They are organized by topics and you can click on the topic you want to jump down to below:
SEO Successes and Failures
Onsite (or Offline) Optimization
Technical SEO
Link Building
SEO Industry
SERPs
SEO Tools
Content Creation
SEO Jokes
SEO Puns
Cheekiness
If you know of any other funny SEO tweets, let me know in the comments and I'll add them to this page.
Is your current rank tracker a joke?
SEO Successes and Failures:
Onsite (or Offline) Optimization:
Technical SEO:
Link Building:
SEO Industry:
SERPs:
SEO Tools:
Content Creation:
SEO Jokes
SEO Puns
Cheekiness