If you've ever worked in a marketing department, you know that content audits are always faced with an array of emotions.
While some content marketers view audits solely as a necessarily evil, others view them as the long-awaited kick-off to the annual content strategy. Once you've figured out the game of efficiency and prioritization, the latter is most likely to be true.
In 2023, content audits are more important than ever as marketing teams are forced to stay away from populist trends and focus time on maximizing results with minimal efforts. It all starts with the audit.
The stats agree. According to The State of Content Marketing 2022 published by Semrush, "46% of companies whose content marketing was unsuccessful never run content audits". At the same time, "65% of companies that succeed in content marketing run content audits more than twice a year."
One can say that the content audit is the secret ingredient to an impactful content recipe. This article will jog your memory as to why that is, and highlight the top 5 things to consider when performing one.
Why are content audits crucial to overall strategy?
Performing a content audit is often perceived as 'too time-consuming' and is therefore done too hastily, or not at all, by busy marketers. When the reality is, content audits are an extremely incredibly valuable process for any business. Not only does it allow you to identify areas for improvement and make informed decisions about your content strategy, but it can also help you to get the most out of your existing assets.
All in all, a content audit allows you to take a bird's eye view of your content while also examining each piece individually. This helps you identify what's working well, what's not performing as well as it could, and what gaps exist within your content.
For example, it's possible that you have focused too heavily on thought leadership lately and neglected bottom-of-the-funnel (BoFu) content, or vice versa. A too focused approach leads to a monotone, unbalanced content strategy that risks losing the attention of your ideal customer profile (ICP) or signaling to search engines that you are not relevant for certain search queries. These are the kind of red flags to be on the lookout for in your audits.
Let's dive deeper into the most essential steps of how to identify these red flags.
5 Important Steps You Cannot Miss in Your Content Audit
To ensure the success of your content audit, it's crucial to set clear goals, gather and organize your content, analyze it, make a plan, and take action based on your findings.
By focusing on these top 5 things, you'll be able to tweak and ensure that all content on your site serves a higher purpose.
1: Gather Blogs in URLs and Categorize Them by Clusters
Start by extracting your blogs as URLs and categorize them into topic clusters.
One of the easiest ways to do this is to use a tool like Screaming Frog to crawl and export your site. This will provide you with a list of URLs, as well as other helpful information like titles and descriptions. You can also connect other data sources like Ahrefs, Google Analytics, and Google Search Console to get a more complete picture of your content.
Once you have a list of all your URLs and other relevant information, it's time to start categorizing your content into clusters. According to this cluster (or pillar) framework, each page on your website should target a specific set of keywords.
By answering all the important keywords related to a given set of keywords, you build topical authority, known as one of the most powerful ways to improve rankings across multiple verticals. Once you have your URLs organized in a sheet, make sure each page follow these two simple rules:
1) Every page targets a set of keywords 2️) A cluster and its keywords are associated with one page and one page only
It should look something like this: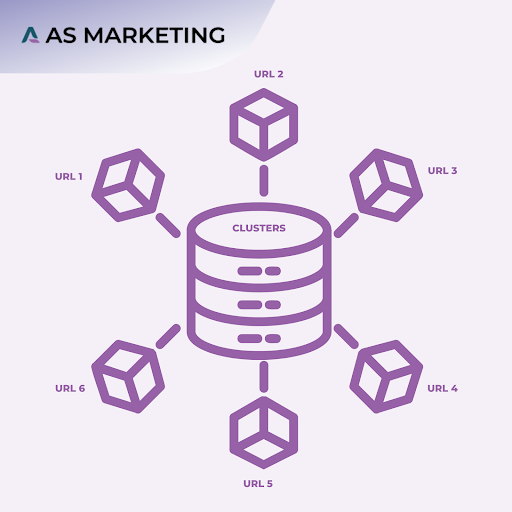 2: Compare Target Metrics and Become a Content Detective
Once you have categorized your URLs into clusters, add the following data:

At this point, mark those metrics below average. Can you see a particular pattern? Are there any trends among those performing well and those below average? This is the time to become a content detective.
Some additional questions to ask:
Is the content adding value to my target audience? Is the content optimized properly? Is the content relevant to the SERP? Is the content moving my ICP further down the funnel? Is the content showcasing experience, expertise, authority and trustworthiness?
Based on the answers identified, three different types of content optimizations will appear: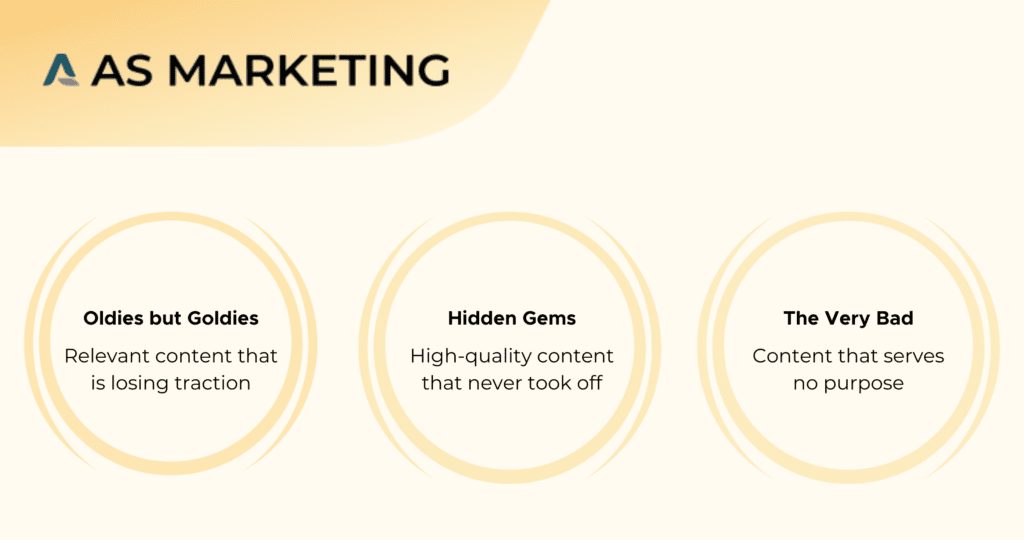 → The oldies but goldies – meaning older pieces that are still highly relevant but starting to lose traction. → The hidden gems – the high-quality content pieces that never took off. → The very bad – the content that adds no value whatsoever. Don't waste your time on these. Delete and move on.
The better the categorization, the easier the next step will be.
4: Create a Clear Plan of Action and Set Yourself Up for Smooth Sailing Ahead
Once you have categorized each blog post, it's time to create your action plan. Some actions may include:
Keep as is: If a blog post is already maximized (performing well and providing value to your audience), you can keep it as is.
Combine: If you have two or more blog posts that are cannibalizing each other or are extremely similar, consider combining them into a single, more comprehensive piece of content.
Delete: If a blog post no longer offers value to Google or your audience, it's best to delete it.
Update: If a blog post has potential but just needs a few small changes to improve its performance, consider updating it.
Rewrite: If a blog post requires significant changes to improve its performance, consider rewriting it.
As you conduct your content audit, be sure to look at more than just search rankings and traffic. Consider other metrics that are relevant to your business goals, such as conversion rates, engagement rates, purchases or signups. This will help you to make informed decisions about which content is worth keeping, updating, or deleting.
5: Rinse and Repeat but Don't Drown
Be smart. Be ruthless. But don't drown yourself trying to fix every detail identified in your content audit. While content audits affect 100% of your strategy, your action plan should not take up more than 25% of your time.
Last but not least, don't stress about making it perfect. Content will never be perfect. In fact, content should not be perfect. It is a living breathing work of art, and should be treated as such. Try something new and test it out. Didn't work out? Then try something else.
The beauty of digital marketing is that it's not print.