A successful marketing strategy takes advantage of key marketing channels to generate and convert leads. Social media is often an essential marketing channel that can be a huge source of leads and, ultimately, revenue. Platforms like Facebook, LinkedIn, Twitter, Pinterest, and more, provide access to communities that are full of your target customers.
While it's crucial to focus on getting your content in front of a larger social media audience by promoting posts, accumulating more followers, and building relationships, many SEOs don't pay attention to their social presence in the SERPs. Social posts do, in fact, appear in Google's organic search results, often even when the search term doesn't include a social media word (like "tweet," "tiktok," "thread," etc.).
But how likely are you to rank #1 in an organic Twitter result? Which social platforms rank highest in the SERPs? Take a look at the data yourself! Read on to discover the spread of organic social media SERP results from seven of the most common social media platforms.
Skip To:
We analyzed Twitter, Facebook, LinkedIn, Instagram, TikTok, Pinterest, and Reddit results on 2.4 million SERPs from a wide variety of keywords. As such, our data only shows general ranking data.
The best scenario for you to get the most applicable data is to load your own industry's keywords into Nozzle. Then you can break down social rankings specific to your industry and even track your own social profiles and posts in the SERPs.
Want personalized data? Load in your own industry's keywords today!
Which Social Platform Ranks Highest in the SERPs?
First, let's look at how the various platforms compare in terms of SERP presence.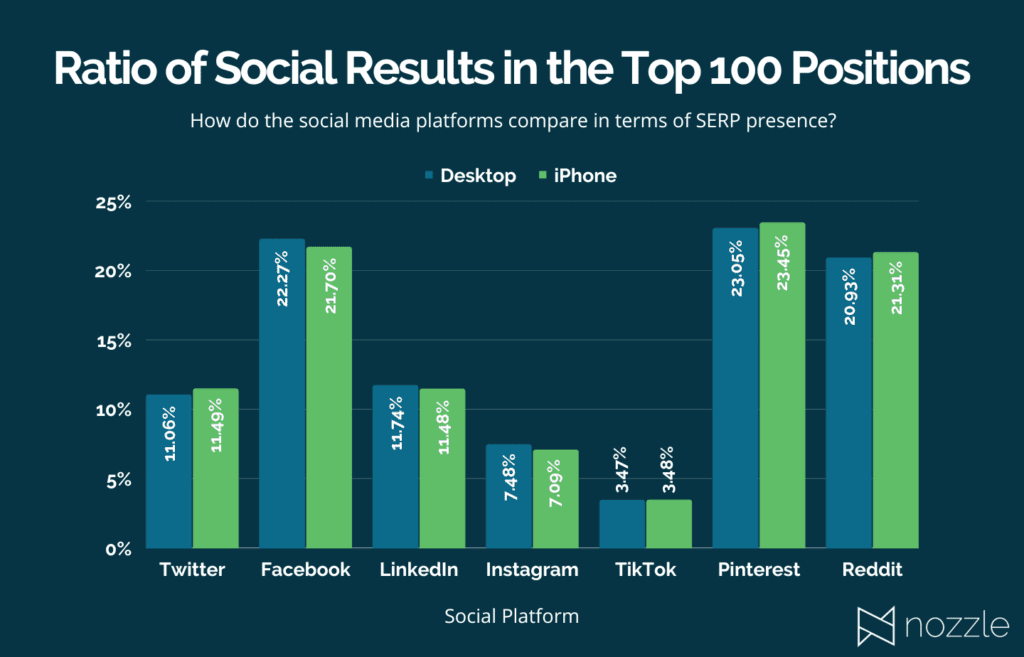 When social media results appear in the SERPs (in the top 100 positions), Pinterest results are the most common across all rankings, making up nearly one-fourth of the social results. Facebook and Reddit follow close behind, with TikTok falling in last place.
But if you look only at the most valuable position, #1, the results are much different.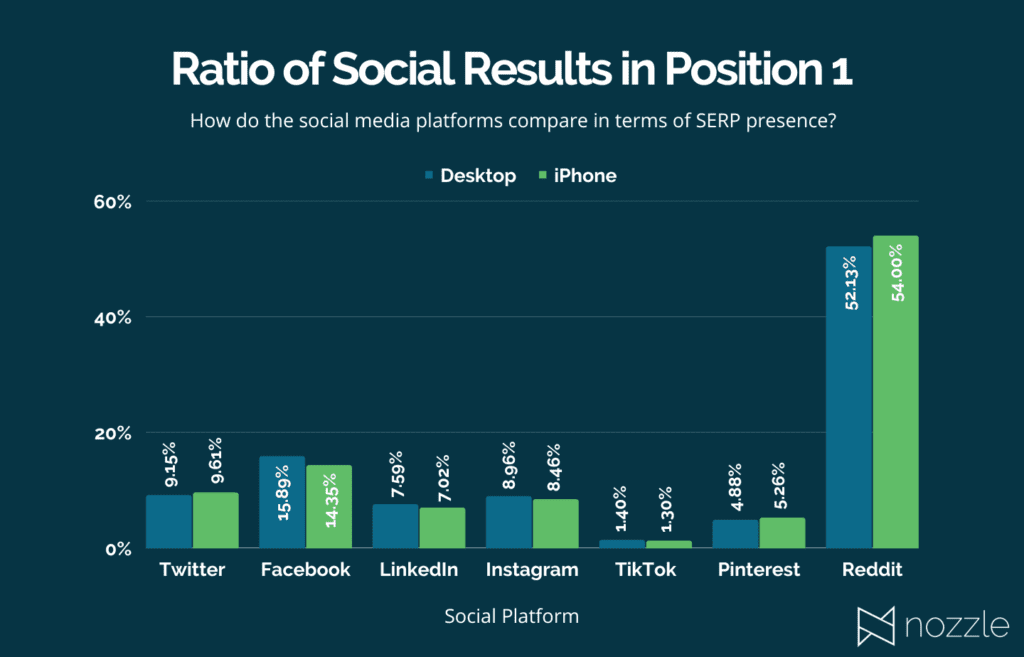 Reddit has over three times as many results that rank #1 as Facebook, which comes in 2nd place.
See how the ratios change for the top 3 and top 10 positions—still valuable real estate—in the charts below.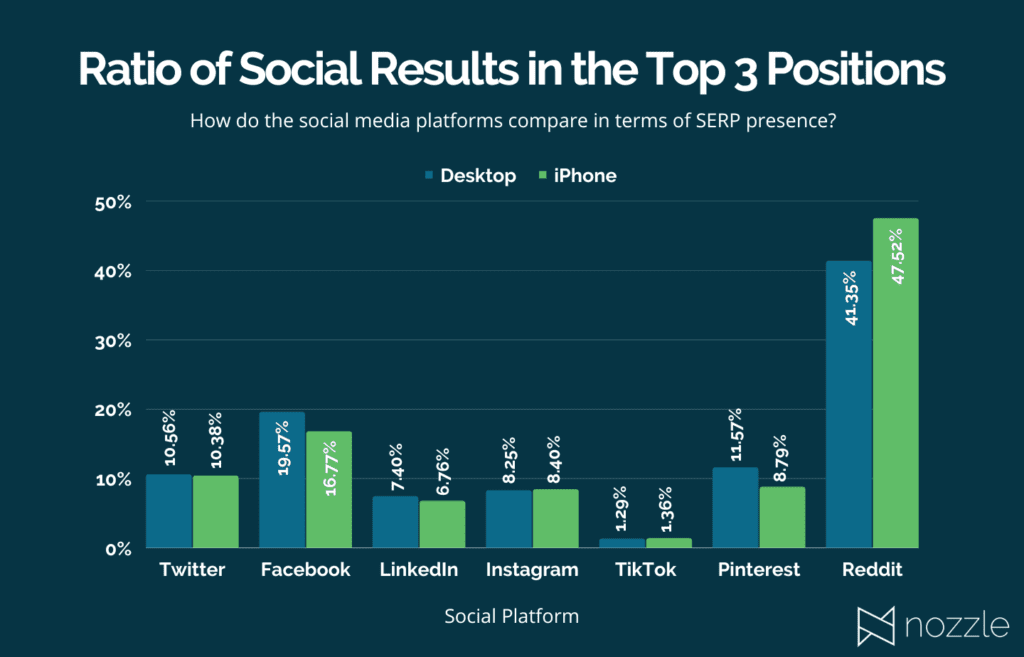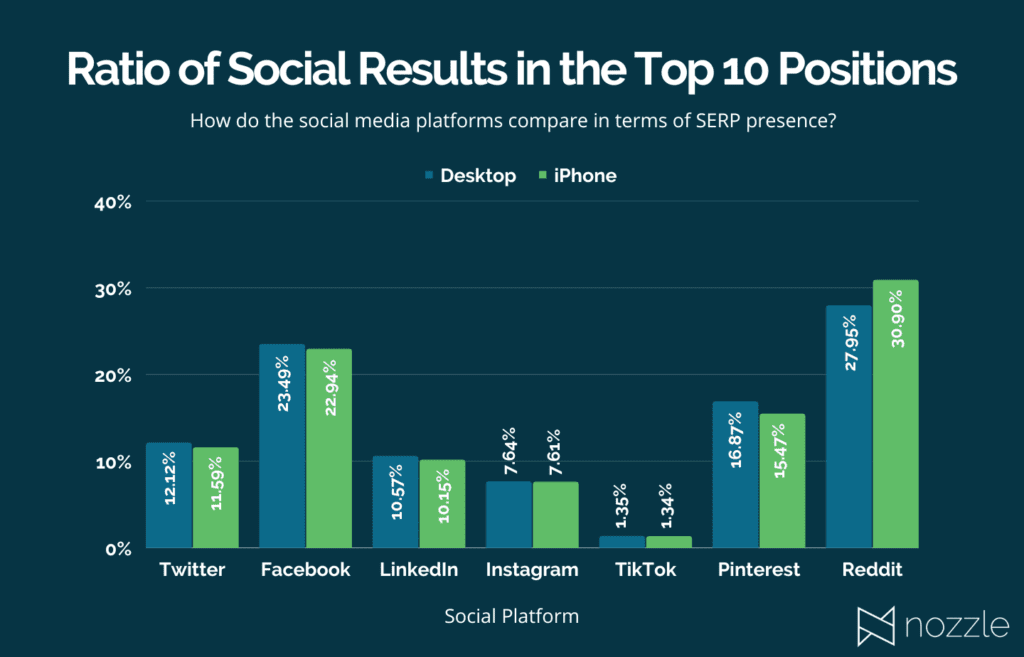 Where Do Social Sites Rank in the SERPs?
It's also helpful to see how often organic social results from a specific platform are ranking highly and how often you'll find them buried on page 2 and below. If there's not much of a chance of ranking on page 1 for that platform, it's probably best to focus your efforts elsewhere.
Twitter
When Google serves up Twitter results, this is how they rank: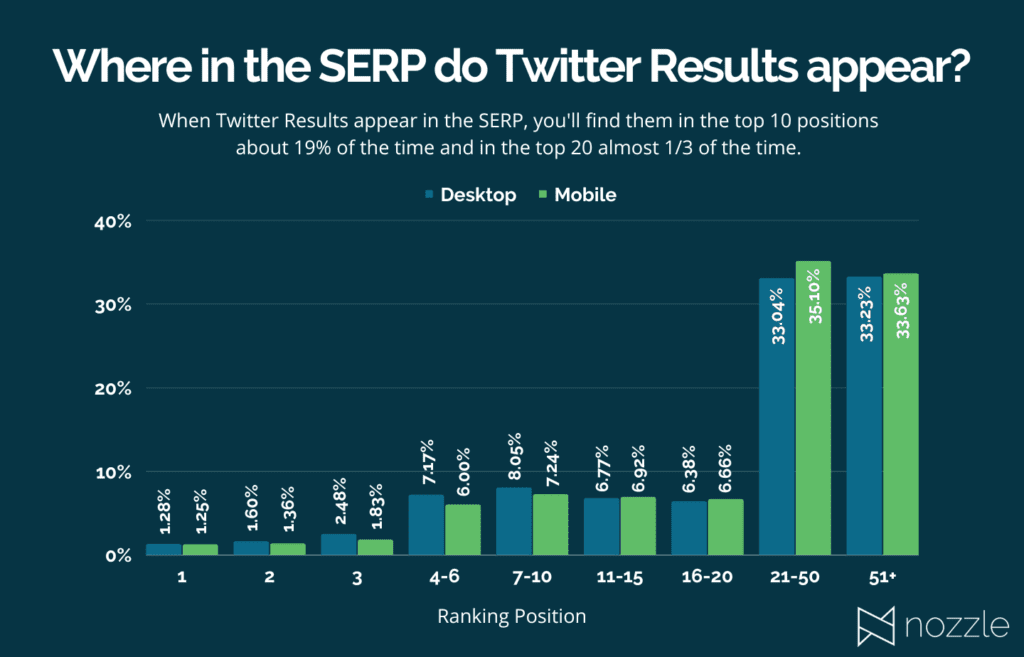 Facebook
When Google serves up Facebook results, this is how they rank: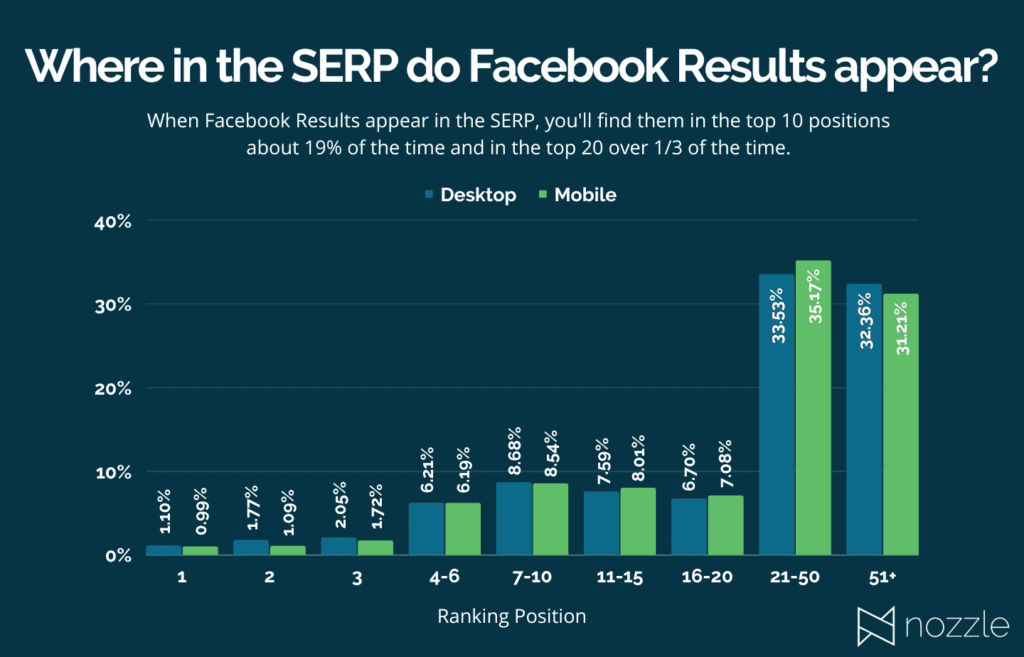 Facebook's ranking spread closely resembles Twitter's. You'll find similar patterns in the other social platforms' organic results.
LinkedIn
When Google serves up LinkedIn results, this is how they rank: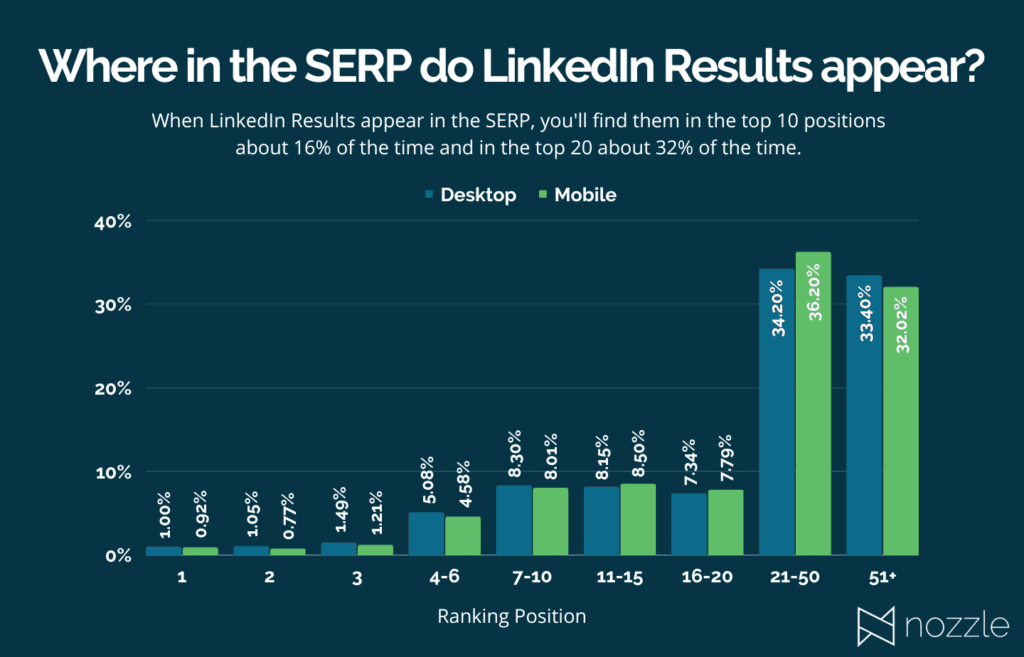 Instagram
When Google serves up Instagram results, this is how they rank: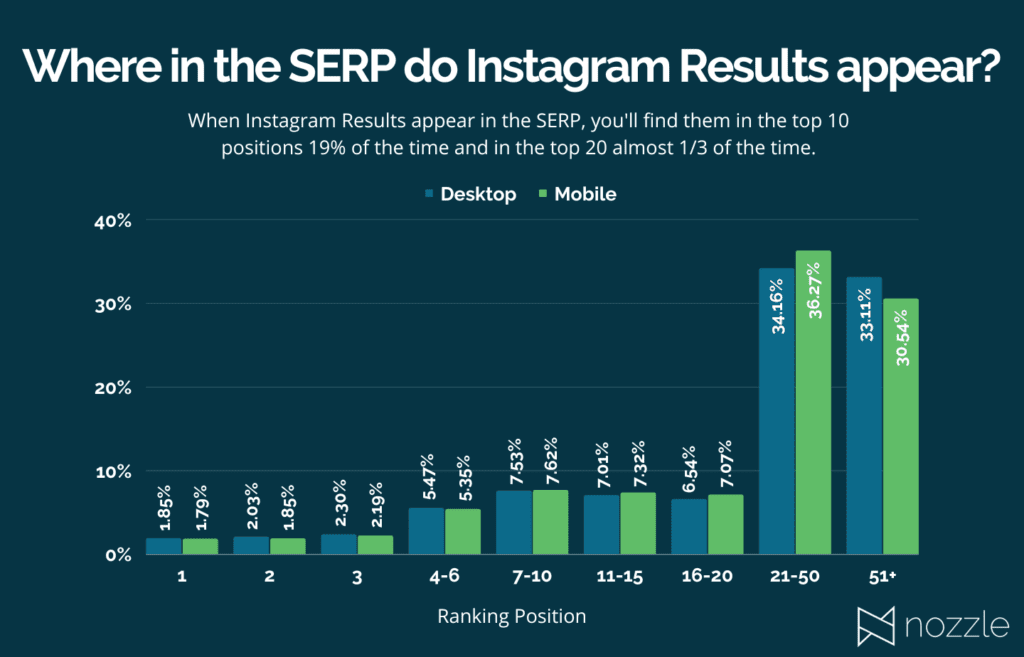 TikTok
When Google serves up TikTok results, this is how they rank: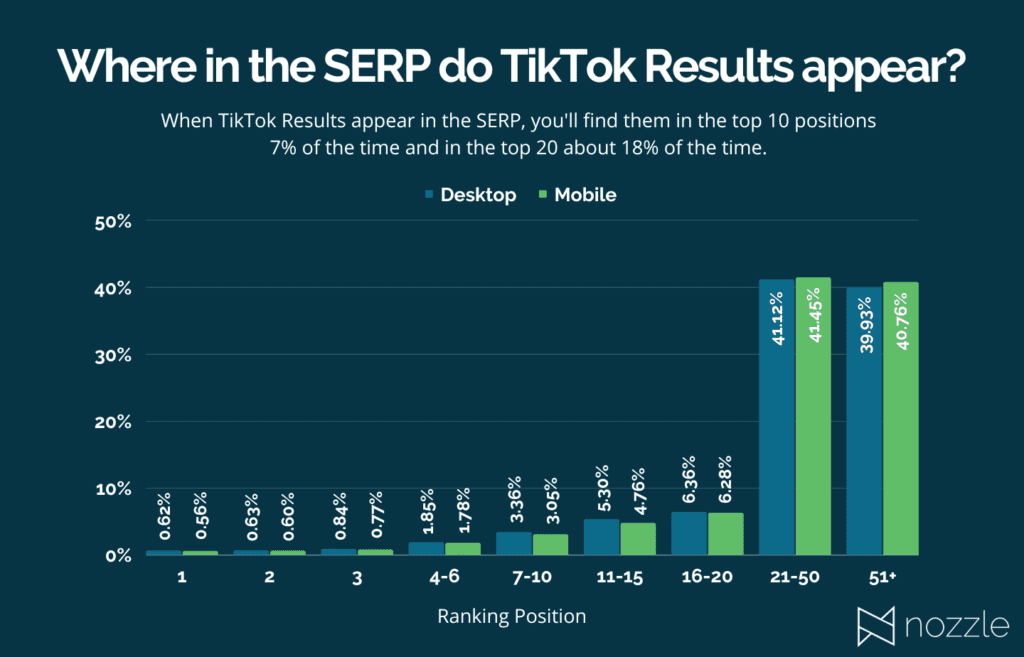 Not only are TikTok results the least common out of all the social results, but they also collectively rank much lower.
Pinterest
When Google serves up Pinterest results, this is how they rank: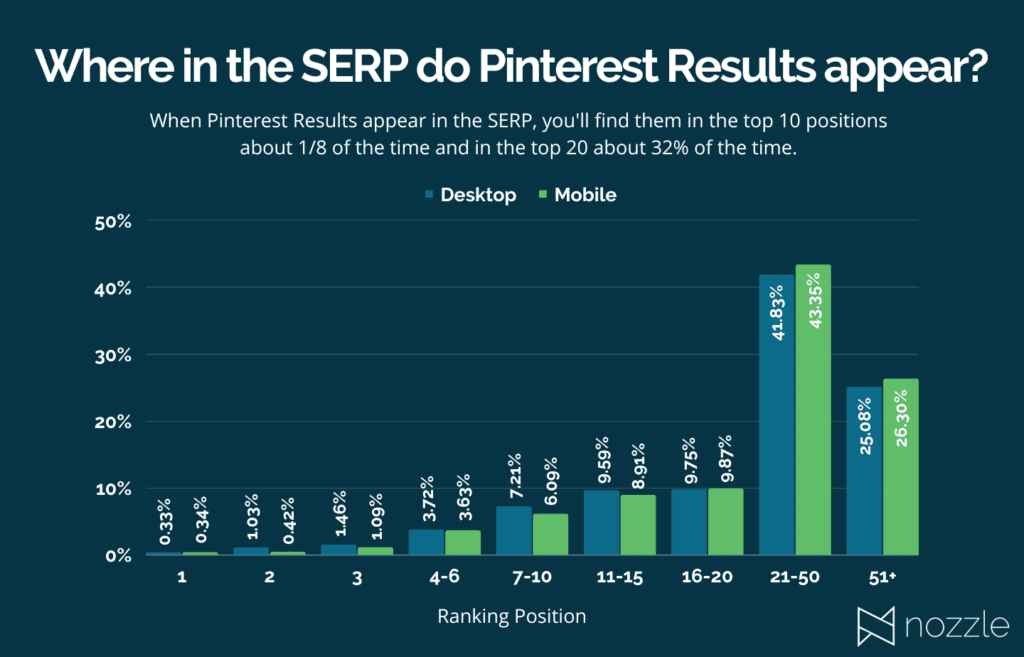 You'll find the bulk of Pinterest results between positions 21 and 50, but top 10 rankings are not unheard of.
Reddit
When Google serves up Reddit results, this is how they rank: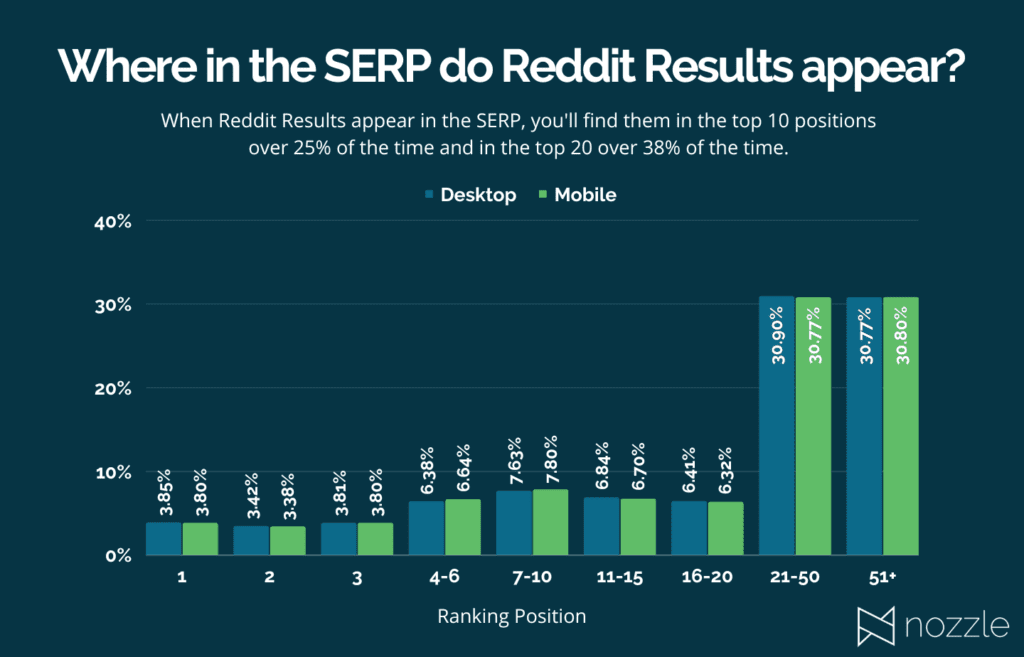 Reddit has both a higher volume of organic results and a higher percentage of high ranking results than the other social sites. Over one-fourth of Reddit results hold positions in the top 10.
Hungry for more SERP stats? We're diving into massive amounts of SERP data and documenting our discoveries. Check out our post on SERP stats for more!