To be competitive in today's digital world, your brand needs to stand out from the crowd and engage effectively with your audience. Custom graphics that are consistently on-brand can take time to develop–precious time that you may not have.
Creating custom graphic designs to support your brand doesn't have to be a daunting task. The days of purchasing expensive software with a serious learning curve (*ahem–Adobe) are basically over. Today's digital marketer or entrepreneur has much more user-friendly options at their fingertips. Don't get me wrong, I'm an Adobe fan for sure, but not everyone wants or needs to go to those lengths for simple branding designs.
Two products available right now aim to make graphic design much more approachable for the Average Joe–Canva and Snappa. These products share a lot of similarities, which may make it tough to decide which one's right for you. That's why I've broken down some of the key components of each to help ease that analysis paralysis.
Even their logos are undeniably similar.

Here's the breakdown:
Let's Begin at the Beginning
Both Canva and Snappa sign users up in roughly the same way; you'll enter your name, email and a password for your account. With Snappa, you'll then receive a confirmation email. Right away, you're sent an email with a video link to a quick Snappa tutorial, guiding you through account set up and beginner creation of custom graphics. This is certainly helpful if you are a complete beginner.
While Canva doesn't send an onboarding video, they do send emails with tons of tips and tricks, and always route you to their robust help center and knowledge base if you can't find your way. In terms of onboarding support, Snappa wins.
The Dashboard
Once you're logged in, the experience begins to diverge. The look and navigation is quite different at first.
Canva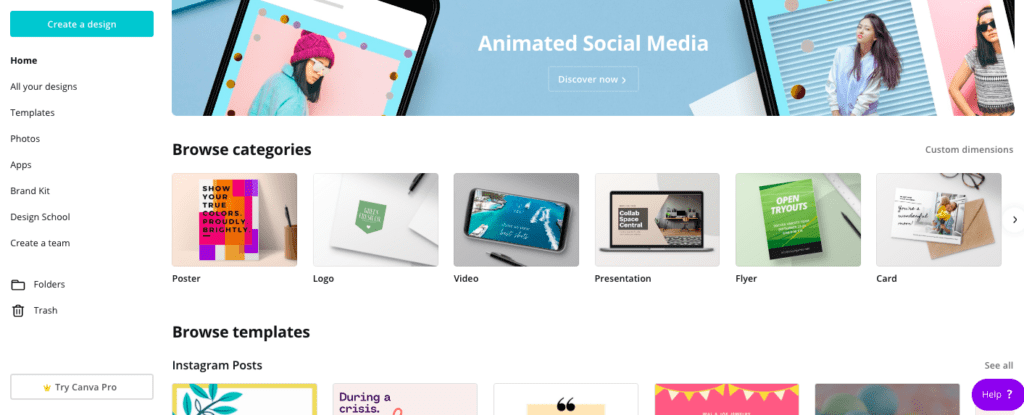 Canva is instantly colorful and whimsical and provides ample visual inspiration in the form of templates (for a variety of digital and print applications) that can be customized however you need. You can also start with a blank canva if you choose. Canva also offers a navigation menu on the left hand side to help you find your way, some of which is only relevant for pro users, such as the custom brand kit.
Once you decide on the type of content you want to create you click on it and travel down the rabbit hole of the endless ways you can edit and customize it. Users can upload their own images and icons, and switch fonts as needed. You can also search through tons of other templates if you change your mind about your initial choice.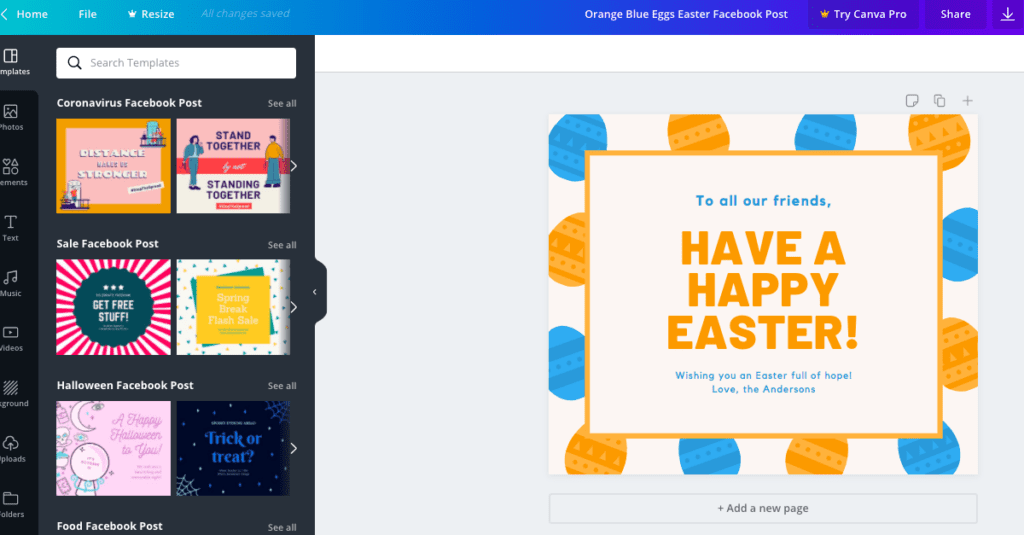 Snappa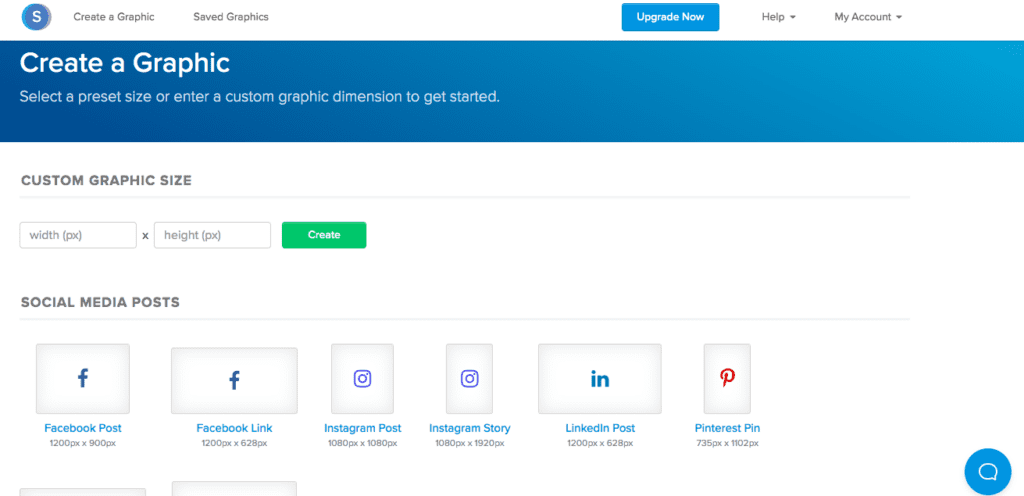 Snappa's dashboard is essentially and effectively a blank canvas; knowing right off the bat what you want to create is key. Once you decide if you're, say, building an Instagram post vs. a Twitter post, you can click on it, and THEN you're offered the option of starting a design from scratch or using one of Snappa's colorful and enticing template designs.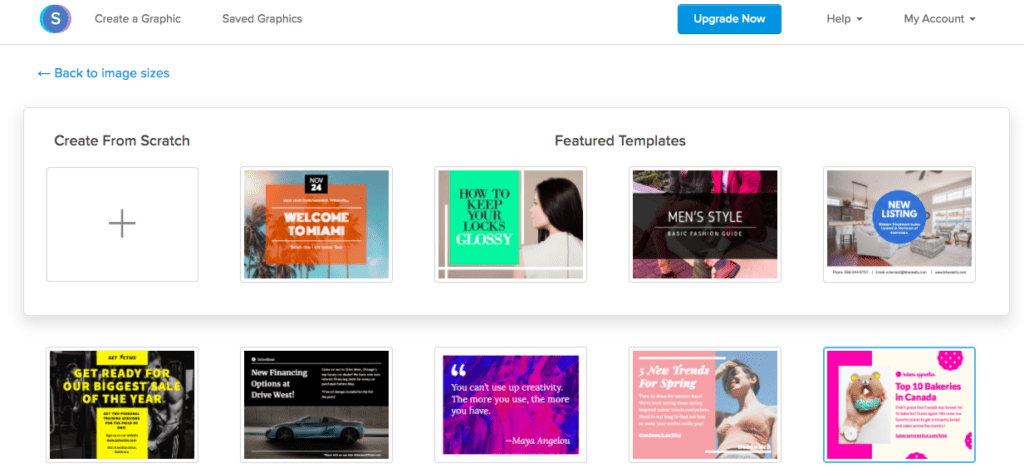 Both Canva and Snappa eventually get users to the same point–of selecting from numerous professional design templates or starting a design from scratch. They just have slightly different routes to get you there. Canva immediately splashes you with color and ideas, while Snappa's dashboard design urges users to be a bit more premeditated in how they start their design. It's really a matter of choice, depending on your personal style. I will say that Canva's left-hand-side navigation menu provides a slight usability edge here, so I dub Canva the dashboard interface winner.
The Content
Canva has waaaay more design ideas and templates that transcend just the digital, including brochures, book covers, cd covers, posters, resumes, newsletters and more. Snappa doesn't appear to have templates for physical printed designs – or maybe they are buried somewhere? Snappa's focus is clearly on the digital; they even have templates for display ads, which is really helpful! After a bit of digging, I did find that display ad templates are available through Canva as well, though they are not right on the front page.
Canva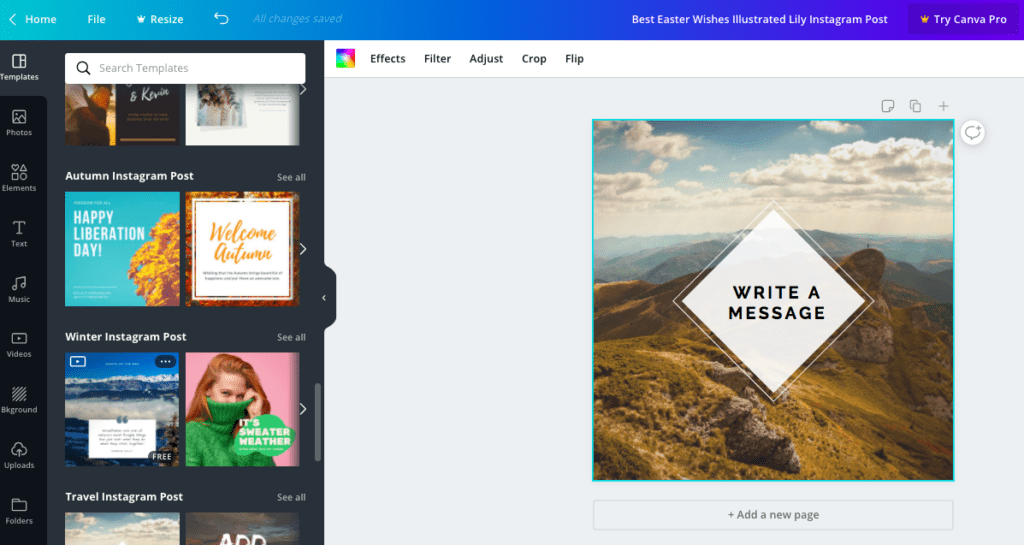 Snappa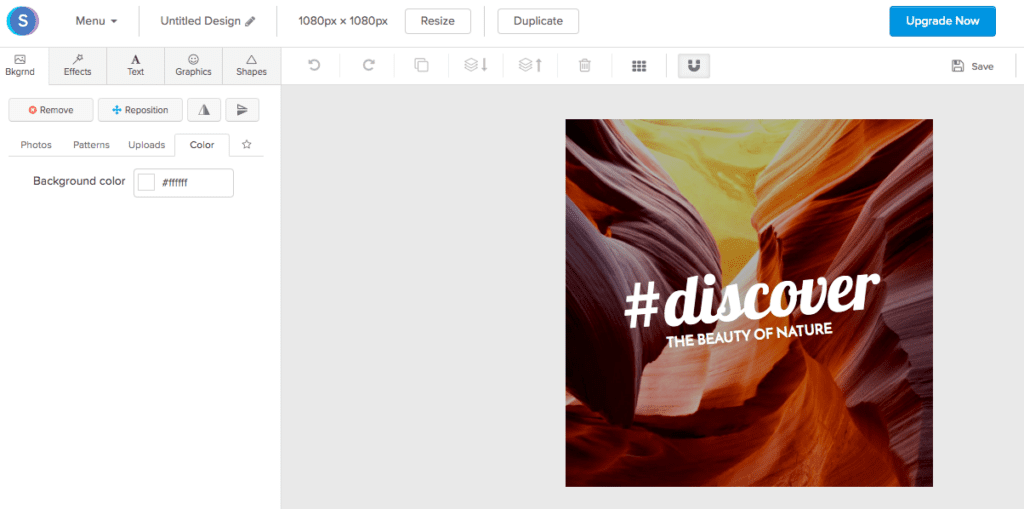 In terms of content variety, it's apples and oranges. Snappa's focus is strictly on the digital realm, and they cover all the bases there. Canva offers templates for both print and digital applications.
However, when it comes to the editing dashboard, Canva appears to be more versatile and user friendly as well. The selection of backgrounds, fonts, and other design elements is more vast and therefore superior in my opinión. Also, once you've entered Snappa's editing dashboard, you can't get back to the home dashboard easily, which I found a bit annoying, because sometimes you need to backtrack! The verdict: Canva winds up on top in terms of design template variety and editing options.
The Pro Upgrade
Both Canva and Snappa offer a pro upgrade for about $10 monthly. Canva Pro is free for 30 days, Snappa Pro doesn't have a free trial window. Both of these pro upgrades unlock vastly greater options for templates, stock imagery and the opportunity to upload custom fonts.
Canva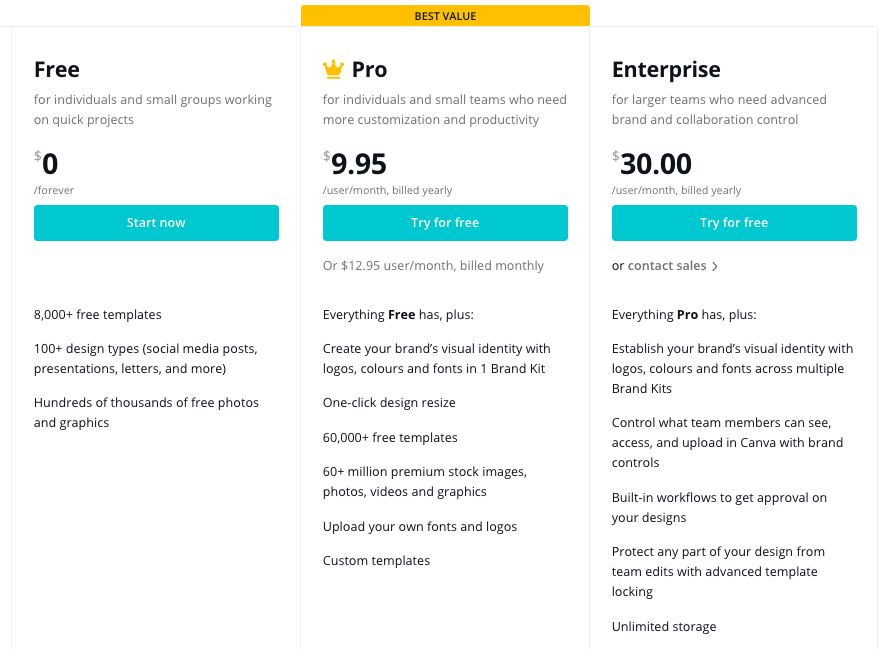 Snappa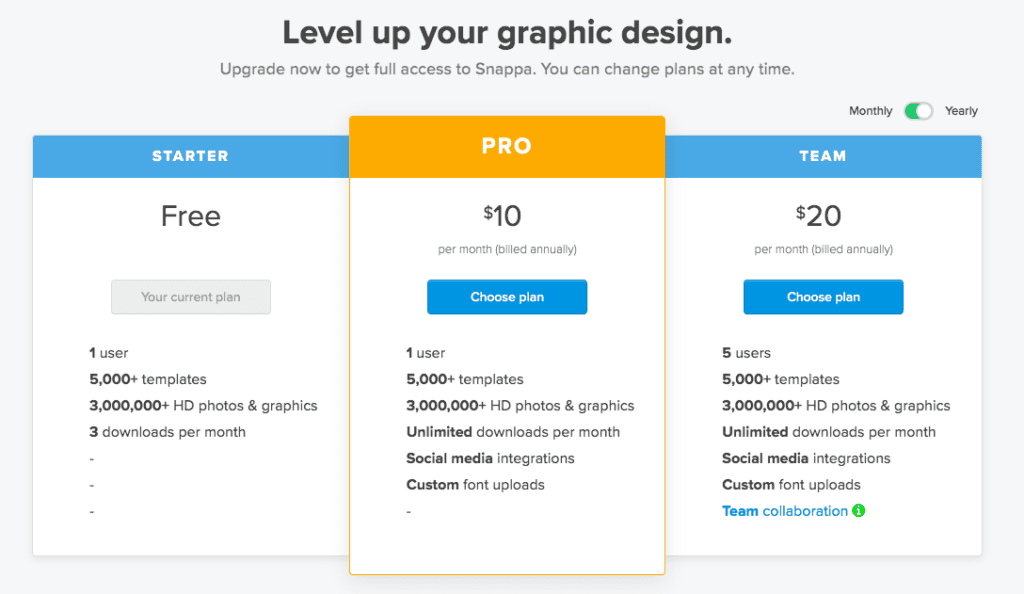 The pro pricing is similar, which makes it a tough choice at a glance. However, there are a handful of distinctions. Snappa includes social media integrations at the pro level, which could be pretty handy. Snappa limits the number of users at every subscription level, and Canva doesn't have an explicit user limit.
Canva also cleverly organizes customizations (fonts, logos, color palettes) to help build a "brand kit" for consistency across users at the pro level. And if you don't feel like upgrading? Well, Canva seems a slightly better value. At the free level, Snappa limits users to 3 downloads monthly. If you're working on audience engagement with your brand, 3 designs monthly might not hit the mark. Canva doesn't limit downloads of designs at the free level. Canva also offers a few more templates to choose from at any level. The winner? With a 30 day free pro trial and more design variety, it's Canva again, folks.
Bringing it All Home
Marketing pros and digital entrepreneurs (and pretty much any brand or business out there) need custom graphics to make their brand soar. Obviously, not every brand can afford the cost of advanced graphic design software like Adobe Creative Suite. Depending on your unique needs, either Canva or Snappa would work beautifully for you.
If your needs are strictly digital, you are a solo user, and you are ok with limited monthly downloads, Snappa would be a fine choice.
If you want more bells and whistles, greater design versatility, numerous users, and unlimited monthly downloads–like the ability to build print designs in addition to digital–Canva is where it's at. Canva is the clear leader, in Nozzle's opinion. But, hey, see for yourself–both of these awesome, user-friendly design programs are super easy to take for a spin.