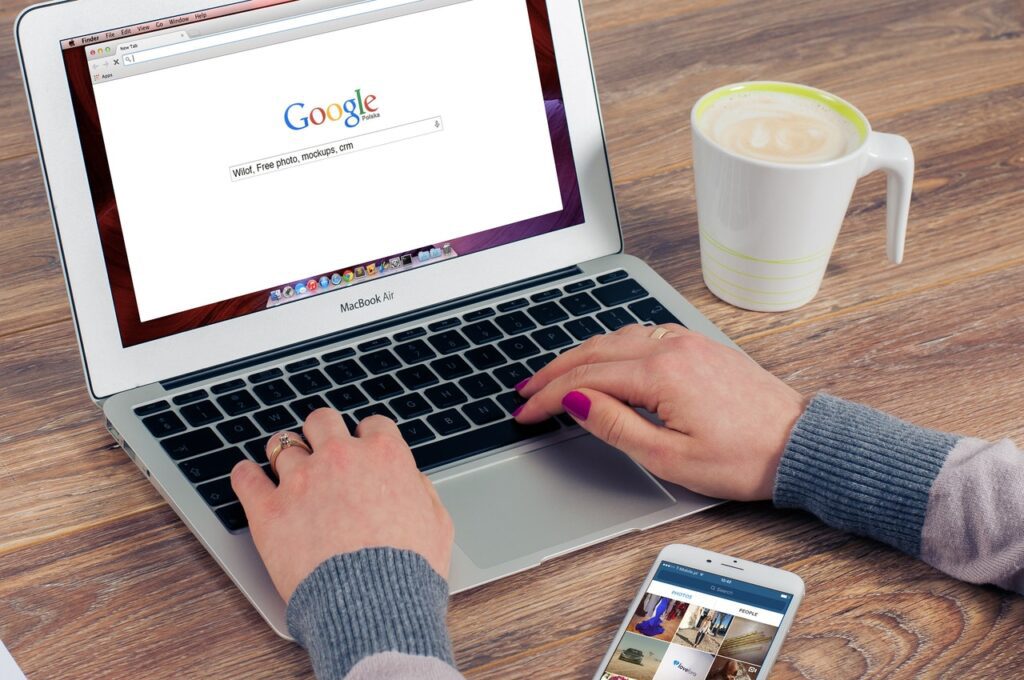 Everyone wants to be number one for high-volume keywords. They contribute to a large number of organic visitors, conversions, and sales.
However, ranking for high-volume keywords isn't always easy or possible. It requires going above and beyond the competition for the restricted number of first-page spots.
What if you're a small company struggling to appear higher on search? There is a simple solution: focus your SEO campaign on long-tail, low-frequency keywords.
Do you wish to attract targeted traffic, aiming at those who are looking for specific information? Locate low-competition keywords and target them, giving yourself a far better chance of ranking well. Let's look at what zero search volume keywords are, how you can find them, and why it's worth the effort.
What Are the Benefits of Targeting Low-Volume Keywords?
Zero search volume keywords can bring organic traffic from Google even if tools like Ahrefs, Moz, SEMrush, and Keywords Everywhere suggest that no one is searching for them.
What else can targeting low-volume keywords offer? Including these terms in your SEO strategy provides a lot more advantages, such as:
Relevance to your buyers. Long-tail keywords are usually low-volume terms that are extremely fitting for your target market. And the better content hits the mark, the more likely users will convert.
Creating interest around a new or small niche. Low-volume keywords are better suited for one-time search queries Google may never see again.
Diversity. You can add multiple low-volume keywords to one page to increase traffic potential.
Commercial intent, meaning you can add buying keywords to attract customers that will convert. At the same time, they have a great return on investment (ROI) to cover the expense of the content.
When you choose keywords for your piece, you select the primary phrase. As you compose your article, product page, or other sections on the website, you will unconsciously add extra secondary and LSI keywords to drive traffic to your site.
These are phrases people will look for and get relevant results. It applies to search engines and on-site search as well, so they're crucial by all means.
For example, visitors don't want to scroll through an array of cardigans on the website. They may type the phrase "emerald green cardigan" to specify the request and choose from the store's assortment offered in the Magento on-site search results or any other results, depending on your CMS.
Let's dive deeper into the peculiarities of terms with zero search, how to find and use them.
Four Ways to Conduct Zero Search Volume Keyword Research
1. Leveraging Tools to Define Search Volume
The first way to find zero search volume keywords is to use the Keyword Surfer or Keywords Everywhere tools. These are free browser extensions forecasting a monthly search volume and giving other insights. You'll have a short report while searching on Google.
The figures below are the estimated search volume and cost per click for Google Adwords campaigns. The results are received from Keyword Surfer.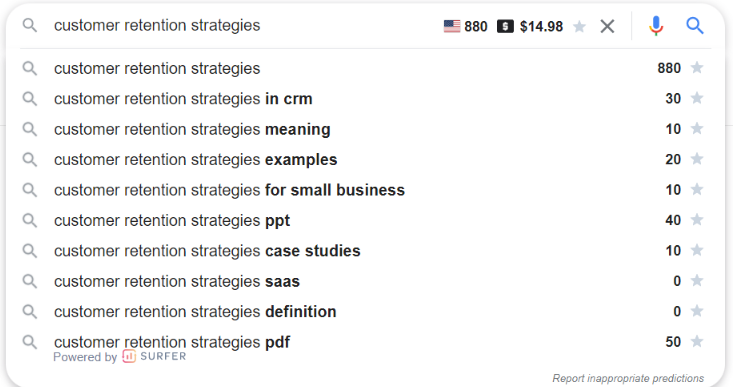 As you can see, there are some phrases with zero value. It means people don't look for "customer retention strategies saas" or "customer retention strategies definition". However, they search for similar questions, so adding these keywords will help you increase the traffic volume to the website.
If you proceed with the search, you'll see several boxes to the right. The tools provide you with keyword ideas based on the similarity with the initial phrase. Have you noticed the figures below the titles? These are also valuable details. For example: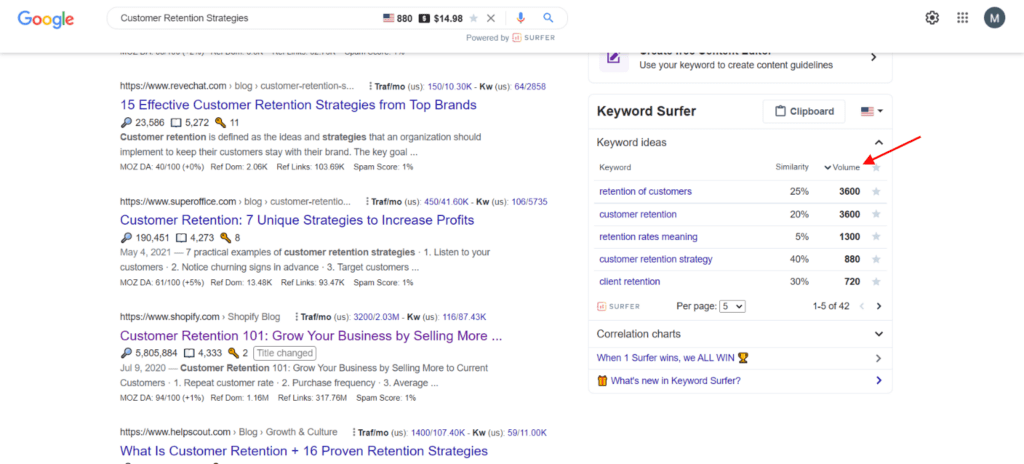 the estimated monthly traffic for a selected region;
the article total word count;
how many times the author used the "customer retention strategies" keyword. You can also copy or export the list of long-tail keywords, trend data, and what other people search for, thanks to Keywords Everywhere.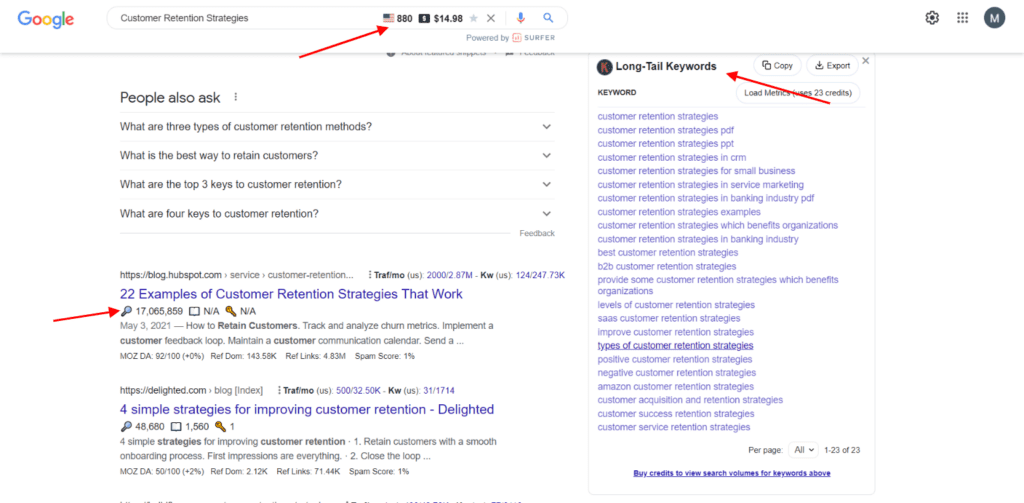 2. Analyzing Related Searches
Compare the drop-down box and related searches at the bottom of the Google results page below. They almost always return the same phrases. The problem with checking them is that you have to scroll down to the bottom of the page. And they don't have the additional information from the keyword research Chrome extensions. As a result, this method doesn't consider whether or not the keyword has any search volume.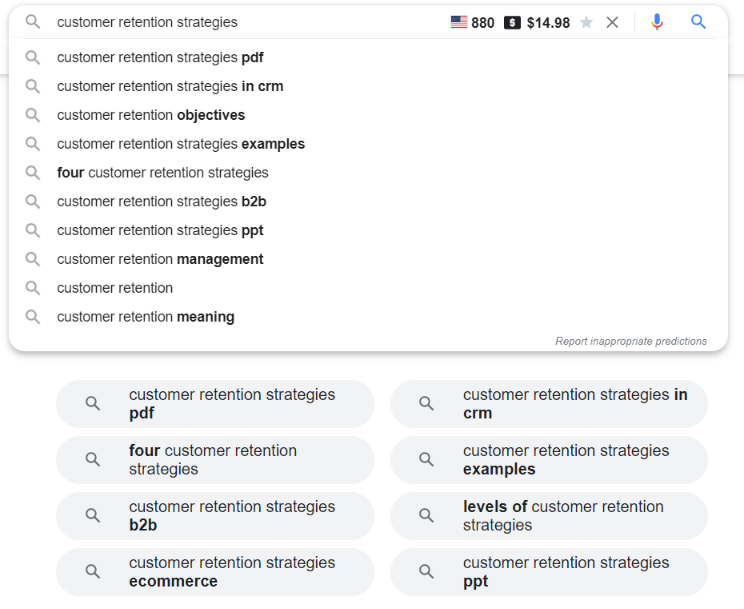 What if you need to know the exact figure or process a lot of keywords? In this case, you'll need the above-mentioned plugins. They will allow you to see the statistics when you type the query and streamline the selection process.
Don't stop your search after finding several suggestions from Google. You can uncover more precise keywords by entering your initial keyword ideas and then searching for them on Google again.
Let's get back to my previous example. I used the "customer retention strategies ecommerce" query to get more variants. Broader initial phrases, such as the one shown below, give you some good ideas if you repeat the procedure with the original suggestions.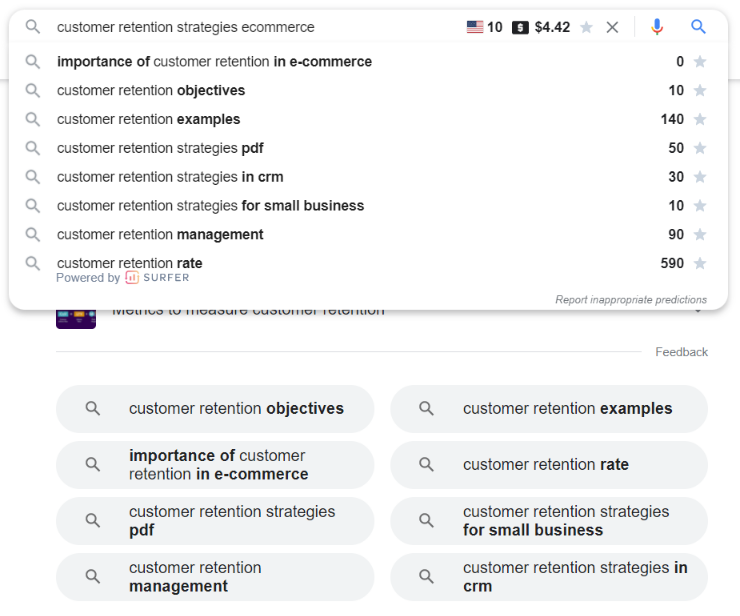 We see that the first keyword phrase doesn't have any monthly searches. But as Google suggests, using this strategy, we can gain more organic visitors, provided we appear in the top three results for it.
3. Looking for Zero Search Volume Keywords with the Alphabet Soup Method
The third method under discussion is the alphabet soup strategy for keyword research. It involves the recently evolved Google autocomplete feature.
Unlike the related searches strategy, this one will take some time and effort on your part. But it's worth it for generating keywords that rank and drive traffic.
How does it allow you to utilize Google for keyword research? Type your primary keyword into the Google search bar. Let it be "brown mascara". The image below shows that all you have to do is add a letter of the alphabet after it. The autocomplete will provide you with various new options.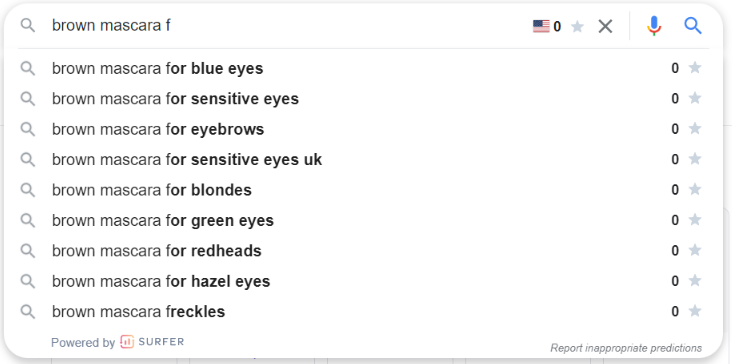 The keywords with the lowest expected monthly search volume on this first pass usually have the most organic traffic potential. You can take this phrase for a second run using the alphabet soup method.

These keywords typically have significantly lower traffic levels. But having less traffic doesn't always mean something bad.
They have less competition from other websites, making them much simpler to rank. If your niche is large enough, you may perform a third run on these keywords, but they bring almost no visitors.
4. Getting Insights from the People Also Ask Method
When searching for something, you'll probably see this section.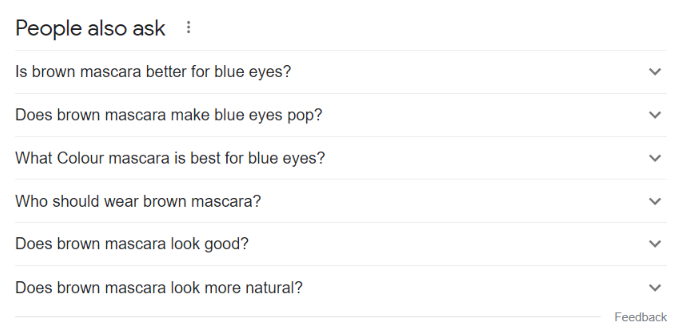 That's what people usually ask, mentioning your keyword in their questions. And these options may hint you at what suitable keywords you may use.
The widget usually displays four questions. But if you open and close the bottom drop-down, you can extend it and receive more requests. Keep expanding the bottom question to see more ideas.
Note that the lower the suggestion list goes, the less relevant the questions to the initial keyword. However, they are generally niche relevant and may still be valuable to you.
These questions aren't low-volume keywords, even though they may have no expected monthly searches. Why do they appear zero volume when you check them? The reason is that they're complete questions rather than the actual search.
Consider the question, "What are customer retention strategies?". The exact query has no monthly search volume anticipated. But if we remove the beginning of the query and check "customer retention strategies", we'll notice that this term has an 880 search volume.

If you use the People Also Ask section to locate a zero or low competition keyword, take away parts of the questions to find the actual search phrase. Then examine its estimated search volume to get an idea of prospective future traffic.
To Sum Up
I described the following possible ways to find zero search queries:
Keyword Surfer or Keywords Everywhere extensions
The related search approach
The alphabet soup method
The "people also ask" option
Ideally, you should combine all four because doing so may help you compile your keyword list faster. This may help you diversify your existing keyword research methods to enhance your page content. In turn, this will attract more organic visitors to your website.
Do you still think going after low-volume keywords is a waste of time or money? Before you dismiss them, review the suggestions above to determine whether you're missing out on any gold mine opportunities. Some unusual keywords may pay off in terms of traffic and conversions.