Nozzle.io is an SEO rank tracker tool that pulls SERP data from Google for your website and those of your competitors.
It has valuable features for website owners, agencies, and website flippers.
This article will focus on the main benefits of using the tool for buying and selling websites.
You'll discover how website flippers can use Nozzle to acquire, build, and sell websites — making it an easier and safer experience.
Let's get to it.
What Does A Website Flipper Do?
A website flipper buys a website and later sells it for a higher price. Typically, they'll use their experience to find good investment opportunities, and once purchased, they'll have a plan to grow the site with the intention of selling later on.
They spend a lot of time finding an asset to acquire and looking for opportunities that pass their criteria for a good buy.
Once they purchase, they'll increase their revenue and ranking through various SEO and monetization methods.
For example, a website flipper notices a site on the Flippa marketplace making $100 per month and selling for $3,500 (35x multiple). After doing his due diligence and vetting, he decides this is a solid investment, so he buys the site.
Over the next 12 months, he adds content created around specific keywords, builds backlinks, adds various monetization methods, and gives the site a design boost. As a result, the website is now earning $1,000 per month.
Using the same 35x multiple (the number multiplied by monthly revenue), the site's value is now $35,000, so he decides to sell it and make a net profit of $31,500!
Why SERP Tracking Is Important For Website Investors
SERP tracking is essential because it offers crucial information about a website's rankings, including keywords and estimated traffic.
You can use SERP tracking to perform your due diligence and vetting before parting with your money on a marketplace or broker site.
For example, if a website owner says they're ranking for a particular keyword, you can check it on a SERP tracker to see if it's true.
You can also see how hard it is to rank for specific keywords in the future.
Another advantage of using SERP trackers comes when you plan on selling the website. As you have been tracking keywords for a set amount of time, you can see the site's improvement and use this when valuing the site.
SERP trackers are crucial tools for website flippers. They save you time and help you to make sound investment decisions.
7 Reasons Why Website Flippers Should Use Nozzle
Now that you know what website flippers do and why using SERP tracking software is essential, let's look at why I recommend Nozzle for website flippers.
1. Track Your Website Rankings

With Nozzle, you can check your website rankings for specific keywords. These keywords can be single or a group of keywords in a group.
If you look at the image below, taken from the keyword manager section of the tool, you can see a selection of keywords in a group called 'test 1'.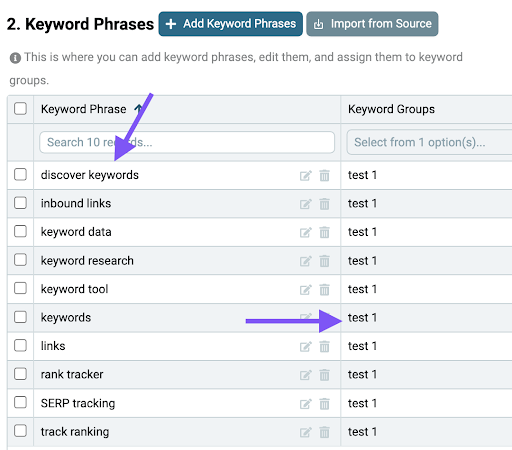 These keywords are related to a website that provides an SEO tracking service, so you can use this group when checking other related websites.
When you check the rankings for your website, you select which keyword (or group of keywords) you want to use, and the tool will pull data from the SERPs for the keywords.
You can get results for desktop, mobile, and tablet, and find data for the following:
Keywords — discover how many times the URL ranks for the keywords in the group
Rank — the average ranking in the SERPs for the keywords
CTR — estimated click-through rate
Estimated Traffic — estimated traffic for each keyword, or selection of keywords
Pixels From Top — a visual display of the actual pixels to the top of the SERPs
Above The Fold — how much of the SERP does the URL own above the fold
SERPs — the percentage of pixel coverage
Results — the number of results that appear for each domain name
Unique URL — number of unique URLs ranking in the SERPs
PPC Value — shows the amount of money you need to spend on paid ads to get the same estimated value as organic search
Search Volume — estimated number of monthly searches you get from the keywords
Base Rank — a percentage number that counts organic results and featured snippets for keywords
This information helps you track how your site is performing and improving over time.
You can click on the specific keywords within the group and get a detailed breakdown in text, charts, and visuals of what's ranking in the top 100 for your site and any other site you want to keep tabs on.
2. Help With Due Diligence & Vetting
Almost all website flippers know the importance of due diligence and vetting before purchasing a website. While some brokers state that they do this for you, it's always best to do your own research for peace of mind.
It's also beneficial when using marketplaces with no vetting included.
Using Nozzle, you can add the URL for the domain name you're targeting and find a host of information about how the website ranks for specific keywords.
For example, the image below shows you that Moz is ranking number 8 in Google for the keyword 'rank tracker', and if you look again, you can see that the estimated traffic they're receiving for that keyword is 106 visitors per month.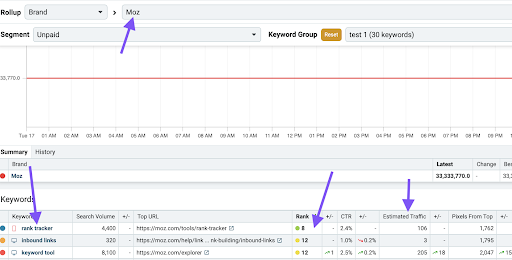 Furthermore, this display of data in the image above is for the past month, which can be inaccurate, so you can change the timescale for the past 12 months or longer to get a more accurate picture.
Having this information at hand is a godsend when clarifying what the website seller is saying about the rankings and traffic the site is getting.
You can search for a group of keywords or by single keywords. In addition, you can segment the results by using the filter options, such as ranking 1-3, featured snippets, people also ask boxes, or the many more options available.
3. Track Other Websites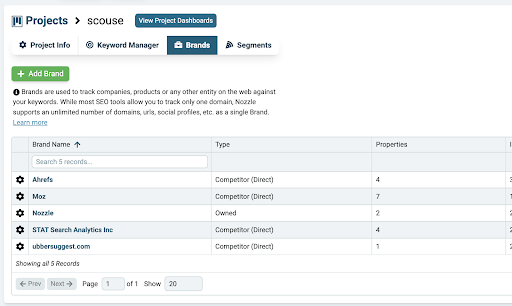 I've touched on this slightly when talking about vetting and due diligence. Still, it's worth knowing that in addition to checking a website out for keyword rankings, you can also set them up in your account as direct or indirect competitors.
When you first open an account on Nozzle, you enter brands. These are websites (including sub-domains), social media accounts, and Youtube accounts.
You enter your website as an owned brand and all your competitors as either direct or indirect competitors.
Doing this allows the tool to track the keywords you set for your domain name and your competitors, which helps you gain an advantage over them in the search results.
In addition, you can find keywords to target that you never knew existed and discover other URLs ranking for that specific keyword; for example, they might have a Facebook page ranking for the keyword phrase.
Keeping an eye on your competitors is crucial for improving your website's traffic and value.
4. Help You To See If A Website Has True Value
By using this SERP tracking tool, you will be able to determine if a website has a true value. So, for example, if the seller says the site earns $500 per month from organic search, you can roughly check this out on Nozzle for the main keywords the site is targeting.
Nozzle.io will display estimated earnings for each keyword, so you'll be able to see if it matches what they say and discover if the asking price is worth it.
5. Discover Site Potential
When you perform your research for a website, you'll probably have a list of keywords in mind to see how the site is ranking for those search terms.
Using Nozzle, you can discover that the site is performing well for some keywords but not targeting others, which means the site has the potential to increase the overall traffic by creating content around these non targeted keywords.
Often, you would only need to write a quick blog post, and it will rank well, especially if the site already has a decent DA score.
6. Nozzle Gives Historical Data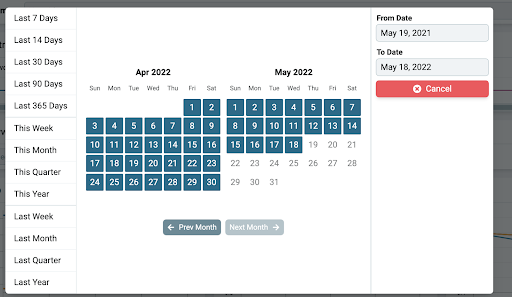 You can use Nozzle to find out if a website has a good history of ranking in search engines.
For example, you can set the date to display data for a website for a timescale you choose.
Doing so will help you understand if the website in question has a good past record with Google and how long they have been ranking for specific keywords.
7. Use The Data To Help Sell Your Website

You can take screenshots of data, including charts and graphs displaying the results for your keywords — you can also export them to your computer.
The charts and spreadsheets will come in handy when selling your sites because you can display them to potential buyers in your sales pitch.
It will give the potential buyer confidence that they're dealing with a professional seller.
Actionable Takeaways
Nozzle.io is an excellent SERP tracking tool with many features suitable for website flippers.
The benefits of using the tool will help you for both selling and buying and will make it easier to make decisions related to website flipping.
You have multiple filtering options for historical data and country targeting, and the amount of stats pulled from the SERPs is impressive.
The guys at Nozzle offer good support and have a great onboarding video once you sign up for a free trial.
Here are the actionable takeaways from the article:
Nozzle.io is a tracking tool with features that makes it easier and safer to buy and sell websites
A website flipper buys a website and later sells it to make a profit
SERP tracking is crucial for website flippers
You can track your website and as many competitors as you want for free using Nozzle
Nozzle offers a free 14-day trial (no credit card needed)