A lot has changed in the way brands interact with their customers in the last 50 years. However, the foundation of a good marketing strategy remains the same—creating value for customers.
With each passing year, the techniques and tools of achieving the same have evolved. If you're not keeping up with the trends and development, you're missing your window and losing out to your competition.
We've compiled a list of seven cutting-edge trends and strategies ruling the marketing landscape today and will continue to do so in 2023. Make them a part of your marketing plan and meet your revenue and conversion goals.
Let's dig right in.
1. Influencer marketing is booming
Influencer marketing is the sure-shot way of increasing a brand's engagement and awareness. In fact, every 1% spent on influencer marketing has the potential to increase engagement by 0.5%.
When an influencer promotes your brand with their community, their followers start showing interest in you. In exchange, you barter a deal with them or pay them for their promotional services.
The best part—it doesn't always need to be a big-shot celebrity promoting your product—influencer marketing works just as well with a micro-influencer with a decent following. All you need is to ensure your target audience's interests align, and you're good to go.
Instagram and TikTok are two popular platforms where influencers and content creators build their presence online and gain followers who resonate with their content. When their audience sees them promoting a brand, it helps in assuring them that the product is worth-trying or worth checking out.
Take a look at the following example of an influencer collab post on Instagram: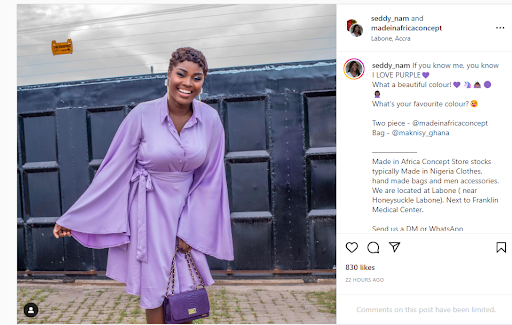 As her followers see her styling the handbag, they'll be inspired to look it up on the brand's page.
Factors to consider for influencer marketing
Consider their total following—is it sufficient for you to draw significant attention?
What's their engagement like—how often do their followers interact with their posts, and what kind of comments do they get?
Is their audience also your target audience?
Do their followers seem legit, or do they appear as frauds?
2. Demand generation to bring in strong leads
Demand generation is an effective strategy for you if your main marketing goal is to create brand awareness and interest. It's all about creating a solid sales pipeline for your business to generate interest for your brand, bring them to your website, and introduce your products and services.
Demand generation strategies for 2023
Create a positive impression of your brand by adding testimonials, reviews, and case studies in your advertisements.
Leverage user-generated content, showcasing them using your product or sharing their opinions.
Develop a solid content strategy to answer your potential buyer's questions and concerns and address their pain points. Consult a demand generation agency like Skale to scale your demand generation efforts and acquire new leads.
Work alongside your sales team to deeply understand buyers' journeys and nurture those showing the potential to be customers.
Closely monitor how your leads react to your demand gen strategies—track performance data, including the number of unsubscribes, bounce rates, or engagement rates, to get an idea.
Partner with a third-party provider to reach a curated audience quickly.
3. Leverage AR and VR technology
Artificial and virtual reality technology (AR and VR) never fail to impress customers by bridging the gap between the digital and physical worlds. The technology combines digital elements with our real-life surroundings, enhancing the audience's interaction with a brand.
Example of VR
Many eCommerce stores implement the technology to showcase how their product fits in a real-life scenario—how a TV fits in a customer's living room. This way, customers can judge the quality, dimensions, and other true aspects of the product and gain more confidence and trust in the product's quality and durability.
Example of AR
Brands recreate a 3D model of the product, particularly companies dealing with construction or electrical appliances, to employ real-time collaboration with their customers.
4. Hyper personalize the content
Personalization excites people and makes them feel important. When done right, it has the power to uplift your revenue by 10-15%. Leverage it in your content strategy to connect with your audience on a personal level and tailor your offerings to them.
Case study: Spotify's 'Wrapped' campaign
Spotify releases its Wrapped campaign every year in December, sharing a personalized breakdown to every user of the songs they played the entire year. It's kind of like a sweet way to let their users reflect on their musical journeys in a particular year, encouraging them to share their good or embarrassing listening moments with their circle.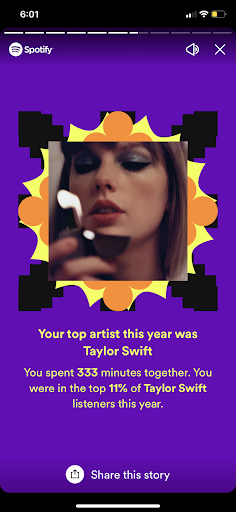 Spotify's 2019 Wrapped campaign earned around 3 billion streams and was mentioned in at least 1.2 million posts. The 2021 Wrapped campaign boosted their downloads by 21% in December alone.
5. Focus on building the founder's brand
As much as branding is important to build and establish a brand's presence online, building a founder's brand strengthens the brand. When people get to see and relate with the person behind the brand, they're more likely to engage with them. People start seeing the founder as the thought leader when they hear their story and learn about how their brand functions.
Moreover, it adds great credibility, assuring people that you know your stuff and regard you as an expert in the industry. You're able to form real connections, and customers feel comfortable approaching you for their queries or concerns.
Best practices to build a founder's brand
Share your brand story—including successes and failures—and do not shy away from keeping it real.
Talk about your values and morals. Your audience will relate more if they align with their values and morals.
Publish some behind-the-scenes content—show how your product is made and packed and how an order is prepared.
Encourage your employees to share their day-to-day activities, learnings, and experience with your brand on their socials.
Take up every speaking opportunity, and participate in networking events to stay on top of your audiences' minds.
6. Leverage AI for conversational marketing
Earlier, when chatbots were introduced, they seemed too robotic, and customers didn't find them much useful for solving queries. Today, AI chatbots have gone up a notch thanks to advancements in conversational marketing and providing human-like experiences to customers.
Conversation marketing is the process of interacting and converting website visitors or leads via meaningful human-like conversations.
Technologies that are driving conversational marketing today are Natural Language Processing (NLP), Machine Learning (ML), and Automated Speech Recognition (ASR).
Trends in conversation marketing
The commonly used chat platform, WhatsApp, also leverages chatbots allowing users to interact with the business on their preferred platform.
Implement chatbots that identify a lead's potential interest, search pattern, and behavior and use that information to resolve their queries. This helps in cultivating customer and brand relationships and increases visitor-to-lead conversion.
Voice-enabled chatbots (read Siri and Alexa) have taken over the customer service segment over the last few years.
The application of chatbots isn't limited to customer support. It also covers lead generation, conversion, closing sales, etc.
Conversational marketing also helps segment customers based on their engagement with a brand and create marketing strategies accordingly.
Multi-channel chatbot support helps cover multiple platforms to get insights about customer behavior.
7. Level up your SEO game
Google's latest update has been focusing on improving the SERP quality by providing relevant information to its users, so just creating 'SEO-friendly' content will no longer suffice.
Focus on creating high-quality and thought-leadership content that answers your audience's pain points and provides a solution.
Keywords are pretty much how Google finds results for a search query, but that doesn't mean you stuff keywords in your content while overlooking the 'value' part.
Best SEO practices to rank
Analyze users' questions and search intent for a particular keyword—what are the searchers interested in knowing when they look up the term? Analyzing tools like Google Trends or scanning the 'people also ask' section will help.
Give equal attention to all aspects of SEO—on-page, off-page, and technical SEO.
Aim to get quality backlinks from high-authority websites.
Structure and organize your website's pages well and create dedicated pages, including glossary pages, FAQ pages, etc.
Analyze your overall site's performance and perform a content refresh on pages that are doing well. This ensures that it remains valuable to your visitors and generates more interest.
Leverage voice search by optimizing your site for conversation keywords and location-based queries.
Key takeaways for marketers
Marketing will never be stagnant— trends relevant today might not be in demand tomorrow. If you're looking for a job in digital marketing, you must stay informed of the latest trends and keep up-to-date on what your competitors are doing to stay in the game.
Equip yourself with the latest tools and techniques to increase your business's conversions and overall revenue.