Plagiarism isn't always intentional. People usually write out their ideas thinking that they are original, but sometimes someone has already published those same concepts, making their content suspicious. Even 1% of plagiarism in their writing can make it unreliable, causing trouble for writers. We all want to adhere to Google's policies when we add and share our writing content. Numerous plagiarism-checking tools are available to help you avoid any unintentional plagiarism by easily identifying and removing it from your articles. Hundreds of online plagiarism checkers have been introduced, and it can be difficult to judge the best one. The following parameters are found in a good plagiarism-checking tool.
These tools enable you to enter the content in a variety of ways like pasting the material into the text field or uploading text and document files.
It provides results quickly.
It also tells you where your content was copied from.
Here we will talk about the three best plagiarism checkers and discuss their features.
These tools are the best for users as they meet all of the necessary elements you'd need to check for plagiarism.
Let's compare the features of each tool and decide which one is the best of them.
The Plagiarism Checker tool by Prepostseo is a web tool for detecting duplicate material. It checks for plagiarism and displays the results with a percentage. Users can then check out the duplications that were made in their content. An advanced algorithm used in this tool makes it easy to take out the copied or paraphrased content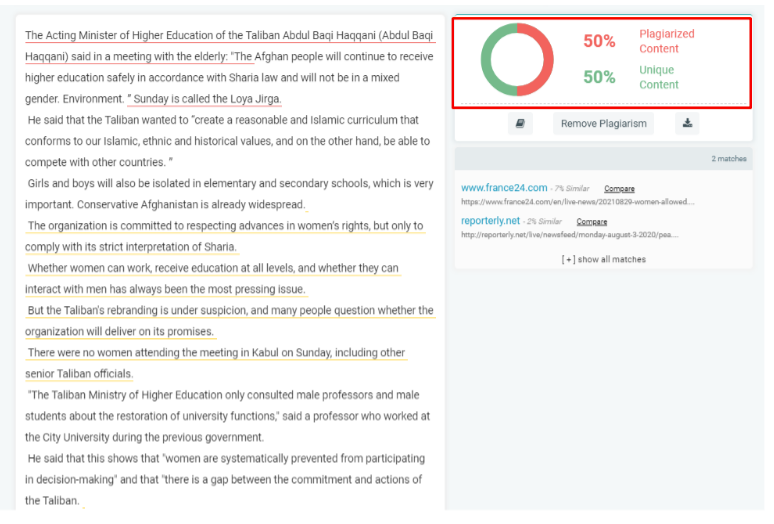 Let's discuss this tool's advanced features that make it unique and top among all the plagiarism checkers.
Secure to use – Privacy is an issue for every person in modern times. Everyone wants to keep their data safe and secure. This tool provides comfort to the users as it doesn't keep their data. Instead, it deletes the data of the user instantly after each use.
Generates reports – After using this tool, a user can generate a report which will highlight the content that is plagiarized. The user can remove those plagiarized lines and download their content after making them unique.
Results with sources – While generating the results, the plagiarized content gets highlighted. In addition, the source of these lines is provided from where it was copied. A user can visit those websites and make their content different after changing the plagiarized content.
Mobile application – This tool brings ease for the users as one can download the application on a mobile device and use it there.

The free and paid version – A user can get both free and paid versions of this tool. If you are willing to use this tool for free, you can upload 1000 words. For more words, get the premium version and enjoy all the features with increasing the word count. Here is the list of the word limit for this plagiarism checker.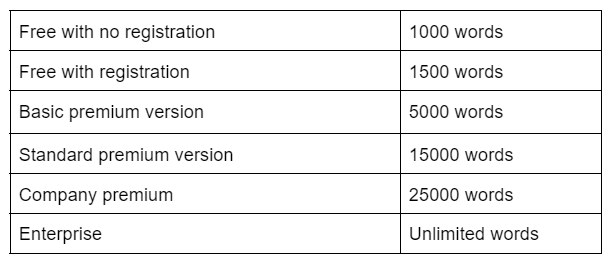 These are some basic paid versions. The prices vary with the number of words you need to use.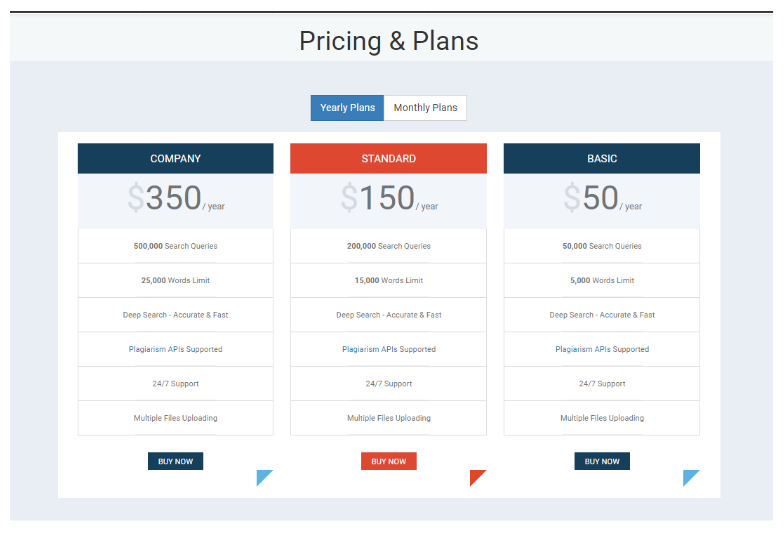 Grammarly.com
This is also one of the best online tools that help users to make their content unique and error-free. The primary work of this tool is to remove grammatical errors from the content, but it is also quite good at detecting plagiarism. Let's talk about the features of this tool that are immensely helpful in making your content plagiarism-free.
Writing enrichment – As told earlier, the basic purpose of this tool is to make the content grammatically perfect. So, this tool helps the user improve their writing career by making the content error-free.
Comparison with billions of pages – When the content is placed in this tool, it compares it with billions of other web page databases. Here it matches the content, takes out the text copied from other websites, and highlights it.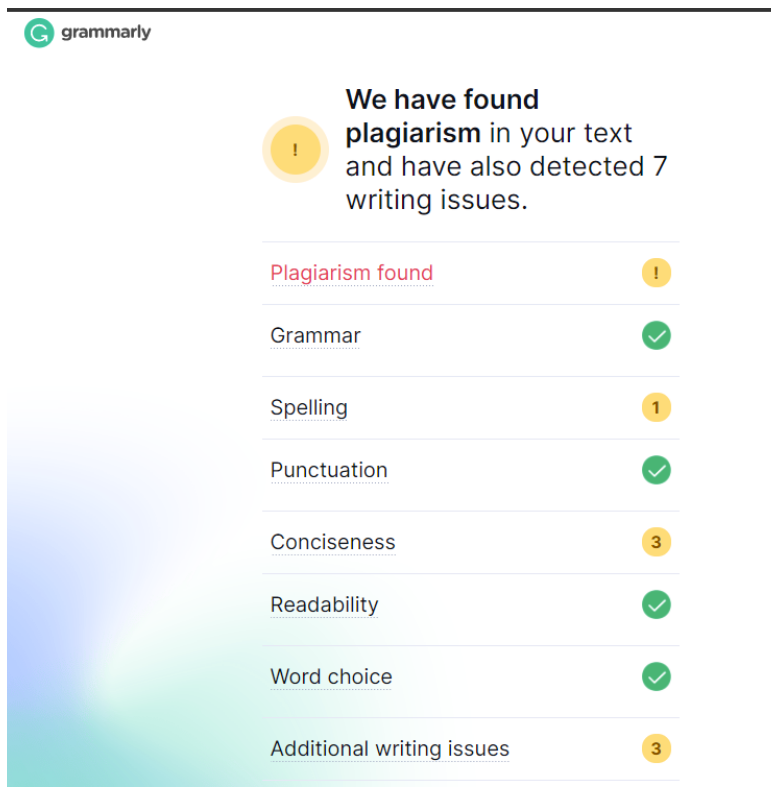 Upload files directly – This tool has an option where the user can directly upload the files instead of pasting the data. Users can click on the import button, insert the file there, and check for plagiarism quite easily.
Efficient – The working of this tool is swift. It provides the results quickly which makes it efficient to use in your work.
Freemium – This tool has both free and paid versions. For basic features, you can avail them for free. For advanced features, you have to go for premium plans.
For premium plans you have to pay $12 per month in which you can improve the clarity and make the text error-free. If you are running a business, you can get an offer to pay $12.50 per member each month and enjoy all of their features.
Smallseotools.com
Many people trust this plagiarism checker all around the world due to its proficiency. This tool is free to use and provides plagiarism features without any cost. This tool is one of the best plagiarism checkers due to the features that help to make the content SEO optimized.
Compatible for the Cloud – This tool is compatible with the Cloud enabling someone who keeps their files in the Cloud to have direct access in uploading them there. The user has to choose the content then the plagiarism checker will directly access those files and check for plagiarism.

Gives percentage – When the user checks the plagiarism, they can get the result in a percentage, which shows the amount of content that is copied. A user can remove the copied content from there and make it 100% unique.
Download reports – After getting the plagiarism report, one can download it directly from there. This factor brings ease for the user. It also helps by keeping the user's record in a database to access at any time for future use.
Multiple languages – A user can get the results in different languages as it is supported. Other than English, you can convert your content to русский, 日本語, italiano, français, Português, Español, Deutsche, 中文.
Who can use these tools?
The plagiarism tools are straightforward to use, and anyone can use them to get the copied text from their content.Whether you are a teacher, student, blogger, writer, or journalist, you can use these tools to make your content plagiarism-free.
Which tool is best to use?
All of the tools mentioned above are full of features but the Plagiarism Checker tool of Prepostseo is the best of all. This plagiarism checker has both paid and free versions, but the most important thing is its accessibility on mobile. I ran my own test using the same content in all three tools and Prepostseo caught the maximum amount of plagiarism from the content I used.. It checks every online database and gives the best results. Also, it provides links to the copied content. The features provided by Prepostseo make this tool stand out from the rest. The other two tools are also helpful for the users, but they are subpar to Prepostseo.
Final words
To check for plagiarism and help you write unique content, these tools can be pretty helpful. You can directly download your files, increasing your work efficiency. If you purchase the paid version of this tool, you will get extra features like increasing word count and more search queries, which seems like a great investment to the quality of your writing.