Once upon a time, the search engine was like a fishing rod that would pull content up based on how keyword-dense it was.
Website owners were more focused on writing content that included lots of keywords that they inserted everywhere they could. This meant that a reader was greeted with the same key phrase in the title of the article as well as in the first line, the first heading, and repeatedly throughout the content.
However, in the past few years, Google has made it increasingly clear that it has grown smarter with age. It no longer rewards a higher position based on how many keywords you're sprinkling throughout your content.
Starting with Panda, Google takes into account content quality ranking factors to position your content in the search engine results pages (SERPs). For instance, content gets ranked based on how reader-friendly and useful it is.
The days of inserting a keyword that doesn't make much grammatical sense are over. Writers have to make sure they write content that pleases humans to attract Google's attention. And they also have to play smarter – insert relevant keywords more strategically than just follow a laid-out formula.
What most websites get wrong
Consider John. He has recently created a new business website and has a blog page for it. John sets out to find writers who can write him SEO-friendly posts for his site with the hopes to attract more traffic to his business. But, because he's so desperate for success and he's not up to date with the latest Google guidelines, his focus is on creating keyword-rich posts.
Question is, even if John's writer adds the correct keywords and uses them wisely throughout the content, do John's blog posts have a chance of ranking immediately?
Not really. Even if John's content contains a good load of keywords placed in a 2500-word guide, Google still wouldn't tug it up to the first or even seventh page.
This is because the algorithm also looks at other factors than just how detailed and keyword enriched a content piece is. You see, there are more than 200 ranking factors that Google looks at to determine where it should place your page in the results.
Majorly, it looks at the authority and credibility of a site. Therefore, if a website has more links from authoritative sites pointing toward it, the higher its spot will be in the SERPs. Furthermore, you want as many links as possible to each piece of content on your site to build up your website's authority.
Now, building authority and credibility takes time. And this process requires you to write unique, evidence-based, and worthy content that speaks to humans. After all, other high-quality sites will only give you backlinks when they find your content to be a helpful, educational resource.
Put simply, don't merely focus on keywords when you start out. Write conversationally and provide value in your posts. Most importantly, have a proper, well-thought-out content plan to crawl your way up in the SERPs.
As for other ranking factors, here's a look at the top 10 Google ranking factors that you shouldn't ignore.
So, you should write for your readers. But how to go about that?
Think of it like this – how do you, as a reader, react to content that chokes your throat with its obvious keyword volume? You roll your eyes and leave the page to go to another that serves you with an in-depth solution to your query. Even better if the article packs in some additional tips.
If you understand what you, as a reader, expect from the content you come across on the web, then you'd be able to nail what Google (and your readers) want from it. But content that is filled with jargon, difficult words, and hasn't been structured well repels you.
Google gets this which is why it positions content that is authoritative, valuable, and readable at the top. Put simply, your content should be:
Well-researched and full of value – readers should leave with actionable takeaways from what you've written.
Easy to read – write in simple language and shorter paragraphs. Also, use bullet points + headings, and structure your content properly.
Interesting – add relevant images such as graphics and screenshots to explain your point and make your content clearer and more interesting.
Conversational – speak to your audience by addressing them and be natural in your writing.
Properly edited – cut out the fluff and make sure your piece doesn't include any grammatical or other errors.
Look at how properly structured this Evernote blog post is. It has short paragraphs, uses heading tags, bullet points, and simple language: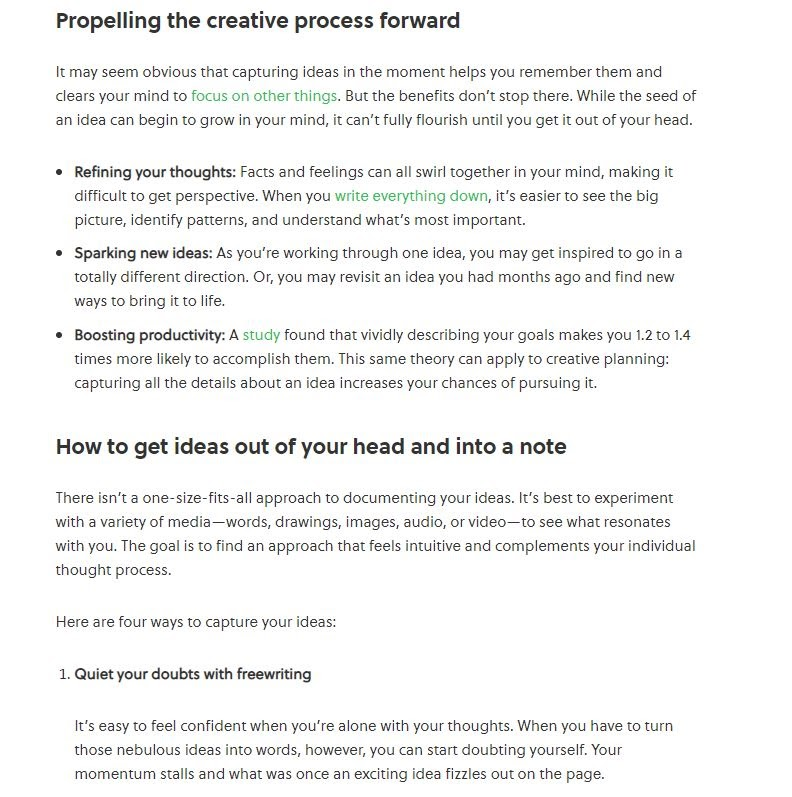 Don't forget to optimize for the search engine too
Yes, you should write for humans and Google bots are adapting more to measuring your article based on how reader-friendly it is. But this doesn't translate to completely forgetting about keywords and other algorithm-attracting guidelines.
Google wants you to write content that answers people's queries in-depth, which is often better achieved with longer content. It also appreciates if you use relevant and applicable keywords at the right places. Moreover, you get brownie points for adding internal and high-quality external links.
So, along with writing for your readers, also make sure you pay heed to the following SEO factors:
Content length – as per HubSpot's latest data, your blog post should ideally be 2,100 to 2,400 words long. The length of your article can vary depending on whether you are writing a how-to guide or a listicle. Here's what HubSpot has to say regarding the length of your blog post.
Links – make your article more resourceful or evidence-based by adding outbound links to credible sources. Also, link internally to other relevant, informative blog posts you've written.
Focus keyword – use tools like SEMrush or Ubersuggest to find your keywords and then place these keywords naturally in your title, image tags, URL, and meta description. Keep in mind finding the right keywords isn't easy. Consider using long-tail keywords too and ponder over a reader's search intent before finalizing which keywords to include.
Take a look at how strategically the focus keyword has been used in this Visme blog post that also happens to be conversational and easy-to-read.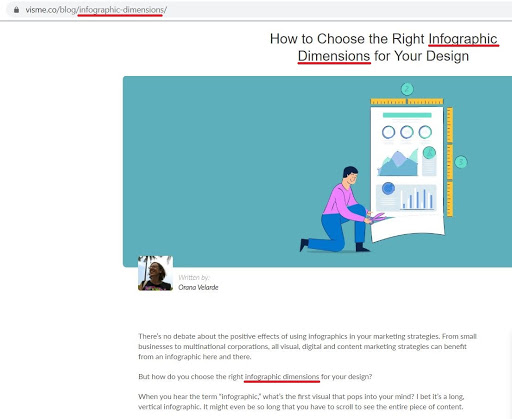 Summing Up – user and Google friendly writing practices can go hand in hand
Once you get the hang of it, it won't be challenging to create content that is pleasing to both your readers and search engines. If anything, Google wants you to write for your readers, which is why it insists you use keywords intelligently rather than forcefully.
The only reason Google favors long-form content is that people want more detailed solutions when they enter a query. You're unlikely to be able to jam in all the value and information that cover a topic within just 250 words, isn't it? It also wants you to add links for offering further value to readers – they should be able to dive deeper into a topic with just a click. In short, write for both your readers and the search engine.