Our Experience with HARO as a Source
Help A Reporter Out, or HARO, as it is affectionately called by its users, is a go-to link-building tool for SEOs all over the US. With a wealth of opportunities to acquire links from both respectable domains and smaller sites, HARO seems like the perfect channel for growing and maintaining a balanced link portfolio.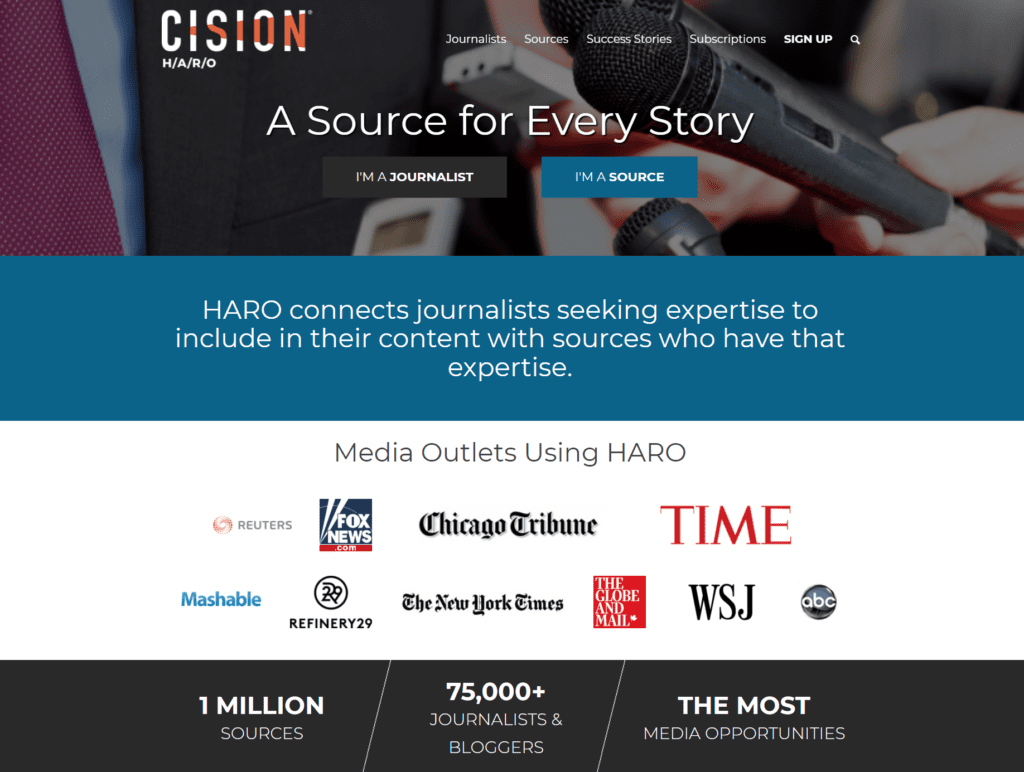 But in practice, it's not so easy. HARO requests ask for quotes or contributions to articles in exchange for credit and often a link. What about those times when there's nothing you can answer, either because there are no requests in your industry or all relevant requests require qualifications you don't have? And when you can answer requests, will you even get a link? And what kind of link? Considering all the variables makes you wonder: is the time you spend scrolling through your HARO email and writing responses even worth it?
We decided to test out how profitable HARO was for us. Making HARO a moderate to high priority, we gathered data on our experience, which you can read about below. We hope this article will give you an idea of where HARO should rank in your list of priorities.
In case you're short on time, here's our conclusion up front:
HARO isn't perfect, but what is? It is still a valuable tool for link building, and links from HARO comprise a noticeable percentage of our total acquired links (almost 20%).
Want the details? Here's our experience:
Over the course of 3 months, we regularly replied to HARO requests in our industry. During those 3 months, we found 111 applicable requests: requests that our team had the qualifications, background, and ability to answer.
With a team composed of marketing, data, and development experts, most (78) of the applicable HARO requests happened to be in the Business and Finance category. We noted 14 in General, 14 in High Tech, and 5 in various other categories.
Giving HARO moderate- to high-priority status among our daily tasks, we ended up responding to 68 requests. That's 61% of the total answerable requests.
We acquired 12 links from our efforts. That's an 18% success rate.
More about our acquired links:
11 of those links were followed, 1 was no-followed.
All of our links included our brand name in the Anchor Text.
Most (8) of the links we got were in Business and Finance, 3 were in General, 1 in High Tech.
The time between submitting and acquiring a link was variable and depended on the outlet. The shortest time that passed was 1 day, and the longest was 82 days.
Links acquired through HARO make up almost 20% of our total acquired links.
Our Experience with HARO as a Journalist
We've used HARO as a journalist a handful of times. It's great when you need quotes or even just ideas for an article or blog post. It's a win-win situation—you get content, and your contributors get links and credit. All you have to do is submit a query requesting contributions, specify your requirements, filter through the responses you receive, and give your final contributors credit and links.
What kinds of posts is HARO best for?
Expert Roundups: Ask the HARO community about a topic in your field. Compile insightful quotes from qualified responders into a relevant blog post.
Polls: HARO is useful to get a feel for a wide variety of opinions about a topic from people in your industry, although social media may be a better option for polls.
Any post where you need an expert opinion or want to add credibility: HARO can be used when you aren't qualified to answer a question that needs answering. You can draw from the expertise of others in your industry. Their qualifications will add credibility to your article.
We prefer pitches that:
Actually, answer the question: We asked what we asked for a reason.
Aren't self-promotional: Our goal is to create useful content for our target audience, not to advertise for our contributors.
Provide relevant examples: If we already have an idea of what we want to say in our article, we love examples because they connect with our audience and help flesh out our content.
Use clear, grammatically correct language: Editing pitches takes time, and time is valuable; we'd rather spend it elsewhere. Vague language does no one any good in the business world.
Are catchy and quotable: Unless we're looking to feature a few lengthy pitches, we favor concise pitches that say a lot in few words. Think bite-sized advice that carries its own authority and personality.
Provide real value: We want to provide real value to our audience and to get them to come back for more, and we follow the same standard with our HARO pitches. Cut the fluff and everyone's happier.
We always give our contributors do-follow links.
The Process
We submitted queries 4-5 days before the deadline we needed the pitches by. Our queries were approved 1-2 days after submission.
We were surprised at the number of replies we received for each query. The number of replies we received ranged roughly from 30 to 90, depending on how broad our query topic was.
Some people on our team favored earlier response submissions because by the time we got around to the later submissions, we were exhausted.
At first, we tried sifting through all the responses by email, copying them onto a spreadsheet, then further narrowing down our selections from there. This was very inefficient, so we ended up asking our responders to fill out a Google Form, which sent the pitches straight to a spreadsheet. Still, filtering through HARO replies is a long and sometimes tedious task.
Additional stats on the responses we received:
Average Percentage of Usable Responses: 87%
Average Percentage of Usable Responses Used: 71%
Not only do you get content when you use HARO as a journalist. You can also get links from it if you put in the effort to compile useful content. For example, we got a link from Forbes to a post we wrote using HARO as a journalist. This was an unsolicited surprise and a good example of how a little can go a long way. Check it out here (our link's anchor text is "survey").
HARO is a very useful tool to use as a journalist, even if the process can be tedious. We highly recommend it.
Hopefully our experience with HARO as a source and as a journalist was helpful to you. Still not sure whether HARO is right for you? Try it out and decide for yourself!
Like our personal HARO statistics? You may also enjoy our Google search statistics we collected!