According to some research, it can take at least 10 weeks for a backlink to start having an effect.
How long will it really take, though? It depends. There are several factors that influence how quickly you see the impact of your backlinks. It could theoretically take more than a year to see a considerable rank boost.
That being said, there is definitely a set process going on behind the working of backlinks. But first, let's define what, exactly, we mean by backlinks.
What Are Backlinks, and Why Are They Important?
When another website is linking back to your site – that's a backlink. Pretty simple.
Backlinks are, however, the foundation on which Google was created. They are a crucial component of SEO because they are used as a signal of a website's authority and credibility.
Suppose a multinational company links to an individual content creator. This signals that big multinational companies trust an individual and consider them credible enough to link to their content. As a result, the search engine considers individual content creators authoritative as well.

According to Google, backlinks are one of the top three ranking factors for them. So, if we want our websites to rank for powerful keywords, then link building is an important step.
Three-Phase Process for Backlinks Taking Effect
The process of how backlinks work can be quite complex. Only the team of Google knows exactly how this works, but by analyzing the patterns, we can break them down into three stages:
1. Backlinks Get Indexed
A web page needs to get indexed by Google before it will show up on the SERPs. Google does this by crawling websites from time to time.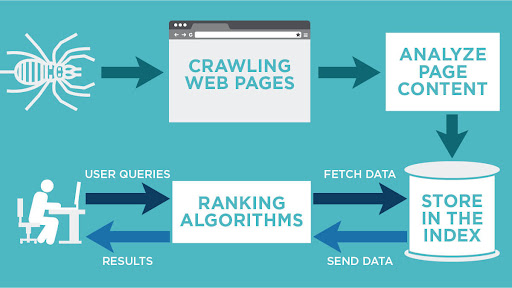 Every website has a different crawl budget, depending on its activity. For example:
a) Web pages of a news company publishing 100 articles daily will get indexed within a few minutes because it's highly active.
b) Web pages of a construction company publishing 4-5 web pages per year can take a few weeks to get indexed because it isn't active at all.
Usually, popular brands have a high crawl budget and links on their pages will get indexed quickly.
2. The First Jump
When you publish a page on your website, it won't start ranking right away in the SERPs.
The first rank improvements will happen when the backlinks start having an effect. A web page ranking 469 can jump to 120 and a web page ranking number 60 can eventually reach the top 10.
Eventually, your web page can see a sudden jump in ranking if you're getting the right links from the right places. This stage can happen in a 1 – 2 month timeframe.
3. A Gradual Rise
After the first two initial stages, backlinks will start showing their effect by moving your site up the rankings in the SERP. This is when the real progress begins.
The time it takes to see ranking improvements from backlinks can vary from a few weeks to months. It depends on the quality and relevance of the linking website, the relevance of the linking page, the anchor text used in the link, and other factors.
Timeline for Backlink Results
There are so many processes and variables going on behind the scenes that it's difficult to give a definitive timeline for when you can expect to see results from backlinks. However, here is a potential timeline:
a) Weeks 1-4
During the first few weeks, the search engine crawlers will discover the backlinks and start to index them. Crawling and indexing can take anywhere from a few seconds to a few weeks, depending on the popularity of the website.
b) Weeks 4-12
After the backlinks are indexed, you may start to see some movement in your rankings. However, it's essential to remember that SEO is a long-term process, and significant improvements may take several months.
c) Months 3-6
After three months, your website should start to see more noticeable improvements in ranking. However, it's essential to continue building high-quality backlinks and creating valuable content to maintain and improve your ranking.
d) Months 6-12
This is about when the ranking ball should start rolling. Your rankings will slowly and steadily keep rising in the SERPs, and if you continuously build backlinks, all of your web pages can see a rise in ranking.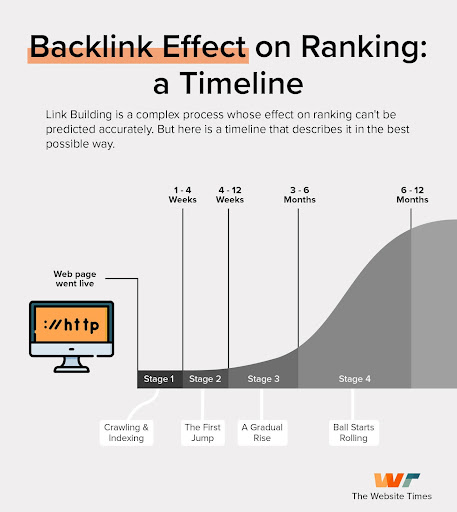 6 Factors that Highly Influence Backlink Results
There are several factors that can influence the time it takes to see results. Let's discuss them one by one:
1. Topical Authority
When a website has a lot of authority/popularity in one particular topic, then it's said to have high topical authority on that subject matter.
Suppose you own a real estate company and two well-known brands of different industries are linking to your content, in this case, a beauty products company and a real estate company.
Which of them would have a more impact on your ranking? Of course, the second one, because it has more relevant authority to your own company.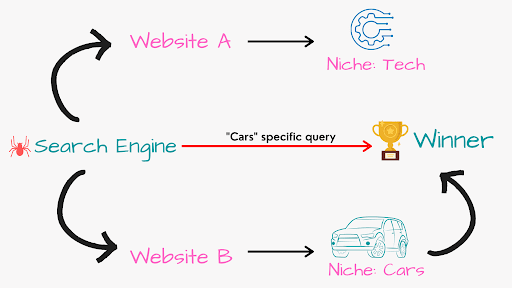 You should always focus on getting backlinks from brands that have high topical authority in your industry.
2. Popularity of the Domain
SEO is a popularity game. The more popular a website is, the more Google considers it authoritative.
By popularity, I am referring to how well-known the domain is in the real world. A website is considered popular if:
It keeps getting featured in newspapers, magazines, etc.
Lots of people are reading and engaging with the blog posts consistently.
Infographics/Images created by the company are used throughout the industry.
People are mentioning the name of the brand across the internet.
Of course, that's just a sample, and there are many other key performance indicators.
So, if a more popular brand is linking your content, it signals your authority.
3. Page Authority
Page authority is one of the biggest ranking factors because it represents the authority of a particular page of a website.
Suppose you want to rank for the keyword 'email marketing', and the average page authority of all the pages in the top 10 on Google is around 50. This means your page will also have to reach that level of authority just to be part of the competition.
The higher the page authority, the easier it is to rank on the search engines, so you have to plan to generate plenty of backlinks for your page. Otherwise, after all your efforts, your web page won't rank on the desired keyword.
4. Content Strategy
Your basic SEO strategies must always be on point. According to Google's John Mueller, the biggest ranking factor is 'awesomeness'.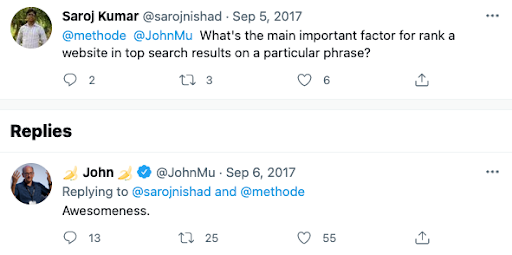 In other words, you should focus on every factor that makes your content awesome. Here are a few essential elements to consider:
On-page optimization
User experience
Keywords
Internal link building
Anchor text
A powerful content strategy is a gateway to your SEO success, so make sure to implement it in the best way possible.
5. Age of the Domain
New domain names usually take a bit longer to see the results of backlinks than older ones with established authority. This is because Google gives more weight to backlinks from older domains that have been around for a while.
There's also an effect known as 'Google Sandbox', which limits the ranking potential of a new domain.
And it's only logical that the new domain should not be able to rank at the top in the search engine, since it could be a spam/scam website.
So, be aware, your domain age can limit your growth to some extent.
6. Consistency of New Backlinks
Consistency is something that's highly praised in every endeavor in life. Search engines are no different. Google rewards the blogs that put in consistent efforts.
If you build a few high-quality backlinks and then stop, you are unlikely to see significant results. On the other hand, if you stick to it, you will see a steady improvement in your rankings.
The frequency and consistency of new backlinks will impact how quickly you see results.
What type of backlinks are best to get results?
Not all links are created equal. The quality of the backlink plays a significant role in the impact it will have on your rankings. Here are some of the best for delivering results:
1) Editorial links
Backlinks that are earned naturally because another website finds your content valuable and links to it are known as editorial links. Since they are naturally generated, they are the best type of links.
2) Guest posting
Writing guest posts offers you really high-quality backlinks, but Google is strictly against spammy guest posting links that are built through link farming or any other bad method.
Your focus should be on sites that are relevant to your niche and have high domain authority.
3) Infographics
Creating high-quality infographics is a tried and tested way to earn backlinks from big brands. If your infographic provides valuable information and is visually appealing, other websites may link to it as a resource.
4) Social media links
While social media links are not necessarily the most valuable, they can still positively impact your rankings. Sharing your content on social media platforms can help increase its visibility and attract more links over time.
Always focus on quality over quantity. A few good backlinks from authoritative sites can have a more significant impact on your rankings than many low-quality links.
Be patient while building backlinks
Backlinks are one of the most important factors when it comes to ranking on Google, so it's worth being patient to see the results of your efforts.
Every one of us would like to see the results of backlinks right away, but the reality is that it can take several months or even longer to see a significant impact on your rankings.
While it's difficult to give a definitive timeline for seeing results from backlinks, it's essential to remember that SEO is a long-term process. By consistently working to earn the best-possible backlinks, you can improve your rankings and establish your site as an authority in your niche over time.