You can get more out of your data when you change your focus from "rank tracking" to "SERP tracking."
A simple ranking tracker will show you where a certain page ranks for a certain keyword in the organic search results – the classic top 10 positions that, for years and years, online marketers have been pursuing.
Unfortunately, over those years, paid ads have pushed the top organic rankings further and further down the results page, so even that coveted #1 organic position might struggle to appear above the fold.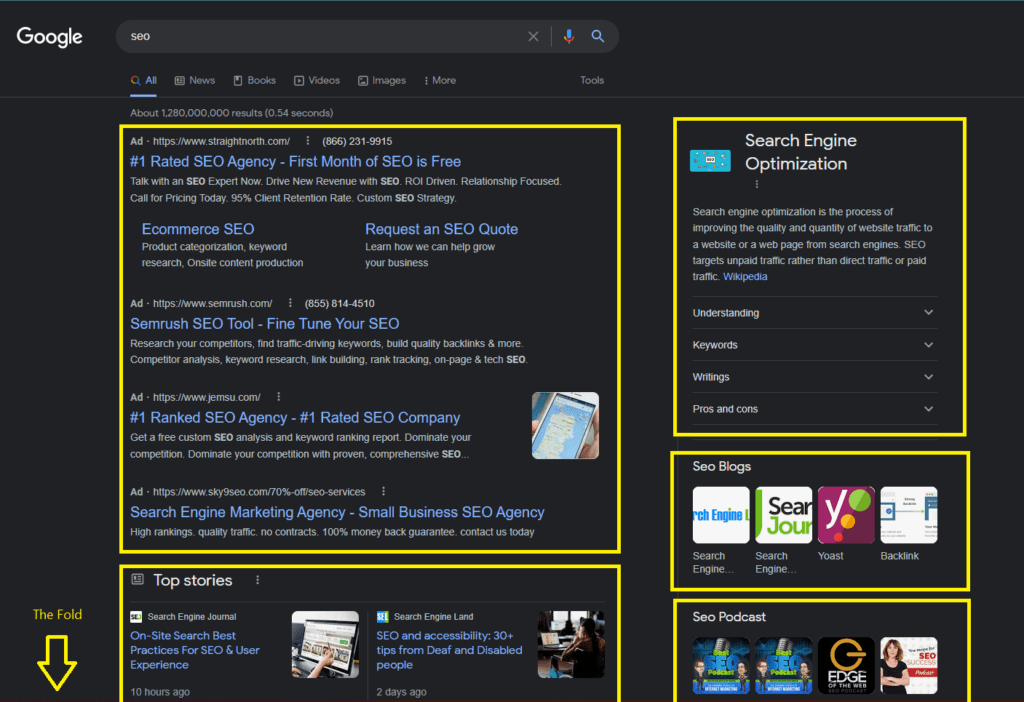 On top of that, Google continues to develop and include new features in its SERPs that can push those organic rankings even further down.
Now, where you once had ads and organic results, you have Featured Snippets, People Also Ask (PAA) boxes, Local Packs, Top Stories, Popular Products, Social Results, Videos, and more.
So, it is all too conceivable that your number #1 ranking might not be quite as awesome as it once was.
Don't get us wrong, it's still pretty awesome.
It's just now, getting your brand in front of more people, may require getting into the most common and most important SERP features.
Get into More Features When You Change Your Rank Tracking Mindset
Online marketing success is not just about reaching that #1 spot. It's about appearing on the SERP in as many places as you can.
This is why you can get more out of your time with Nozzle if you think of it as a SERP tracker instead of just a rank tracker.
There are so many more ways to get your brand in front of your customers than regular organic and paid results.
You just have to know how to take advantage of all the features that Google might serve up.
Admittedly, that's one of the potential hurdles right there:
How do you even know what is likely to trigger a PAA box?
How do you know if Google will deliver a Featured Snippet for a given keyword?
What if all the keywords you've been targeting for the last few months aren't going to get you into any of these features?
Keep in mind that the more your branded assets (social media, videos, etc.) show up in these features, the more SERP real estate you will own.
When you approach your online strategy with this broader mindset, you can do more with your keyword research.
Nozzle allows you to determine what keywords are likely to trigger these features, whether or not you are already ranking for them, and which of your competitors are already in those spots waiting for a little… competition.
Let's take a closer look at how you can dive into this data using Nozzle.
Which SERP Features Do You Want to Get Into?
There are many different features that Google uses to augment its results, and some of them are more effective than others from a business perspective.
The question is: what do you want to achieve by appearing in these different features?
First, be sure to check out our article on these 8 important search features. This research was conducted on more than two million searches to see how likely these features are to pop up on mobile or desktop results.
Now, let's consider the reasons you might want to show up in some of those features.
People Also Ask – This is an important feature that can help potential customers zero in on your company and contribute to your image as an authority on a particular subject. It can be especially effective if they see you ranking in the organic SERPs and then realize that you also answer a related and relevant question. If they don't click on one result, you're giving them every chance to click on another.
Featured Snippets – This is a bit of a double-edged sword. Yes, you want to show up in a Featured Snippet because it adds a lot to your authority on that particular topic. Unfortunately, if that snippet answers their question, fewer people are going to click through to your website. They'll simply take the answer, be grateful and move on to their next search. Usually. If, on the other hand, the snippet is just an enticement to more information, you can still persuade them to click on your link to learn more.
Product Packs – Are you looking to make a sale? Then getting your actual product listings to show up for a given search can be invaluable. These packs may not show up as often as, say, a PAA, but when they do, they take up a lot of real estate on the page, drawing the eye right to it.
Twitter – This is important for companies that need to show relevance to the current big events. If there is something newsworthy, if something major is happening in the industry, then you want to get into this pack. You can make sure your voice is being heard and you can maybe even start to generate a few more social media followers.
These are just a few of the features highlighted in that article, though, so be sure to explore your full range of opportunities.
Will Your Keywords Serve Up a Search Feature?
So, how do you know that your keywords are likely to trigger one (or more) of these features?
Are you hoping to get a Featured Snippet? Would an appearance in a People Also Ask box really augment your marketing efforts?
What if your chosen keywords don't have a history of triggering these features at all?
Are there some good keywords that you could easily incorporate into your current campaign for some quick SERP wins?
It's all about how you use the data that Nozzle puts at your fingertips.
Getting into All the Data
There is a simple process you can follow to determine which keywords are likely to trigger a SERP feature.
You can simply create a new Brand in your project, and then add a couple of new segments so you can zero in on the data you want to see.
So, from your Workspace, choose Manage Keywords on the chosen project, then select the Brands tab.
Click Add Brand. For this brand, we'll make the Brand Name: "Whole SERP" because we are going to look at the entire search engine results to find out what is ranking in a certain segment instead of finding where you are ranking.
For the Brand Type, we'll call it Neutral because, well, we're not looking at ourselves or the competition. We just want to know what exists in this condition.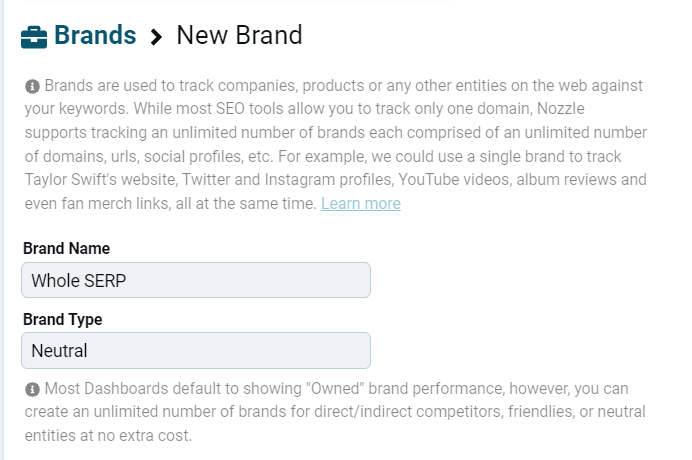 Click Add Property and choose the Custom SERP/Result Condition.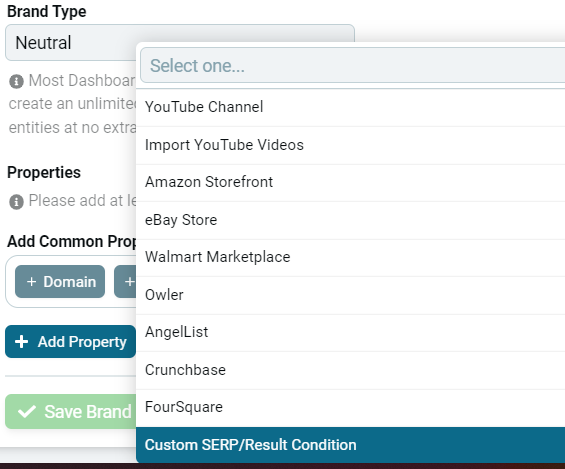 This will bring up the Properties table, showing the Type, Name, and Configuration. You can edit the name to be more descriptive and remind yourself that this will cover the entire SERP.

Now, for the Configuration:
You have the option to change the "Column | Operator | Values".
Change Column to: Result>URL>DomainID
Change the Operator to: >Greater than
Change the Values to: 0
That's all you need for this Brand.

Be sure to click Save Brand at the bottom to put this new condition into the system.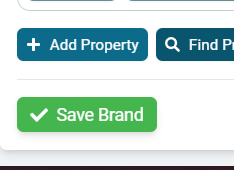 Now, onto the segments.
Let's start with the first feature we mentioned above, the PAA.
Now that you have a new Brand Type that is looking at the entire SERP, let's find out which of your keywords are actually triggering the appearance of a PAA.
According to our research on Google SERP features (referenced above), we know that a PAA is most likely to appear in position 2 in the SERP, but 3 through 6 also has a pretty good percentage of showing up.
In other words, all we need to know is which keywords have a PAA in the top 2 to 6 positions.
So, let's create that Segment.
Click Manage Keywords on your chosen project and then Segments. While there are a lot of built-in segments here, we are going to click the Add Segment button to customize our exploration of the data.
Give the segment a descriptive name, perhaps "PAAs in the Top 6". You can add a description to make it clear what this segment is going to achieve with your data. Now:
Click the Add Condition button
Select "Result>People Also Ask>Is People Also Ask"
This will create a result condition that adds a section for "is" and one last section that is blank.
Click the blank section to select "True".
This is what tells the system to look specifically for the PAA feature.
Next:
Click the "And" button next to the first condition
Click Column and then choose "Results>Rank"
Then choose "<=Less than/Equals"
Then choose 6 (or 5 or 3 or whatever suits the data you're looking for)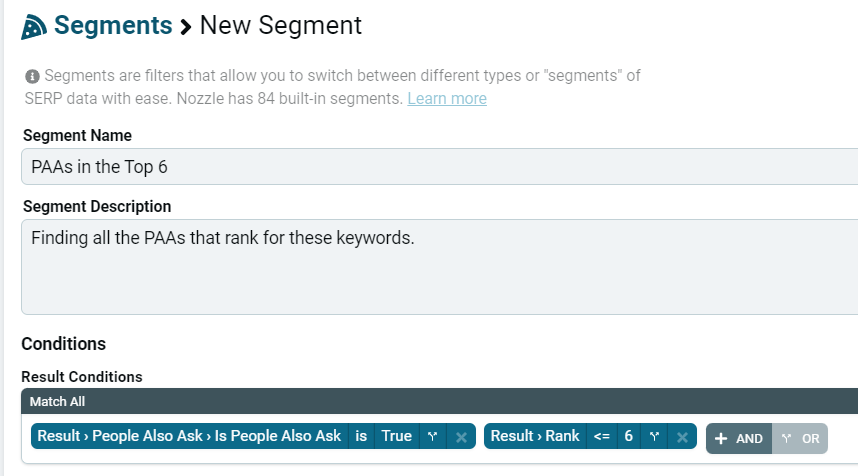 Now, you're mostly set. There is one more condition you may want to add, though.
We also discovered in our research that the PAA will show up differently on mobile and desktop results, which means you may find value in separating these results.
So, assuming that you have set up your Keyword Source to pull data for desktop and mobile, all you have to do is click the Add Condition button again and select "Device" from the list of options. This will bring up the option to select "Device = desktop".
Then, all you need to do is create another segment. You can either do this by, following the above procedure and selecting "mobile" for the device, or you can skip a couple of steps and click the Duplicate Segment button and then change the name and the chosen device.
One last thing: always, always click the Save Segment button when you're done. If you leave the page without saving it, you'll just have to do it all over again.
Here's an example of what all your hard work might look like in your Project's dashboard.

In this case, we focused on PAAs that appeared in the top 3, and out of the 4,995 total keywords, 3,838 of them met the criteria (i.e. serve up a PAA box) and are displayed in the Keywords table. We also get to see which position the boxes appeared in (#2 for those in the screenshot) and the top question in those boxes. (Which means you know exactly what questions your content team should start answering on your website today.)
What Can You Do with This Data?
This kind of SERP data can open up a wide variety of opportunities for your online marketing campaign.
Remember, that number one ranking might not be as effective as it once was, and getting into the wide variety of features now appearing for an extensive array of results pages can put you in front of a whole new group of potential customers.
Of course, just knowing that the opportunity exists doesn't mean you'll immediately start showing up in these features simply by adding a few more keywords here and there. You'll have to employ some techniques and work hard at it, just like you would if you were aiming for that #1 spot.
What you do with this kind of detailed data will, in the end, be up to you, but the opportunities are plentiful and we can't wait to hear about your successes.
Want to learn more about SERP features? You can find a goldmine of SERP stats here.