If you had to choose one thing that you love most about Nozzle, what would it be?
Would it be the ease of analyzing your competitors, tracking as many keywords as you want, the flexible scheduling or getting analytics on all of the SERP features by using Nozzle vision?
We've had some great feedback from several of our customers sharing what they value and use the most. Here are some highlights: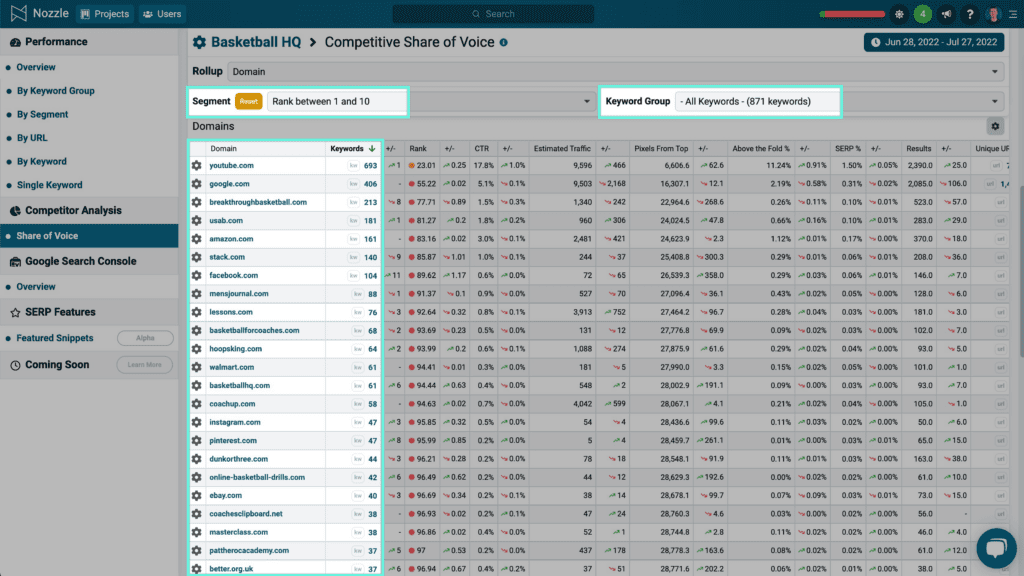 Jonathan Goudy has been able to hone in on his competitors, since Nozzle collects data for every one of your competitors, whether you've added them in or not. He explained:
"What had happened was we assumed there were two law firms (competitors) who dominated the SERPS in our market for the search terms we wanted to rank for. They would always show anytime we manually searched within Google. We were about to push their content strategy. Which would have been a waste. After reviewing the data Nozzle offered, we realized they were actually not performing as well, and there was another law firm dominating who had a completely different content strategy. This confirmed that we were on the right track with what we were doing at that time."
This is crucial, to find your top SERP competitors and stay ahead of them.
---
Juan Carlos Perez includes a SERP competitive analysis whenever he sends a bid to a potential client to demonstrate how they stack up against their competition.
"I'm using Nozzle for my research when I quote. I want to move the team from keyword.com to Nozzle. But when selling, showing the prospect that you UNDERSTAND his market, competitors and what can be done, it makes all the difference."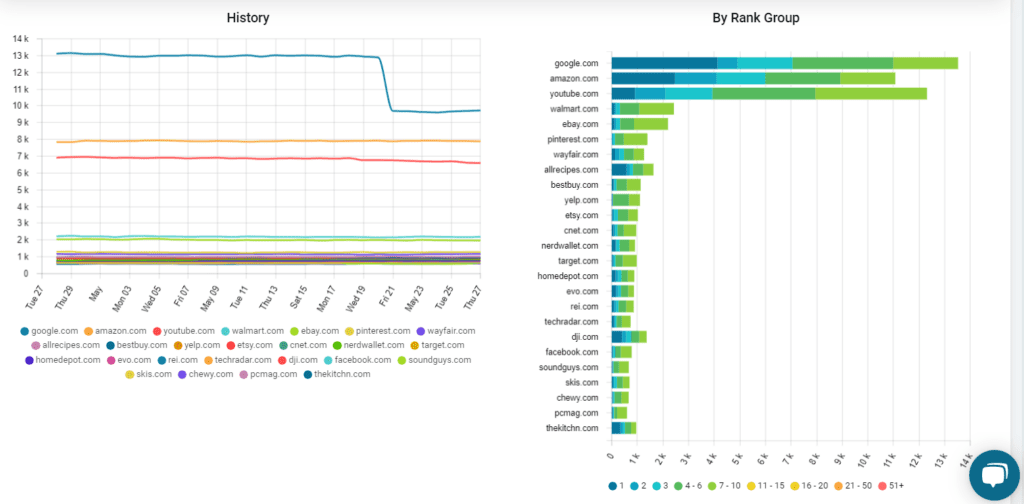 He was asked, "In your quotes, you are showing them basically the table from the Share of Voice dashboard? Are you choosing any Segments like Featured Snippets or Top Ten Rankings or do you just leave it on Unpaid?"
His response was that he uses Unpaid and Featured Snippets for a report because he managed to get the client Featured Snippets in a lot of queries.
As far as the amount of keywords he usually puts in their project to prepare for the quote, he said, "It depends. Now, ~100 keywords. In others, 40-50. I've never had to do it with long-tail."
And then he said, "For me, it's helping a lot with proposals."
---
When analyzing competition, Peter Macinkovic's go-to's are to track and categorize keywords using the Share of Voice dashboard. He loves using the graph in his presentations.
There's a bar graph on SOV that showcases the rankings for each tracked domain and its amazing.

Basically showcases how dominant particular domains are. I love this graph, use it in multiple presentations and always blows people away. Takes a few clicks to get to though.— Peter Macinkovic (@inkovic) May 27, 2022
Not that one, the one I find useful is the bar graph with the positions. I usually group by domain (excl Google in segment) for reports across KW grouos. Visually showcases the dominance of a website/competitor. Also great for comp research. pic.twitter.com/SLN6V3FQab— Peter Macinkovic (@inkovic) May 27, 2022
---
Taylor Murchison is one of our biggest fans, proclaiming we're the best pixel from the top/above-the-fold tracking he's seen and he uses it everyday.
Also, can't believe I didn't include @nozzleio on this first list. I absolutely use it every day. Best rank tracker on the market and it's not even close.— Taylor Murchison (@TaylorMurchison) March 21, 2022
As usual, s/o @nozzleio. If you/your company don't have it yet, you're late to the party.— Taylor Murchison (@TaylorMurchison) October 15, 2021
Dude have you ever seen @nozzleio? Best pixel/above-the-fold tracking I've seen. They're on AppSumo right now with unbelievable lifetime deals. (I'm not an affiliate, just a fan/user)— Taylor Murchison (@TaylorMurchison) October 14, 2021
Since Google is no longer listing their search engine results page in a "top 10 list", he uses Nozzle for SERP Tracking as a replacement for Rank Tracking.
This is partly why I've been such an advocate for @nozzleio since I became a user. Rank tracking is coming to an end – SERP tracking is taking it's place. https://t.co/ublCZqoioT— Taylor Murchison (@TaylorMurchison) June 28, 2022
---
JR Oakes loves Nozzle for its PAA data and reports. From an article on his blog he states:
In order to start the process of understanding company PAA results, we needed to first obtain a list of companies. This Github report has collected Fortune 500 company lists from 1955 onward and had 2019 in an easy-to-parse CSV format. We loaded the company names into Nozzle (a rank tracking tool we like for its granularity of information) to begin daily data collection of US Google results. Nozzle dumps their data to BigQuery which makes it easy to process into a format readable by Google Data Studio.
Adding to Nozzle and pulling the PAA results for each company brand search, we found that 85% of these companies had PAA results for Desktop US searches. 7/20— jroakes.ipynb (@jroakes) December 8, 2020
When you're able to analyze the questions people are asking in your own industry you can fine tune your answers to meet people's needs, addressing their pain points and making content more relevant.
If you are new to the concept of using the PAA boxes, this article will get you started with this useful practice.

Ty Kilgore, loves the power of flexible scheduling Nozzle provides. They track keywords on a weekly basis for all of their clients, and depending on when the weekly reporting call is for each client, they schedule to pull SERP data for them the day before they present their report, which ensures they are providing their client with information that is up to date and accurate.
Most rank trackers don't let you choose as granular a schedule for rank tracking, whereas with Nozzle, you can come up with any customized scheduling you want.
Conclusion
There are a lot of features Nozzle offers that are easy to fall in love with, whether it's analyzing your competitors, tracking as many keywords as you want, choosing a specific flexible schedule, getting analytics on all of the SERP features, or falling in love with any of the many more features we have.
We'd love to hear what it is you love best! Send us a comment and share!