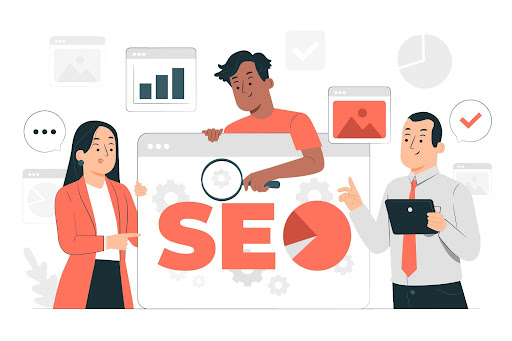 Implementing advanced SEO tactics can be extremely beneficial for websites looking to take their SEO to the next level. These tactics go beyond the basic SEO strategies and require a more in-depth understanding of search algorithms and user behavior. Some of the advanced SEO tactics include:
These tactics can help websites stand out in the search results and attract more relevant traffic.
1. Optimizing for Voice Search
Voice search optimization is the process of optimizing a website to rank higher in voice search results. With the increasing popularity of voice assistants like Siri, Alexa, and Google Assistant, optimizing for voice search has become an important aspect of SEO. There are several key elements in it, including:
Conversational language: Voice searches are often phrased as questions, so it's essential to optimize your website's content using informal language and natural-sounding language patterns.
Structured data: Utilizing structured data such as schema markup can help search engines understand the context of your website's content and provide additional information in voice search results.
Location-based optimization: Voice searches often include location information, so it's important to optimize your website for local search results by including relevant location-based keywords and utilizing local schema markup.
Mobile-friendly design: Many voice searches are performed on mobile devices, so it's essential to have a mobile-friendly website design that is optimized for voice search.
It's worth noting that search engines have shifted to mobile-first indexing, which means that mobile-friendly websites are given priority in search results.
By incorporating these elements into your website's SEO strategy, you can improve your website's visibility in voice search results and attract more relevant traffic.
2. Leveraging Artificial Intelligence and Machine Learning
Leveraging artificial intelligence (AI) and machine learning (ML) can significantly improve a website's SEO performance by using them to provide valuable insights and automate tedious tasks. AI and ML technologies have become an integral part of the SEO landscape and are helping marketers and website owners to gain a competitive edge. By incorporating AI and ML into their SEO strategies, websites can:
Enhance keyword research: AI and ML-powered keyword research tools can analyze large amounts of data to identify the most relevant and profitable keywords for a website's content.
Improve website optimization: AI and ML algorithms can analyze a website's structure, content, and code to identify technical issues and provide recommendations for optimization.
Enhance user experience: AI-powered chatbots and virtual assistants can provide personalized and instant support to website visitors, improving their overall experience and reducing bounce rates.
3. Focusing on Featured Snippets and Rich Snippets
This is an effective SEO tactic that can improve a website's visibility and drive more relevant traffic. Featured snippets are short answers to user queries that are displayed at the top of search engine results pages, providing quick and easy access to information. Rich snippets, on the other hand, are structured data that provide additional information about a website's content, such as ratings, reviews, and product information.
By optimizing their content for featured and rich snippets, website owners can increase their visibility, attract more clicks, and improve the overall user experience. This can be achieved by providing clear, concise, and relevant answers to user queries, using structured data to enhance the display of information, and regularly monitoring and updating the content to stay ahead of the competition.
4. Utilizing Social Media to Improve Search Visibility
Utilizing social media is a crucial aspect of SEO that can improve a website's search visibility and attract more organic traffic. Social media platforms such as Facebook, Twitter, and Instagram can be leveraged to promote a website's content, build relationships with target audiences, and increase brand awareness. By creating engaging and shareable content, regularly posting updates, and interacting with followers, websites can improve their social media presence and drive more referral traffic.
Additionally, by including links to their website in social media posts and optimizing their profiles for search engines, websites can improve their search visibility and attract more organic traffic. It's important to choose the right social media marketing platforms for your target audience and regularly monitor and adjust your strategy to stay ahead of the competition.
5. Conducting a Thorough Site Audit
Auditing your site can help identify technical issues and optimization opportunities. A site audit involves analyzing a website's structure, code, links, user experience and doing a content audit to identify any issues that may be affecting its search engine visibility. During the audit, various SEO tools can be used to identify broken links, crawl errors, slow loading times, duplicate content, and other issues. Once the issues have been identified, a plan can be created to address them and improve the website's ranking. A thorough site audit can also help identify optimization opportunities, such as targeting new keywords, improving website speed, and enhancing the user experience. By conducting regular site audits, website owners can ensure their site is always optimized for search engines and provide a high-quality user experience.
6. Implementing Schema Markup
Implementing schema markup helps search engines understand the content of a website and display it in a more informative and visually appealing way. Schema markup is a type of structured data that provides additional information about a website's content, such as product information, event details, and reviews.
By including schema markup on a website, especially FAQ schema markup, search engines can understand the context and meaning of the content, making it easier for them to display it in a way that is more useful and relevant to users. This can result in improved search engine visibility, higher click-through rates, and a better user experience.
To implement schema markup, website owners can use schema.org vocabulary and various schema markup tools, such as schema generators and plugins. It's important to choose the right type of schema markup for the content of the website and to regularly monitor and update it to ensure it remains accurate and up-to-date.
7. Predictive Search Trends Analysis
Predictive search trends analysis is an advanced SEO tactic that helps website owners stay ahead of the competition and improve their search engine ranking. This involves analyzing current search trends and using data and algorithms to predict future search trends and consumer behavior.
By understanding what users are searching for and what type of content is likely to be in demand, website owners can create content that is relevant, valuable, and appealing to their target audience. This can help them attract more organic traffic, improve their search engine visibility, and increase their online presence. Predictive search trends analysis can also help website owners identify new opportunities for growth and stay ahead of changes in consumer behavior and search engine algorithms. Utilizing this tactic can help website owners stay ahead of the competition and maintain their position as a leading authority in their industry.
8. Anchor Text Analysis
Anchor analysis is the process of evaluating and analyzing the anchor text of a website's internal and external links. Anchor text is the visible, clickable text in a hyperlink that is used to describe the linked content. Anchor analysis is an important aspect of SEO because it helps to understand the relevancy and quality of a website's inbound and outbound links, and can provide valuable insights into how search engines perceive a website.
Keyword use, context, and link placement should be analyzed, removing any spammy or low-quality anchor texts that will hurt a website's ranking. Keyword-rich anchor text is what you're looking for to improve ranking.
By regularly analyzing and monitoring the anchor text of a website's links, it may improve the website's link profile, and increase its relevance and authority.
Conclusion
Advanced effective SEO tactics can greatly improve a website's search engine visibility and attract more organic traffic. From keyword research using AI to implementing schema markup and utilizing social media, there are a variety of tactics that website owners can use to improve their search engine ranking. It's important to remember that SEO is a continuous process and requires regular monitoring and adjustment to ensure success.