I posed the question to SEO professionals about what they thought was the most underutilized SEO strategy or tactic. I got over 100 responses which I broke up into 8 categories and 44 subcategories. This is part 3, which highlights the underutilized strategies related to content.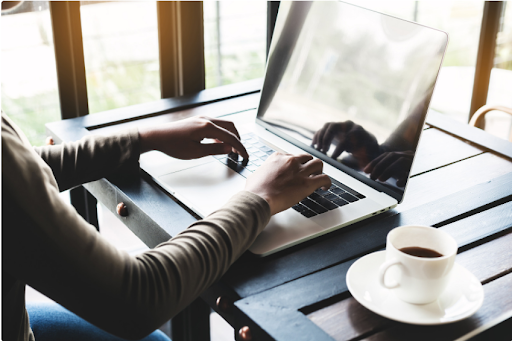 Content Strategy Sub Categories:
Content Auditing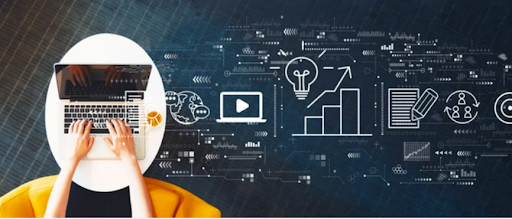 Liz Raad, Co-Founder of eBusiness Institute believes:
One of the most common SEO strategies is consistently publishing new content with relevant keywords and phrases. This is important, but there's another method to the madness that goes under the radar – revamping existing, older content.

"This is a great trick because you don't have to wrack your brain for brand new ideas, and you also get to give old content another chance at getting eyeballs. A great example of this would be for bloggers. With the amount of content they've posted, it's no question that they would benefit from bringing old content out of the ashes to reignite their site traffic.
One of our very own "Nozzlers", Zack Neary-Hayes, a Freelance SEO Consultant says:
For me, one of the most underutilized SEO tactics is going back and refreshing older content. It doesn't matter if this is across landing pages or blog posts. If a page isn't ranking as competitively as it should, a great way to get things moving in the right direction is to update the content, making sure it aligns with the intent of the search query. After all, information changes all the time, and pages often become outdated. Certain queries deserve the freshest, most up to date answers, and I have seen once great traffic driving pages fall off the radar as the information within them becomes out of date. It's not the hottest tactic, and it won't win you any awards, but in my opinion, little beats refreshing, updating, and tweaking older pages in terms of efficiency and bang for your buck. A lot of digital marketers dive straight in with new content calendars, but it's often possible to squeeze a lot more, for cheaper, out of content that is already there – especially on older, more established websites.
Chris Zacher, a content marketing strategist at Intergrowth has some great insights about revamping old content:
SEO isn't just about creating new content. If there's a page on your website that hasn't moved past the third or fourth page of Google, there's a lot you can do to push that page up in the SERPS.

For instance, you can add some new sections to your article to make it even more valuable to the reader. Google's algorithm loves fresh content, so your article will look better to the crawler, and it'll give you a chance to move up in the rankings.

Update the statistics in your article, too. Readers want up-to-date information. If you're giving them data from five years ago, they're going to bounce from your site and go elsewhere. Articles with the newest available information are always likely to get more shares and links, so it's good to check back in on your old articles and update the stats every once in a while.

Make sure to update the dates in your articles, as well. If you have a bunch of articles titled 15 Healthy Living Tips for 2021, update the information in the articles, and change the title dates to 2022 before next year. People will be way more likely to click and read if they're getting new info.
Benjamin Poirrier from Prodima says:
When it comes to SEO, many marketers do their keyword research just to produce new content. Well, new niche content always provides good value if it gets high-quality & relevance.

However, updating previously-published content is more time & cost-effective. Besides, search engines like Google tend to grant higher authority to "high-seniority" web pages. And content may perform well for some time, usually up to 2 years, but after that, it declines. A refresh can boost it.

In short: your 4-year-old page has more value than your just-published one. Meaning if you update your old page, it will rank higher & bring more traffic than your new article. It is easier to update an old article than produce a whole new one. SEO marketers should do it more often.
Tyson Downs from Titan Web Agency shares some examples of how the company he works for found success in updating old content:
There will always be a demand for fresh content, which is why it's necessary to keep your content up-to-date. If you notice a drop in organic traffic to some of your top-performing content, often this means that the content is stale and needs updating. The content refresh often leads to a boost in organic traffic.

Here's an example of an old blog post that we updated last August 5 using the data coming from Google Search Console.

Here's a screenshot of organic traffic and keyword improvement after we refresh the content.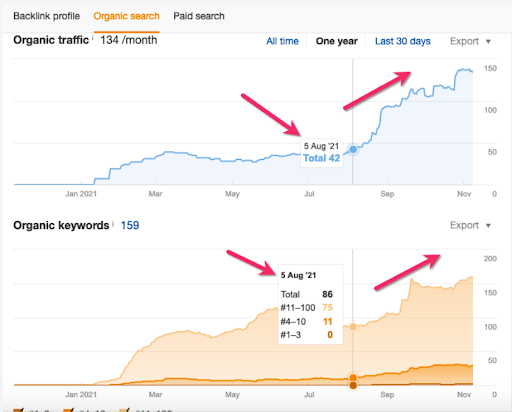 Here's another screenshot from Google Search Console, clicks improved by up to 50%.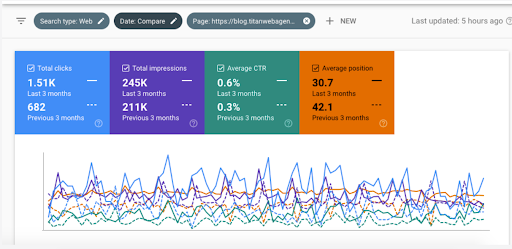 Chris Von Wilpert, Founder of Content Mavericks says organizing content with users in mind is an important part.
Simply tagging and categorizing will not automatically increase your search. The current SEO evaluation system is all about meaningful consistent communication which means making sure your content is relevant and applicable is as important as simply optimising landing pages for search. You should design your site with users in mind. All search engines want to show users the content that'll be the most useful to them. Organizing your content for best usability will help you get better SEO rankings.
Ewan Duthie, managing director at Web Integrations Ltd reminds us to create a 301 Redirect.
Google has mentioned that we should aim to provide the best content and make it optimized, useful, and relevant. On account of that if your website has outdated pages or pages that add less value to your customers, then you can create a 301 redirect from those pages to a relevant page of the website. Not only does it help to remove the unwanted page, but it also passes link juice. On account of that, this process can help to increase organic traffic of your website.
Janice Wald from Mostly Blogging says SEOs don't update their posts with fresh information but should.
Fresh information tells Google your content is current. Older posts can rank for years by adding new information. Preface the update with the words UPDATE and the date so Google and your readers know how current the information is. A related underused strategy is adding the year to the headline and meta. This also tells Google your information is relevant that year. These strategies are underutilized.
Create content outside of the scope of your direct prospects. According to Beth Cooper, the VP of Marketing and Sales for KNB Communications:
This tactic can be useful in both B2B or B2C marketing. For example, our B2B healthcare marketing + PR agency recently published a blog on the gender disparity in healthcare. While the blog content might interest our primary clientele of mid-sized healthtech companies, it also holds relevance to healthcare patients and direct care providers.

That's not to say you should neglect or completely ignore your target audience. However, by considering a larger scope of viewers, your content can improve its relevance on search engine results pages. In order to build up your authority + relevance on SERPs and ultimately captivate your target audience, consider the road less travelled – looking to parallel industries and consumers during the content creation process.
Also Alex Kus, CMO of Buddy reminds us to use mission-driven content marketing.
This is something we noticed with our own marketing a while back and I'm seeing across the industry as a whole. In the quest to maximize page views, optimize keywords, etc. many agencies have lost track of the "why" behind their brands. The way I see it, every piece of content you produce should keep your firm's overall goal in mind first and only then consider keywords, etc. Sounds simple, but it often isn't. It is not as simple to show the ROI benefits of this approach, since you really shouldn't be overstuffing your pages and posts with random buzzwords to game the algorithm for page views and SERP positions. Your goal should be to inspire viewers, which comes with a lot of benefits as you're playing a quality over quantity game. You'll get more shares and backlinks for being relevant and meaningful, you'll be more likely to be part of word of mouth conversations on forums and you're much more likely to draw advocates that share your message.
Finding where you can go for ideas to update content can be tricky but according to Stephanie Long, Founder of Stephanie Marie Marketing, content hubs are very useful.
These are great places that have curated content on a specific topic or subject that people are asking questions about. By utilizing content hubs you can get great content for blogs and website pages around pain points your customers are asking. One of my favorite content hubs is AnswerThePublic because it's such a robust tool and I use it for how I find a lot of my content ideas for blogs.
According to Maciej Duszynski, Content Team Leader at Tidio you should update content frequently, and here's why:
Usually, marketers focus most of all on creating new, engaging content. However, "new" does not always mean "the best." Surprisingly, articles already posted on our website can be even more valuable than new ones! Thanks to analytics data, you can see how the old pieces perform and update them to reach your audience even better.

Additionally, by updating content, you can get Google to crawl your site more frequently without needing to publish more often. The more Google crawls your site – the more likely your most recent information will show up in search results after publishing, which gives you an advantage in your search engine results rankings.
Have a Content Marketing Strategy
According to Zach Colman, the Founder & CEO of Creatitive the best tactic in SEO is actually defining a strategy first and utilizing that strategy with other forms of marketing.
As a business owner, I have seen many companies/prospects think they are doing SEO correctly. I think the most underlining strategy in online search is the "prep" work. Companies and business owners don't take enough time to think about the SEO strategy first. If you don't create a strategy, it's like shooting fish in a barrel.

Online search is a process and results are generated over time. It is important to learn and adjust to what has and has not worked in the past. Working on search engine tactics is important so the campaign can grow and that in the grand scheme of things is a good thing for a business. To create a good strategy, you need to spend time up front to audit competitors and finding gaps where your company or business can meet the needs of your customers. This should be the first step toward any SEO campaign.

This is key to help eventually define key performance indicators for the business and understand which keywords or content "types" are bringing in the most growth for the company. Tactics in SEO should focus on omni-channel marketing, object-focused brand identity, user centric website and other online strategies that complement SEO, like PR, advertising and great content on and off line. If done correctly, the strategy can provide an understanding of where marketing funds are being spent, what touchpoints the end user is at and define the types of content that are best used for the end user.
Jordan McCreery, founding partner of Ingrained Media says:
Content marketing elaborates on the information you find in traditional SEO. It provides more content so that your audience can have a better experience with your brand. It helps to establish thought leadership, build trust and credibility, increase audience engagement, provide social media promotion – even link building.

Content Marketing should always be a part of your marketing mix, particularly your SEO strategy. Your business should really be focusing on being a good publishing source.

Content marketing can be employed throughout your entire site, but is most effective when the greatest majority of the pages are optimized for SEO. It's not a substitute for acquiring links or social media promotion, nor should it take precedence over those activities.

It's what you do with the content that counts – and you need a plan to make it work for you.

One of the easiest and best examples is to create a blog, and write at least one post every week. A blog is an excellent way of producing content that people want to read or share. It's the best way of continuously publishing new material that will ultimately improve your site's search engine rankings. It becomes a passive way of driving traffic to your site, and brings in new customers from social media channels such as Facebook and Twitter.

Use each blog to focus on a single keyword that has search volume and is relative to your audience that will convert, i.e., those that generate sales or qualified leads for you.

It's important to maintain your voice within the context of the post, and not try too hard to hook people in. You are an expert in your field, that is why you operate in your segment and business industry. Content marketing highlights everything you already know and do.

Make every blog post worth reading. The reader should be satisfied with what they find – make their day by giving them an informative post that is interesting to read. Content marketing should be used as leverage within your overall SEO strategy.

There are many other ways of using content to improve your site's rankings, such as by building backlinks. The more material you create, the greater the possibility that Google will feed into it and rank it for relevant keywords – but only if there are other sites that are willing to link to it. The fundamentals of search engine optimization entail optimizing the content on every page for your chosen keywords, analyzing competitor's SEO efforts and what has brought them success, minimizing backlink acquisition for low-quality links only, and building relationships with influencers.
Tanner Scott, CEO of Ranksey Digital Marketing thinks the most underutilized SEO strategy is implementing a content marketing strategy alongside your SEO strategy.
Most companies put all of their time and attention into getting their money pages (product/service pages with commercial intent) to rank high on Google but often neglect to also put a strong focus on blog content and overall marketing strategy. It's important to focus on all stages of the sales funnel when piecing together your SEO strategy. By focusing on just product/service pages, you are only including bottom of funnel prospects in your funnel. Ultimately producing blog content is going to generate more traffic to product and service pages in the long run so it's crucial to drive demand and awareness for your products or services by producing blog content for buyers at each stage of the marketing/sales funnel. You are also more likely to get backlinks and build trust with your prospects by writing content that positions your product/service as a solution to their problems that they are actively searching for.
Stephen Curry, the CEO at CocoSign also thinks this:
By developing a content strategy, SEO practitioners can use SEO to create a specific keyword-targeted website that will attract targeted interest from users looking for that information. So how does one develop a content strategy?

One way to develop a content strategy is through in-depth research of the target market and their needs when it comes to information. Another way would be by surveying potential customers asking questions about their thoughts, interests, and needs concerning the topic at hand. Last but not least, a content strategy is developed through the use of various brainstorming tools that test the validity of potential topics.

Currently, many SEO tactics are being used with little to no effective results. To better locate these tactics and strategies with their corresponding effectiveness, it would be beneficial for SEO professionals to rebuild their knowledge with a solid content strategy in mind.
Outbound Links
Daniela Sawyer, Founder of FindPeopleFast.net says:
Outbound links are one of the most underused content marketing and on-page SEO strategies.

An outbound link is a link from our website to another website. Our outgoing link is someone else's incoming connection.

Some say that we may lose our customers if we utilize external links since we have no control over the content on the other end. While this is ultimately a wrong interpretation, following these falsehoods may negatively affect our website traffic.

People and search engines find helpful material through outbound links. They are vital since they may increase organic traffic, trust, and even commercial partnerships. Further, outbound links balance and authenticate a page's overall SEO health. It is analogous to the references in academic papers that cite the authentic sources of the claims made in the form. In the same way, citing the sources used to create our content, outbound links assist in establishing authority.

It's also clear to see how external links from our content might help Google. Assuming all other factors are equal, a page with external links should perform better than without.

External links are instances of signals that today's sophisticated readers seek. If we write on a recent market trend and wish to underline the influence of a recent media event, linking to as many particular news sources as possible will formally validate our claims.
And Maulik Patel, Founder and Director Clickmatix Digital Marketing Agency states:
Everyone thinks the links pointing to your website are the essential signal for google but the links going out from the webpage are equally important.

Why people do not give emphasis to the outbound links:

a) Because they send people out from the website. b) You can't control the things on the other side of the link, where it takes you. c) If you want to keep visitors on your page only via outbound links is by opening them in a new window. d) Outbound links should always be tagged as no follow so they can not take the page equity.

The best way to keep people from leaving your site via outbound links is by opening them in a new browser window. (What they are actually capable of.)

Outbound links are the one way how people and search engines can discover useful content. They can improve trust, organic traffic, and harness relationships with other businesses.
Yana Trihub, Chief Executive Officer of KeyUA agrees:
There are few websites using Outbound Links for their SEO strategies, while most of the sites or bloggers are busy behind keyword research, and all those paid SEO boosters.

Outbound links are so underestimated, as they don't just help your website rank better in SEO, it helps you establish good bonds with other bloggers and your readers too will find your blog to be authoritative if your Outbound link is published by a website having a good reader's base in their blog (basically it's similar to shout-outs or collaborations of the social media platforms).
One more opinion from Matt Benevento, Senior SEO Strategist for HMG Creative who states:
Outbound linking is one of the most underutilized SEO tactics.. Outbound linking is when your site links out to another site. Many SEOs are reluctant to utilize outbound links for fear of losing traffic and page authority. In truth, tactically employing outbound links can improve the authority of your page, thereby improving page rankings.

In August 2018, Google's Medic algorithm update made E.A.T. (Expertise, Authority, Trustworthiness) an important ranking factor. By including outbound links that lead to authoritative sources, and that back up your content or reference relevant data, you can improve the E.A.T. of your page, thereby helping your page to rank.

For instance, you are writing a blog post about the effectiveness of drones vs manned aircraft for commercial farming. You could include a reference/link to a study that compares the costs of each in a case study. This additional data and outbound link can help to improve the authority of your blog post and improve the blog post's ranking.
Personalization
In today's marketing world, in order for you to have success, you have to narrow in on who you're trying to reach and what their pain points are.

Ty Kilgore
Daniel Veiga, the founder of Danny Veiga Marketing explains why Personalization is important:
Personalizing your content to be specific to a particular person's interests and geographic location increases the likelihood that they will convert into a client. It leads to higher client retention rates and content marketing, which drives more potential buyers' attention for your company. Ultimately, this leads to improved sales and increased visibility from those who notice what you're doing on social media platforms like Facebook, Twitter, Pinterest, and Linkedin.
Jignesh Gohel, founder & CMO at OLBUZ says to develop good customer-centric content.
Content is the king, but these days' marketers use a wide variety of other social media tools and techniques to impress their customers. But do not use the right Customer-Centric Content which often makes it difficult for businesses to properly grow content However, focusing on reaching new consumers with their innovative content really matters a lot, so many of the companies need to develop a good Customer-Centric Content.
Brand Content Strategy
Tim Absalikov, co-founder and CEO of Lasting Trend names branding as the most underutilized SEO strategy.
This strategy involves driving more branded traffic to the site. That is, traffic that is associated with the name of the company, with the name of services, goods, and products of the company. The work is aimed more at the external optimization of the site: the publication of review articles on the relevant sites, the work on the placement of reviews and the fight against negativity, work with search suggestions – the recommendation of search engines is very important for such projects.

The Strategy does not directly affect sales, only indirectly. Only changes in brand queries and brand traffic are tracked. This strategy is suitable for mono-brand online stores, as well as companies that bring to the market a unique service or product, personal PR.
Freddie Chatt, an ecommerce SEO growth consultant says:
Brands often neglected their own branded search terms, they miss out on ranking for high conversion opportunities by controlling the story around them Two specific examples would be searches for '[brand] reviews' and '[brand] discount code', these types of terms get more and more search volume as your traffic grows but often third party sites rank better than your site. By creating dedicated pages targeting these sites – it's relatively quick for the brand site to rank well and capture this traffic.
Using Hash URLs
Darren Kingman of Root Digital explains why and how his team uses hash URLs:
A large part of what we do as an agency involves content creation off the back of our own keyword research and strategic benchmarking. With a transition for search engines more towards content depth and a page being able to rank for multiple queries, we think hash URLs are certainly currently underutilized. Although search engines cannot crawl past the hash, they are able to distinguish anchors on a page and use hashes or their own determination to highlight sections of a page more directly relevant to a user's query. By using hash URLs ourselves, we've seen an uptick on the number of answer boxes we achieve and the organic traffic directly to these URLs.

To do so, people can simply include a list of 'Contents' on a page, usually when the page has any significant length (1,000 words+). Then, within a list of contents, each subheading such as H2s, H3s, etc. form the list and are anchored to. Then when a user (or bot) is viewing the content, they have a way of jumping to parts of the content more directly digging into the longer-tail of the core topic. A very simple change but one that's able to make the most of your research and provide higher quality content overall as well as generate more SERP visibility and traffic.
Newsletter Marketing
Paula Glynn, Director of Search Marketing & Digital Strategy of Pixelstorm says:
One of the most underused SEO tactics is newsletter marketing. The technique involves sending an email to many people with updates about new content on your site, special offers, and so on. If you have quality content on your website, you'll probably get at least 10% of the recipients to click through to your website.
Writing "Monster" Articles
Ela Iliesi, Digital Marketing & SEO Trainer for London Marketing Academy tells us her opinion on adding length to your content:
Frequency of publishing not only matters less nowadays (unless you have a news site), but what matters is how well documented your articles are. Google representatives have been preaching this for years: write good content. But what they are not specifically saying is long content, and that's a really big part of it. Any Wikipedia page that ranks first for keywords such as Madonna – with over 5 million searches per month – is a "monster" page. Write the longest article on the market on any subject and I doubt you won't be surprised with the results.
Using Multimedia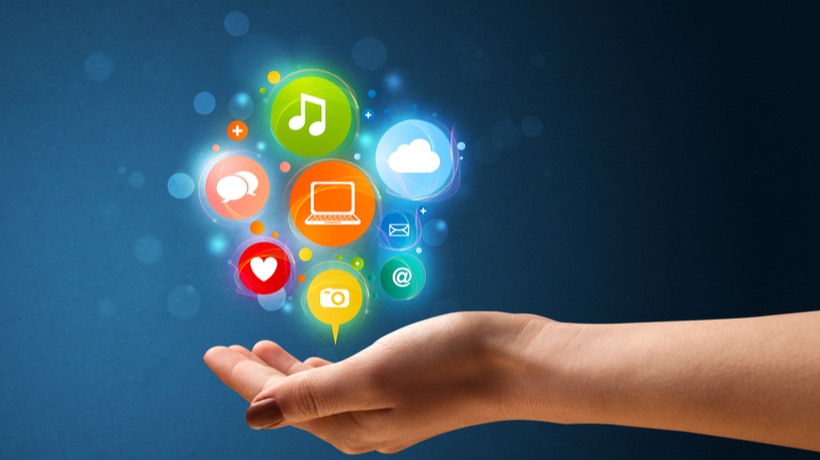 Kent Lewis, President & Founder of Anvil thinks multimedia is the most underutilized SEO strategy.
Google loves multimedia, because humans love multimedia. This is especially true since the pandemic hit. Give them what they want, with video, audio/podcasts, animated gifs and images, embedded in as many pages on your website as is prudent. Utilize ALT tags and text surrounding the media to describe the content so Google has more context and will be more likely to rank it.
In conclusion
When writing and updating content there are a lot of strategies to consider. Hopefully these that were deemed underutilized can help you consider what my be missing from you content writing efforts.
Other Categories in this Series:
#1- Underutilized Keyword Research Strategies
#2- Underutilized Onsite Optimization Strategies
#4- Underutilized Link Building Strategies
#5- Underutilized Technical SEO Strategies
#6- Underutilized Local SEO strategies
#7- Underutilized Video SEO Strategies