It's unfortunately all too easy for marketers to think of their traditional SERP rankings and video rankings as two completely different things – and approach their tracking and reporting in two completely different ways.
We may, for example, think that we need to focus on how our YouTube videos are ranking in YouTube and how our websites are ranking in Google.
The thing is, while we all want to see our web pages ranking for the best keywords, there are so many cases in which Google would rather serve up a selection of videos instead.
There are plenty of instances in which Google will fill every result above the fold with YouTube results.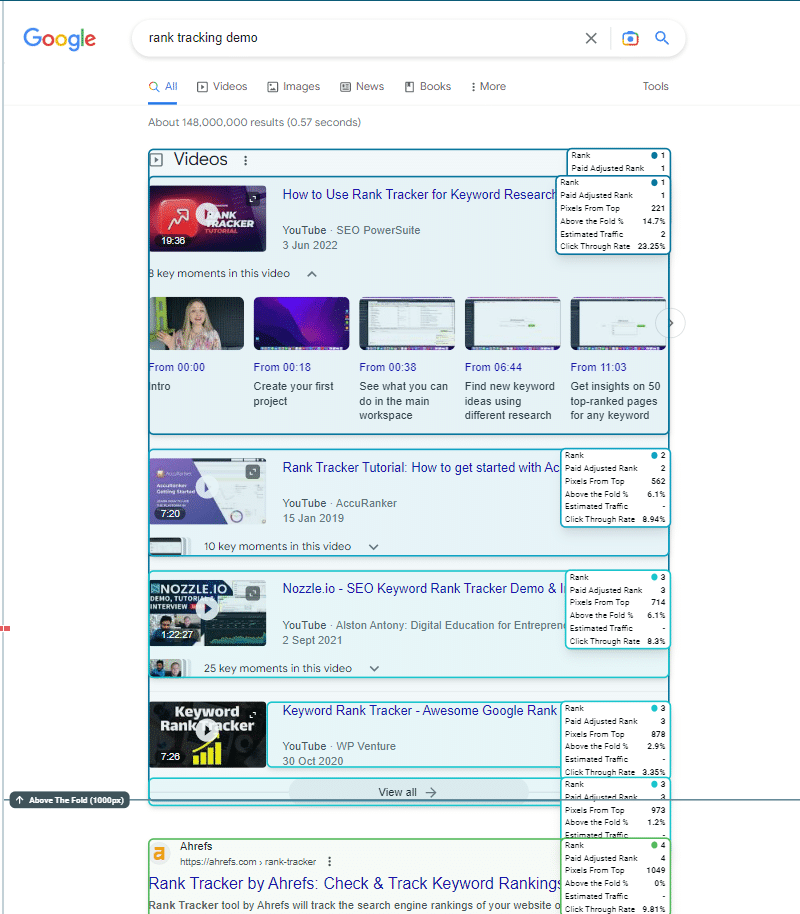 In other words, we don't need make that distinction between ranking in YouTube and ranking in the SERPs because that's simply not a distinction that Google is all that interested in.
If the best answer happens to be in video form, then that's what Google wants to rank at the top of the SERPs.
This means you need to know how well your video SEO is paying off because videos are just as important of an online marketing asset as any blog or web page you have written.
In Nozzle, there are a few ways you can track your videos for your keywords, and you can even explore the entire SERP just to research who is already ranking their videos and potentially creating competition for you.
So, now that we've discussed why you should track your YouTube videos in Google, let's take a look at how you can do it.
Add YouTube Videos to Your Brand in Bulk
This is a quick and simple way to get a lot of your YouTube videos into your Brand in Nozzle.
Right now, the system allows you to add up to 500 videos with this method, but it will choose which videos to add. So, if you have more than 500 to add, it may not grab all the videos that you want. (The next method can help you deal with that, if this is an issue.)
This is how it works:
On your Brand page (for a new or existing Brand), scroll down to the Add Common Properties section and click on the +Import YouTube Videos button.

This will bring up a modal titled: Import YouTube Video URLs. Here, you can input your YouTube User Name or Channel ID. (And remember: you can always use this video rank tracking method for your competition, too, if you want to keep an eye on their video marketing efforts.)

After you click Search, the system will pull up to 500 videos from your channel. You can select specific videos or all of them.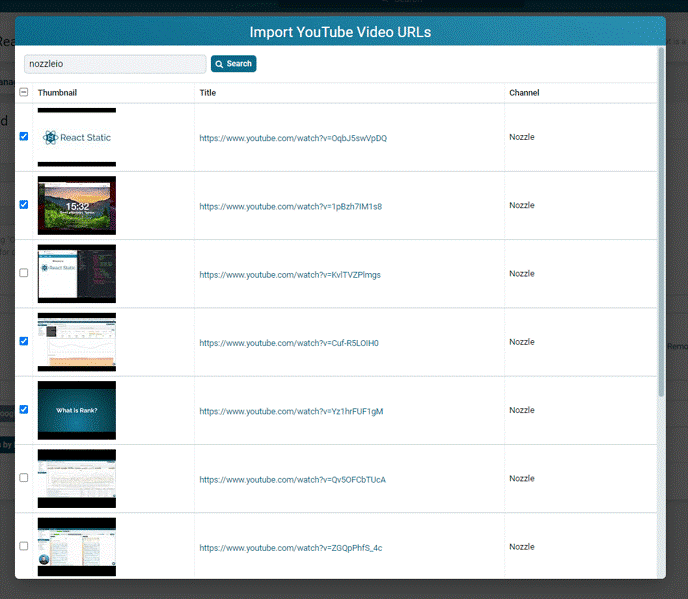 When you have made your selection, click Add Videos and they will all be included as brand properties.
Be sure to click Save Brand before you leave this page. While the URLs are all listed on this page at this moment, they're not actually in the system until you click Save.
Tracking Specific Videos
If you don't have that many videos – or just don't have the desire to track them all – then you can also add videos one at a time.
This is a great option when you want to see how well a video is doing when you only planned for it to have a temporary lifespan. (E.g., promotional videos or seasonal videos that will eventually lose relevance.) It is also a good choice when your content marketing strategy relies heavily on a few very important and informative videos.
Loading these videos in starts the same way. Go to your Brand page, scroll to the bottom, but this time click +Add Property.
Select the URL property.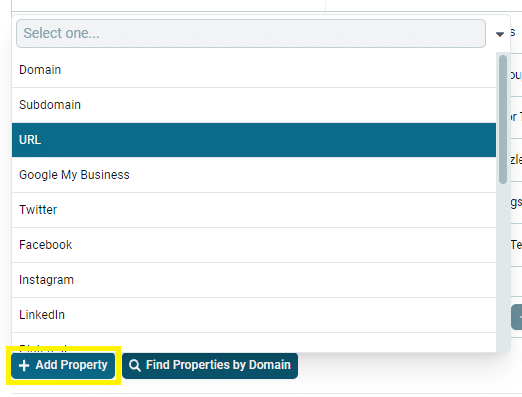 This will add a line in the Properties chart where you can paste in the URL of your video.
We also recommend taking the time to edit the name of the property from URL to something more relevant (the title of video, for example). When you add them in bulk, it will automatically give it the name, though you can still edit those names as you please.

Tracking Your YouTube Channel
Google isn't prone to deliver a YouTube channel as a result for a general query, but there's a really good chance that they'll deliver it if someone is seeking information about your brand.
If someone is looking for information about your company, the search engines are very likely to serve up all your social media accounts, and that includes your YouTube account.
So, let's make sure you're keeping any eye on how your channel is contributing to your brand's visibility online.
Again, go to your Brand page (or create a new Brand), and in the Add Common Properties chart, click +YouTube Channel.

Enter the YouTube channel name or channel ID in the line that appears in the Properties chart.

Click Save Brand and you're good to go.
Our Recommendation – Create a Separate Brand for Your Videos
Nozzle allows you to create as many different Brands as you want, so you can build out several Owned, Neutral, or Competitor Brands and fully take advantage of all that great data you're collecting.
The ability to track all your online assets for your keywords is one of the most powerful ways you can put Nozzle to work for you and really see how all your efforts are contributing to your online success.
So, while you could include all of your YouTube videos in your main Owned Brand, there are some reasons why you might want to make it its own Brand instead.
The reasons for this are simple:
Clarity – This makes it really easy to see how your videos rank without having to parse through all your other rankings.
Convenience – When your video assets are in a separate brand, you can simply choose that Brand in your dashboard's rollup and you can immediately see the results in the Keyword Table.
Tracking your videos in Google is a critical part of a modern content marketing campaign. You need to know how your video efforts are contributing to your online reputation, your traffic, and your SERP dominance.
Take some time to set up your Project to effectively track your videos and start capitalizing on this element of your marketing strategy.